The Grind
A wannabe sex symbol makes history, a golfer gets out of his wife's doghouse, and Justin Thomas weighs in on "Beergate" at the PGA
Welcome to another edition of The Grind, where we want to formally extend an invitation to Phil Mickelson. Phil, you are welcome to come on our annual buddies golf trip and compete in the 2022 HGGA Championship. The purse—and gambling stakes—won't be what you're used to, but as the HGGA's director of communications, I can assure you there will be no media there. Well, other than me. And one other sports reporter. But certainly no media scrums like this: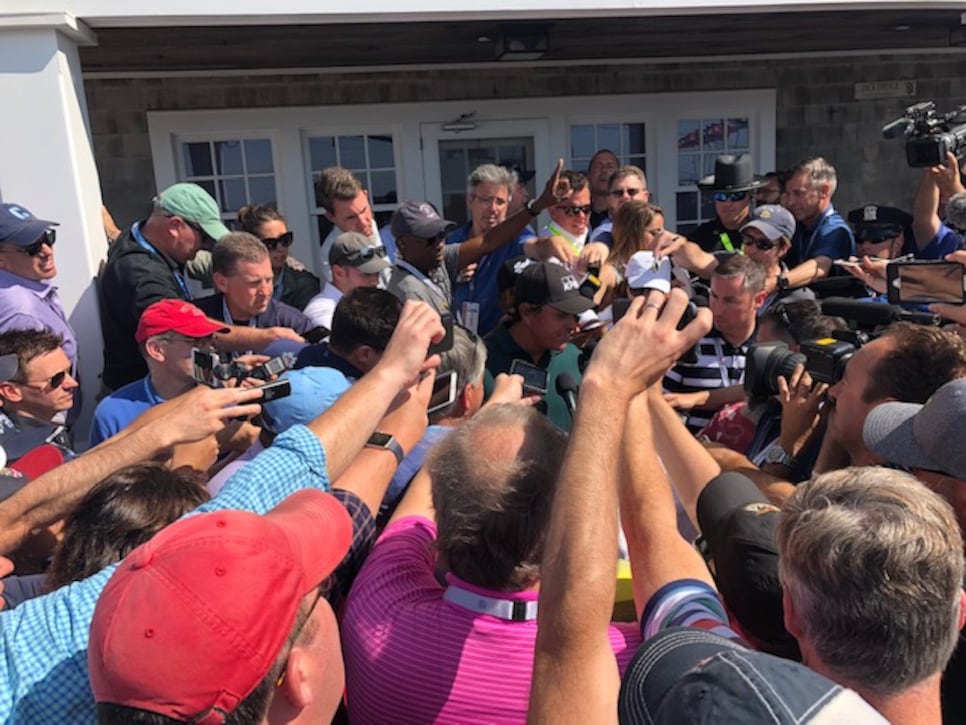 The courses and weather should be nice next month in Wisconsin, and we even play for a green jacket! Not everyone gets their own room, but we can negotiate. Anyway, think about it, Phil. In the meantime, here's what else has us talking this week.
K.H. Lee: There are horses for courses and then there's this guy at fittingly named TPC Craig Ranch. The guy basically owes his entire PGA Tour career to the place after winning the AT&T Byron Nelson for a second consecutive year there. And this time it was even more special as he was able to hold off hometown favorite Jordan Spieth down the stretch—as well as hold his baby after. Cue the adorable video:
Lee joins Sam Snead, Jack Nicklaus and Tom Watson as the only players to win back-to-back Byron Nelson titles. Talk about ELITE company. But according to Twenty First Group's Justin Ray, he's the only player to win any PGA Tour title in back-to-back years while shooting 25 under par or better. He's also got a funny side as evidenced by the fact he once said his two goals were to become the "No. 1 golfer in the world" and "the No. 1 sexiest golfer in the world." He added this gem of a quote last year: "Being sexy means to be a muscular guy. It's in my dream but not quite possible in reality. I want to be muscular, but I enjoy eating so much. For example, I try not to eat dinner if I have a big lunch, but when dinner time comes, I am usually hungry again. I will work out hard, but I will eat hard as well."
No matter how you look, making that many birdies sure is sexy. And we're right with you on the eating hard part.
Minjee Lee: Specifically, her irons. Have a look at this stat that would make even peak Ben Hogan jealous:
Yeah, that'll do. So it should be no surprise that she's been racking up wins as well, and this past week she added another at the LPGA Cognizant Founders Cup, her seventh career LPGA title. "I was really concentrating on each shot one at a time, so I got on the putting green and I was like, 'just trying to see it go in,' and a lot of them lipped out," Lee said. "At the end of the day I still got the job done, so I'm happy." When you're constantly giving yourself good looks, you don't have to make much. Now if she could only putt like this next guy . . .
Steve Stricker: A mysterious post-Ryder Cup illness that caused heart and liver issues kept Captain Stricker bed-stricken in a hospital for two weeks last November. But despite not gaining the 25 pounds he lost back, the 12-time PGA Tour winner clearly has his game back after winning the first PGA Tour Champions major of the year, the Regions Tradition, by six shots. Stricker now has four career senior majors, so this time he didn't even cry after. Kidding! Obviously, the dude was bawling:
Good seeing you back, Steve.
Danny Woodhead: We love to glorify celebrity golfers here, but this former NFL running back deserves special praise for advancing through a U.S. Open local qualifier. And he did it with style. Check out this celebratory leg kick!
Big shout-out to Woodhead for becoming a legit golfer so quickly. I'd be jealous, but A) he's a world-class athlete; and B) he's my guy for helping me win a fantasy football championship a few years back. What a legend.
Champions Tour DQs: In the same week we saw John Daly get disqualified for failing to sign his scorecard and Alex Cejka, the defending champ of the year's first senior major, booted for using an illegal green-reading book. For Cejka, he's a repeat offender. What is going on here?! Aren't the geezers supposed to know better? Crazy stuff. Speaking of old guys who are supposed to know better . . .
Phil not playing: Admittedly, this was a bit of a shocker—especially after Mickelson was still listed as being in the field before that all-time Friday afternoon news dump. It's very clear that Mickelson has been put on some sort of double-secret probation by the PGA Tour following his controversial comments published by Alan Shipnuck in February, but to not be at Southern Hills to defend his title at the major run by the PGA of America? Wild stuff. A year ago, this guy was literally on top of the sports world and an inspiration to aging people everywhere after becoming the oldest golfer ever to win a major. And now? Well, not so much. I'm disappointed in what the six-time major champ said, but I'm also disappointed we won't see him at Southern Hills this week. Or, maybe, as a former Amstel guy, he's not playing out of protest over this . . .
PGA Championship prices: If you're going to the tournament this week and you plan on staying hydrated or lubricated, you better either be flush with cash or have a high limit on your credit card. Because these beverage prices are nothing short of outrageous:
Price-gouging at sporting events is nothing new, but this is a whole other level. Although, to be fair, those $18 Michelob Ultras are 24 ounces, potentially saving fans time by cutting their need to wait in line after realizing a 12-ouncer simply won't cut it, especially in the Tulsa heat. And maybe the PGA of America is hoping the prices will keep people from shotgunning beers like Justin Thomas and Daniel Berger at the Ryder Cup last fall: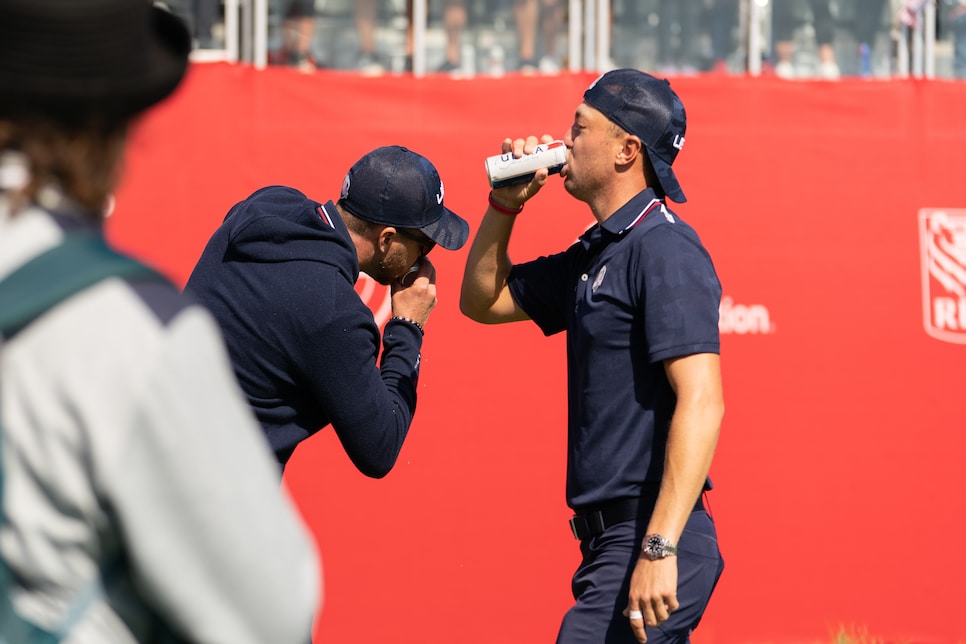 Montana Pritchard/PGA of America
But needless to say, Golf Twitter wasn't happy to hear about this. And that includes Thomas himself!
Well said, JT. Man, a golfer could win over a lot of fans if he bought a round of beers for those in attendance. And the PIP earned could cover the expense. Well, if that player winds up winning the $8 million bonus. Maybe.
The PGA Tour heads to the PGA CHAMPIONSHIP, AKA THIS IS MAJOR, AKA GLORY'S LAST NEXT SHOT! I'm extra fired up for two reasons: 1. We get to see Tiger Woods again, and 2. I have a tasty 40-to-1 ticket on Scottie Scheffler winning the Wanamaker Trophy because I planned ahead and booked it a couple months ago. And now I can practically hear my mom saying, "Now you don't procrastinate?! Maybe there's still time to go to law school!"
Random tournament fact: Everyone remembers Tiger Woods winning the PGA the last time Southern Hills hosted in 2007, but few recall Woody Austin being his biggest challenger and only coming up two shots short. Of course, he also fell in that water hazard at the Presidents Cup a month later so it's hard to remember anything else about him.
RANDOM PROP BETS OF THE WEEK
—K.H. Lee will win this week by shooting 25 under: 1 MILLION-to-1 odds
—Scottie Scheffler will win this week: 12-to-1 odds (Actual odds)
—Scottie Scheffler won't win now that I bragged about my 40-to-1 bet on him: LOCK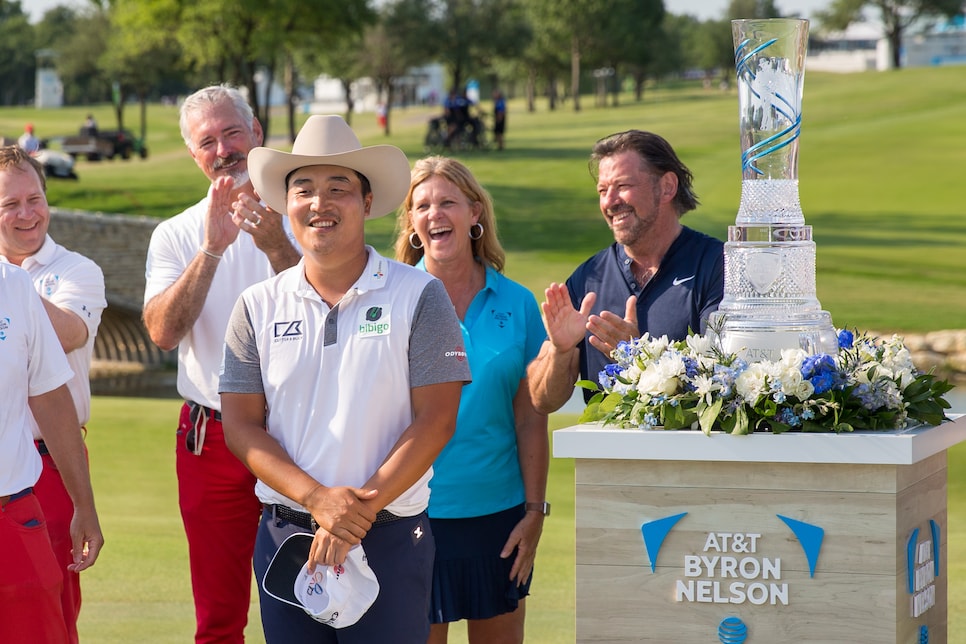 Very sexy, K.H. Very sexy.
VIRAL VIDEO OF THE WEEK (SMOOTH DIVISION)
Jordan Spieth signing an autograph while holding baby Sammy—and just moments after a close call runner-up—was darn impressive:
Now that's a pro's pro right there.
VIRAL VIDEO OF THE WEEK (NOT-SMOOTH DIVISION)
Introducing LET golfer Chloe Williams, who crashed through a tee box sign during a tournament round:
To her credit, she handled it well. Also, to be fair, as someone who has played in a couple of pro-ams, they don't give you much space with that signage.
VIRAL VIDEO OF THE WEEK (WEDDING DIVISION)
We saw Joe Burrow crash a wedding on a golf course recently, but this is even funnier:
For a second, I thought the guy was pulling out his ball to give the ceremony some space, but nope! Classic.
THIS WEEK IN PUBLIC DISPLAYS OF AFFECTION (SORT OF)
A couple weeks ago, Adam Schenk dared to publicly take a crack at his wife's outfit, and, well . . .
Yeah, you could see that coming. But good news for Adam! He's out of Kourtney's doghouse! And all it took was him qualifying for his first career major championship!
What a remarkable comeback.
"Look, we've all made mistakes, and you just want to learn from those mistakes and how you can correct them going forward." —Greg Norman on Saudi Arabia's involvement in the 2018 murder of Washington Post reporter and United States resident Jamal Khashoggi. Yikes.
Pebble Beach has changed its iconic eighth hole in an effort to keep people from trying Jordan Spieth's death-defying cliff shot. That's probably for the best. . . . Jack Nicklaus reportedly turned down $100 million to be the face of LIV Golf. We're guessing that's a smart move for the Golden Bear's legacy. . . . Congrats to 14-year-old Lev Grinberg on becoming the second-youngest player to make a cut in a DP World Tour event. LIV Golf might be offering Lev that $100 million next. . . . And, finally, as the world's biggest Chris Paul fan (since covering his freshman year for the Wake Forest school paper when I was a senior), these past few days have been about as rough as it gets. So, as the world's biggest Spin Doctors fan, I'll focus on a few days before that Game 7 collapse when I was still smiling while playing with lead singer Chris Barron: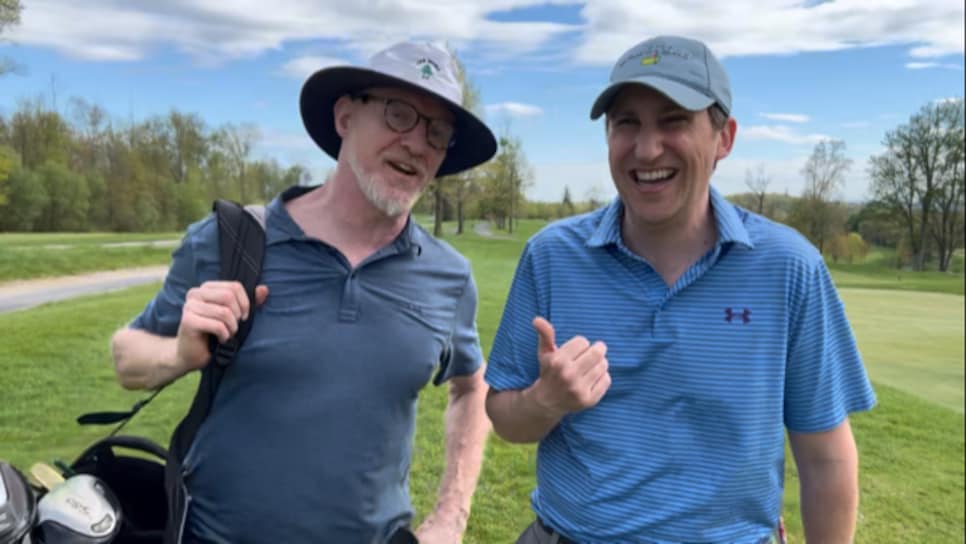 RANDOM QUESTIONS TO PONDER
Will Phil Mickelson play in another PGA Tour event?
Will Chris Paul ever win an NBA title?
Why do I bother getting my heart broken?