A GOLDEN OFFER
Jack Nicklaus reportedly turned down a staggering amount of money from Saudis to lead LIV Golf series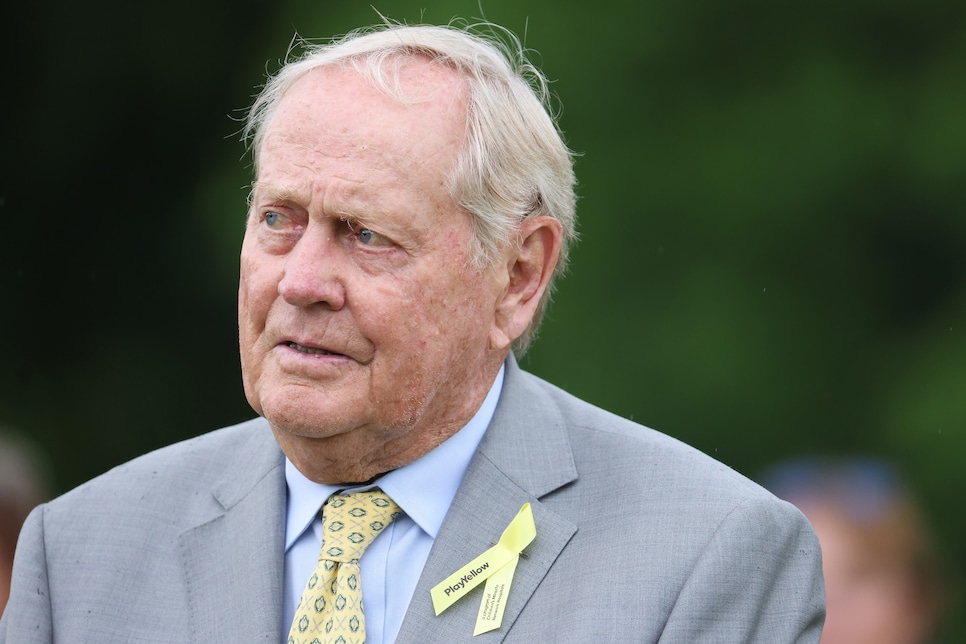 LIV Golf has the Shark, but it also attempted to land the Golden Bear.
Greg Norman is the face of the eight-event Saudi-backed LIV Golf series, which begins next month (June 9-11) outside London at Centurion Golf Club. But a story released Monday by the Fire Pit Collective—which also appears on Golf Digest's website—has comments from Jack Nicklaus saying he was presented with a chance to collect a massive payday if he would agree to help the fledgling tour
"I was offered something in excess of $100 million by the Saudis, to do the job probably similar to the one that Greg [Norman] is doing," Nicklaus said. "I turned it down. Once verbally, once in writing. I said, 'Guys, I have to stay with the PGA Tour. I helped start the PGA Tour.'"
The last few weeks, particularly, have been interesting as several high-profile players try to decide whether to play in the LIV Golf series. The PGA Tour announced May 10 it had denied all requests from tour members for releases to play in the first event, saying the decision was in the best interest of its organization and players. Phil Mickelson, Lee Westwood, Sergio Garcia and Martin Kaymer are among those who publicly have said they sought permission to play.
May 17 (Tuesday) is the deadline for players to request waivers to compete in the second LIV Golf event, the first in the United States. It's scheduled for July 1-3 at Pumpkin Ridge in Portland, Ore. The PGA Tour is not expected to grant releases for that event either.
The Nicklaus interview with the Fire Pit Collective was wide-ranging and included comments on Mickelson, who is still in the midst of a hiatus from professional golf and will not defend his PGA Championship title this week at Southern Hills in Tulsa.
Back in February, author Alan Shipnuck released an excerpt from his upcoming Mickelson book, which is available on Tuesday, where Phil acknowledged the Saudi regime was scary and that their record on human rights and murder of Washington Post reporter Jamal Khashoggi was concerning. But Mickelson said that joining the LIV Golf league was a "once-in-a-lifetime opportunity to reshape how the PGA Tour operates."
PGA Tour officials did not take kindly to Mickelson's comments, nor did several of his sponsors, who cut ties with the World Golf Hall of Famer. Mickelson apologized afterward and said he was going to take time away from golf. He hasn't played in an event since early February and missed the Masters last month for the first time since 1994.
"My advice to Phil? My advice to Phil would be to be patient," Nicklaus said. "The world is a very forgiving place. But he's the one who has to decide where he wants to play and what he wants to do."