Golf Dad
The most important lesson from 20 years of going on an annual buddies golf trip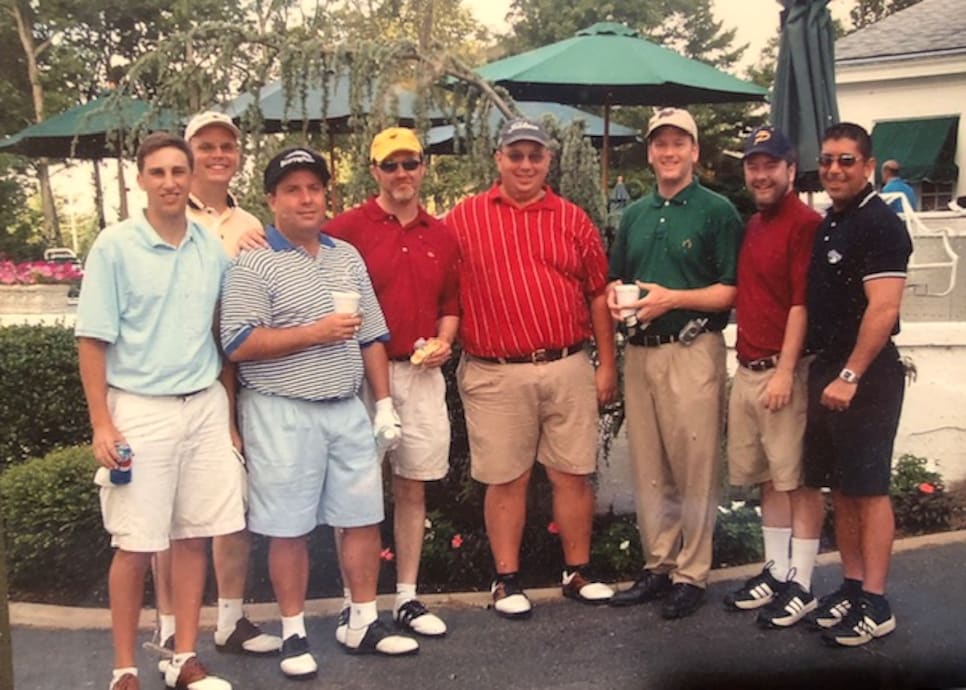 A much younger me (far left) at one of my first HGGA Championships in 2003. Please forgive my cargo shorts.
I've been going on an annual golf trip with the same group for 20 years, and there's still nothing like it. I spend most of the year counting down to those precious few days of playing the greatest game in the world with some of my best friends. Heck, I'll even start eating healthy and exercising a few weeks out to "train" for what we call the HGGA Championship. If you know me, this alone is a big deal.
The HGGA, by the way, stands for "Hair Gang Golf Association," and it predates my involvement by a couple decades. So how did I get mixed up with a group of older dudes who apparently used to have some pretty snazzy heads of hair? Through my high school basketball coach, Mark Finegan.
Turns out I was getting into golf right around the time I made varsity (NBD), so I was always intrigued when Fin, the HGGA's first and only commissioner, talked about his annual trip that bounced around to venues from Myrtle Beach to Las Vegas. When a spot opened up my freshman year of college, I jumped at it, although not long after, I admittedly wondered if I was making a mistake. I would be the youngest person going to Ocean City by nine years and most of the crew was approaching their 40s, which drew some mocking from both my high school and college friends.
But it took only that first trip to make it the thing I look forward to most each summer. And that certainly hasn't changed as the responsibilities of being a husband/father/homeowner/etc. have piled on through the years. "You don't care about (insert something, basically anything)," my wife will say in the days leading up to me leaving. "You're just excited about your trip." I'll deny it, but she reads me. Oh, she reads me.
And now as I approach (gulp) 40, I feel as though I have a new appreciation for what makes a golf trip work. And I'm not just talking about things like avoiding Florida in August or staying away from a match play bracket that knocks people out on the first day. (But yeah, don't do either of those things.)
It may seem obvious, but a golf trip is about a lot more than just golf. It's also the coming together itself—both in person on the trip and in the group texts before and after—that's the best part. And it certainly doesn't take two decades to figure that out.
There's just a special bond that forms from buddies trips. Whether you can recall funny stories about the hotel thermostat being set way, way too low, or how you eventually become comfortable enough to listen to showtunes in the car with other dudes. Yeah, that's right, showtunes. They rock. Just like annual golf trips. Emphasis on annual.
Because beyond the camaraderie that develops and compounds like interest, I've found an annual golf trip is one of the best ways to mark the passing of time in adulthood. Each edition is a snapshot of from the year that I'll always remember. Of course, I just remember the three times I've won our coveted green jacket more fondly.
This past year I was back to finishing my usual runner-up (Seriously, I make Phil Mickelson look like an amateur when it comes to finishing second), but in a weird way it worked out for the best. As the reigning champ, Fin could wear the jacket a few months later as he emceed a charity event for our friend, Tom Roksvold, an HGGA member who tragically passed away during our trip to Turning Stone in 2019.
Normally, the tattered garment purchased three decades ago from a thrift store for $4 would have rightly drawn those same curious stares we're used to seeing from strangers on the road. Those in the room, however, quickly realized it was truly the most appropriate piece of clothing to wear to honor a man who loved our trip so much that he was buried with his own green jacket. A purchase he made after winning his first title that first year I went on the trip. I'll never forget that either.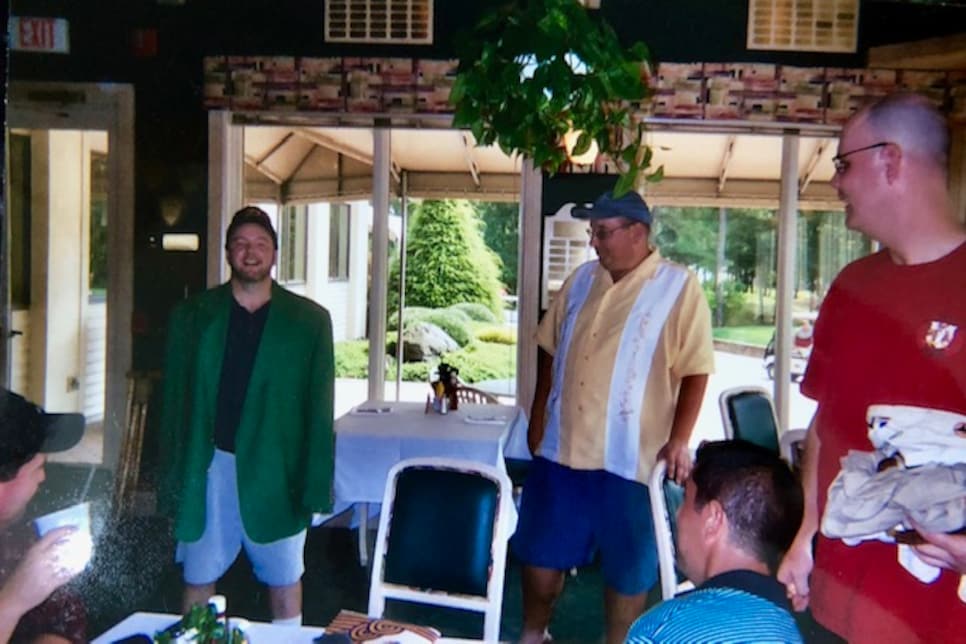 Roks slips his big green jacket onto Fin in 2002.
I could sit here and offer more detailed advice about planning a golf trip, but I know that no matter where we go or what courses we play or how we determine a champion, it's going to be a great time. And a memorable chapter as life continues on its dizzying pace.
So my main advice to you? Make sure you get something on the calendar. Every year. That's it. That's the big takeaway here. Maybe it's a weekend getaway. Maybe it's just a 36-hole day to a cool course you've never played. And maybe it requires some sort of prenup agreement like one of our oldest members has with his wife. But whatever it takes, try to plan something that's both out of the ordinary and repeatable.
I know our group is already deep into logistics for the 2022 HGGA Championship next summer. And I'm already starting to count down the days.