Golf Dad
7 ways to play more golf as a new dad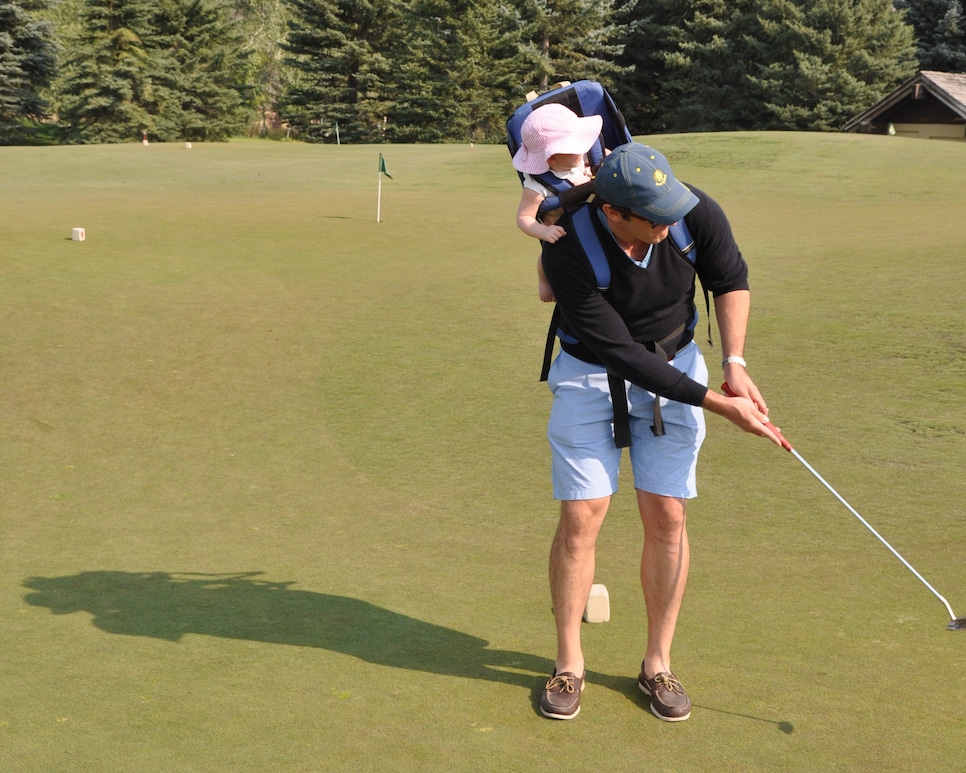 Let me start by saying I'm a lucky guy. I've been blessed with a beautiful family, I'm relatively healthy, and I've got a pretty cool job. I also get to play a lot of golf. Well, usually.
With the arrival of a second baby this past year, my rounds are predictably down. But "down" is still relative. I've still played more than 20 times already in 2021—which is still comfortably above the eight-round threshold that makes me a "core golfer," according to the National Golf Foundation. Like I said, I'm lucky. If you want to feel bad for someone, feel bad for those poor "core golfers" who are only getting in eight rounds a year. I might get to that number in just work outings alone.
Still, I'd like to get back to playing more, and I've already realized there are certain things one can do as a father to guarantee time on the golf course. Don't get me wrong, I love spending time at home, too. And there are times golf doesn't seem worth leaving the house for, even to go on trips for my aforementioned pretty cool job.
But there are also times when I long to make tee times. So I'll be trying to implement these ideas to my advantage more going forward, and, hopefully, they'll help you as well. (Of course, these are my personal experiences as a new dad, but they should be just as applicable if you're a new mom.)
First things first—and this one should be pretty obvious—try to make golf work-related. I realize this is easier for me being a golf writer and all, but you can stretch it. Heck, it's well worth even getting your boss into your regular rotation of playing partners. Drop the "B"-word to your significant other and you can pretty much drop whatever you're doing. (Just don't actually drop the baby.) And if my boss is reading this, no, this isn't why I play golf with you. I swear. Promise.
Another idea that's a bit of a stretch is to lock an annual golf trip into your schedule. There's no easier way of maintaining your "core golfer" status than by guaranteeing a solid block of playing golf. I got to those eight rounds in just five days earlier this summer—and the only reason we didn't play a ninth time was due to weather. Hey, it's a golf trip. Treat it like one. I know people who have even gone as far as to make this annual golf trip part of a marriage prenup. Those people are smart. A little sick, but smart.
Next, you want to play really early. No, like really, really early. Of course, there's a limit to this with sunrise, but you want to push it to that limit. Trust me. Hearing, "You're back already?" is music to my ears and well worth that early alarm. Oh, and when you wake up, doing it as quietly as possible (I leave what I'm wearing downstairs the night before to get changed down there) gets you bonus points. Hearing, "I didn't even hear you this morning!" is even better. It also goes without saying that when it comes to providing estimated return times, your motto should always be to under promise and over deliver.
With the time element being so critical as a parent, be prepared to become a range rat. You know, like Ben Hogan. Well, not really like Hogan because he never had kids so he could pound golf balls all day until his hands bled and then wash away the pain with all the vodka martinis he wanted. Anyway, this is kind of cheating because going to the range isn't the same as playing on a course, but I've learned to love my quick getaways. They're better than nothing, take a fraction of the time, and you wind up getting in just as many swings. Oh, and the solitude is glorious.
Which leads me to an important sacrifice you should be willing to make: Have golf be your only social activity. I honestly couldn't tell you the last time I did something with friends that didn't involve golf (or a kid's birthday party) and I don't miss that other stuff at all. NEWSFLASH: You're a dad (or mom), you're old, and you're not cool anymore! You don't need to go to Happy Hours and such. On the flip side, if your spouse doesn't play golf, you should encourage their social life since the more they go out, the less guilt you'll feel getting out on the course. And because you only have a precious amount of free time now, use it wisely. In other words, use it all on golf.
Of course, you can expand beyond that free time if you get your kids involved. Unfortunately, I'm not quite to that point yet with my oldest daughter only being 3, but the seed has already been planted. In fact, we recently played our first round of mini-golf together and she actually liked it. Not that it mattered. She's going to play golf whether she likes it or not. Kidding. Sort of.
As important as it is for kids to be active, it's also important for dads. At least, that's one of my excuses. So always emphasize you're playing golf for exercise. Don't you want me to be healthy?! And hey, it's not a lie—especially if you avoid taking a cart. Studies show golfers carrying their own bags can burn about 300 calories per hour. And it's a lot safer than doing something like playing basketball at this age. We played pickup hoops after work a couple years ago and a colleague ruptured her Achilles within the first hour. The ONE time we played! True story.
On a related note, I'm officially retired from basketball. And pretty much any other physically demanding activity. I just can't afford an injury that will keep me laid up for that long. I don't play enough golf as it is.