TEEN SPIRIT
14-year-old Ukrainian amateur becomes second youngest golfer to make cut on DP World Tour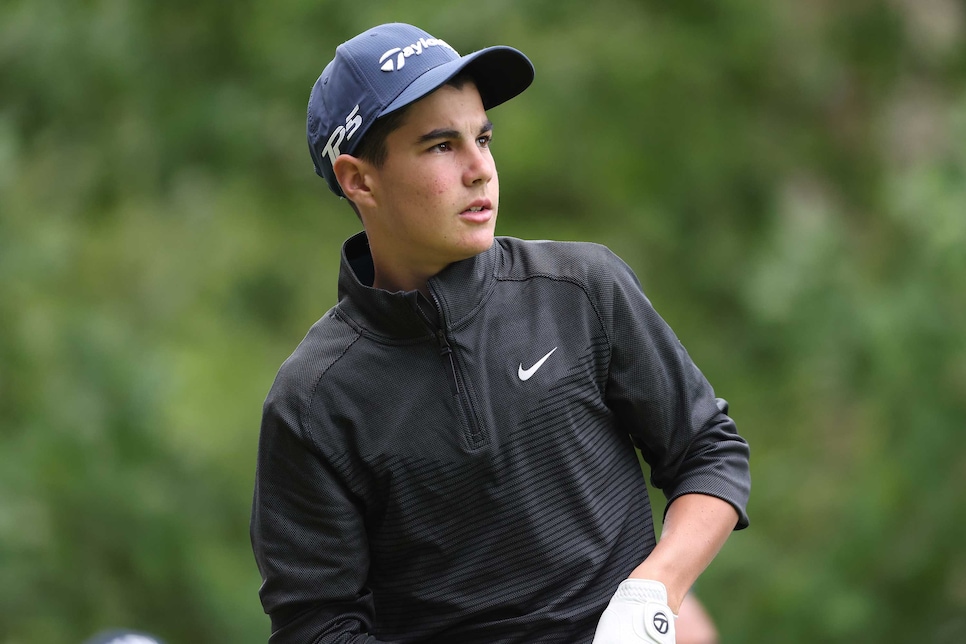 Lev Grinberg of Ukraine tees off the 11th hole during the second round of the Soudal Open.
Warren Little
Lev Grinberg, a 14-year-old who was born in Ukraine, spent time honing his game in Belgium and worked more in the United States over the last three years, followed up an opening round one-under 70 at the Soudal Open with a two-under 69 on Friday. In the process, he became the second youngest golfer to make a cut in a DP World Tour event.
Playing at Rinkven International Golf Club in Antwerp, Belgium, where Grinberg and his father, Illya, are members, as one of six tournament exemptions that go to amateurs, Grinberg is tied for 29th, five shots back of co-leaders Sam Horsfield, Dale Whitnell and Matti Schmid.
Grinberg made the cut by two strokes. The only player younger to make a cut at a DP World Tour event was China's Guan Tianlang, who advanced to the weekend at the 2013 Masters when he was 14 years and 169 days old.
"I played amazing!" Grinberg said. "I can't wait to play tomorrow and Sunday. It's so nice to play good and make the cut and my home course, and hopefully grind out as many birdies as I can and hopefully get top 10. That is my goal this weekend. It's amazing because you play with friends from home and then you play with these guys who are top 50, top 10 in Europe, and it's just nice."
According to Grinberg's personal website, he was born in Kiev, Ukraine and started playing golf at age 5 at Kozyn Golf & Country Club. A few years later Lev would accompany his father on business trips to Belgium and he became more serious about his game, competing in national junior competitions there as early as age 7.
Grinberg's game progressed more and eventually he spent winters in the United States, mostly in Florida. Lev and his father remained in the U.S. during most of the COVID-19 pandemic and finally returned to Belgium late last year.
This is not the first time that Grinberg has made headlines. Last year, at only 13, he advanced to the final stage of U.S. Open qualifying, looking to become the youngest to compete in a men's major championship. He shot 74 in the first round at Dallas Athletic Club and had played five holes in his second round when weather suspended play. The round was not scheduled to resume until the following day, so Grinberg—paired with Scott Piercy and Kramer Hickok—withdrew and flew to Miami to play in his next junior event.