Catalunya Championship
Up-and-comer wins first DP World Tour title after making par on 18th hole six (!) times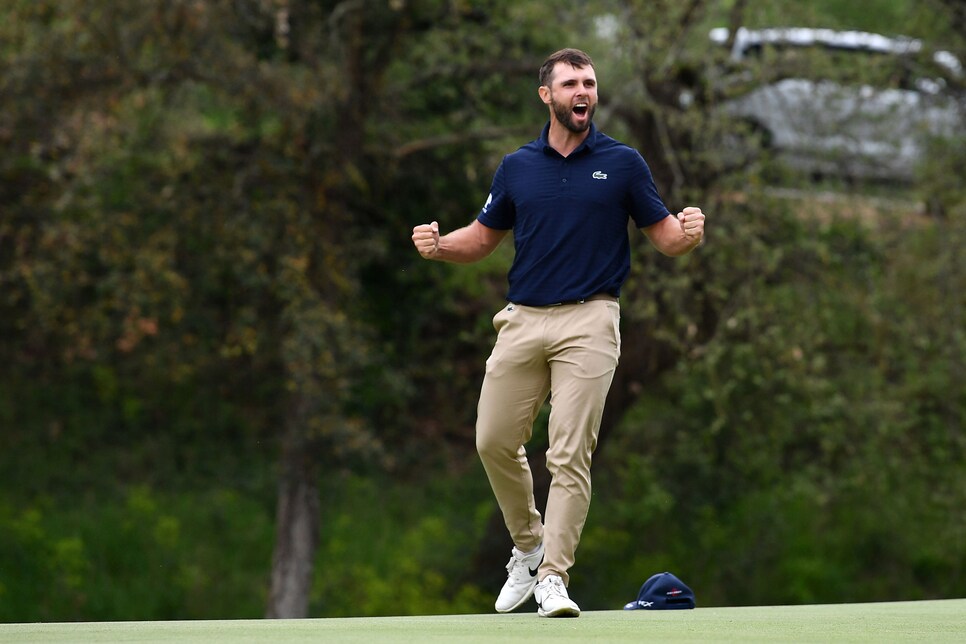 Adri Arnaus celebrates beating Oliver Bekker on the sixth playoff hole to win his first DP World Tour title at the Catalunya Championship.
Octavio Passos
It's hard to say what will go down as the most remarkable part of Adri Arnaus' maiden victory on the DP World Tour at the Catalunya Championship. Impressively, the 27-year-old Spaniard shot a bogey-free final-round 65 to overcome a seven-shot deficit, the biggest come-from-behind win on tour in the 2022 season. But to close things out, Arnaus astonishingly parred the par-4 18th hole at PGA Catalunya Golf and Wellness six times on Sunday, the first in regulation and the other five in a playoff with South Africa's Oliver Bekker.
Amazingly, Bekker matched Arnaus par for par (for par and so on). Finally, the duo switched to the 17th hole, where Bekker lipped out a par try, allowing Arnaus to finally break through and win when he rolled in another par putt.
"It's a dream come true," said Arnaus, who finished the event at 11-under 277. "I've been looking for this one for a while. To be able to come through here, where I practice in the summers, they take care of me so well. I know the course quite well. I've been able to play some really good golf and to do it here is special."
Arnaus previously had five runner-up finishes on the DP World Tour, including two playoff losses in the last seven months. Twice before he also finished second in his home country.
With birdies on three of his first 10 holes, Arnaus was playing solid but was still five shots back of Bekker, the 54-hole leader. From there, he made a fierce charge on the back nine. It began with a 35-footer for eagle on the par-5 12th. A two-putt birdie on the par-5 15th, then made birdie on the par-3 16th to but the lead to one.
Bekker then helped out with a three-putt bogey on the 16th hole. Pars on the final two holes allowed his even-par 72 to still get him into the playoff.
With the victory, Arnaus jumped from 84th to 52nd in the World Ranking. "That's a target of mine [getting inside the top 50]. This year we had a target set," Arnaus said. "I feel like I belong there, so looking forward to moving up."
For the record, Arnaus made par on the 18th hole the first three rounds as well, meaning he parred the finishing hole nine out of nine times for the week.