REGIONS TRADITION
Steve Stricker dominates Regions Tradition, collects fourth Champions major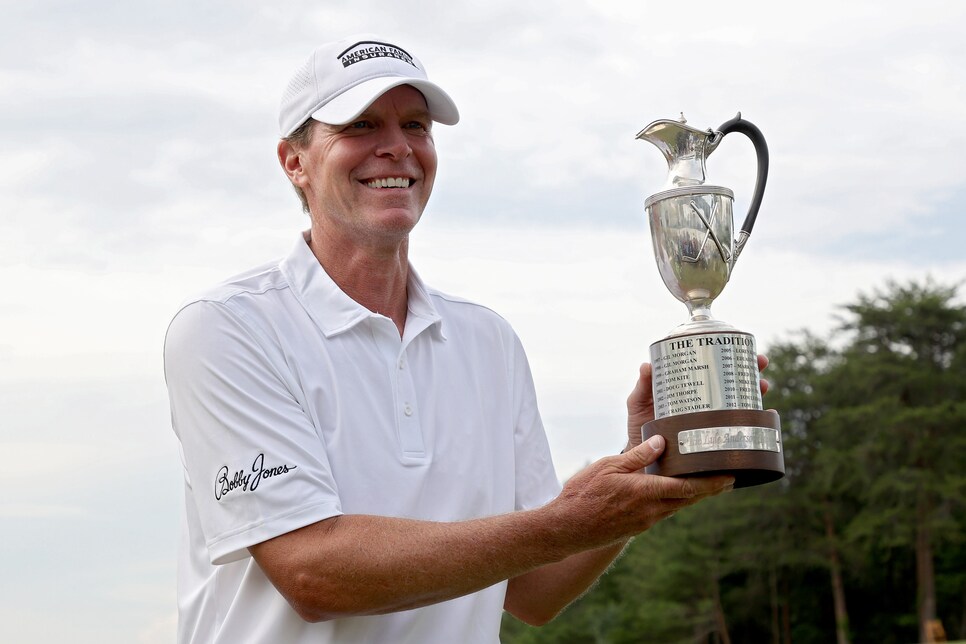 Steve Stricker wasn't sure if he had the strength to play three consecutive weeks of tournament golf. Not only did he complete the task, at the end of the stretch he became emotional after capturing one of the most coveted titles on the PGA Tour Champions.
Stricker shot 65-68-66-68 for a 21-under-par total to cruise to victory Sunday at the Regions Tradition and win by six shots, the same margin as his Regions victory in 2019. It's Stricker's eighth victory and fourth major championship on the PGA Tour Champions. It also avenged a playoff loss to Alex Cejka last year at Greystone Golf & Country Club in Birmingham, Ala.
It's hardly a surprise to see Stricker stalking the top of a leaderboard on this tour but his golf future was uncertain late last year when he developed what he has described as a mystery illness. He captained the victorious U.S. Ryder Cup team in late September, played in a Champions event a couple weeks later and shortly thereafter began to feel weak and exhausted. The health scare turned out to be inflammation around his heart making it fall out of rhythm. He also had liver issues. He spent time in the hospital before Thanksgiving, lost 25 pounds—he says he is still trying to add that weight back—and golf was not at the forefront of his mind.
When Stricker, 55, returned two weeks ago at the Insperity Invitational in Texas, it had been 200 days since he last competed. With no expectations, and concerns about whether he'd have enough stamina to play 54 holes, he led after 36 holes and had a chance to win late on Sunday but was lapped by Steven Alker's final-round 66. Last week Stricker tied for 10th place at the Mitsubishi Electric Classic.
This week was pure domination by Stricker from beginning to end. He opened with a flawless seven-birdie 65 and never flinched. A third-round 65 gave him a three-shot lead heading into the final round and birdies on Nos. 2 and 5 early boosted that lead.
"It's no fun, it really isn't," Stricker said about his large lead. "It can only really go two ways and one of them is the wrong way."
Stricker then went into conservative mode, made 11 consecutive pars in the middle of his round and was holding a four-shot lead standing on the tee box at the par-3 17th hole. Alker hit an approach inside 10 feet and Stricker found the front, left greenside bunker. It looked like Stricker's lead could shrink some heading to the home hole, but he holed out his bunker shot, Alker missed his putt and there was no drama during the walk down the 18th hole.
"I progressed a lot over the last couple of months," Stricker said. "I didn't really know what to expect. My game was there some days and not there other days because my body was changing. I went from losing 25 pounds to trying to put on weight, so I really didn't know to expect. So, this is pretty surreal to be a champion at the Regions Tradition. I just couldn't be happier."
Alker was tied with Padraig Harrington for second place but a bogey on the last hole dropped him into a third-place tie with Ernie Els, Rod Pampling, Stuart Appleby and Miguel Angel Jimenez.