There is nothing in the profile of K.H. Lee to suggest he would emerge from this week's crimson-splashed leaderboard at the AT&T Byron Nelson with a victory over the likes of Jordan Spieth, Hideki Matsuyama and Justin Thomas—all major champions. Nothing in the strokes-gained categories or his scoring average this season, or even his recent performances. Nope. Nothing, really.
Nothing except the fact that he won the same event last year.
Thanks to a bogey-free nine-under-par 63 at TPC Craig Ranch, a course with weaker defense than the Milwaukee Bucks, Lee repeated in the Dallas suburb of McKinney, Texas, by doing himself one better than a year ago with a 26-under 262 aggregate total, one stroke ahead of Spieth. His was a performance worthy of the title, coming as it did amidst a sea of sub-par scores. If you shot 20 under this week, which (quick math) is averaging five-under 67 each day, you couldn't even congratulate yourself with a top-10 finish.
So what if Lee, a sturdy, rock-music loving, God-fearing South Korean, did trample all over a more enchanting narrative—that of Spieth, the Dallas native who made his PGA Tour debut in this event at age 16, finally winning at home. Sentimental favorites still have to get it in the cup faster than everyone else. Lee was just a little bit better after coming into the week 118th in birdie average at 3.68 per 18 holes.
"It was just like a dream again, just like last year. It's an amazing feeling," said Lee, 30, who became the eighth player since 2000 to win his first two tour titles at the same event and the first to do it back-to-back since Daniel Berger at the 2017 St. Jude Classic. Lee joined Sam Snead, Jack Nicklaus and Tom Watson as the only repeat winners in tournament history.
"We had it blowing 15 to 18 [miles per hour] our last 10 or 11 holes, so that score this afternoon, especially the last closing stretch of holes, is just a phenomenal score," Spieth said of Lee's performance.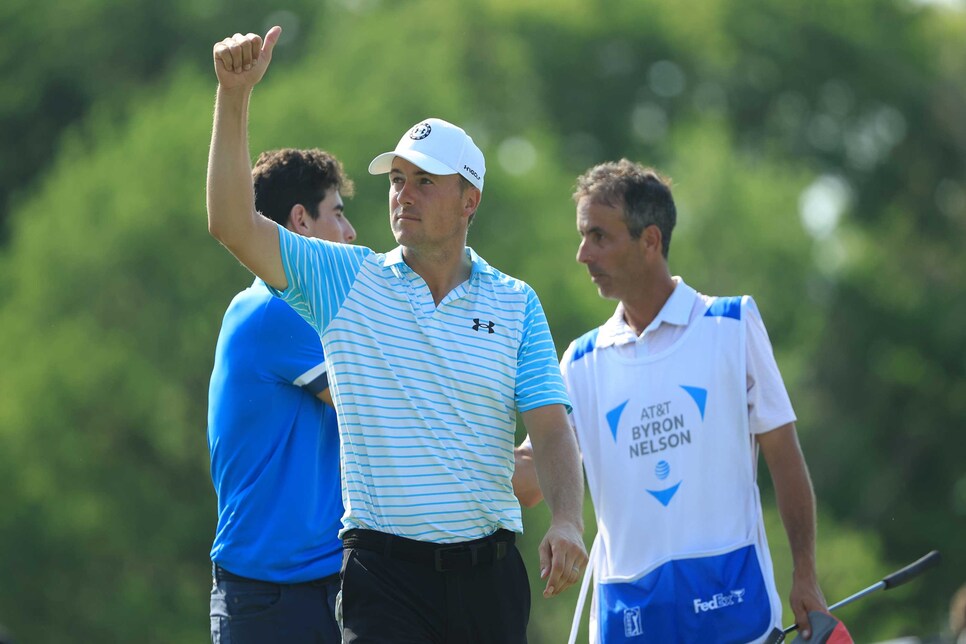 Many at TPC Craig Ranch were pulling for Jordan Spieth to win the local event he first played in at age 16, but he had to settle for runner-up.
Sam Greenwood
For all the scoring chances available at TPC Craig Ranch—there were 2,228 birdies recorded, the most at any tour event since 1983, and 104 eagles, second most in the same time frame—this tournament can be summed up rather simply by two par putts.
Spieth whipped a 10-foot birdie try three feet past the cup at the par-4 10th hole and then missed the comebacker. He did line it up first, at least. A few hours later, clinging to a one-stroke lead, Lee, after chipping from an awkward lie just outside a greenside bunker, faced a 12-footer at the par-3 17th and neatly guided it home. He followed with a two-putt birdie at the home hole that forced Spieth to come up with an eagle to tie, but his chip from the front fringe wasn't wrapped in destiny.
"I had a pretty good look at birdie and just got a little too aggressive and hit it through the first break. And then I kind of got in my own head in the wind there on the second," Spieth, who closed with a 67, said of his hiccup at 10. "To go from thinking I was going to make birdie to making bogey, I mean that's obviously a big swing."
Nevertheless, with a victory and his second runner-up finish of the year in his last two starts, Spieth rightfully is looking ahead with optimism to next week's PGA Championship at Southern Hills in Tulsa, where for the fifth time he will try to complete the career grand slam. "It was a good week, good momentum going into next week," Spieth said, "but this one will sting just a little bit."
Spieth, who posted his best finish in his hometown tourney, isn't the only player rounding into form heading to Tulsa.
Matsuyama, the 2021 Masters champion, closed with a 62 for a share of third place with Sebastian Muñoz, another local player who opened with a 60 and held the lead for each of the first three rounds before a middling 69 to finish at 24-under 264. Thomas, the 2017 PGA champion, was part of an eight-way tie for the lead at one point, closed with a solid 67. He finished joint fifth at 265 with Texan Ryan Palmer, who shot 66, and Xander Schauffele.
Oh, yeah. Schauffele. Where do we start? Seldom is a guy who finished three back worthy of a shout out, but the Olympic gold medal winner gets one here, because he was flat-out ridiculous over his final 54 holes. Actually, just look at his final 49 that he played in 26 under par and without a bogey. He stood three over after three holes of his second round but somehow made the cut on the number at five under par. He began the final round T-30 and putted out on 18 for birdie and a one-stroke lead he knew wasn't going to hold up. Still, he signed for 61.
Xander Schauffele's incredible weekend play provides him with a lot of confidence heading into the PGA Championship at Southern Hills.
Gregory Shamus
"I don't quit; it's not really in me," said Schauffele, who won last month with Patrick Cantlay at the Zurich Classic team event. "Even when I miss cuts, I'm still trying my hardest and that's just kind of how I am. I knew it was going to be a trip, a journey to come back, and I'm always up for the challenge. When you're so far away from the cut line like I was on Friday you kind of just free yourself up, kind of like today, just try and make as many birdies as possible and sometimes it goes your way."
Lee got things going his way after changing back to his two-ball putter he used in last year's win at TPC Craig Ranch. He should never switch again. Especially after the par save at 17 that kept his nose in front.
"Honestly, very nervous there," he explained. "I know it's a very important putt to make a par. Jordan and a lot of guys coming just one behind and I know a lot of guys make a birdie at 18, so I need to make the putt. Just, I pray and then make the putt."
And then he reacted with a little fist pump.
He, too, was thinking of what comes next. He missed the cut in last year's PGA at Kiawah Island, and the rest of the year was decent, but he ended up 31st in the FedEx Cup standings and missed the Tour Championship by one spot. Ouch. He has goals beyond Southern Hills, too, which would include securing a spot on the International Team in the upcoming Presidents Cup in North Carolina.
"My first goal," he said, "is next week play well, hopefully make the cut and play well, and then also keep momentum and try to [play in] more champion group or more play well, so hopefully this season will be better than last year."
Lee admits that he prays mostly to bolster his confidence. Seems to work. "Sometimes, like I need to believe in myself, but just need a, 'Oh, God,' like, please, pray." Doesn't hurt at all that TPC Craig Ranch is like his own Amen Corner.