Live Blog
PGA Championship 2022 live updates: Rory McIlroy's morning 65 stands, big names struggle on tough first day at Southern Hills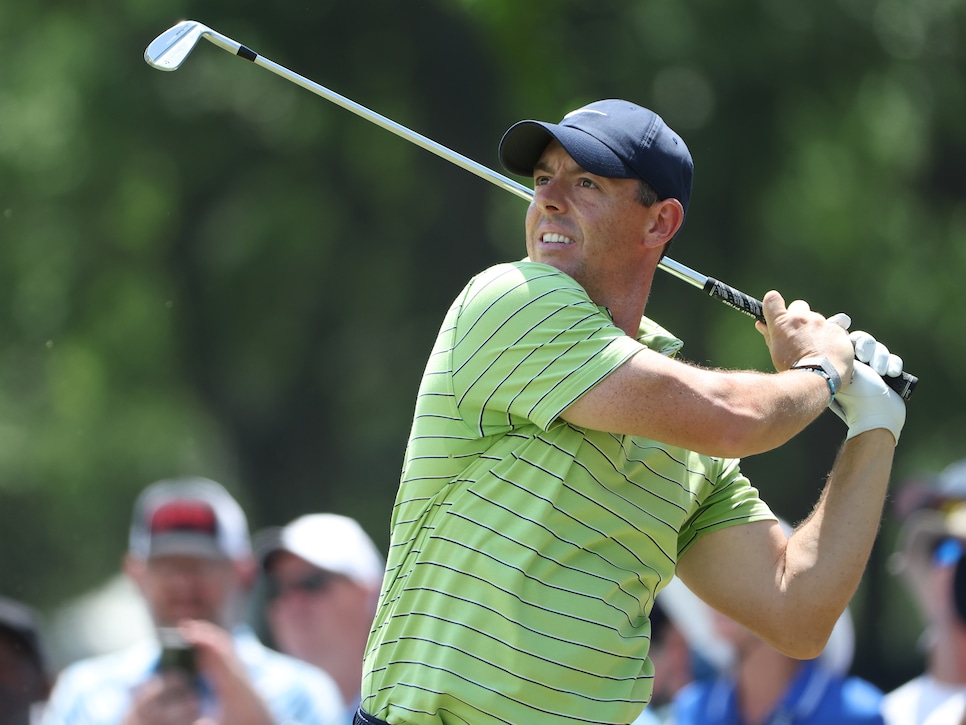 Rory McIlroy plays his shot from the sixth tee during the first round of the 2022 PGA.
Christian Petersen
Rory McIroy put on a show early and Justin Thomas was impressive in the late afternoon as the PGA Championship got underway Thursday on a Southern Hills Country Course in Tulsa that is looking like it has plenty of teeth to show the world's best.
McIlroy set the pace and ignited hopes for his fifth major win (and first since 2014) with an opening five-under-par 65. He stayed atop the leaderboard the entire day, though Thomas arguably had just as strong a round in conditions that were decidedly more challenging. Thomas, winner of the 2017 PGA, birdied the 18th hole to shoot 67.
Will Zalatoris and Tom Hoge each shot 66 in the morning, while Matt Kuchar and Abraham Ancer matched Thomas with 67s.
(Scroll down for the latest updates)
Starting on the 10th hole, Tiger Woods got off to a solid start with two birdies in his first five holes. But, clearly struggling with pain in his legs, he shot six over the rest of the round and finished with a 74.
PGA Championship 2022 live updates (all times eastern time):
7:52 p.m.: The marquee group of the afternoon is off the course, and their expressions said they couldn't get to their cars (or the range) fast enough. World No. 1 Scottie Scheffler, No. 2 Jon Rahm and No. 3 Collin Morikawa scuffed around Southern HIlls and combined to shoot six over. Scheffler and Rahm both made lengthy par putts on 18 or it could have been worse. Scheffler shot 71 despite an eagle, while Rahm (73) made a double at the par-3 eighth. Morkawa (72) wrote down only one birdie.
7:22 p.m.: With a birdie on 18, Justin Thomas is in with the best score of the afternoon with a three-under 67. "Now that's a major championship round of golf," says David Duval of the round with only two bogeys—back-to-back blips on 8 and 9.
7:05 p.m.: With a fast-running chip-in at No. 3, Aussie Lucas Herbert has the best afernoon round going at three under. Herbert won the Bermuda Championship back in October and has one other top-10 this year—a T-7 at Arnold Palmer.
6:15 p.m.: To ESPN and the PGA of America's credit, they addressed head on Phil Mickelson's absence, which never happened at the Masters. Following a story by Gene Wojciekowski, anchor Scott Van Pelt asked analyst David Duval about his thoughts on Mickelson. Duval did not hold back. "Unfortunately, as you look at it, to me, he's dug a hole that I struggle to see him getting out of. I don't see the exit strategr,." he said. Duval added of Mickelson not being able to defend his title, "It is unquestionably a massive disappointment to this sport and the great fans of this sport."
5:52 p.m.: At No. 12, Scottie Scheffler just got VERY lucky with a bold (and probably too risky) shot while trying to boot a field goal between two trees. His ball caromed off a tree and came up short of going into the water. He had a tough lie up against the rough cut, but of course hit a great half-wedge to three feet. BUT, he lipped out on that one. That's a bogey and he's at one under.
5:15 p.m.: Jesse Mueller, a club pro from Arizona, is not going away. After his stunning eagle on his first hole, the 10th, he just drained a long birdie putt on No. 3 to get to one under. There are only 28 players currently in the red.
4:47 p.m.: The Rahm, Morikawa, and Scheffler group reaches the monster 249-yard long par-3 eighth and not one ball hits the green. Well, Morikawa's is mere inches onto the fringe, so we'll count that. If you're inside of 51 feet from the pin on eight, you're above average for the day—sheesh!
4:37 p.m.: The sand at Southern Hills seems to be a source of confusion for many players in the field. In the past 10 minutes, we've seen both Justin Thomas and Brooks Koepka look down at their lies with puzzled expressions after bunker shots gone awry.
4:22 p.m.: Screams echo from the background of the broadcast, and it's none other than Rickie Fowler at the seventh. He holes out from the bunker to get back to even par, prompting yelps from the Tulsa fans. Jason Day had to mark his ball in the trap next to Rickie's. Hopefully some good vibes remain when the Aussie hits his own shot.
4:15 p.m.: Brooks Koepka's early struggles continue. Things aren't looking great as he blasts out a tricky greenside bunker shot from just beneath the back lip, leaving himself a lengthy putt to save bogey at the par-3 eighth. He makes it for quite the save, but still has some major work to do, as he's four over par through eight. Yikes.
4:06 p.m.: Scottie drains his eagle putt at the fifth, the first of the day. Just the world No. 1 doing world No. 1 things. Making it look way too easy.
3:56p.m.: Scottie Scheffler bombs a 3-wood to reach the 665-yard par-5 5th in two, leaving himself a mid-range eagle putt. Rahm's attempt is similarly impressive, but runs through the green, leaving him an extremely slippery chip off of the Southern Hills grainy bermuda grass. We have a feeling we're going to be hearing a lot more about the strain around the greens this weekend.
3:46 p.m.: The marquee group of Jon Rahm, Collin Morikawa, and Scottie Scheffler continues a steady but slow start with all three players remaining even through four holes. Morikawa drains a 10-footer with some significant pace for a solid up-and-down to save par. Matthew Wolff, an Oklahoma State alum and crowd favorite this week nearly holes out for eagle from the 12th fairway. Justin Thomas sinks a short birdie putt on the fifth with confidence to get to two-under for the day.
3:26 p.m.: A roar sounds from over at the seventh, where South African Justin Harding holes out for eagle from 181 yards. With a huge high-five from his caddie, Harding gets it back to even par for the day.
3:21 p.m. Oklahoma native Talor Gooch dunks it from a greenside bunker for par on the 15th to continue a solid par streak to start off his round in home territory. In total shock, Gooch gives a bow to the crowd after the epic save.
3:10 p.m.: Tough conditions as Scottie Scheffler stays even with two pars to start his opening round. The Masters champ and World No. 1 is knotted up with Morikawa at one under, and Rahm is at one over to round out the group.
3:01 p.m.: Davis Riley will finish his day at two under and Tom Hoge will end at four under. The latter is just one back of leader Rory McIlroy with five birdies and a bogey. He's a TCU grad and looks pretty comfortable here in Oklahoma.
2:48 p.m.: An opening par for Collin Morikawa could've been much worse after a shot well to the left to start his day near the trees. Jon Rahm will follow that with a bogey and an early dropped shot. The announcers go on to state that this is one of the easier holes of the day thus far. To finish the pairing's first hole, Scottie Scheffler botches a birdie putt and will have to stick with an early par.
2:36 p.m.: Talking after his round, it's obvious that Tiger went through some noticeable pain that round but seems in relatively good spirits despite the poor start. Woods will tee off in the afternoon tomorrow, which will give him some more time for ice baths and whatever else he needs to make a charge.
One of the much-ballyhooed afternoon groupings is set to tee off as Jon Rahm, Collin Morikawa and Scottie Scheffler begin their days on the first tee. No one's playing better than Scheffler right now, coming off his dominant Masters victory, but it's not as if Morikawa and Rahm don't know how to win major events.
2:22 p.m.: That's a helluva putt from Rory McIlroy to finish his day. Looks like he might've reverse-jinxed himself after some self trash-talk on Wednesday. He birdies the final hole of his first round to shoot a 65 and enter the clubhouse as the solo leader. Jordan Spieth will hit a big putt of his own to stop the bleeding and finish his day at an opening 72. Tiger Woods will bogey the final two holes to close his day out and will finish at four over.
2:16 p.m.: "Welcome to the competition!" It's not going to get much better than that. Repping Grand Canyon University, Jesse Mueller eagles his first hole (the tenth hole) at the PGA Championship to jump into the T-5 spot.
2:07 p.m.: Tiger will bogey the seventh hole to drop to three over around the same time as Will Zalatoris nailing a long putt to take a share (with Rory and Tom Hoge) of the early lead. The three out front sit at four under. According to Justin Ray, Zalatoris leads the morning wave in strokes gained putting.
2:01 p.m.: We've left ESPN+ for ESPN now, in case you were wondering why nothing is happening on your screen. Tiger Woods and Rory McIlroy both play bunker shots, Rory's ends up much closer to the par-4 seventh. McIlroy still leads at five under with Tom Hoge just one shot behind.
1:53 p.m.: It's not a birdie-birdie-birdie finish yet, but Spieth is on the right track. After ripping a draw at the 17th, he knocks it on and drains the birdie putt to get back to two over. Woods finds the greenside bunker and gets up and down for par, keeping him at two over. McIlroy makes par and stays at five under, which is now only one shot clear of Tom Hoge, who birdies the 15th to climb to four under. Up ahead at the long par-3 eighth, Will Zalatoris pulls off a wild up-and-down par save from well over the green to keep it at three under.
1:41 p.m.: Birdies are falling left and right all of a sudden at Southern Hills. Joining Kuchar and Hoge at three under are Abraham Ancer and Will Zalatoris, who just made a bomb for bird at the 489-yard par-4 seventh. That putter works on the long ones, that we know. Also at three under is Cameron Smith, who just made his seventh birdie at the seventh hole. Seven birdies and he's only three under. Yep, sounds about right for Cam Smith.
1:36 p.m.: Oof. The Spieth Train is quickly losing steam. An ugly three-putt at the par-3 sixth drops him to three over on the round with just three holes to play. Unless he somehow goes birdie-birdie-birdie, he's going to be fighting to make the cut on Friday. McIlroy makes bogey, too, his first of the day, but he still remains two clear at five under. Surprisingly, it's Matt Kuchar and Tom Hoge who are each at three under. Xander Schauffele and Cameron Smith check in on the leader board next at two under.
1:18 p.m.: Oh my. We may have a "Vince Carter It's Over.gif" moment. McIlroy pours in another birdie at the fifth and is now at six under, three ahead of the next closest competitors. We know, it's only Thursday, but if McIlroy is going to putt like this all week... watch out.
12:56 p.m.: Welp, Tiger promptly falls back to two over with a bogey at the fourth. Good news is he's not alone at two over, as playing partner Jordan Spieth is also two over through 13. The final member of this triom McIlroy, is seven up on both of them, just missing birdie at the fourth and remaining at five under.
12:42 p.m.: Tiger makes a much-needed bounce back birdie at No. 3 to get back to one over. With the wind already picking up and possibly whipping even harder this afternoon, even par could look like a pretty good score by day's end. No doubt that's the number on Woods' mind now with six holes remaining in his first round. Speaking of bounce backs, Will Zalatoris has also bounced back after that short miss at the 18th. A birdie at the third has him back at three under. McIlroy is still your leader at five under, and no one else has even reached four under yet.
12:24 p.m.: Rory and Tiger fans, of which there are many, have to be feeling conflicted right now. At the par-4 second, McIlroy makes yet another birdie to climb all the way to five under, two clear of Davis Riley and Dean Burmester. Woods, meanwhile, makes his third consecutive bogey and is now two over, seven back of McIlroy.
12:06 p.m.: After hitting his drive behind a tree at the first, Tiger Woods has to punch out and try to get up and down for par, which he fails to do. Back-to-back bogeys drop the 15-time major champ to one over, killing all the buzz his first five holes provided. Dagger.
11:52 a.m.: McIlroy makes the turn in four-under 31, which has him one clear of the red-hot Davis Riley, who just hit another approach shot close at the 17th. Woods goes on to make bogey at 18 and turns in 35. Spieth makes bogey as well, his third in the last four holes, to fall to two over. Bit of an unexpected slow start for Spieth, who won and finished runner-up in his last two starts on tour.
11:43 a.m.: Things have taken an unfortunate turn in the last 20 minutes. Will Zalatoris, a par away from turning in three under, misses a shorty for par at the 18th and drops back to two under. The putter continues to plague him, even on days when he's seemingly putting well. Right behind his group, Tiger Woods is in a bit of trouble at the 18th, finding the back bunker with his approach and hitting it out to about 20 feet. Staring bogey in the face, which would see him fall to even par on the day.
11:25 a.m.: Rory and Tiger juuuuuust miss their birdie attempts from the fringe on No. 17. Spieth makes par as well. The marquee group has cooled off a little, but McIlroy remains in front at four under and Woods stays at one under. Max Homa and Will Zalatoris are still at three under and they have been joined by Justin Rose and Davis Riley. On the flip side, Cameron Smith is off to a surprisingly slow start at two over through eight holes. But again, it's early. Very, very early.
11:07 a.m.: Rory couldn't make a fifth consecutive birdie at No. 16, but he'll gladly settle for par at the 532-yard par 4. McIlroy found a fairway bunker, then missed the green short, but chipped to two feet to keep from dropping a shot. Jordan Spieth isn't so fortunate as he makes a second straight bogey to fall to one over. Woods remains at one under after a very solid par.
10:47 a.m.: Rory McIlroy held his daughter on the eve of the tournament in front of a mural of himself and said, "That was when daddy was good." Well, Poppy, your daddy is still really, really good. Rory just ripped off a fourth consecutive birdie to grab the lead at four under. And he made up two shots on both his playing partners as Tiger Woods and Jordan Spieth bogeyed the par-4 15th.
10:33 a.m.: BANG! Tiger rolls in a 15-footer for birdie on the 221-yard, par 3 14th. Woods moves to two under with his second birdie of the day, but he trails playing partner Rory McIlroy, who also birdies the hole from a similar spot. Jordan Spieth settles for par on the difficult par 3 to remain at one under. So far, so good for this marquee group.
10:16 a.m.: Turns out, Spieth and Rory were fine in that front bunker, but it was Woods who wound up with the toughest shot of all after air-mailing the green from 88 yards into the back bunker. From an awkward lie, though, Tiger cozied one up to three feet to save par and remain at one under. Spieth missed his birdie effort from 10 feet and Rory converted his birdie after a nice bunker shot to get to two under. He's one behind Max Homa and Will Zalatoris. And can you imagine Golf Twitter if all of its favorite sons keep this up?
10:08 a.m.: We've heard a lot about how long Southern Hills' pair of par 5s are, but after booming drives on No. 13, both Rory McIlroy and Jordan Spieth had easy decisions to go for the green in two. However, both came up short in a greenside bunker that also features a bush. We'll have to see what kind of lies they draw. Meanwhile, Tiger laid up down the left side of the fairway and will have less than 100 yards in.
9:52 a.m.: Spieth rolls in his nine-footer for birdie, too, to join Rory and Tiger at 1-under through their first three holes. The vibes are strong with the morning's featured group.
9:39 a.m.: What a tale of three tee shots on the 12th. Tiger Woods hit the controlled stinger iron off the tee to find the fairway rather easily. Jordan Spieth thought he lost his tee shot way left ... but the hole doglegs left and his ball bounced into the fairway. Then Rory McIlroy took on the dogleg and bombed it way down about 330-plus yards down the fairway. Multiple ways to do it!
Tiger was nearly 100 yards further from the hole than Rory, but he still puts it to 20-or-so feet at the 12th. Rory, from just about 95 yards, sticks his approach to about 3 feet for a chance to join Tiger at 1-under.
Meanwhile we have a new co-leader at the top of the board. Will Zalatoris just looped in a long birdie at the par-4 12th hole to get to 2-under, tieing Robert MacIntyre, Y.E. Yang and John Daly atop the leaderboard.
Daly has had quite the morning. He nearly dunked his approach on the first hole ... hit the flag on another approach at 3, then just hit the hole with his chip at the seventh hole. What a start for the 1991 PGA champ.
9:34 a.m.: Good runs for birdie for Tiger, Rory and Spieth ... they'll settle for pars at the par-3 11th. Rory's birdie bid actually hopped over the ball-marker of Spieth ... which is the second time we've seen someone do that this morning on the coverage. Kind of odd...
9:26 a.m.: Tiger, Spieth and Rory all find the green at the par-3 11th hole. It looked like the wind is starting to pick up (maybe) a little bit ... but it's still very benign out there, and with the stronger winds projected for most of the week, this is the time to take advantage.
9:21 a.m.: That was a DART from Tiger Woods at his opening hole (the 10th). He hits the perfect knockdown wedge to about 3 feet ... giving him a great look at a birdie to start Day 1.
We're used to Tiger's somewhat rocky starts at majors on the first hole ... so that's an impressive way to begin his day. By the way, when he won the 2007 PGA here, Tiger started on the 10th hole ... and also birdied the first hole.
Tiger's one back of ... John Daly and Y.E. Yang. What year is this?! Yang just chipped in for birdie at the par-3 sixth hole ... JD rolled in a birdie at the par-5 fifth. It's a throwback type of Thursday at Southern Hills.
9:11 a.m.: Jordan Spieth, Rory McIlroy and Tiger Woods are all in the fairway on the 10th hole ... let's have a morning folks!
Observers on Wednesday at Southern Hills noticed that Tiger was moving a little slower than Monday or Tuesday ... we'll see how the 15-time major champion holds up on Thursday morning.
8:50 a.m.: The birdies are flying in now! Sam Horsfield rolls in a birdie at the first; Ryan Palmer buries a putt at the 12th to get to 1-under. And California club pro Michael Block started with a birdie at the 10th.
Xander Schauffele joins that group at 1-under after one of the best shots we'll see all week at the 10th hole. His wedge spun perfectly to within two feet ... and the X-Man keeps his hot stretch going from the weekend in Dallas. We now have seven players atop the leaderboard at -1.
8:39 a.m.: One of the featured groups of the morning are now on the tee! Hideki Matsuyama, Xander Schauffele and Tony Finau all find the fairway with less than driver on the 10th hole.
8:24 a.m.: Let's give our due to Matt Bouchert, a club pro at Isleworth C.C. in Windermere, Fla., who joins John Daly and Robert MacIntyre atop the early leaderboard on Day 1.
8:17 a.m.: JD!!! John Daly nearly dunked his wedge from 133 yards out ... then he holed the 5-footer for birdie. The 1991 PGA champion is at the top of the leaderboard at age 56! I mean, last year we had a 50-year-old win ... OK, let's not get ahead of ourselves. But really impressive start from the long-hitting, popular past champion.
And Bobby Mac also started his opening round with a birdie ... that one at the par-4 10th hole. We have a tie atop the board early.
8:05 a.m.: The action is off the 10th tee as well! Ryan Palmer, Robert MacIntyre and Alex Noren all find the fairway, too.
8:00 a.m.: We're officially underway at Southern Hills! All three former PGA champions, John Daly, Shaun Micheel and Y.E. Yang find the fairway at the downhill par-4 opener.
In fact, Long John just drove it 343 yards to start the day ... the 56-year-old is loose and warmed up early!
The players will be off two tees (1 and 10) starting at 7 a.m. local time (which is 8 a.m. eastern time). The past champions group of John Daly, Shaun Micheel and Y.E. Yang will start things off on the first tee shortly.
Here are all the first-round pin positions ... it doesn't look like the PGA of America put many pins toward the middle of these sloped Maxwell greens. We are excited at players being faced with really controlling their approaches and short-game shots around these green complexes.
For a quick preview of the course, we highly recommend our "Every Hole At: Southern Hills" video, which features drone footage and analysis. By the way, Rory McIlroy cited this video in his own research of Southern Hills ... need we say more?
MORE PGA CHAMPIONSHIP COVERAGE FROM GOLF DIGEST: