Due Diligence
PGA Championship 2022: YouTube, taped TV and a yardage book—how players are dealing with flying blind at Southern Hills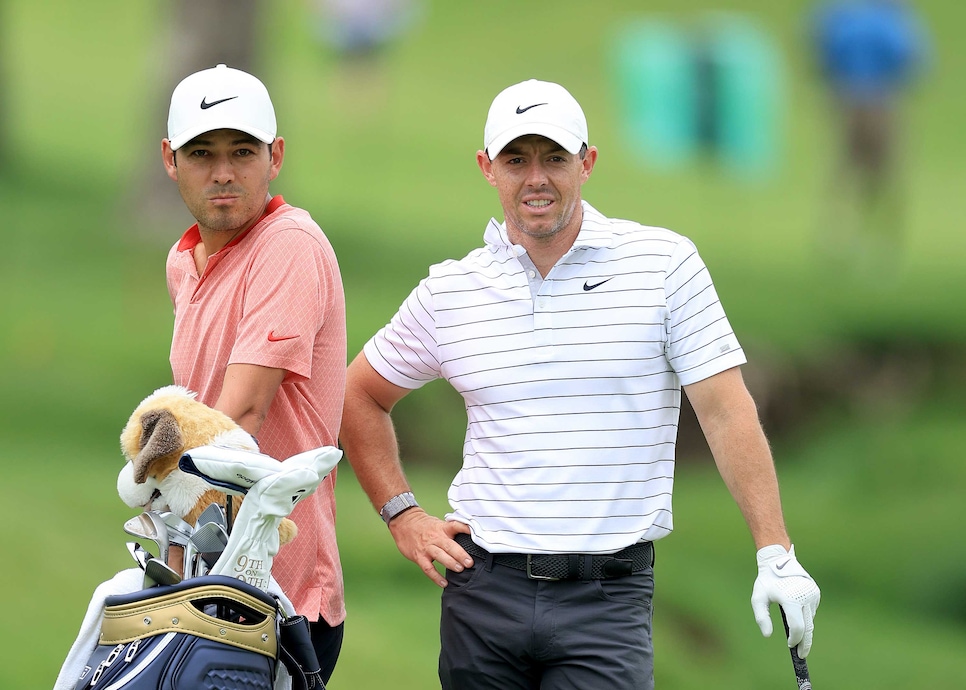 TULSA — PGA Tour players are creatures of habit. Play 25 events at 25 different golf courses in 25 different cities in a year and you'll quickly learn the importance of normalcy amidst constant change. Most guys have a day they like to arrive at an event and a way they like to prepare for it—and, increasingly, that preparation includes data-based strategy work.
The majority of PGA Tour players will pour over statistical information from past events held at that course. Each tour player has access to all the PGA Tour's ShotLink data, and stats experts/consultants will augment that information by re-packaging it into actionable insights for their players. The drivable par-4 10th hole at Riviera is a perfect example of how the influx of information has impacted on-course decisions; back in 2015, 51 percent of players went for the green and played the hole in a combined 14 over par. The 49 percent who laid up played the hole in a combined 52 over par. That told a clear story: going for it is the play. At this year's Genesis Invitational at Riviera, roughly 95 percent of the field went for the green.
At this week's PGA Championship, however, an increased level of comfort in knowing what options are mathematically optimal is simply not available. Southern Hills has not hosted a men's major championship since 2007—that on its own is not highly unusual for a major championship venue, which will host roughly one event a decade. Last year's PGA Championship was the first event at Kiawah since 2012, and while there were new tees built for the 2021 edition, the bones of the golf course were essentially unchanged.
That's not the case this week. Jim "Bones" Mackay, who caddied for Phil Mickelson at the 2007 PGA and will be on the bag for Justin Thomas this week, said Southern Hills looks and feels like "an entirely different golf course" after Gil Hanse's extensive restoration was completed in 2019. There are new tees, way less trees, reshaped bunkers, the whole lot. Even Scottie Scheffler, who won the Big 12 individual title at Southern Hills in 2015, doesn't feel he has much of a knowledge advantage.
"So I think if they hadn't redone the golf course, there would have been more guys coming up to me," says the reigning Masters champ and World No. 1. "Like I said, a lot of the run-offs around the greens play significantly different."
As such, there is virtually no past data to inform present decision-making. Put differently: Guys are flying blind except for their yardage books, the unsung heroes of the PGA Tour. Whereas caddies of decades past used to make their own books, each player in the field will have a yardage book that provides perfectly accurate information on how far it is to the front of a bunker or hazard, how far it is to carry it, how far the run-out on the fairway is on a number of different lines, how far the front and back of the green is from every sprinkler, how far uphill or downhill a shot is playing, how each fairway and green slopes, and more.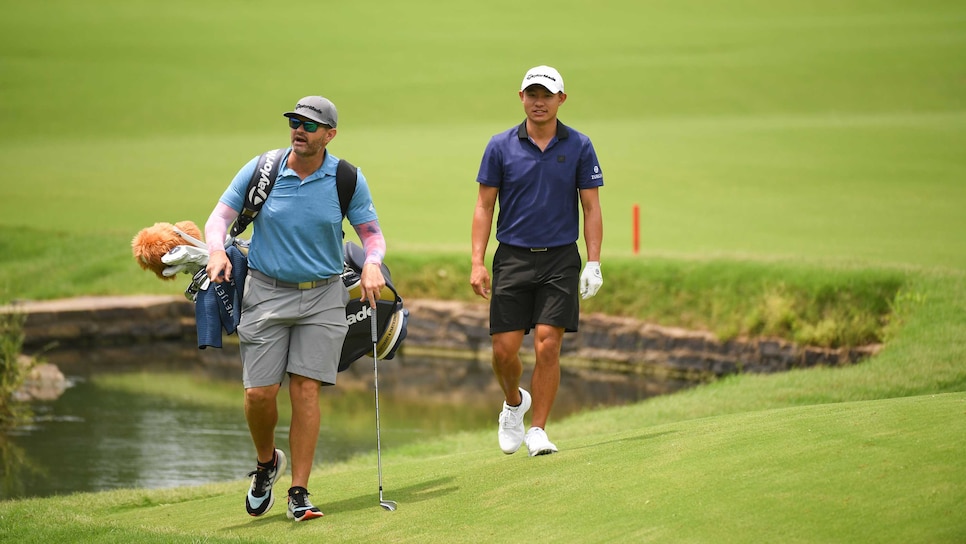 Collin Morikawa says getting comfortable with his lines off the tee is a challenge at a new course, particularly in preparation for a major.
Montana Pritchard/PGA of America
But yardage books don't tell the entire story—that's why more and more players are turning to stats experts. And just because they don't have their usual set of tools this week doesn't mean the stats guys have the week off. Hunter Stewart, who consults for seven PGA Tour pros, will still be pouring over course maps and diagrams to hunt for an edge. But the wind forecasted this week, which is expected to come from multiple directions, is throwing yet another wrench in preparatory plans.
"You can find some nuggets with past events here and conceptually know what it takes to play well," Stewart says. "The forecast looks wild, so it's going to be a toss up in my book."
Even so, Stewart says players can still create the same structure and put in place much of the same prep work. It's just not as data driven as normal," Stewart says. "It's still conceptually the same. It's where the art of it comes more into play. Your golf brain kicks on and you have to project based off trends you see in data week in and week out."
Golf brain obviously isn't an exact science, and there's no one formula or foolproof explanation for why certain players like certain shots more than others. Maybe a guy likes teeing up on the right side of the tee on one hole but the left side on another; maybe one player likes one area of the fairway but his playing partner likes another. Finding where you fit on those continuums is a vital part of early week work.
"I would say every course that we show up to, you have to figure out what tee shots fit your eye and you can have a line really quickly, and there's a few holes out there that sometimes don't," says Collin Morikawa. "Every course is different out here. I might have three, four holes that I've got to kind of work on where I want to tee up the ball on the tee box, where I want to line up my tee shot, where my misses might want to be because sometimes—I mean, maybe rough, even though the rough is pretty penal and the ball sits down, sometimes the rough might be better. You might be able to run it up or maybe bunker is going to be better. So it's just figuring out where you're going to give yourself a biggest target to be able to play from."
Rory McIlroy and his caddie, Harry Diamond, typically study a stats packet every week. Knowing that wouldn't be possible, they attempted to get their hands on footage from last year's Senior PGA Championship, the only tournament this "new" Southern Hills has hosted. They weren't able to get anything beyond a three-minute video on YouTube. So they watched The Fried Egg's video with Hanse and the Every Hole At Southern Hills video posted by the very website you're reading right now.
"Going back to '07, it's a completely different golf course, so I didn't think that was any use," McIlroy says. "Just tried to find some stuff online just to get a feel for what the golf course was like and what Gil tried to do with it and what sort of philosophy he was trying to use and what sort of shots he wanted guys to try to play. Just did a little bit of digging online, and it sort of seemed pretty apparent that this is an approach shot and short game -- like iron play and chipping is going to be really important this week."
Tiger Woods, somehow, was able to get his hands on some footage of Alex Cejka's win. Funny how that works.
"It's just different," says Woods, who won the last time the PGA was played at Southern Hills in 2007, of what he saw from the older guys and his early week work. Both of the par 5s on the front were easily reachable for him 15 years ago; they might be this week as well, but only if the tees are up and the wind is right. "It's faster, wide open. We saw how the seniors played it; a lot of balls were hitting and runs off to the sides, where that wasn't the case when we played in '07. It was caught in the rough."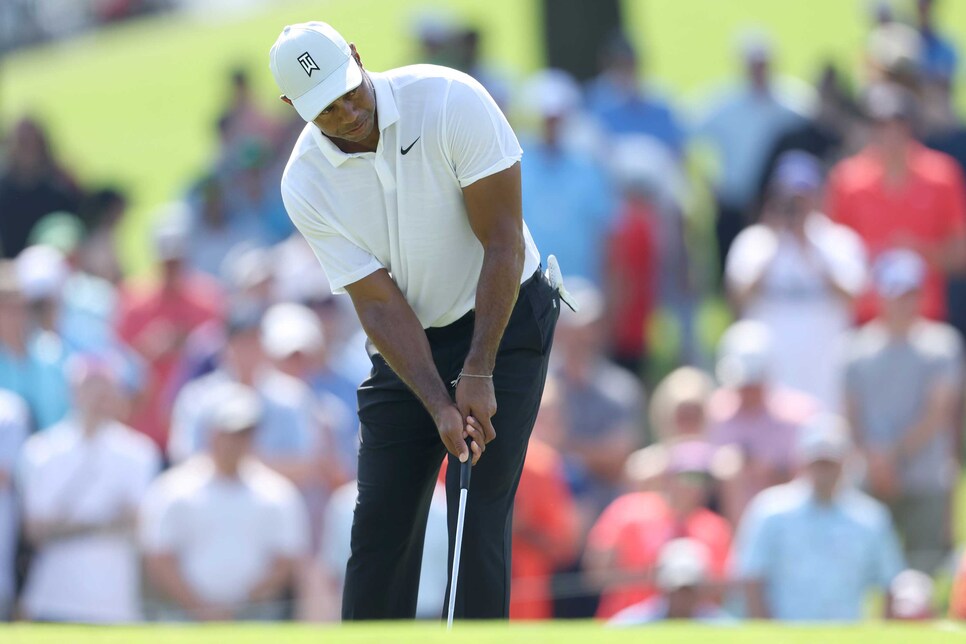 Watching footage from last year's Senior PGA Championship caused Tiger Woods to put in some extra preparation on Southern Hills' greens and surrounds.
Christian Petersen
Some players also like to have a general idea of what the winning score for a week will be. If they know it's going to be 20 under, they're going to play differently than if even par could do it. That, too, is a mystery.
"I'm still trying to figure out what's a good score around here," Shane Lowry says. "That's kind of one thing when you come to a new golf course, you try to figure out what a good score is. I've got an afternoon tee time [in the opening round on Thursday], which is nice so you can see what the morning guys are doing and sort of figure out what's good out there, and then you kind of plot your attack on the course and see where it goes from there."
Justin Thomas and Jordan Spieth came in for an early scouting trip and played the course on May 9. Both said they're extra happy with that decision—especially after both dealt with the stress and energy-suck that came with being in contention at the AT&T Byron Nelson last week.
"It was nice—didn't feel like I had to play any holes on Monday, and then I could just do nine yesterday and nine today," Spieth says. "Last week was, in a good way, very taxing. It was really hot, really slow rounds. Played threesomes on the weekend. Then obviously contending takes a lot out of you. It was really more rest and recovery coming in, and it was nice to have come up early and learned the golf course."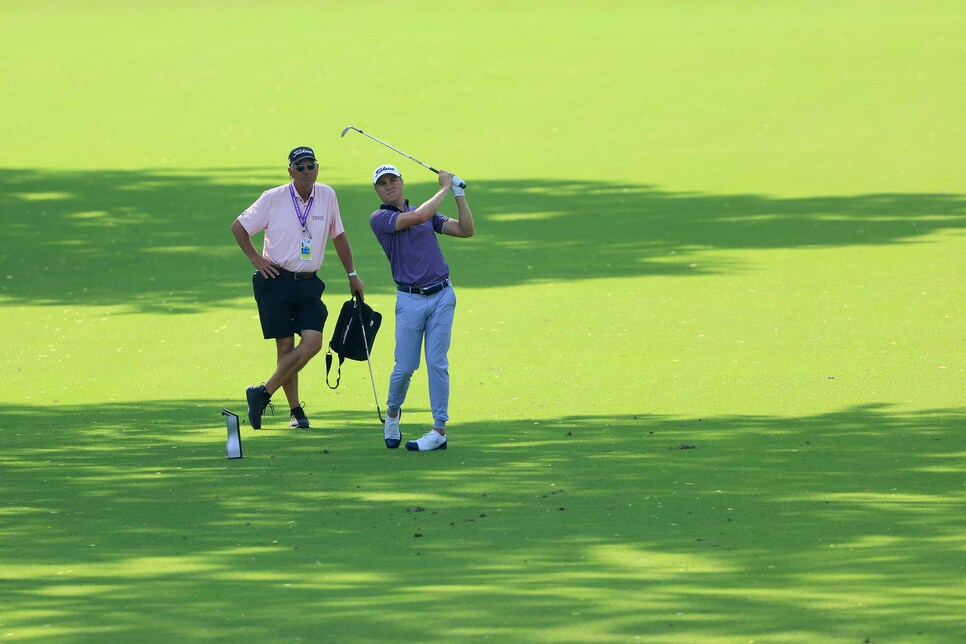 Early scouting and extra homework during practice rounds is how Justin Thomas is getting ready for Southern Hills.
Sam Greenwood
Perhaps a week like this plays into Thomas' hands, for he's used to learning courses the old-fashioned way. He's one of the few on tour—and especially few of the twentysomethings—who don't incorporate statistics and data into their weekly process. It's not that he's not familiar with the concepts; it's that he finds it all to be rather self-evident. In related news, he's one of the few guys who still lay up on 10 at Riviera.
"Trying to say it as politely as I can, it's pretty obvious," Thomas says. "I've looked at stuff before and it's like you get to go look at Riviera, 13 is a hard hole. Like, no kidding. Like, it's a tough hole. I didn't need a piece of paper to tell me it's a tough hole. It's one of those things, comfortability is more important than anything and if you get a situation like 10, 10 at Riviera where the percentage play is to go for it but for me it's not. I mean, I play that hole 1-, 2-under, basically every single year laying up and it's just a better fit for me. I think you just play the golf course and make of it what you can."
If only everyone found it so simple.