Got It Bad
Kyle Kuzma watches Golf Channel during breakfast and picks up putting tips from LPGA pros, is our kind of golf crazy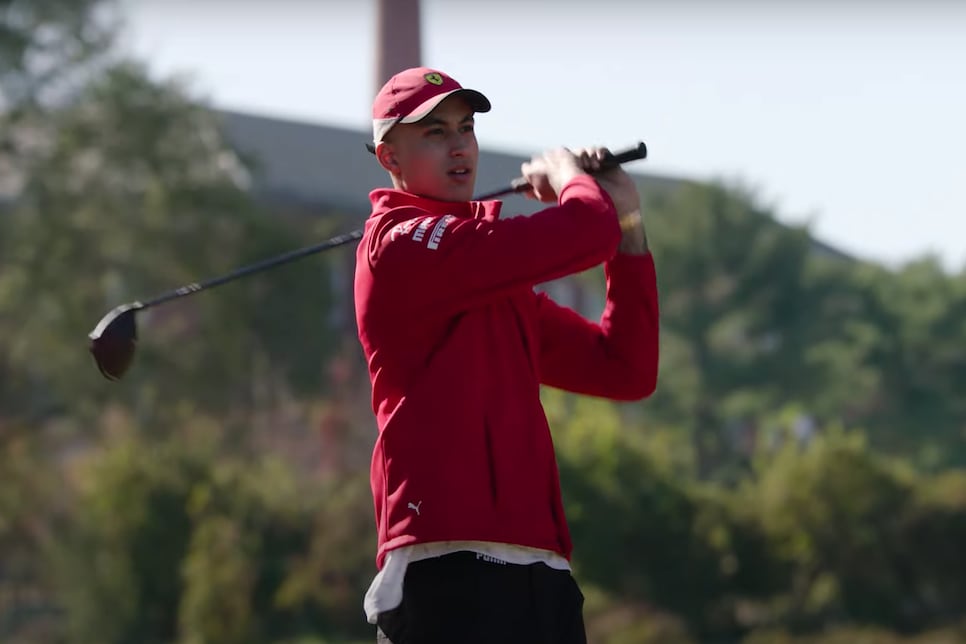 Be like Mike. You know the slogan. In the mid-'90s, nobody on the planet was cooler than Michael Jordan. Jordan was more than just an NBA player. He was a cultural icon—an American idol before reality TV co-opted the term. NBA-hungry kids across the world internalized everything he did, on and off the court. But one unexpected influence that seeped through the cracks was Jordan's all-consuming golf obsession. Twenty-five years later, that influence can be seen across the NBA, where stars, sixth-men, and veterans alike are picking up the sticks, seeing if MJ's love of golf fits like a pair of his namesake sneakers might have back in the day.
One such guy is Kyle Kuzma, a lifelong golf dabbler who got bit by the bug while in the NBA bubble back in 2020. A few weeks later Kuzma emerged with the Larry O'Brien Trophy and a brand-new passion. Kuzma has stuck with it since then, recently playing a round with Skratch's Roger Steele to discuss basketball, golf, life, and all the points at which they intersect. We joined the conversation to get our own perspective on why the hottest new thing in basketball is actually golf.
The Loop: You mentioned in the Skratch video that you began playing golf in the NBA bubble back in 2020. Besides boredom, who or what convinced you to give it a try?
Kyle Kuzma: You know, I had great teachers in the bubble. Two people that really got me out there and really helped give me a few pointers were Jason Kidd and Mike Penberthy. They were two coaches on our championship team [the 2020 Los Angeles Lakers] and two of the best guys on and off the court or course. Those are two guys who really helped me out and gave me pointers, and I still golf with them today. Those were great mentors.
What was your first impression of the game. Were you like "hell no" or did you take to it right away?
I was definitely already into it just because I have a little background with golf. I had a few friends on the golf team when I was in college and I would go out there periodically throughout the summers, but not that much to really retain anything and keep the progress growing. So getting out there [in the bubble], I was already kind of locked into it because I set my mind to it like "hey, this is the perfect time to learn golf" … and I did.
It seems like more and more NBA players are starting to come around to the game—Steph Curry, Andre Iguodala, Dwyane Wade and J.R. Smith in retirement. What about golf do you think appeals to the modern NBA mindset?
For me, you know, I'm a very competitive person and golf is probably one of the most competitive sports because you don't really need to play against anyone. You can play against yourself. I think other than that, it's just a way for you to build relationships with people. Going out there, half the time, most of the time, it's not even about who has the best score. It's usually about who can drink the most Coronas and smoke the most cigars. So that's just a really good, fun part about the game. But also, I mean the golf course is where all the biggest deals are done. So from a business standpoint, it's great for that as well.
Do you have a crew of NBA friends and/or teammates you play with regularly?
A guy that I regularly play with is Alex Caruso. We play a bunch during our summers. If we can play, you know, three times in the summer, that's a lot. That's my guy right there.
How often do you get to play in general? I know you're in-season right now so it's probably a little tough …
During the season it's really tough, especially living in Washington, D.C. where it's kind of cold. With certain cities we go to, if we get in early enough, I'll bring clubs down and try to play, but my main time block is during the off-seasons. I live a mile from a course, so I'm able to go out about three times a week. That's always a goal of mine because I don't really feel like you can get better unless you're playing about three times a week.
What do your non-golf teammates think of it? Do they still hate on it, like "golf, isn't that for your grandpa?"
Not really so much hate. It's actually like, "oh, you golf!?" People are really intrigued by the game. I think the pandemic opened a lot of eyes about more outdoor sports and golf is a perfect one. I think during the pandemic it was like "how the hell am I going to get outside?" And golf was a reason for a bunch of people to get outside and smell some fresh air and, you know, just have a little fun outdoors. I think golf is the perfect sport for that.
So you mentioned you would occasionally play with friends on your college golf team [Kuzma attended the University of Utah]. What do you think about J.R. Smith enrolling in school and giving collegiate golf a try? Is that inspiring to you?
Oh, I mean, yes, about Swish [J.R. Smith's Twitch handle], that's a phenomenal story. J.R. is a brother of mine, we won a championship together. And speaking of Jason Kidd and Mike Penberthy, J.R. Smith golfed a lot with us as well. He's a hell of a player and, for him, it's just inspiring, not only just his love for the game, but to be a retired NBA player, 35 years old, 15-plus years in the league, and for him to say, "hey, I'm going to go back to college and learn." That's inspiring because there's really no reason for him to actually go back to school. But he is someone that is very inquisitive and wants to learn, not only just about golf, but about everything. That's extremely inspiring in its own right.
You're about 6' 10". Have you encountered some challenges with being a tall guy playing the sport? I assume you have to have specially fitted clubs?
Oh, yeah, no question. You know, it was challenging for me when I left the bubble because when I was in the bubble, I had clubs that didn't necessarily fit me correctly, because I had just picked up the game and didn't have time to get fitted and everything. So I picked up a bunch of bad habits early on playing with shorter clubs, but after I got out of the bubble one of the first things I did was to get clubs that actually fit. I got some clubs that are like plus-two extended and my game is getting back on track now.
I noticed your Ferrari fit in the Skratch video. Are you always trying to bring fashion to the course like that? Look good, feel good, play good?
I think golf is going into a new generation of people and it's not about just being plain and, you know, wearing a polo or pullover. I had a pullover on still but it was a Ferrari pullover. I think it's a sport that's transitioning right now, and obviously you want to have the integrity of the game and keep certain things as traditional as possible, but I think clothing is something that can definitely change for sure.
Have you gotten into watching golf on TV, for instance the PGA Tour, or are you strictly a fan of playing the game right now?
Both. A lot of times, especially in the summer time when I'm at home, I usually wake up and my TV's already on Golf Channel. A lot of times I'll watch the Golf Channel during breakfast. I was watching the Ryder Cup. I was watching the Open Championship. So yeah, I'm always watching and I actually learn from watching. I was watching the LPGA Tour and watching a player putt and, seeing how she was putting, I was like "this is really interesting." She was really up under the ball. I went out the next day and had an amazing game just from watching. I think it's important to be a student of the game.
Do you have a favorite round or course you've played so far?
My favorite course that I've played so far is out in Maui, The Plantation Course at Kapalua, where they play the champions tournament [Sentry Tournament of Champions]. I would definitely say there. You see rainbows every time it rains up there. It's very a beautiful, mountainous course.
Finally, what are your goals? In the Skratch video, you mention playing [at the American Century Championship] in Tahoe one day. Is that the big one?
Oh yeah, for sure. Give me about three years. If I can get three years in me, I'll be ready to go.