The Grind
Jon Rahm's fitting Father's Day win, Bryson DeChambeau's all-time meltdown and Rickie Fowler's big announcement
Welcome to another edition of The Grind, where we need to start with an apology to the U.S. Open. For decades, I maintained that the national championship is the best of the four majors in men's golf. I stood my ground against the masses who say it's the Masters instead, like William Wallace in "Braveheart." Until I finally caved a couple years ago. Well, I'm sorry, U.S. Open. I should have never strayed. YOU are the best. The carnage. The chaos. The drama. The music (In my defense, "In Celebration of Man" was out of the mix for a few years). What a tournament. And this one at Torrey Pines (Yes, Torrey Pines, architecture snobs) was particularly fun to watch. Let's get to it.
Jon Rahm: Is it his time? Yes! At long last! OK, so it wasn't quite the wait his buddy Phil Mickelson had to win a first major, but it almost felt like it given the 26-year-old Spaniard's immense talent. But now Rahm doesn't have to worry about being the best player without a major anymore. He's simply the best player after capturing the 2021 U.S. Open thanks to arguably two of the greatest back-to-back putts in golf history.
This guy is the GOAT of left-to-right putts and the new GOAT of fist pumps with Tiger Woods still out. What a performance. And what a scene as the new dad hoisted his baby and a first major trophy on his first Father's Day. And at the site of his first PGA Tour win and where he proposed to his wife. AND in his first start since being forced to withdraw at the Memorial with a six-shot lead through 54 holes due to a positive COVID test.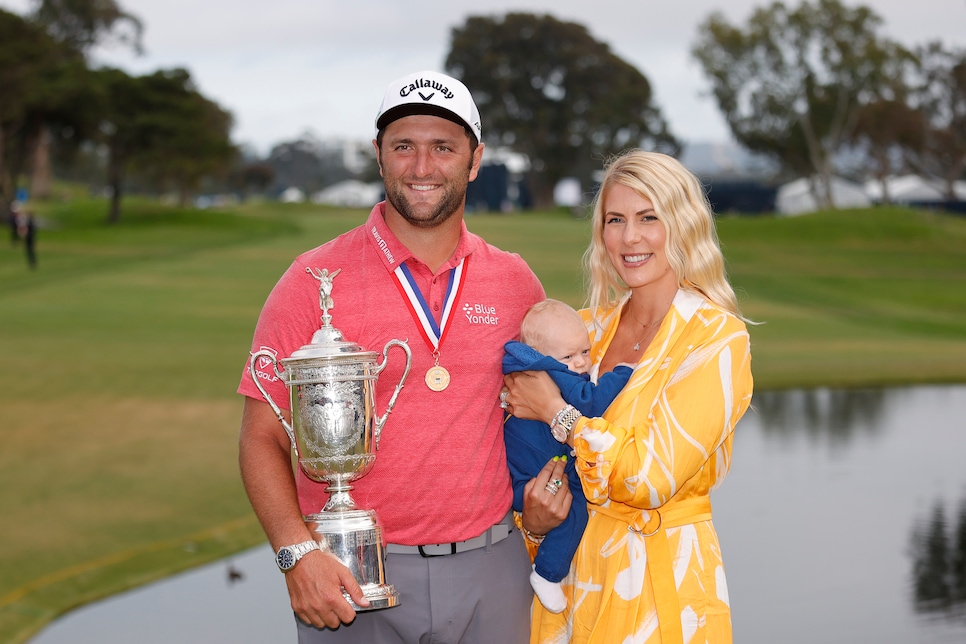 Sometimes, the story just writes itself. And today, redemption is spelled R J-O-N. Sorry, I'm obligated to make an "Anchorman" reference anytime the tour comes to San Diego. Or is it San Diaaaaaaaago, which, of course, in German means a Rahm's victory. OK, I'll stop now.
Louis Oosthuizen: A friend who shall not be named once dubbed this guy "Losie" Oosthuizen. Admittedly, I find it funny because somehow this talented South African has still never won a tournament in the United States. But it's not completely fair. Yes, he's had his share of miscues down the stretch, including two tee shots into penalty areas under pressure that ultimately cost him wins at both the Zurich Classic and at this U.S. Open. And even when Bubba Watson hit his miraculous wedge shot to beat him in that 2012 Masters playoff, Oosthuizen only lost when he bogeyed the same hole.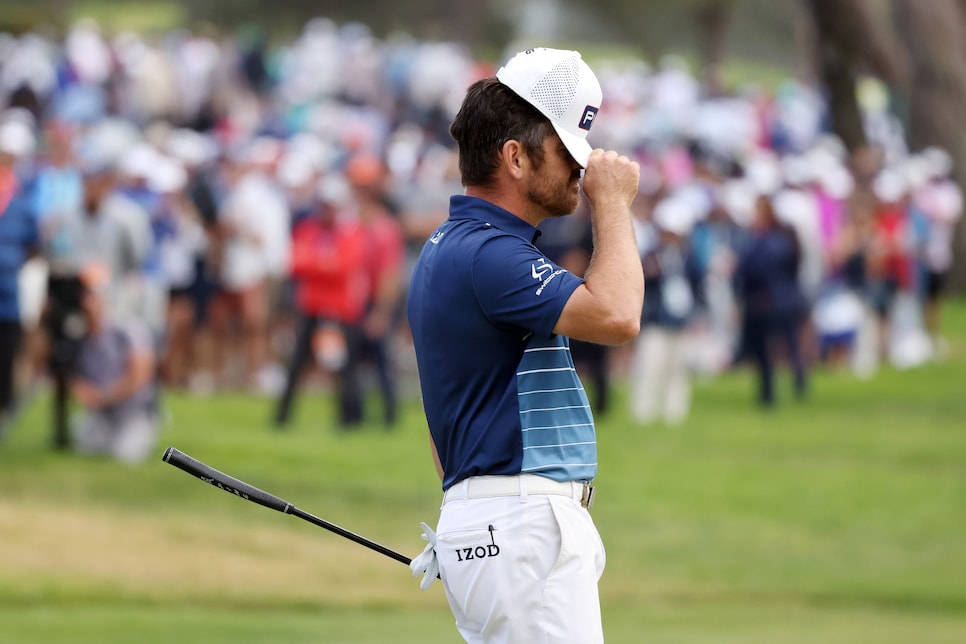 But overall, the guy just gets beat by even better players. He now has six(!) runners-up since he claimed his lone major at the 2010 Open Championship and they have come at the hands of Bubba, Jordan Spieth, Zach Johnson, Justin Thomas, Phil Mickelson and Rahm. Decent list.
The Molinari brothers: First of all, it's great to see Francesco playing well again. His name was on the board for much of the week and his T-13 was his best major finish in nearly two years. But how about older brother Edoardo? I didn't know he still played golf! Kidding. Sort of. Anyway, the 2005 U.S. Amateur champ joined his brother in making the cut as they became the first pair of brothers to make the weekend at a U.S. Open since 1993. It was also their first time seeing each other since the start of the pandemic. Talk about a successful family reunion!
Tim Mickelson: Speaking of brothers, how about the run this guy is on? First, he guides Phil to becoming the oldest major champ in history at the PGA then watches his former player at Arizona State pick up his maiden major. According to Rahm, it was Tim who also predicted the Spaniard's first major would come at a U.S. Open. Those Mickelson bros are pretty sharp when it comes to golf, huh?
Bryson's back nine: Rahm's clutch finish will deservedly get most of the headlines, but DeChambeau's disastrous closing stretch was truly stunning. After nearly making a hole-in-one on No. 8 to grab the solo lead, the defending champ played so poorly the rest of the way he didn't even finish in the top 25. After going 30 holes without making a bogey, Bryson had two bogeys, a double and a QUAD over his final eight holes to close in 44. FORTY-FOUR! Even Lexi Thompson shot 41 a few weeks ago when she blew a five-shot lead at the U.S. Women's Open. Bryson's collapse won't be remembered as much because he never had a margin like that, but in many ways, this was even more shocking.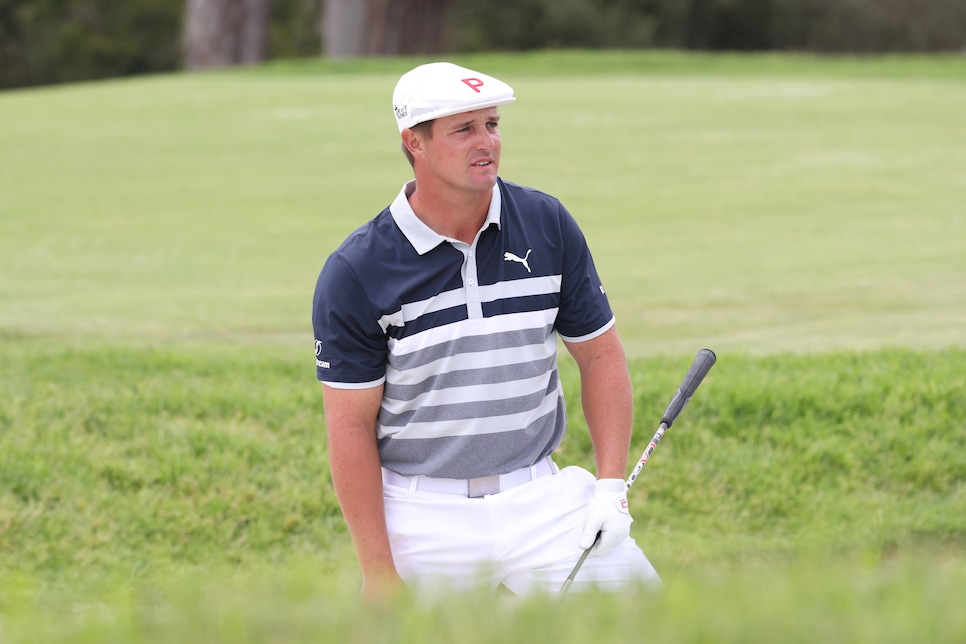 After the round, Bryson chocked it all up to a few bad breaks and then said, "It's frustrating in the moment when it's happening, but afterwards for me now, I don't really care as much. I've already won it." Tiger, please talk to your friend.
Xander's putting switch: Schauffele found another way to let a major championship get away and this time, the damage was done before the tournament even started. The four-time PGA Tour winner recently switched to the arm-lock method of putting—a method he thinks should be banned because it gives players an unfair advantage—despite being one of the best putters on tour. That move has backfired. Badly. And during a week in which he hit the ball as well as anyone else—and joined Bobby Jones as the only golfer to finish in the top 10 in his first five U.S. Open starts—we're guessing Xander immediately regretted that decision. (Again with the "Anchorman" quotes. Sorry.) Anyway, with Rahm winning, Xander now has to carry the weight that comes with the title of best player in the world without a major. Sorry, Xander.
Tree penalties: What happened to Mackenzie Hughes on the 11th hole of the final round was just gut-wrenching. Hughes hit a terrible tee shot, but he didn't deserve to have his golf ball bounce off a cart path and up into a tree.
Anyway, I get that it's technically an unplayable lie, but c'mon. Just let the guy drop directly below for no penalty. That's just brutal. And this is the same guy who about an hour later told Roger Maltbie he wished he could trade his great drive on No. 17 with the one Oosthuizen hit into the hazard because he felt so bad. As if you needed more proof, Canadians are the nicest people on the planet.
Rory's chicken sandwich: Turns out, a room-service piece of rotisserie chicken between a couple pieces of bread wasn't the key to Rory McIlroy ending his seven-year major championship drought. And would you look at the cost!

Holy price gouging. You could get four full (and delicious) rotisserie chickens from Costco for that!
The PGA Tour heads to Cromwell, Conn., for the Travelers Championship, AKA that regular PGA Tour event that has really become a big hit in recent years. In fact (plug coming!), I even did a new Local Knowledge podcast about it:
Random tournament fact: Jim Furyk's 58 and Patrick Cantlay's 60 as an amateur get most of the attention as far as scoring feats go, but Kevin Streelman won here in 2014 by birdieing his final SEVEN holes. Legendary.
RANDOM PROP BETS OF THE WEEK
—Someone will birdie their final seven holes to win this week: 1 MILLION-to-1 odds
—Jon Rahm will win the Open Championship next: 10-to-1 odds (Actual odds, favorite)
—Jon Rahm won't be asked as much about his TEMPERAMENT anymore: LOCK
Does a streaker have to be naked to be called a streaker? Discuss. Either way, how about that fan running onto the course to hit a couple golf balls with a surprisingly good golf swing:
Seriously, can that dude teach me how to have tempo like that?
VIRAL VIDEO OF THE WEEK (STRUGGLE DIVISION)
Jordan Spieth didn't display quite the same smooth motion when absolutely hacking up the range at Torrey Pines:
Don't worry, Spieth fans. It's all part of the process. I think.
VIRAL VIDEO OF THE WEEK (FAIL DIVISION)
You won't believe exactly when an NBC affiliate in Iowa cut in for a weather alert. Only the worst possible moment:
OK, so you could argue cutting away with Rahm's birdie attempt on 18 about a foot away would have been worse, but it's close. This par putt (he missed by the way if you live in Iowa) essentially ended the tournament. And yes, I know weather alerts are important, but they couldn't have waited another fraction of a second? This is the U.S. OPEN!
THIS WEEK IN PUBLIC DISPLAYS OF AFFECTION (NON-RAHM FAMILY DIVISION)
Congrats to Rickie Fowler and Allison Stokke, who announced they are expecting a baby girl:
Jeez, Rickie. I know Rahm won his first major as a new dad and all, but this is pretty extreme move to try to win a major! Anyway, good luck!
THIS WEEK IN PHIL BEING PHIL
The career Grand Slam will still have to wait, but Mickelson made the cut at Torrey Pines and stuck around to see his good friend win:
What a guy! Of course, he probably hit another monster bet on him.
THIS WEEK IN BROOKS VS. BRYSON
Bryson got back at Brooks for that infamous eyeroll by … jumping into the frame while he was being interviewed?
Yes, this is golf's most-heated rivalry. Other sports are laughing at us.
"I missed the cut, so I'm going home." —Cameron Smith after being asked about what he was looking forward to over the weekend … after missing the cut. So yeah, the worst possible question he could have been asked.
Congrats to Nelly Korda for winning the Meijer LPGA Classic for her fifth career LPGA Tour title. Oh, yeah, she shot 25 under par! Good thing the USGA's Mike Davis was busy with his final U.S. Open or that may have caused him to have a stroke. … Congrats to Kyle Westmoreland for becoming the first Air Force graduate to make the cut at the U.S. Open. Golf Digest video editor and The Grind producer Michael Sneeden is a friend/caddie of this former captain so we had to give a special shout-out. If he keeps this play up, Sneeds might have to hit the tour full time. … Aaron Rodgers renewed his membership at Green Bay Country Club for the remainder of the year. Hey, he needs a place to play if he winds up staying a Packer. … And finally, if you live in my town and you like Dr. Brown's diet black cherry soda as much as I do, I'm sorry. Because I bought every can I could find at the grocery store: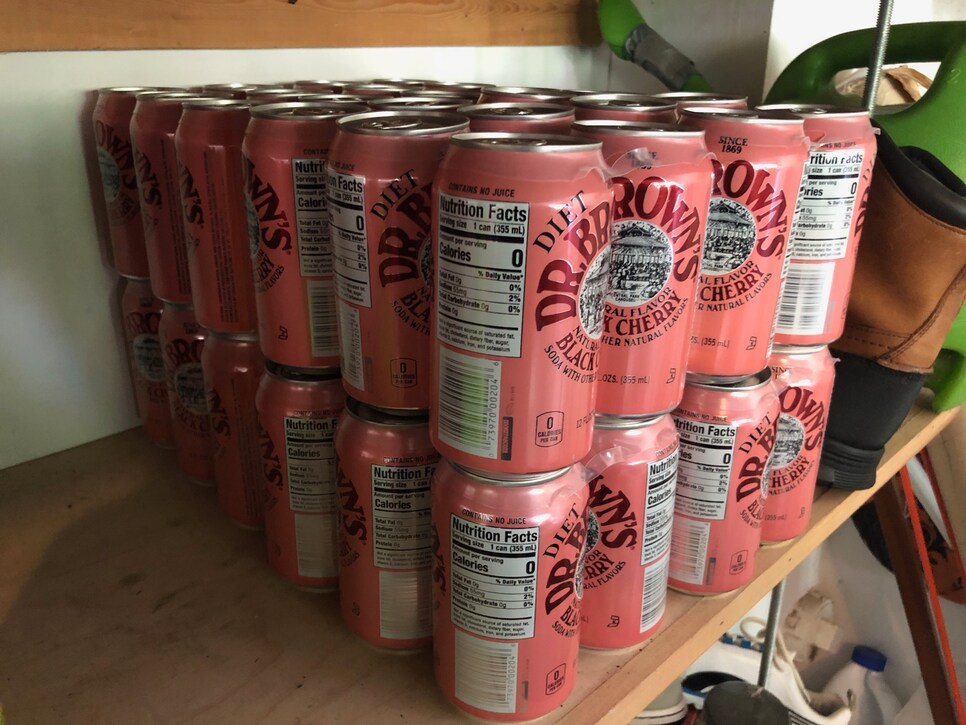 Hey, it's a dog-eatdrink-dog world out there.
RANDOM QUESTIONS TO PONDER
How many majors will Jon Rahm win in his career?
How much money have I spent on soda in my life?
Is the #SB2K Era (gulp) over?