Meijer LPGA Classic
Nelly Korda's 18th-hole birdie gives her her second victory of the season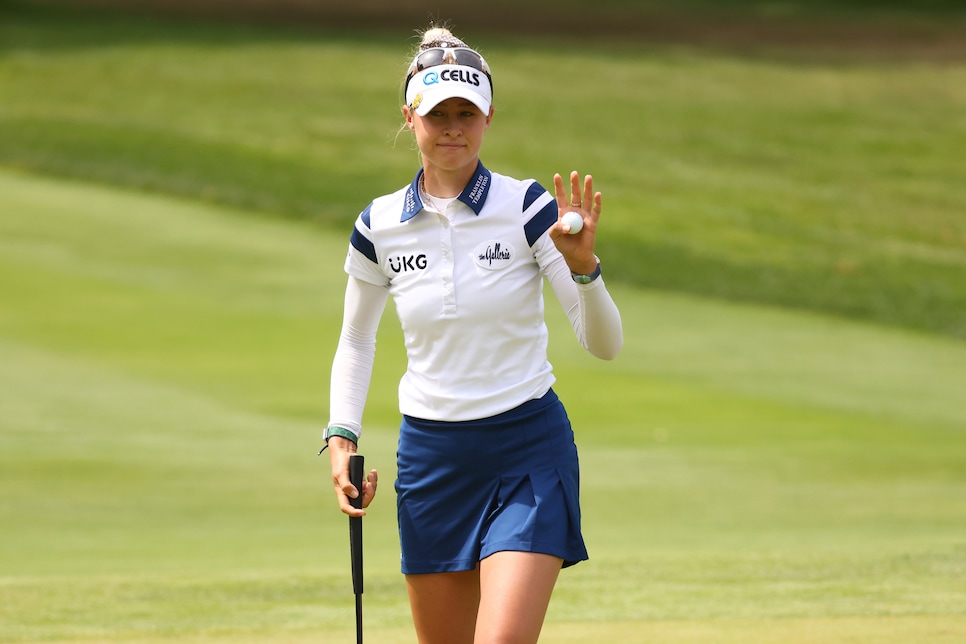 Leona Maguire explained a day earlier that she was leaning on her underdog status to possibly assist her in overcoming a three-stroke final-round deficit to one of the LPGA's best players, Nelly Korda. It didn't work. Korda followed a career-best 62 on Saturday with a final-round 67 to post a two-stroke victory over Maguire in the Meijer LPGA Classic on Sunday.
Korda's 72-hole score of 25-under par 263 at Blythefield Country Club in Grand Rapids, Mich., was a tournament record, as was her 10-under 62 in the third round.
"[I] actually really enjoyed today," Korda said following her fifth LPGA victory and second of the season. "Honestly, there has been times where on Sundays I really, like, haven't enjoyed it, like the stress kind of ate me and I didn't stay in the moment and enjoy playing golf on a Sunday in a final group."
Apparently Maguire was hoping for more of that. "All the pressure is on Nelly," Maguire said Saturday. "Everybody expects Nelly to win tomorrow. She's ranked whatever she is in the world, top five. Nobody expects me to do anything tomorrow. I've really got nothing to lose."
Maguire, 22, played accordingly, shooting a bogey-free six-under par 66, to finish solo second, the best performance of her professional career. Moreover, she birdied three straight holes, Nos. 2 through 4, early on the front nine to erase Korda's lead.
"Leona's a really good player," Korda said. "She kept me on my toes all day."
Korda, 22, chipped in for birdie on six to jump ahead of Maguire again, but the pair entered the back nine tied for the lead. Korda birdied the 10th and 11 holes to secure a lead she did not relinquish. She eagled the 14th hole and birdied the 15th, but still was unable to shake Maguire, who trailed by one entering the final hole.
On the par-5 18th, Korda outdrove Maguire by 50 yards.soaring her final drive over the fairway bunker 50 yards ahead of Maguire, who spent 135 weeks No. 1 in the World Amateur Golf Ranking. Maguire responded by hitting a 5-wood second onto the green, leaving her a makeable eagle putt from below the hole.
Korda then missed the green with her second and was left with an awkward uphill lie above the front left greenside bunker.
"Right as I hit it [her second on the 18th] I was like, 'Oh, no,'" Korda said of the shot. "I didn't have a good lie. Honestly one foot was in the bunker and I had to grip down on the shaft."
Still, she hit it to five feet and closed out the win by making her birdie putt after Maguire's playoff-bid eagle putt sped past the high side of the hole. Korda's final putt was her first to win an LPGA event and resulted in her 17th birdie of the weekend.
Maguire's strong play is another step in the right direction towards her becoming the first Irishwoman to win on the LPGA.
"Nelly is a great player and one of the best players in the world for a reason," Maguire said. "It was great to be able to test my game against her. I'm really starting to feel like I belong out here. Even though it's still my rookie year, I'm feeling more and more comfortable every week."
Korda's victory also is a boost heading as she pursues the first major championship victory of her career in the KPMG Women's PGA Championship that begins Thursday at Atlanta Athletic Club.
"Every week is a little different, so hopefully I carry it into next week," Korda said.