Only a matter of time
U.S. Open 2021: Jon Rahm's late heroics produce the major title he seemed fated to win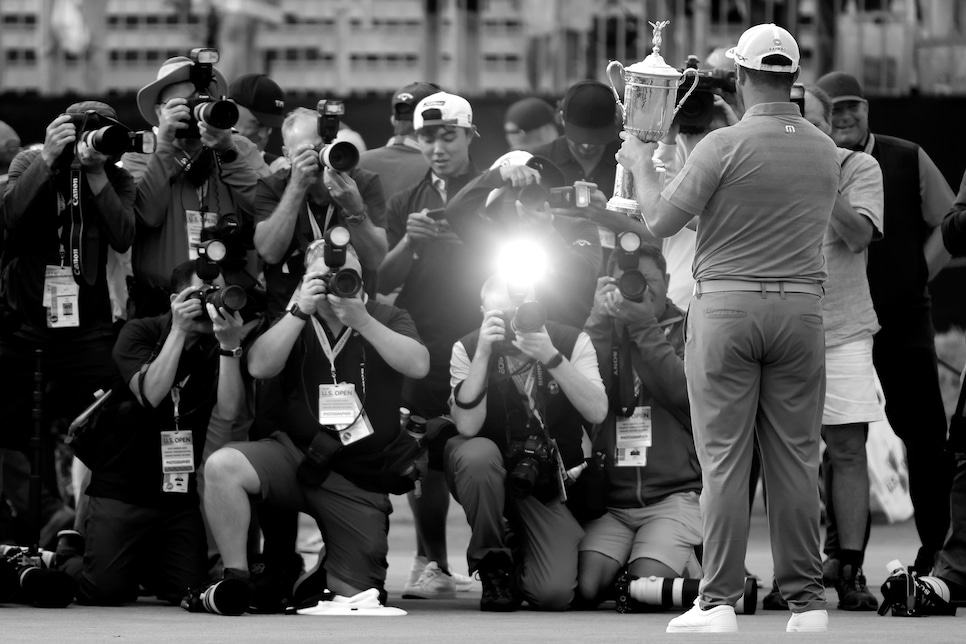 SAN DIEGO — Sometimes, if we're lucky, the man and the moment collide on the 72nd hole, producing transcendence. Think Seve at St. Andrews or Tiger at Torrey or Phil at Augusta. Time will tell if Jon Rahm deserves to share the same sentence as those legends. Early indications are affirmative, especially after Rahm's moment arrived on Sunday at Torrey Pines, at the end of a frenetic day during which brand-name players were flying up and down the leader board. By the time Rahm reached the par-5 18th hole he had separated himself with relentless excellence. There was only one last heart to break: Louis Oosthuizen, the co-leader playing a few holes behind who was just going about his business, unaware of the incoming thunderbolt. A perfect drive, mediocre long-iron and then a delicate bunker shot left Rahm with 18 feet for birdie, with the 121st United States Open hanging in the balance.
Holing a putt like this has almost nothing to do with technical proficiency. It is an X-ray of the soul, a referendum on the unseen parts of a golfer that cannot be measured with a Trackman: heart, guts, balls. Scroll through the softies near the summit of the World Ranking and ask yourself how many would you trust with a putt like this? It's a very, very short list. But now, in the glorious, nerve-wracking silence enveloping Torrey's final green, Rahm met the moment. Thirteen years after Tiger Woods holed his greatest putt to the same hole location on the same green, Rahm buried his own curling left-to-righter, a putt as inevitable as it was thrilling.
"You kind of knew he was going to make it," said his playing partner Matthew Wolff. "With some guys you just have that feeling, and he was obviously relishing it. That putt was really special. I got goose bumps for sure."
The whole sport did. Rahm, 26, has always been a can't-miss-kid. After he fleeced Phil Mickelson for some pocket change when he was still an undergrad at Arizona State, Lefty told friends he thought the kid was already one of the top 10 players in the world at that moment.
Like his mentor Mickelson, Rahm deferred big money and stayed four years at ASU. "I promised my parents I would get a degree and a promise is a promise," he once told me. He turned pro in 2016 and 12 worldwide wins followed, as well as a stint at No. 1. But Rahm was unable to get it done at the major championships, the tournaments that were supposed to define his legacy. Given that there are no holes in Rahm's game, a Vesuvian temper was often cited as the only explanation for his stumbles. In truth, Rahm has been working on himself for years and his putter-bending tirades had become less frequent. Following the second round he was asked how close he came to losing his temper given the attendant frustrations of a U.S. Open setup and Rahm said with only a tinge of exasperation, "Am I ever going to escape that question?" Having a baby two months ago certainly accelerated his maturation.
"He had a kid and said his whole world changed," says Wolff, 22. "Not like I'm gonna go out there and try to have a kid so I can be calm on the course but you can see a difference in him for sure. Everyone forgets how young he is, but it feels like he has grown up a lot all of a sudden."
Rahm's enlarged perspective has been evident throughout the COVID era; he was one of the most eloquent and empathetic voices at the start of the crisis and he showed considerable class two weeks ago at the Memorial when he tested positive and had to withdraw on Saturday night despite leading the tournament by six shots. Though his U.S. Open preparations were compromised, he turned up at Torrey with surprisingly good mojo. Asked on Friday about maybe the golf gods owing him one, Rahm said, "Well, I do believe in karma in the sense that good things happen to good people, and bad things happen to people that do bad things. What happened a couple weeks ago is something I can't control, unfortunately. But I can control what I do, every time. Just every second of the day, just following the routine, make sure I'm hydrated, make sure I'm eating, and make sure I'm thinking the right things out there on the golf course. So far I've done a great job, and hopefully I can keep going."
He actually fell back during the third round, making a double bogey on the 14th hole after getting a bad bounce off the flagstick. The 73 left Rahm tied for sixth, three shots off the lead, but he remained undeterred. Asked about his Sunday strategy he said, "Well, as simple as it may sound, shoot as low as I can."
Birdies on the first two holes announced Rahm's intention. If he had never looked so calm under pressure, there was a reason for that: "I could just tell, just going down the fairway after that first tee shot, that second shot, and that birdie, I knew there was something special in the air. I could just feel it. I just knew it." Another birdie on the ninth hole got Rahm in the thick of things and from there he made a series of gritty U.S. Open pars while other would-be contenders beat themselves: Brooks Koepka bogeyed 12, 16 and 18; Rory McIlroy and Collin Morikawa made fatal double bogeys down the stretch; and Bryson DeChambeau imploded spectacularly with a beefy back-nine 44.
Rahm came to the 17th hole one stroke off the lead and left himself with a 25-footer for birdie. "I stayed patient all day," he says. "I hadn't made many long putts all week." But the moment had arrived, and he drained the big breaking putt, unleashing a lusty fist-pump to celebrate. Rahm's approach shot on 18 will not go down in U.S. Open lore alongside Hogan's 1-iron but the ensuing bunker shot to a short-sided hole location was pure class. "That showed some magical hands," said Paul Casey, who plays a lot of golf with Rahm at Whisper Rock in Scottsdale. "The British lads, we sometimes joke about Spanish hands. He's got them. Seve had them, Olazabal had them, but Rahm does too, this touch and feel that just can't be taught. But unlike the others, he combines that with so much brute force in his long game. It's quite a combination, innit?"
So now all that was left was to make a life-changing putt. In such moments, Woods displayed an eerie Zen-like focus, reducing the moment to its smallest component parts. Rahm, for all the duende he usually exudes, seemed utterly at ease, as if he already knew the putt was going in. "I mean, I might have looked calm. I was not calm," he said. "I wish people could see our heart rate when we're playing in those moments because that was tense. But you practice to let your body basically take over, right? That's what I did. My mindset was the same on the first putt on Thursday to the last one on 18. Situation does change a little bit, but routine and really staying in the present is what helps."
After the putt clanged into the hole and Rahm did some gyrations on the green he repaired to the driving range to keep loose in the event of a playoff. But Oosthuizen gave up the ghost on 17, hooking his drive into the hazard and making a bogey that left yet another glittering trophy just beyond his reach. Rahm won the U.S. Open standing on the range and he fell into a teary embrace with his wife Kelley and their young son Kepa. Beaming nearby was Phil Mickelson himself, who had returned to the course to be there for his friend, just as Rahm had waited on the fringe of the 18th green to congratulate Lefty last month when Mickelson won the PGA Championship.
"We've played a lot of golf together," Mickelson said, "and supported each other and it's a unique dynamic where we want the best for each other as opposed to always trying to beat each other down."
His voice was thick with emotion so I asked Mickelson if he was feeling emotional. "A little bit, yeah. I mean, we have a very special relationship and I'm just really happy for him."
He expounded further on the seismic shift that may come from Rahm's breakthrough. "I actually think there's a lot of guys who win one [major championship] and they feel like they're done," Mickelson said. "I feel like [Rahm] has incredible support from his wife and he's got a great caddie and a great team behind him. He has a great game and a lot of heart. I think he's going to elevate even higher than what we saw today."
"Yeah, fortunately, I'm 51 and I'm not gonna have to deal with it," Mickelson said.
The rest of the golf world won't have it so easy. Rahm called his victory "a fairy tale story that I knew was going to have a happy ending." But most storybook good guys would be too soft to hole a putt on the 72nd hole to steal a U.S. Open. From this day forward, Rahm is golf's big, bad wolf.