U.S. Open Rewind
U.S. Open 2021: Jon Rahm's gutsy 72nd-hole decision and 17 other parting thoughts from Torrey Pines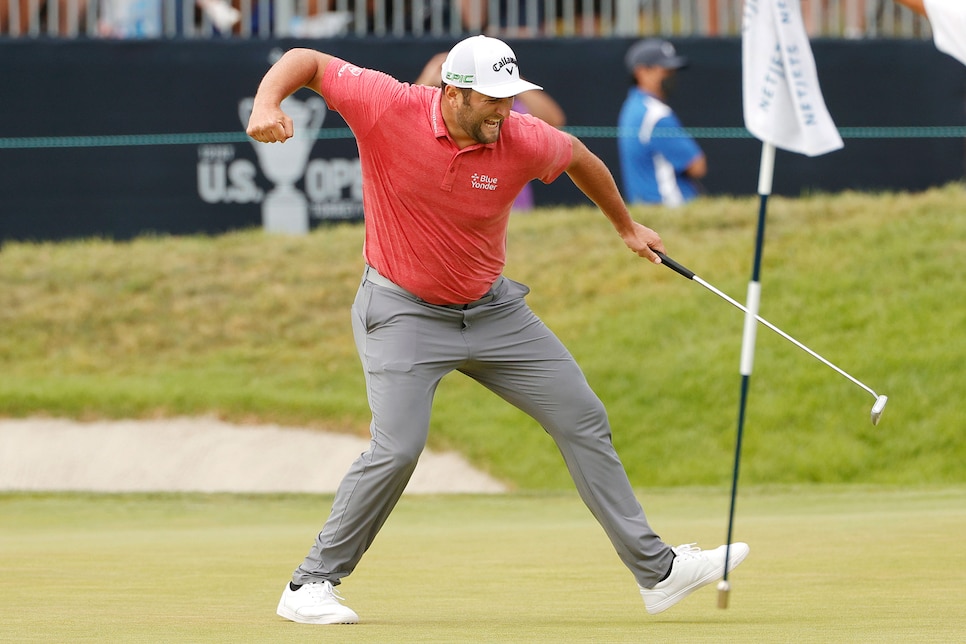 Even the most ambitious youngster would have a hard time dreaming up Jon Rahm's reality on Sunday at Torrey Pines. The 26-year-old birdied 17 and 18 to win his first major championship and become the first Spaniard to win the U.S. Open. He took over as World No. 1 in the process … at the same spot he proposed to his wife … on his first Father's Day as a dad … two weeks after he made national news for a brutally timed positive COVID test.
The latest videos from Golf Digest
1: We start, as always, with the winner. As mentioned above, Rahm's victory resembles a Hollywood script for a number of reasons. But we're going to focus on something far less romantic: the distinctly unemotional decision he made in the most crucial moment.
Rahm was tied for the lead as he sent his second shot into the green on the par-5 18th hole. His ball kicked pretty hard right before resting on a downslope of the bunker, with the green sloping away from him and toward a water hazard. The temptation there is to try to nip a spinner right at the flag and leave yourself a kick-in birdie. As one of the better bunker players on Earth, Rahm is absolutely capable of that shot. But it's also a hugely risky undertaking, for the consequences of a not-perfect shot could be dire.
It's so difficult to think of the negative in that moment. Rahm had just gutted a winding birdie putt on 17 and screamed at the top of his lungs when it dropped. His veins were overflowing with adrenaline. He'd waited his whole life for this moment, an up-and-down birdie to likely win the U.S. Open … and he had the discipline to pull himself out of dreamland and acknowledge that he might not hit that bunker shot perfect—and if he doesn't, he brings disaster into play.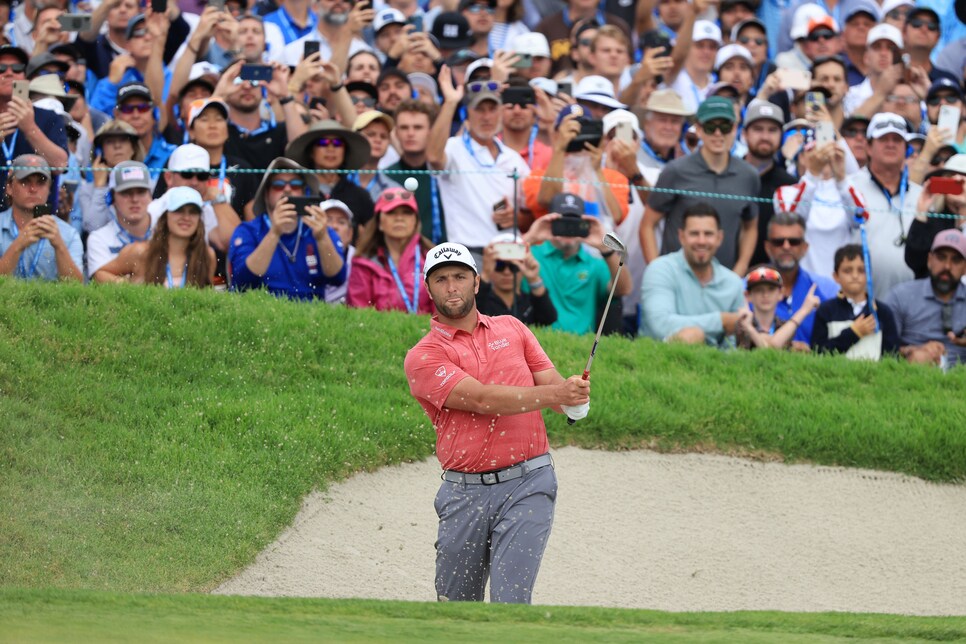 Rahm's decision not to take on the flag (and the water looming behind it) with his bunker shot on the final hole at Torrey Pines was the right call, even if he didn't hole the subsequent birdie putt.
Sean M. Haffey
So he made the mature if unsexy decision, played safely right of the flag, eliminated the water from the equation and gave himself an 18-footer for birdie. He's not likely to hole that putt—the PGA Tour make percentage from that distance is roughly 17 percent—but he made sure he had a birdie look, which is what made it the smart choice from a probability standpoint. He wasn't taking a knee or accepting par; he made the decision that gave him the best chance to make the lowest score considering all possible outcomes from the bunker shot. Of course, it looked genius when the putt fell in dead-center, but it was the right call either way. Little moments like those often serve as the differentiator in a 72-hole event, and Rahm handled a high-leverage situation perfectly.
2: That's now six runner-up finishes at majors for Louis Oosthuizen, and along with his playoff loss to Bubba Watson at the 2012 Masters, this one might sting most. The shot he hit on the 17th tee—a pull into the hazard when there were acres and acres of turf right of the fairway—will not soon fade from his memory.
In turn, his reputation for near-misses only grows, which is equal parts amazing and unfortunate. One does not simply rack up seven top-two finishes in majors; that's the same number Brooks Koepka has, and more than Jordan Spieth and Rory McIlroy. Oosthuizen is an incredible player who shows up time and again in the sport's biggest events, but we're running out of justifications for his down-the-stretch tumbles. That he still hasn't won a PGA Tour event since the 2010 Open Championship remains one of the crazier realities in golf.
3: For a while there, this leader board featured the most superstar contenders we've seen on a major Sunday since the 2019 Masters. At roughly 1 p.m. local time, there were 11 guys within three shots of the lead—including Oosthuizen, Rahm, McIlroy, Bryson DeChambeau, Collin Morikawa, Justin Thomas, Brooks Koepka and Dustin Johnson. At 2 p.m., there were 10 guys within a shot. So many massive names being in the mix, coupled with the return of fans, made this year's final round umpteen times more enjoyable to watch than last year at Winged Foot, when Sunday afternoon was dominated by has-Bryson-solved-golf chatter. This was markedly less existential, in a great way.
4: And then, about an hour later, it descended into pure and utter mayhem. Major Sunday pressure never fails to torment even the best players in the world. As soon as the 18th hole enters the line of sight, guys start moving in reverse. You had Morikawa blading a wedge shot over a green on 13. Bryson shooting a back-nine 44. Mackenzie Hughes lodging balls into trees. Koepka bogeying a par 5 to finish. It's not the first time we've seen the tenor of a Sunday round completely flip when it gets to winning time, but this tempo change rang particularly loud.
5: On Saturday night, I received the following text from a player at Torrey: "Bryson is going to win this. And it's gonna be like this for years if they don't change the setup a bit." A tad fatalistic, perhaps, but it does speak to a growing trend at the U.S. Open.
Last year, Winged Foot played straight into the bombers' hands. Those fairways were nearly impossible to hit, and when everyone is constantly in the rough, being closer is simply a massive advantage. Torrey's fairways weren't quite so hard to find—the kikuyu gives them that soft first bounce, and they're not as canted—and while some non-bombers were able to hang this week, it felt like no coincidence that Rahm, Bryson, Brooks, Wolff, Rory and Co. bashed their way into contention. The identity of this championship, as Paul Azinger pointed out ad nauseum, has shifted from accuracy-first to power-first. It's not necessarily a good or bad thing, but it's a true thing, and it'll be fascinating to see the setups at The Country Club next year and Los Angeles Country Club in 2023. Rough doesn't feature quite so prominently at either of those courses, but in the post-Chambers Bay, post-Erin Hills years, the USGA has stuck with a narrow-fairway-brutal-rough-formula. We'll see if it continues.
6: Despite his back-nine implosion, DeChambeau has mastered the art—er, science?—of bomb-and-gouge. If that name offends you, we'll go with bomb-and-reassess. Becoming a beefed-up Bryson wasn't just about adding speed and distance, but also vowing to fully commit to a new strategy. It's not just that he's hitting it farther, it's that he hits driver wherever it's even semi-feasible. The data supports this strategy. You wallop driver off the tee. If you find the fairway, you attack. If you don't, you shift your focus to making par. And DeChambeau is able to do this better than basically anyone for two main reasons. One, his sheer strength allows him to muscle balls out of rough that other guys cannot. Two, his single-length irons mean his wedge and short irons are longer than most, allowing him to get some extra speed and steepness into the ball, which are crucial to rescuing balls from calf-high cabbage.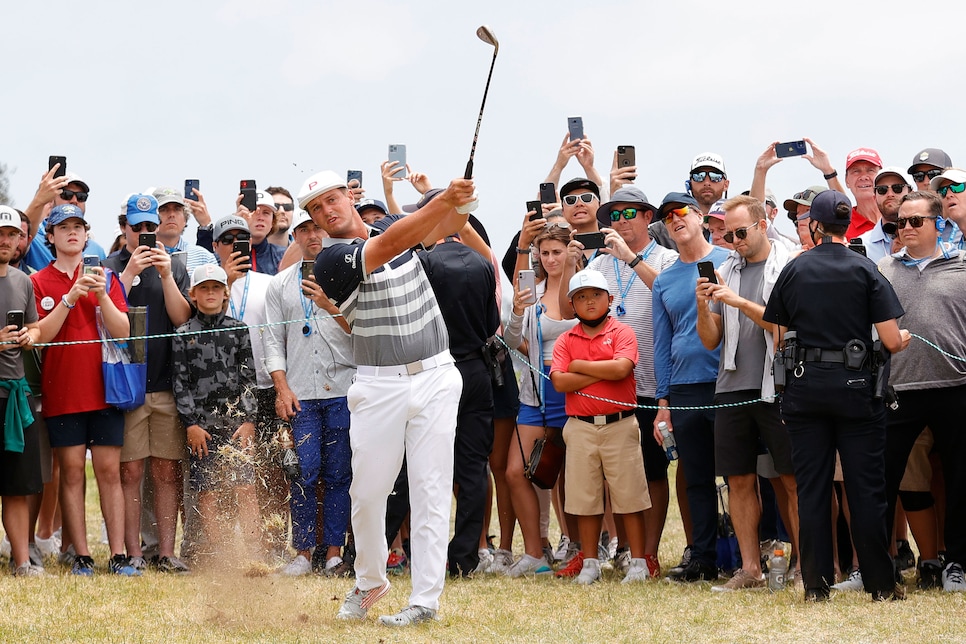 At Torrey Pines, DeChambeau copied the bomb-and-gouge game plan he used to win at Winged Foot in 2020, but too many unforced error on the back nine Sunday ended his hopes of a repeat victory.
Ezra Shaw
And while it may not be the most aesthetically pleasing method to make your way around a golf course, nor is it the type of game Bobby Jones or Ben Hogan played, it's paying huge dividends at tough courses with penal rough. Places like Winged Foot and Torrey Pines, yes, but also Bay Hill, where DeChambeau won earlier this year. How it'll work at Royal St. George's, where the wind is always a factor, is anyone's guess. We have yet to see Beefy Bryson bring his experiment to a links course, and the juxtaposition between the ancient courses and his distinctly modern game present a fascinating dynamic.
7: Rahm speaks better English than 99 percent of Americans. Maybe 99.9 percent. A non-golfer friend reached out to ask if Rahm's first language is English, for he couldn't possibly have that kind of mastery of his second language. Only he does. Rahm knew very little English when he arrived at Arizona State in the fall of 2012, and he's now a master of irony and sarcasm and pacing and dramatic pauses. On Tuesday, he eloquently explained why he supported the PGA Tour's handling of the Memorial situation. On Sunday, after Oosthuizen failed to eagle the 18th, he waxed poetic about why Torrey Pines holds such a special place in his heart. It could've been an ad for Rosetta Stone.
8: Guido Migliozzi's name could not be more fun to say. Nor could it be more Italian, which led to some delightful GIFs and memes and "Inglourious Basterds" references. (Enzo Gorlami! Dominic Decoco!) Migliozzi, however, was anything but a side show in his major-championship debut. The 24-year-old fist-pumped his way to a top-four finish, which gets him into next year's U.S. Open and the Masters. He came into this week off back-to-back runner-up finishes in Europe and kept the momentum cooking on this side of the pond. A hugely impressive week for a promising young player who will join Francesco Molinari in representing his country at the Olympics.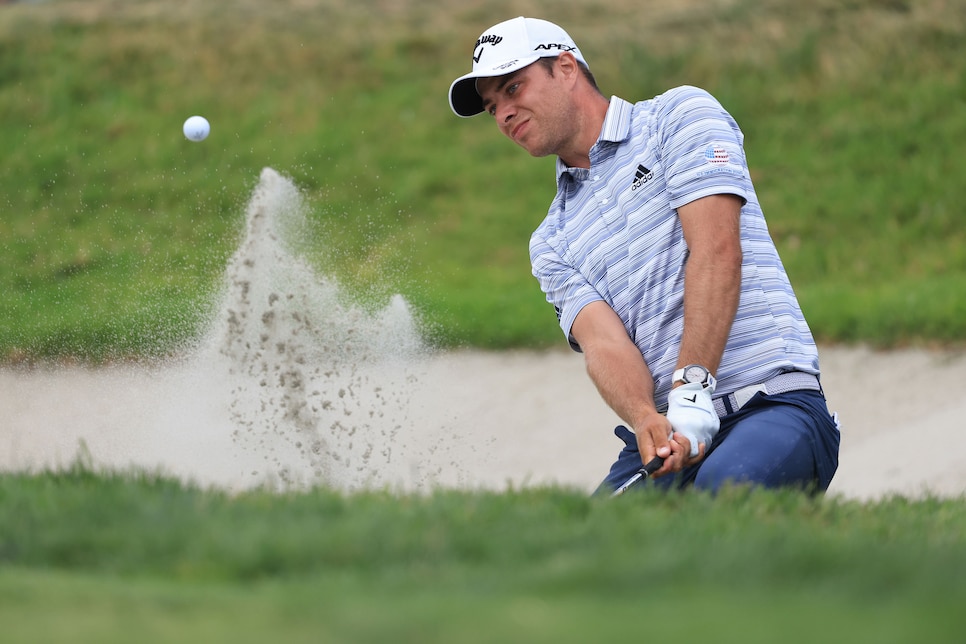 Competing in his first U.S. Open, Migliozzi grinded out a top-four finish at Torrey Pines that earned him a return ticket in 2022 as well as a spot in next year's Masters.
Sean M. Haffey
9: A half-baked idea: Golf tournaments should have a little screen next to the tee that shows radar data from tee shots. Imagine if, after a Bryson bomb, the fans could see "192 mph ball speed" and, a few seconds later "332-yard carry." Something tells me some well-served patrons would get a kick out of that. It'd be similar to the pitch speed and exit velocity MLB teams show in their stadiums. The only potential snag in this genius plan is it would tell players how far their ball is flying on a certain day, which feels like something of an unnatural advantage. Ehhhhh. Not that big of a deal. Let's make it happen.
10: Richard Bland—complete with grey stubble, a four-year-old driver and his home course's logo on his hat—put a smile on all our faces for two-plus days. The 48-year-old, winless in his first 477 European Tour starts before finally grabbing a victory last month, held a share of the lead at the halfway point, providing our latest example of just how beautifully unpredictable this game is. To see him up there was a genuine shock … until you saw him swing the club. As good a move as anyone's. It was yet another reminder of just how many great, great golfers there are lurking beneath the surface in professional golf.
What he said on Friday afternoon stuck with us: "The old saying is you get knocked down seven times, you get up eight. I've always had that kind of attitude that you just keep going. You never know in this game. You just keep going."
How relatable is that? You truly, truly never know. We'll play our best round ever and then stink the next time out. Hit terrible shots all day, then pure two in a row for a kick-in birdie. Most professionals feel similarly. There is an element of chaos in golf that borders on randomness. It's part of what makes this torturous game so great.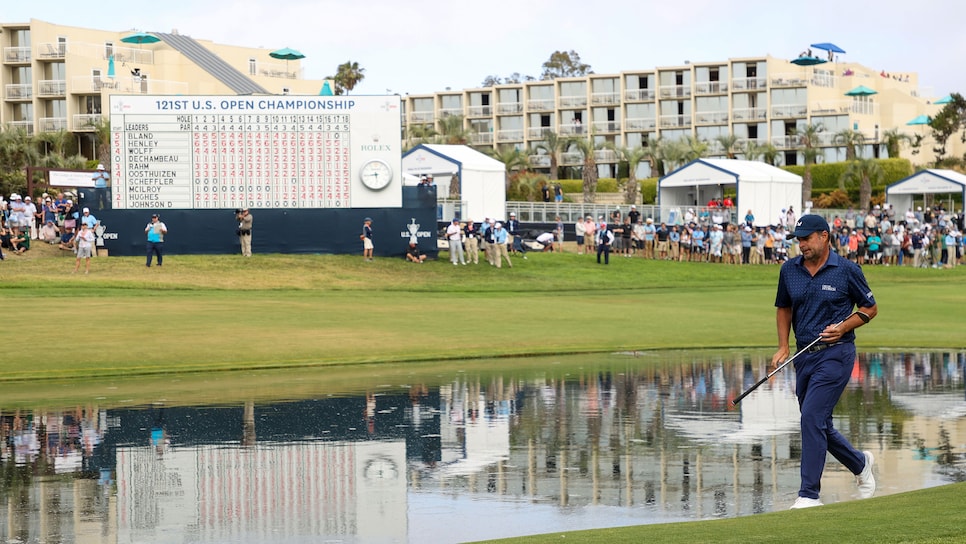 A spot atop the leader board through 36 holes for journeyman Richard Bland was one of the U.S. Open's more entertaining subplots.
Harry How
11: Torrey Pines took quite a beating this week. The wonkier corners of Golf Twitter were dominated by debate over Torrey's worthiness as a U.S. Open course. We see both sides. On one hand, Torrey did not benefit from falling directly after Kiawah's Ocean Course, one of the more visually distinct and intriguing designs in the United States. It's uncanny how many holes at Torrey are just long and straight, with bunkers on both sides of the fairway landing area and both sides of the green. Apart from Nos. 3 and 18, there aren't really any holes you immediately recognize because they're all so similar. On the other hand: not every golf course can be breathtakingly beautiful and unique, and one measure of a tournament venue is the leader board it produces. This one was loaded.
Two things can be true at once: Torrey is not a bucket-list golf course, and it served its purpose as a U.S. Open host venue. The lack of complaining spoke volumes as far as player satisfaction with the golf course. Here's what Phil Mickelson, who has not held back from ripping the USGA in years past, had to say about the setup: "I'm very surprised that, in the 30 years I've played the U.S. Open, this is the best I've seen. I thought they did a remarkable job, and I'm really proud and happy that it's here at Torrey." That's not for nothing.
12: One more Torrey note. Hard not to love what the USGA did with the par-3 third on Friday, when it was converted from a 195-yard mid-iron to a 134-yard wedge. There is no feeling in golf quite like seeing your ball flying toward the flag but not being sure exactly where it's going to plop down. Short, in the bunker? A solid 40 feet past the flag? Or, ideally, right next to the stick? Short, downhill par 3s are a factory for please-be-good-type shots because it's quite tricky to figure out just how much mustard to take off, and it was terrific watching guys hoping (praying?) their ball carried the correct weight. Plus, having the Pacific swirling in the background only added to the intrigue.
13: How great was it to see Matt Wolff play so well this week? And, more importantly, enjoying himself in the process? It does feel we're at a bit of an inflection point regarding athletes and mental health—Naomi Osaka has played a major role in shaping the conversation—and Wolff's ability to return like this, after all that time off, will surely inspire more players struggling internally to consider stepping away for a bit. Which, of course, is great. Golf tortures all of us who play it for fun; imagine the mental toll it takes on guys who play it for dollars.
Wolff wasn't the only one this week to candidly discuss the mental anguish this game wreaks. Here was Bubba Watson, after shooting four-under 67 on Friday: "I'm going to be dead honest with you. Don't tell nobody, this is a secret. I am nervous over every shot, OK? … I don't know what's going on. I'm so nervous." And, a day later, 19-year-old Akshay Bhatia: "I just have a hard time enjoying myself and understanding the opportunity I created for myself and just the atmosphere. I should enjoy it a lot more than I do. I just didn't have fun today, which really sucks because a lot of golf is score-oriented, and when you're not playing well, it feels like it sucks, but I can't do anything about it."
That's hard to read, coming from a teenager who's living out his dream. But the first step toward improvement is acknowledging the problem, and more and more guys are open to doing exactly that. It's wonderful to see.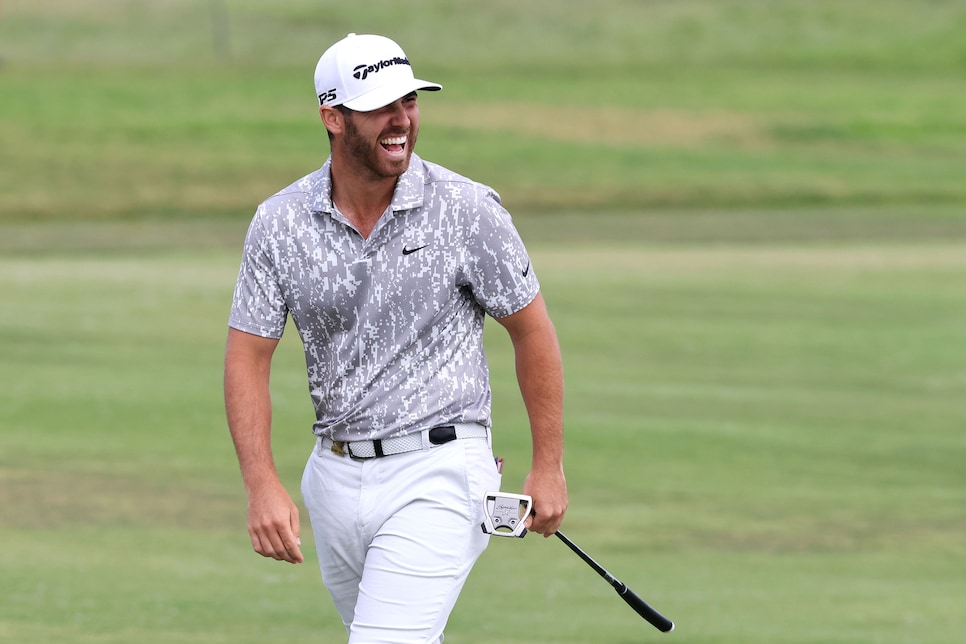 Matthew Wolff's openness to the mental-health struggles he's been going through of late made him easy to root for this week at Torrey Pines.
Sean M. Haffey
14: An interesting, inside-golf problem that could use addressing. A number of Korn Ferry players were in the field this week and did not receive any Korn Ferry Tour points for their performance. This may sound like the obvious outcome—the U.S. Open is not a Korn Ferry Tour event—but should guys really be punished for playing their way into a major?
Consider Taylor Montgomery, who got into the field through the Southern California qualifying site. He came into this week ranked No. 24 on the KFT points list, with the top 25 getting PGA Tour cards at the end of the regular season in August. Montgomery made the cut in the U.S. Open. And he dropped to No. 28 on the KFT list because he didn't play in the tournament that was going on simultaneously in Wichita, Kan. The same is true for Dylan Wu, who came into the week at No. 28 on the KFT, finished T-31 at Torrey, and will be further from his PGA Tour card come Monday morning. This feels like a no brainer; create some points scale to award players who get into majors and play well in them.
15: Announcers can't stop, won't stop saying "this, from a minute ago." It's a reasonable thing to say if journalistic integrity is your No. 1 goal. But this is entertainment, and every time a broadcaster says that we know something is about to happen. If it's a guy way out of contention putting from 60 feet, you know it's going down. If it's a shot from the fairway, you know it's going to flirt with the flag. A huge part of what makes watching sports on TV so fun is not knowing what's going to happen. So, stop telling us this was from a moment a go. Lie to us. We're giving you permission to do so. For entertainment's sake.
16: Super aggressive, yell-at-the-top-of-your-lungs fist pumps have their place. But so do understated, muted fist-clenches. They feel a bit more intimate. More inwardly focused. Less let's goooo and more come on, we can do this. Rory McIlroy delivered a perfect one after holing a birdie putt on 4 on Sunday.
17: Different week, same story for Collin Morikawa. The 24-year-old has emerged as the premier iron player in the world, and the gap between him and everyone else is widening. Morikawa leads the PGA Tour in strokes gained/approach and strokes gained/tee-to-green this season, and so he's able to contend week-in, week-out despite losing strokes putting most weeks. At Torrey, he led the field in SG/tee-to-green and finished T-5 despite losing a half-shot to the field putting.
About that putting … it seems the best putters get up there, have a look, maybe a practice stroke or two, and go. Morikawa often looks frozen as he stands over the ball, and while we can't pretend to know exactly the reason, most instructors will tell you nothing good happens in those extra still moments. If he ever figures out the flatstick, he will become No. 1 in the world shortly thereafter. But it's a not-small if.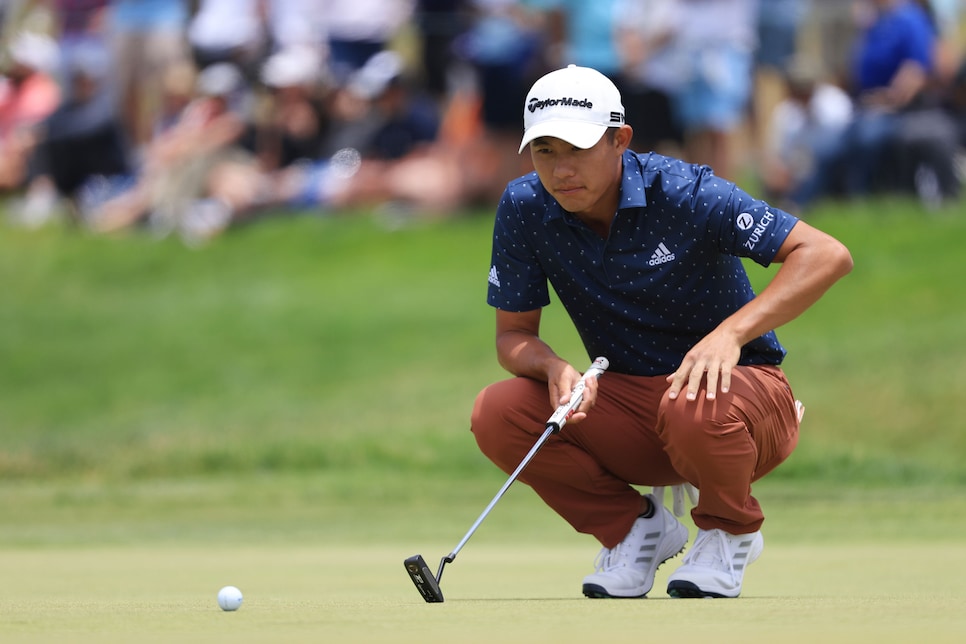 If Morikawa could figure out his putting woes, he'd rise to World No. 1 not long afterward.
Sean M. Haffey
18: After a one-year COVID hiatus, the U.S. Open once again had qualifiers in the field, and the tournament was much better off for it. USGA officials love to point out that playing your way into our national championship is "part of the U.S. Open's DNA" but the slightly canned talking point is so true. Last year's all-exempt field lacked the charming stories of off-the-radar guys who earned their week in the sun. Take Kyle Westmoreland, the first graduate of the Air Force Academy to make a cut in the U.S. Open. Or Bhatia, the 19-year-old former junior prodigy who made the cut on the number. Or Wu and Montgomery and Greyson Sigg, who showed that Korn Ferry Tour players can hang with the big boys. The best finish at Torrey by a qualifier? That would be Branden Grace with a tie for seventh. Not exactly an underdog story, as the South African has played on three Presidents Cup teams, remains the only man to shoot 62 in a major and once sat inside the top 10 of the World Ranking. But his game has been in a tough spot for a few years, and so he had to qualify for this tournament—because golf is the ultimate meritocracy, and the U.S. Open is the most meritocratic tournament of them all.
The latest videos from Golf Digest