SAN DIEGO — Jon Rahm is the same player from two weeks ago, the player who routed Muirfield Village and its field through 54 holes. Rahm is also a changed man, and to say different is to challenge what he endured in the two-week expanse from Columbus to here. It is a confluence—balancing what's happened inside the ropes to the reality outside them—that made the U.S. Open favorite somewhat of an enigma heading into San Diego. Through two rounds at Torrey Pines, that mystery has been solved, and what it spells could be the special something that has been just out of the Spaniard's grasp.
Rahm, off a hot putter and cool demeanor, stayed steady with one-under 70 on Friday, a score that leaves him in the mix as the afternoon waves tees off.
"Took me a while to get going, didn't hit my second fairway until the 13th hole, I believe, and I just had to survive," Rahm said. "Hopefully, I can just swing it like I did on the last four holes because I hit some beautiful shots and keep it going on the weekend."
It was a performance that was un-Rahm like. A generational bomber (he's finished no worse than fifth in strokes gained/off-the-tee in any season of his career), Rahm was so lost off the tee he would have been better served exchanging his yardage book and caddie for a compass and sherpa. He posted a rare negative SG/OTT from those wayward drives and they thwarted Rahm's ability to do anything in approach. To be fair, U.S. Open venues are not set-ups to be attacked. Still, Rahm was in constant scramble mode for most of the morning.
There's a positive connotation in that un-Rahm-like description, however. His short game, which has historically been good, has been average through 17 starts this season. It woke from its slumber Friday morning, not just coming along for the ride but grabbing the wheel. There was a curvy 15-footer converted for par at the 10th, followed by a testy eight-footer canned at the 11th. He got too aggressive on a 20-footer for birdie at the 12, leaving an unwanted six-foot follow-up, but that, too, found the cup. It was not a sexy stretch of golf, but he kept his round afloat when it could have easily sank.
"I've got to say, that stretch of putts on 10, 11, 12 was key," Rahm said. "Things could have taken a turn for the worse, and I was able to save some great three pars in a row."
His day wasn't flawless. He made a mess of the par-5 13th by getting too cute in the sand. A poor lie off an errant drive led to a bogey at the par-4 fifth. There were a handful of birdie putts that looked good until they weren't. Yet he followed each of those bogeys with birdies on the following holes—highlighted by 190-yard bunker shot to 10 feet at the par-4 sixth—and kept the ugly shots from looking ugly on the card. When he curled in a 10-footer at the par-5 18th for birdie Rahm looked very much like a player in control of his fate at an event known for its chaos.
"What happened a couple weeks ago is something I can't control, unfortunately, but what I can do is control what I do every time," Rahm said. "Just every second of the day, just following the routine, make sure I'm hydrated, make sure I'm eating, and make sure I'm thinking the right things out there on the golf course. So far, I've done a great job, and hopefully I can keep going."
It is a perspective that has been on display all week. Before traveling down this route, let's acknowledge the irony. Rahm's newfound "perspective" as a father was a storyline so overworked by broadcasters that it became parody. And yet, after his devastating WD at the Memorial, and the public fallout that ensued, Rahm does seem to be playing with a refreshed outlook.
"It was really easy when you're laying in your bed to go back and forth, what could be in the future, what could have been in the past," Rahm said earlier in the week. "A lot of meditation and mindful reading and trying to stay in the present, and within the weird part of saying this is trying to understand what that experience was for and trying to learn from it."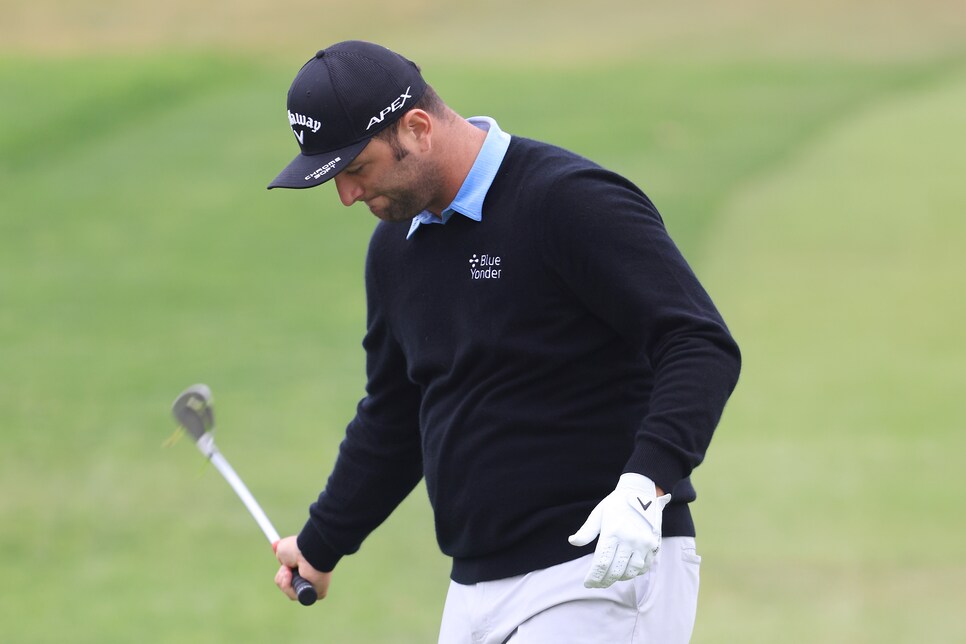 Rahm is a notoriously guarded soul. He is not unfriendly to his competitors and is one of the more well-mannered players to the thousands of people in professional golf's ecosystem that make this circus run. But against the fraternal backdrop of this sport, Rahm is an outlier. When fans chant his name there will be a nod and that's the end of it. There is no horseplay, no aimless banter with players or media. He comes to do his work and his work only, and he does his work alone. Others know this so they give Rahm the distance he wants.
This week has been different. Rahm has lowered, if ever so slightly, some of those walls. Players and officials and volunteers have not been shy in letting him know they're glad to see him here, and Rahm routinely replies with sincere gratitude. There has been more banter, and he's been quicker to joke. Those nods to fans are supplemented with waves and thank-yous. This at a major championship, where even the most social of players tend to turn inward.
Yes, he's still fiery, in good ways and bad. The par putt at the 10th was punctuated with a strong jab to the air. His flyer out of the rough on fifth that led to a bogey was punctuated with profanity. "Am I ever going to escape that question?" Rahm said when a reporter asked about keeping his emotions in check. "Like I never lost it. I got a little frustrated on a couple of holes."
Conversely, Rahm is carrying himself with an equanimity that until this point of his career we haven't seen, He understands that this was a week that almost wasn't and is treating it with the grace it deserves.
Perhaps because the perspective he's discovered was a perspective delivered in cruel fashion, and we're not referring to the lost millions or vaccination questions from Memorial. Because of his quarantine, Rahm missed a moment so many view as indelible.
"Whatever happens on the golf course was absolutely secondary in my mind," Rahm said of his Memorial WD. "For anybody wondering what was going through my mind, all that was going on because my parents landed Monday, Tuesday they met my son, and I wasn't there. That was truly, truly a hard thing."
That is a gravity that can't be quantified with a golf tournament.
There is a golf tournament to be played, however, and its tournament favorite heads to the weekend in contention. It is both new and familiar territory for Rahm. His record shows seven top-10s in majors in the last four seasons. Those results fail to show that, in most of them, Rahm was never really in Sunday contention, many of those finishes of the backdoor variety. It's worth remembering Rahm is only 26, but the whispers of when Rahm will make a true push are becoming more than whispers. Wondering when the player who has it all will be it all together.
Through two days at Torrey, that player, and the man, seem up to the challenge.
MORE U.S. OPEN 2021 STORIES FROM GOLF DIGEST: