Ready to roll
U.S. Open 2021: Jon Rahm defends tour on COVID policy, but isn't happy with way news was handled at Memorial
Jon Rahm plays a chip shot during a practice round prior to the start of the 2021 U.S. Open.
Ezra Shaw
SAN DIEGO — Jon Rahm was back in his happy place. Upbeat and smiling, he stood at the podium on Tuesday for a U.S. Open press conference with one of his favorite pieces of real estate in the world in the background.
Rahm has returned to Torrey Pines, the site of some of his best and most consistent performances on the PGA Tour. And let's not forget that only a few thousand yards from the South Course's 18th green is where he proposed to his wife, Kelley, on the red sandstone cliffs.
It all looks so bright and promising to Rahm now, when only 10 days ago being struck with COVID-19 was his reality, as was getting eliminated from having a chance to finish the job at the Memorial after he'd built a six-shot lead in the third round. It's not the way Rahm wanted to enter a major in which there's every reason to believe he will contend, but the 26-year-old Spaniard seemed more grateful than rattled by what he's just been through.
"I feel invincible," Rahm said with a smile in reference to having both been vaccinated for COVID-19 and possessing the antibodies that would fight against the disease.
Rahm, of course, was destined to face questions about the circumstance of getting COVID, how he responded, and the way in which the news was delivered to him by the tour—all of which was fodder for a flurry of social-media posts over the last week and a half.
He also shared the human side that so many families who have dealt with the coronavirus have faced. As previously planned, his parents flew from Spain to his home in Scottsdale, on the Monday after Memorial. And while Rahm was home, having arrived in a private jet fitted with an ICU unit, he wasn't able to be there when his parents met his 2-month-old son Kepa for the first time.
"Those are the hard parts about this virus in life," he said.
As for how things played out at Memorial, where he was informed of his positive results on national TV, Rahm defended the tour's policies regarding COVID. He acknowledged that while he played in the Memorial, he knew that he was part of a contact-tracing effort, and that any time he could receive bad news. (Rahm said on Tuesday that he had been vaccinated but the 14-day post-vaccination time had not expired, which was what he was required to be tested daily at Memorial.) Rahm said that fact that it ultimately did come to a forced withdrawal shouldn't be blamed on the tour.
"To all the people criticizing the PGA Tour, they shouldn't," Rahm said. "We are in a pandemic, and even though this virus has very different forms of attacking people, you never know what reaction you're going to get. So [the] PGA Tour did what they had to do.
"I've heard a lot of different theories: I should have played alone. [No], I shouldn't have … that's nonsense. The rules are there, and it's clear."
What Rahm is not happy about is the way the tour handled telling him. A medical advisor stopped Rahm after he'd finished the 18th hole in the third round to tell him he was positive. The golfer broke down in tears before being taken away in a golf cart. The tour contended that it had to tell him immediately after the round to prevent him from interacting with fans.
Suffice it to say, Muirfield Village's 18th green is not a site of good memories for Rahm. Last year, Rahm was involved in a rules issue in the Memorial when it was determined that his ball moved slightly when he addressed it before chipping in for birdie on the 16th hole. Rahm was told of the potential penalty after briefly celebrating his victory at 18, and though he ended up taking a two-stroke penalty, he still won the tournament by three shots.
"I'm not going to lie," Rahm said. "That's the second time I get put on the spot on national TV on the same golf course on the same hole.
"For all those people wondering when I said, 'Not again,' that's exactly what I mean—not again. Last year, I put my heart out talking about one of my family members passing [away], and I get told, 'Well, go sign your scorecard with a penalty stroke,' with no warning.
"Then this past year I put arguably the best performance of my life, and I get told again on live TV, 'Hey, you're not playing tomorrow.' So it could have been handled a little bit better, yeah. But it still doesn't change the fact of what really happened. Because it was the second time I got put on the spot on the same course, [it's] why I was a little bit more hurt, but yeah. Again, it's tough."
With the Memorial behind him, Rahm has turned his focus to preparing for the U.S. Open. He spent several days isolated and only hitting a bit on his home simulator, and he does admit to feeling slightly behind in his preparation. But for a man who's played only five times in the Farmers Insurance Open at Torrey Pines, few could be more confident on the South Course. Rahm won in his Farmers debut in 2017 and has since notched four other top-seven finishes, including a solo second in 2020.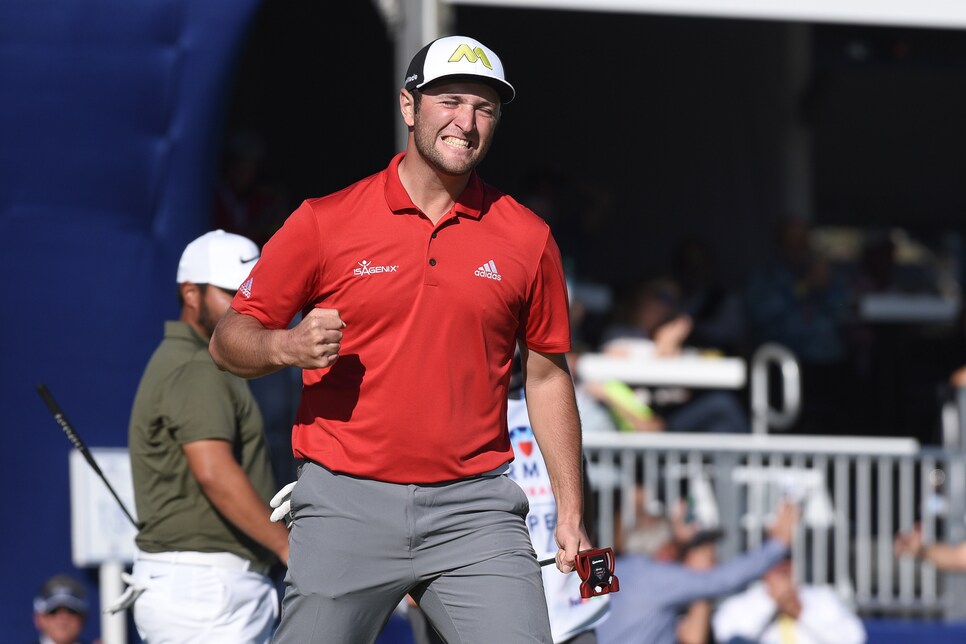 Jon Rahm reacts to his eagle on the 18th hole that helped him win the 2017 Farmers Insurance Open at Torrey Pines, his first victory on the PGA Tour.
Icon Sportswire
The South figures to play quite a bit different in June rather than January, with Rahm noting the biggest change being the firmness of the greens. The rough, he said, is inconsistently thick.
"You can actually get lucky and get some decent lies, or you can get some that it's hard to move five yards," said Rahm, who got in nine holes on Monday, his first time to the course out of quarantine, and nine more on Tuesday. "So the discrepancy is big. It's going to happen. It's a U.S. Open. You're going to get good breaks and bad breaks."
At this point, it would seem that Rahm is due for more good breaks than bad.