Red circle club
U.S. Open 2021: How Jon Rahm is now forever linked with Ben Hogan, Jack Nicklaus and Tom Watson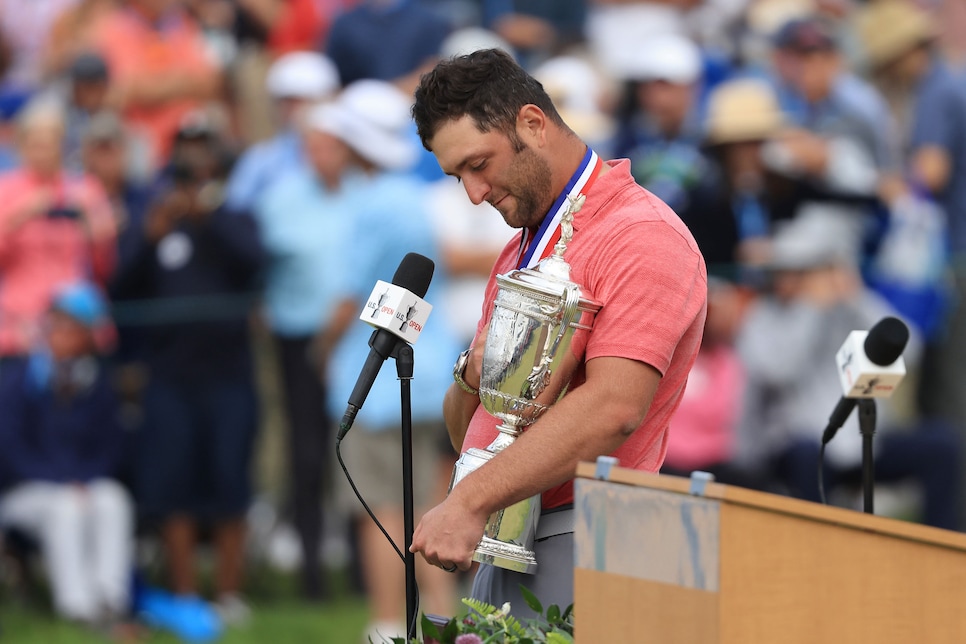 Jon Rahm holds the U.S. Open trophy after his victory on Sunday at Torrey Pines.
Sean M. Haffey
A win is a win is a win. And when it's a major, it doesn't matter if you finish bogey-bogey to take the title, the key is to take the title.
But Jon Rahm went birdie-birdie on the 71st and 72nd hole of the U.S. Open on Sunday to cap a closing 67 at Torrey Pines and grab his first career major. And finishing birdie-birdie to win the U.S. Open isn't just a spectacular accomplishment, but a rare one.
Correction, a VERY rare accomplishment. Only three times in the 120 previous playings of the championship has the winner finished with a pair of red circles to close things out.
To become the fourth then is a pretty big deal for the 26-year-old Spaniard. And it's even more impressive when you actually realize who the other three are.
Turns out the first U.S. Open champion to win with back-to-back birdies was a man who became synonomous with the championship, Ben Hogan. He did it at Oakmont in 1953.
The next golfer to accomplish the feat? How about Jack Nicklaus, who did it when he won his fourth career U.S. Open title in 1980 at Baltusrol.
And the third golfer? Another all-time great in Tom Watson, who did it 39 years ago to the day at Pebble Beach.
Hogan, Nicklaus and Watson … pretty solid company to be keeping.