Tour Life
U.S. Open 2021: The chicken sandwich (yes, chicken sandwich) that could snap Rory McIlroy's major championship drought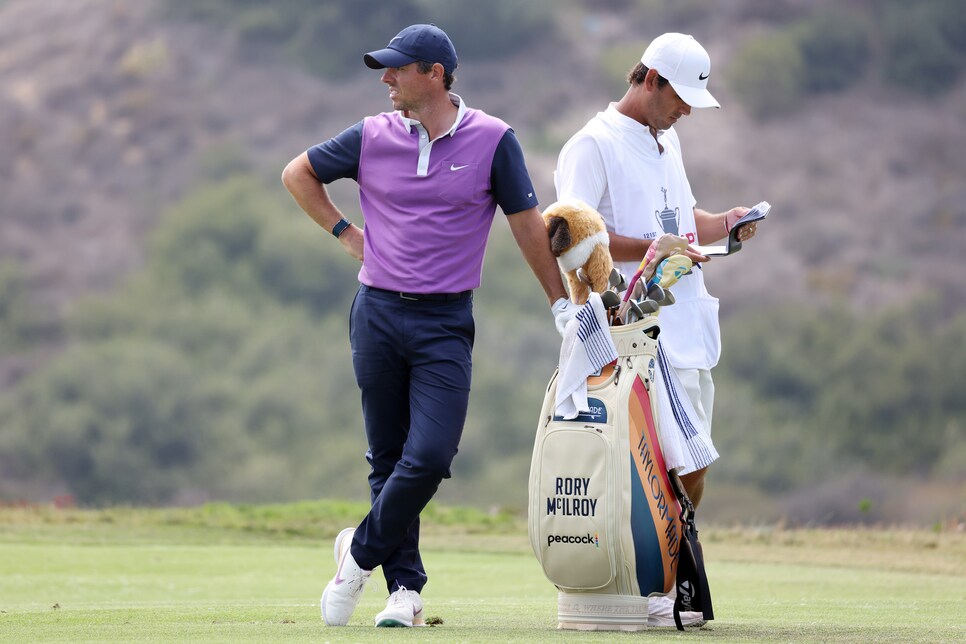 Rory McIlroy gazing off in the distance and thinking about his special chicken sandwich during the third round of the 2021 U.S. Open.
Harry How
Rory McIlroy's seven-year major drought has involved a lot of searching for answers. There's been new equipment, a new caddie, and even recently, a new coach. Turns out, he may have been looking in the wrong place this whole time.
Instead, it's looking more and more like he's found key to winning another major this week and it's been right in front of him—literally. On the Lodge at Torrey Pines' room service menu, that is.
Let us explain. Following a Saturday 67 that has him two shots out of the lead heading into the final round of the 2021 U.S. Open, McIlroy said his family has no special plans for his first Father's Day. But he seems pretty certain about his post-round meal.
"I've had the same chicken sandwich five nights in a row from room service, so I'll probably make it six nights in a row," McIlroy said. "I'll go to bed, I'll wake up, do my warm-up in the gym and get ready to go play again. That's about it."
"It's rotisserie chicken, avocado, sun dried tomatoes, some garlic aioli and some holey bread," McIlroy said. "It's really good."
It sure sounds good. And pretty healthy!
Of course, Rory wouldn't be the first player to latch onto a particular meal for a week. Golfers are a superstitious bunch. Bubba Watson, for instance, famously ate burritos every night during the weeks of his two Masters wins.
But we have to assume Bubba has eaten those burritos other years when he didn't win the Masters, so they're probably not as magical as he thinks. But if Rory wins on Sunday, these chicken sandwiches will be undefeated. And he'd be smart to hire whoever is making them as his personal chef going forward.