Race to the finish
U.S. Open 2021: If Rory McIlroy wins, this crazy Thursday finish will become the stuff of legend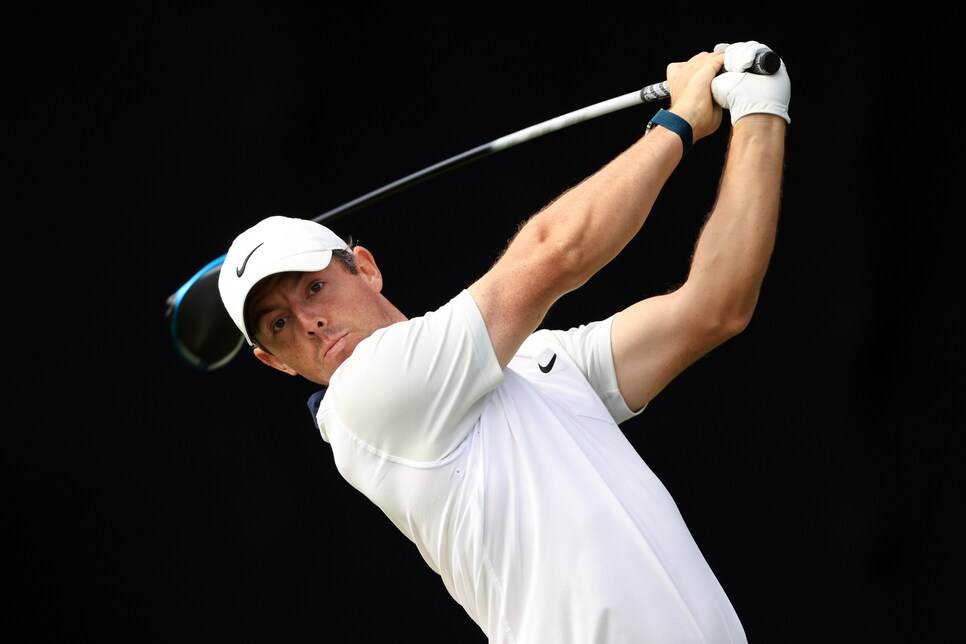 Rory McIlroy plays his shot from the seventh tee during the first round of the 2021 U.S. Open.
Sean M. Haffey
SAN DIEGO — The traffic on the Torrey Pines South Course's 18th hole was like a freeway at rush hour. In fading light, fans were making their way home. People were running across the fairway. Workers' carts raced at far too fast speeds.
And amid this craziness, Rory McIlroy was making a 100-yard sprint to the finishing green. He'd just hit a wedge to makable birdie range and wanted to mark his ball for the approach shot of Justin Rose, who'd put his second shot in the pond. Dustin Johnson was in the left greenside bunker.
By the time McIlroy rolled in the birdie putt to finish with a red number for the day at one-under 70, the sky was nearly black. A jubilant McIlroy pumped his fist to the few dozen fans near the green, seemingly thanking them for sticking around for this evening encore.
As he reached the tunnel that would take him to scoring, the Ulsterman turned and shouted, "Better putting in the dark!"
McIlroy's driving and putting were suspect on the day, but he still scrambled to a respectable result, and in doing so should quiet some of the talk of him stumbling out of the gate at majors. Tied for 11th as everyone went to dinner—or bed—McIlroy was only three shots behind clubhouse leader Russell Henley, though Louis Oosthuizen also was at four under with two holes to finish when play was suspended by darkness. The field wasn't able to finish because of a 90-minute fog delay in the morning.
McIlroy made two tremendous putts in the final half hour. At the par-4 17th, he missed the fairway into heavy rough, did all he could to get into the right bunker, and then splashed a so-so shot to 22 feet from the hole.
Rose volunteered to putt out for par, and thus hustle to the 18th tee. With the group in front still in the fairway, Rose hit his drive—ensuring that his group would be able to finish out the hole. (If play is suspended for darkness, a group can finish the hole itsplaying even after the horn sounds, even if just one player had hit just one shot on the hole, but not additional holes.) When Rose's ball landed not far from Sergio Garcia, Rose's Ryder Cup teammate threw up his arms as if to say, "What the heck?"
Meantime, with the green lighted by a nearby scoreboard, McIlroy took time to line up his putt from the fringe, and then drained it for par. Johnson also made par, and the horn blew just as they got to the tee. They owed Rose a debt.
"That was so crucial," Johnson would say after finishing.
At 18, McIlroy drove just over the left fairway bunker, but didn't have a good enough lie to go for the green. He laid up, and then hustled to his ball as Rose and Johnson played their second shots. After Rose hit up to tap-in range to save par, and Johnson hit an OK bunker shot, McIlroy stepped up and made his eight-foot birdie putt.
"The birdie is awesome," McIlroy said. "That putt was pretty. I was sort of, like, I think it's straight, I'll hit it straight and we'll see. But, yeah, it was nice to get in, get an extra hour of sleep tonight and it was a bonus to birdie in as well."
Johnson, the World No. 1, finished with a par and shot 71. Rose scored 78.
MORE U.S. OPEN 2021 STORIES FROM GOLF DIGEST: