Can't beat them, join them
Xander Schauffele uses putting method he thinks should be banned, shoots a 68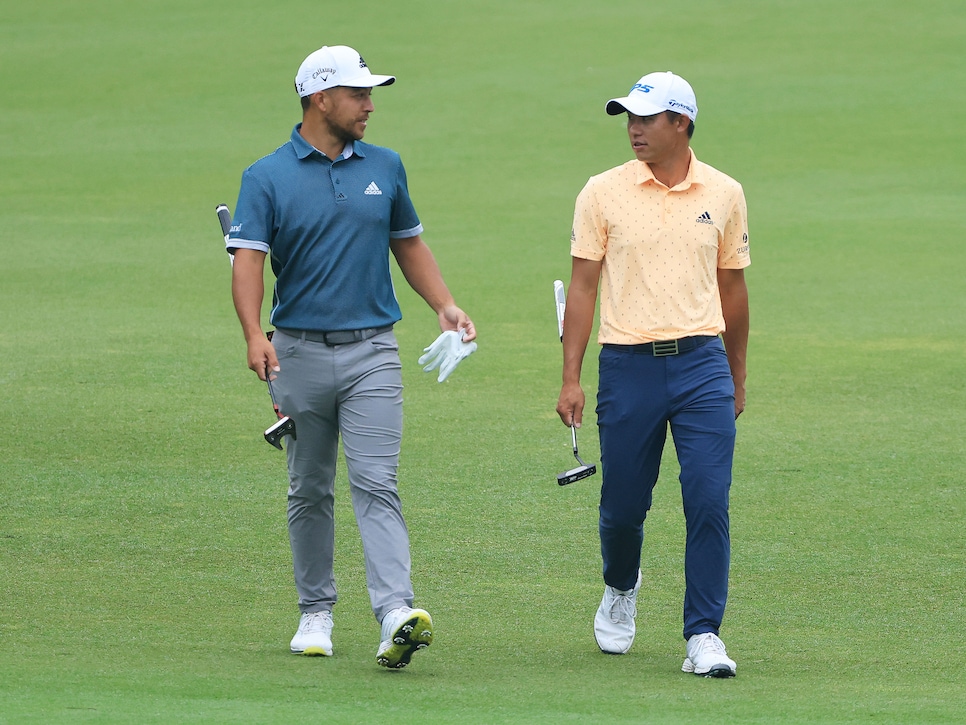 DUBLIN, Ohio – Despite the fact he ranks ninth on the PGA Tour in strokes gained/putting, and against the advice of everyone on his team, including his putting coach, Xander Schauffele decided to use an armlock putting grip during Thursday's first round of the Memorial Tournament. Sometimes, a guy just has to find out if the grass is greener elsewhere, even on … well, greens.
"I had to see what the craze was about," said Schauffele, who said he's been tinkering with the armlock or wristlock grip for only a few days. "I do feel funny, obviously being a top-10 putter on tour, switching putters or the style of putting."
Schauffele, 27, is using the same putter as before, but he put a longer shaft on it and a different grip. During an opening four-under-par 68 at Muirfield Village Golf Club, he converted five birdies against a lone bogey, which he suffered on his penultimate hole, the par-3 eighth, after a two-hour weather delay.
He needed 28 putts on the day, 23 of which came after hitting 14 greens in regulation. His .718 strokes gained/putting in the early going wasn't far off his season average of .737 as he sat just two shots behind early leader Collin Morikawa.
The experiment was a revelation to the native Californian, ranked fifth in the world, who said the method, "is a distinct advantage."
And because of that, he added, "I am for banning the armlock putters, but if everyone else is going to use it, and I feel like they have a bigger advantage, I may as well do the same.
"It's better. It's easier. It's more consistent. You can flinch your hand, but you can't flinch your whole left arm. … It takes the stress of putting out of the game," Schauffele said, explaining why he thinks it should be disallowed. "Putting is so stressful in golf. Obviously, hitting shots and chipping and all kinds of stuff are difficult, but your putts are what give you the score on the card.
"[Putting] has ruined people's careers and it's helped people's careers," he added. "I think putting is an art in our game, and when you can lock it into your arm or anchor it to your body, it kind of gets rid of that."
Players on the PGA Tour who use various versions of an armlock putting style include reigning U.S. Open champion Bryson DeChambeau, Webb Simpson, Matt Kuchar and Will Zalatoris. Bubba Watson tried it in 2019.
In April at the RBC Heritage, Billy Horschel made a similar assertion that any putting style that anchors the arm to the putting grip should be outlawed.
Schauffele, a four-time tour winner but without a victory since the 2019 Sentry Tournament of Champions, isn't comfortable with the switch, but he is committed to it. For now. Even though Derek Uyeda, his putting coach for the last seven years, tried to dissuade him from such tinkering.
"I know how good it can be," he said. "I think you still have to read putts and get the speed down correctly, but I'm in a very similar setup compared to my old putter, and I know I can putt with a shorter putter, so I figured if I can get an advantage on the greens, you know, and maybe get to first in putting, that would be something special. So, I'm giving it a go."