Muirfield Makeover
Jack Nicklaus explains everything you need to know about his new test at Muirfield Village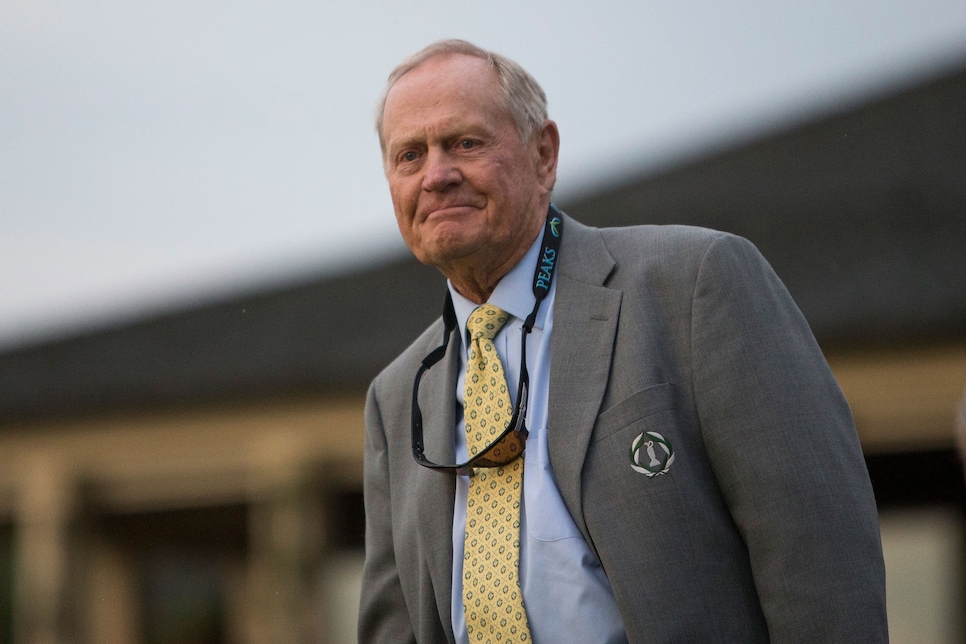 Photo By: Icon Sportswire
DUBLIN, Ohio — Claude Monet once destroyed more than a dozen of his paintings before an exhibit because he didn't believe they met his high standards. Poet T.S. Eliot was an inveterate tinkerer, editing his verse with manic precision and purpose.
To create something of lasting excellence is a pursuit exceeded in difficulty only by recognizing the merits of your own handiwork and discarding it to produce something superior.
Jack Nicklaus has spent decades honing, shaping, reconfiguring and stretching—yes, of course, always stretching—the confines of Muirfield Village Golf Club, the recognized masterpiece among his more than 300 golf-course designs. Annual site of the Memorial, which Nicklaus founded in 1976, Muirfield Village ranks among the finest courses in America and because of its strategic value, the scenic, sylvan layout holds the distinction of being the only venue in the world to host the Ryder Cup, Solheim Cup and Presidents Cup.
But Nicklaus, the winner of a record 18 major championships, never has afforded himself the luxury of satisfaction. The 46th edition of the tournament, which begins Thursday, will be contested on a golf course almost totally reimagined. What started as an exercise to improve the functionality of the layout by installing a sub-air system and ridding the fairways and greens of Poa annua became a revisionist mission.
The Golden Bear tore up his baby because, simply, he believed there were ways it could be better.
It sounds like a difficult undertaking. Muirfield Village already was highly revered. And then there is the sentimental value of a place that took a decade to develop from idea to reality and which he has invested so much of his time and energy for more than a half century going back to when he first started purchasing the land in 1966.
"It wasn't hard for me to do at all," Nicklaus said of his decision to overhaul his dream course, one fashioned with Augusta National Golf Club as the primary inspiration. "You just go do it. I've seen how the course has played over the years, recognized things I didn't really like, and when we started talking about redoing the greens and the fairways to get rid of all the Poa annua, I decided now was the time to make changes that would result in a more enjoyable golf course for the members while still challenging the pros."
Only two holes, Nos. 12 and 14, went unchanged as Nicklaus altered teeing grounds, built new greens, recontoured others, and narrowed or rerouted fairways. A precision air system was installed under the greens to control moisture. He also wiped the slate clean on bunkering by either repositioning them, or by adding or subtracting in key areas. He also found room for another 153 yards, bringing the course to 7,609 yards, a far cry (and carry) from the 6,969 yards that Muirfield Village measured when it opened in 1974.
Major revisions were made to holes 1, 4, 5, 7 and 15, with each featuring a new green complex.
Nicklaus said he had the most fun with the redesign of the 15th, and that is obvious. It is more interesting and more dangerous hole on the course. It used to be an arrow-straight par 5 that played up a steep hill, which strongly favored a handful of longer hitters who could reach the crest while most players saw their tee shots plunk into the slope and die. He dropped the fairway about 20 feet, shifted it to the left, which brings the creek into play, and added four bunkers on the right in the landing zone. Up ahead, where the creek crosses over in front of the green, he dropped the putting surface and to the right he removed a mound and added bunkers, the effect of which is bringing the water into play again.
"I didn't like that tee shot, so I said, 'Let's try to figure out how we're going to get to where we can drive the ball up there and it's as good for the average golfer as the long hitter," Nicklaus said. "Jackie [Jack Nicklaus II] suggested cutting the hill down. And, and as we cut it down, we forced the fairway to the left toward the hazard. And now you have a better view of the hole."
Known for his prescience in accurately predicting the winning score in majors during his prime, Nicklaus foresees a winning score this week in the "mid- to low 270s" after Jon Rahm won last year's Memorial, held in July as part of a pandemic-induced reconfiguration of the tour schedule, by three strokes with a nine-under 279 total. Thanks to heat and a healthy breeze, Muirfield Village was rather inhospitable. And because the course was being torn up immediately following play (actually, the process started while the tournament was ongoing), the setup was severe.
"We could afford to stress it last year, and it probably was a little too much," Nicklaus said. "This year I think the pros will play a little bit better on it, simply because I don't think we'll stress the golf course as much, as young as it is."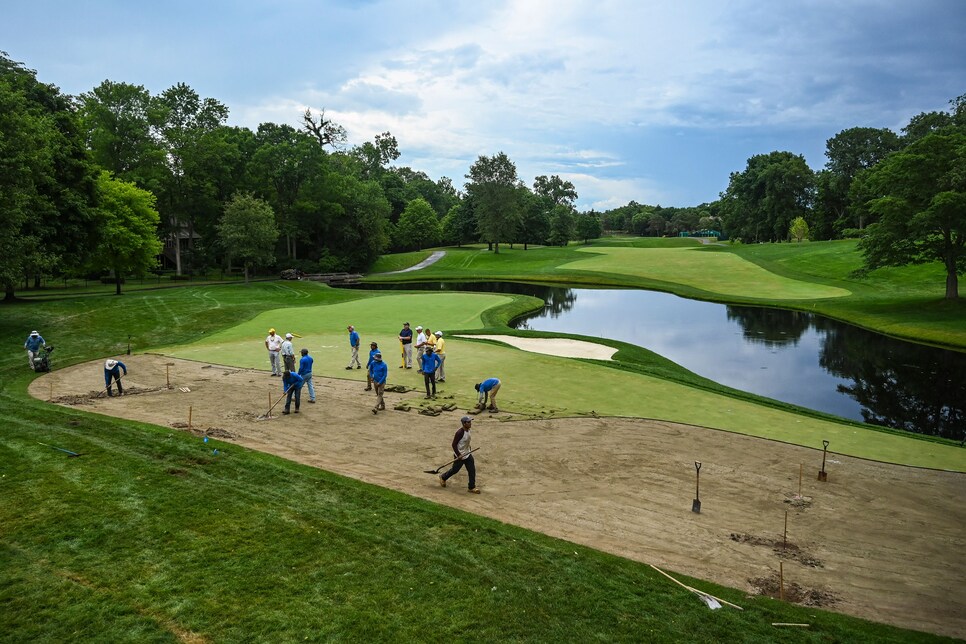 Members of the agronomy crew strip sod off the green on the sixth hole before the final round was even completed in 2020.
Keyur Khamar
Chris Cochran, senior design associate at Nicklaus Design, said he wouldn't be surprised if Nicklaus found the need for a further refinement or two. The Golden Bear wouldn't disagree, and 15 might be a prime candidate. "I'll see how it plays, but I'm already thinking that I might make that fairway 10 yards narrower and redo the bunkers."
One alteration, though slight, is sure to be hugely popular with the contestants. The par-3 16th hole that Nicklaus redesigned in 2010 has been a nemesis to the field in its short life. Ranked the second most difficult hole since the 2011 Memorial, it plays up to 201 yards over water, and the shallow green always has been hard to hold. Nicklaus found out why last summer.
"The green actually pitched away in the back. I did not know that," Nicklaus said with genuine wonder but blamed himself. "I figured it was built just as I drew it. So, I took seven inches out of the middle of the green and added seven inches to the back of the green. It changes the whole profile of the green, so it sits more towards the tee."
Xander Schauffele, who played the back nine on Monday, noticed the difference.
"Obviously, some of the greens got a little severe and firm, and if you use 16 as an example, I'm sure it's not what he envisioned initially," said Schauffele, who's preparing for his fourth Memorial. "Wanting us to hit 7-, 6-, 5-irons into that green, you can't have it be downwind and pitched from front to back too severely. So, he kind of leveled that surface out just enough, and it seems much more fair."
Greater risk-reward has been infused into the four par 5s, but the contours of many greens have been softened, particularly at Nos. 3, 4, 6, 10 and 18, which in each instance allows for more hole locations. There will be several new ones this week, giving players even more variation to digest.
"It's one of the kind of most fun, most difficult but purest tracks that we play all year," Jordan Spieth said Tuesday. "Even with most every single hole being changed it seems like it's still that way, which is pretty remarkable in a year's time. And it's a golf course where you just can't fake anything. I mean you're either on or you're not and you can see guys shoot six under and you see guys shoot six over in the same round. And there's just very few golf courses that yield that kind of disparity in scores throughout a season."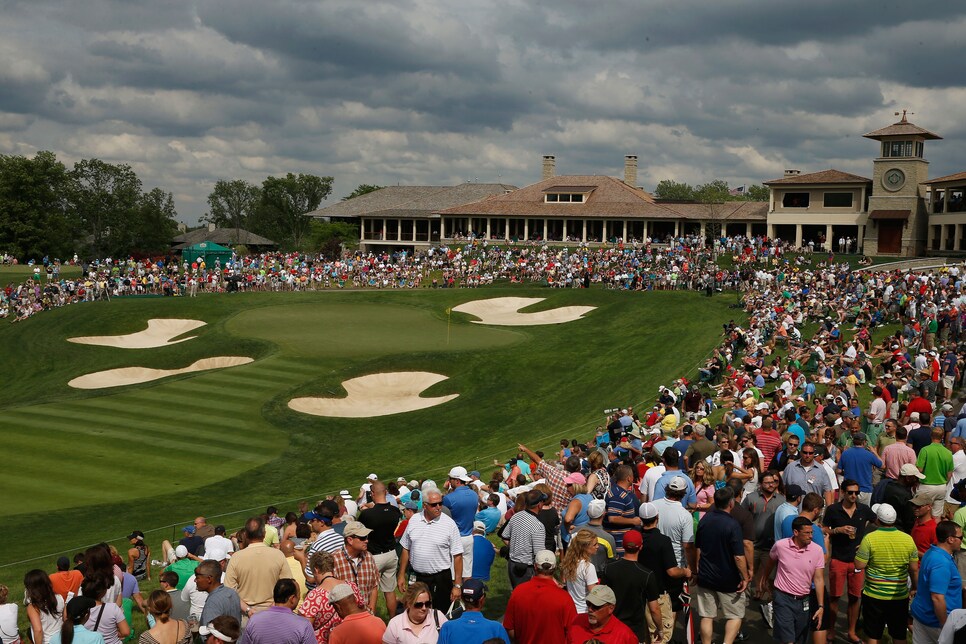 The 18th hole, show in 2013, has been softened to allow for more hole locations.
Scott Halleran
Nicklaus called this redesign of Muirfield Village, "the last bite of the apple," and he means it. At 81, he does not have detailed instructions mapped out for any future changes the course might require. "I have no idea what equipment will be like 10-20 years from now, so how can I plan? And I'm pretty much out of room unless I go out into Muirfield Drive or something," he said with a chuckle.
Nervousness and apprehension engulfed Nicklaus when the Memorial Tournament debuted in 1976. So much of what occurred then was uncharted territory for the Bear, who was only 36 at the time and had only a handful of design credits to his name. The unveiling this week of the new Muirfield Village, which has only hosted a week's worth of member play and is in immaculate condition, stirs different emotions.
"I don't know if it's quite the same feeling as when we started. Maybe a little," he said. "We were introducing a new tournament in 1976, and I wanted the course to show well and there was some anxiousness about that. This is still a familiar golf course to the pros. But it will be new to them, too. I think there's a different type of excitement than when we started. It's a new chapter in the story of this golf course."
And a familiar story in Nicklaus' career—always seeking excellence.