Memorial
Phil Mickelson and Xander Schauffele's money games boosted one player's drive and the other's wallet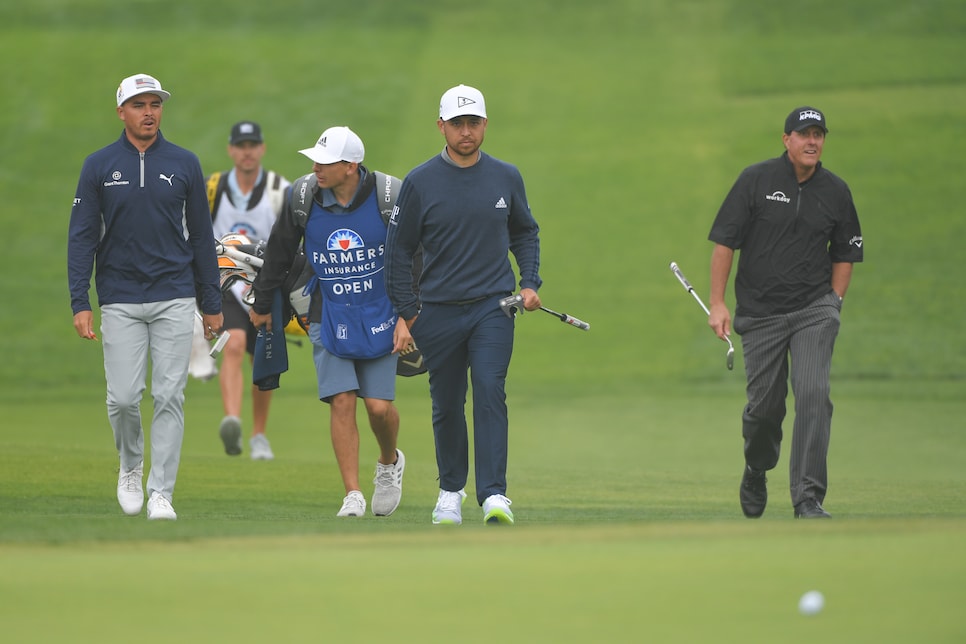 DUBLIN, Ohio — Though he has received credit for inspiring Phil Mickelson on the way to his surprising PGA Championship triumph, Xander Schauffele admits that while he enjoyed the experience of hanging with the now six-time major champion, he didn't take similar mental gains out of their matches. But it sounds like he did take a healthy wad of cash.
Most of their golf was at The Farms, where Schauffele went low several times, shooting 64, 63 and 62, which included an ace on the 220-yard par-3 16th hole after Mickelson had pressed.
"He tried to quick trigger it," Schauffele said Tuesday at Muirfield Village Golf Club, where he is preparing for his fourth start in the Memorial Tournament. "He pressed. And the walk back to the 16th tee is like 80 yards or a hundred yards or so, and we were jawing each other on the 15th green. I won the hole, he pressed, and then he quickly went back to the tee to tee off and it's one of the harder par 3s on the course. And he kind of wasn't supposed to hit first and of course he hits first and hits it to four feet or so. I'm letting him know that I could make him re-hit, since it's match play, but since he was getting his butt kicked, I figured I would let him hit it to four feet and not make him re-hit. But it was just funny.
"I wasn't really a guy to make too many holes-in-one, and I kind of pulled a 6-iron toward the water a little bit, fell right in line with the pin and then trickled in. And Phil just sat … there's a little mound behind the tee box, and he just sat there like this, looking down at the ground, shaking his head. He just didn't really know what to do with himself. I found that pretty entertaining."
Entertaining indeed. Mickelson eventually got the best of Schauffele while playing at Rancho Santa Fe Country Club, the left hander's home course. A four-time winner on the PGA Tour, Schauffele said putting a beatdown on the Hall of Fame golfer didn't necessarily boost his confidence.
"No, when someone's not playing their best it's never really, it's not like … when two people are playing really good and you get the best of them, that's when you gain some confidence," Schauffele said. "I was playing really good golf. To be completely honest, Phil was playing probably some of the worst golf he's played."
Schauffele, 27, found it surprising that during their time together Mickelson, 50, peppered his young peer with questions about the game. "I thought I was near the top in terms of being the most obsessed of golf and not being able to get away from the game, but I got to tip my hat and give it to Phil," he conceded. "I think he's probably … he's so obsessive and so passionate about golf that it's not really a surprise that he did win the PGA Championship because he's been telling himself for the last 25 years that he's still got it. So, really cool to play with him and you can definitely learn a lot from what he's done."
Learning is always good. Winning is better. Schauffele definitely benefited in one regard—getting into Mickelson's wallet. But he wouldn't say how much.
"No, that's not for me to say," he deflected, grinning. "They're much larger than most games, I can tell you that."
Well, Phil made it back, and then some, with his PGA triumph. It was worth $2.16 million.