These Guys Are Good
Xander Schauffele beating Phil Mickelson's brains in during the lockdown may have inadvertently led to history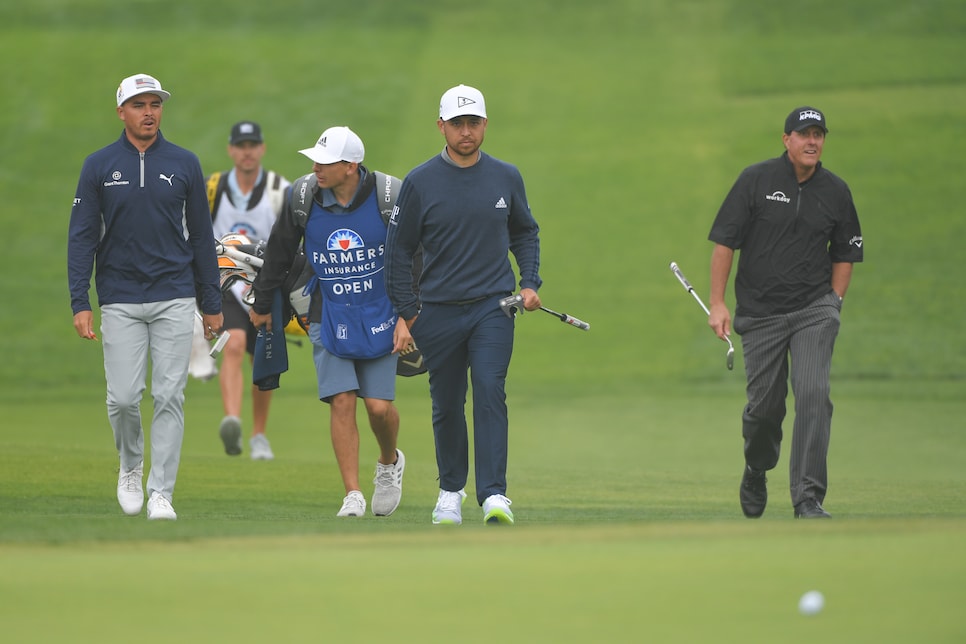 After witnessing what happened on Sunday at Kiawah Island, we were all left wondering the same thing - how? How did Phil Mickelson pull off winning a major at 50? How did this notorious high-wire act of a golfer keep it together on such a hard golf course for four straight days? How was he so focused? How did he keep calm and hit BOMBS? How?!
As Mickelson has told us, there are a myriad reasons. A tireless work ethic, the love of competition, a major diet change, meditation, other brain exercises, flexibility, coffee concoctions, etc., etc. Despite all of that stuff, though, even Lefty himself admitted he had a tough time continuing to believe he could get it done, especially against the ever-growing group of talented young players.
Even after winning Sunday, becoming the oldest major champion in the process, Mickelson still had a hard time believing what he had just done. On Wednesday at Colonial, where the now six-time major champion is back in action, he was asked about his never-ending self belief, even after weeks when he'd violently miss the cut, which were becoming more and more prevalent as he aged.
"It's obviously been a struggle," said Mickelson. "A big thing for me in getting things turned around has been the opportunity to play with a lot of good, young players, and so just prior to Innisbrook I had a chance to play with Rory McIlroy and Rickie Fowler at The Grove in Florida and I had a chance to play a lot of golf in the last year and a half with Charley Hoffman and Xander Schauffele in San Diego and that's made a big difference for me."
Mickelson went on to expand specifically on Schauffele, whom he played a ton of golf with during the lockdown. Apparently, X gave it to him, regularly, and it may have inadvertently led to Mickelson's history-making win.
"I remember a year ago almost to the day where I was playing a few rounds at the Farms with Xander," Mickelson said. "And we played a match and he went out and shot 64 and I'm like, wow, all right, you gave me a pretty good beating and I wanted to do this again so a few days later we went and played again and he shot 63. I'm like, wow, okay. Let me try one more time.
"So we go out next time and he shoots 62, and on a 220-yard par 3, I had to press and hit one four feet and he makes a hole-in-one. I went back and talked to Amy and I'm like, I don't know how I'm going to beat this guy. He's probably playing the best of any player in the world right now. Then he came to Colonial the following week and almost won here. Seeing that, and the way he played with this calm, and didn't try to overpower every hole but overpowered the holes he should and keep the ball in play and keep the ball on the ground and hit his iron shots pin-high and being solid from inside 15 feet. I saw what it looked like to play at the highest level and so forth."
That is ... um ... some seriously high praise from one San Diegan to another. Little did Schauffele know that, at the time, he was inspiring a legend to eventually break a record that stood for 53 years.
"Just prior to Innisbrook, I started shooting those same scores at the same course," added Mickelson. "And I felt like I should be able to compete and then I went to Innisbrook and I missed the cut and I didn't shoot the scores and I didn't execute on Tour the way I had been at home. So I still had a barrier to break through and that's why I was so frustrated is that I wasn't bringing my best out when I knew I could, and I had a glimpse there obviously at Charlotte in one round but wasn't able to sustain it.
"Then to hold it together and play some really good golf over 72 holes last week meant a lot because I had seen the progress but I had not seen the results, and so that's why I say, I had a belief but until you actually do it, it's tough to really fully believe it."
Ipso, facto, Xander is semi-responsible for Mickelson's legendary PGA Championship win. For that, Xander, the golf world is forever in your debt. As for the golf gods, well, that remains to be seen.