Be Right
'Yo man, it's f---ing Thanksgiving': Charles Barkley perfectly sums up Phil Mickelson's craziness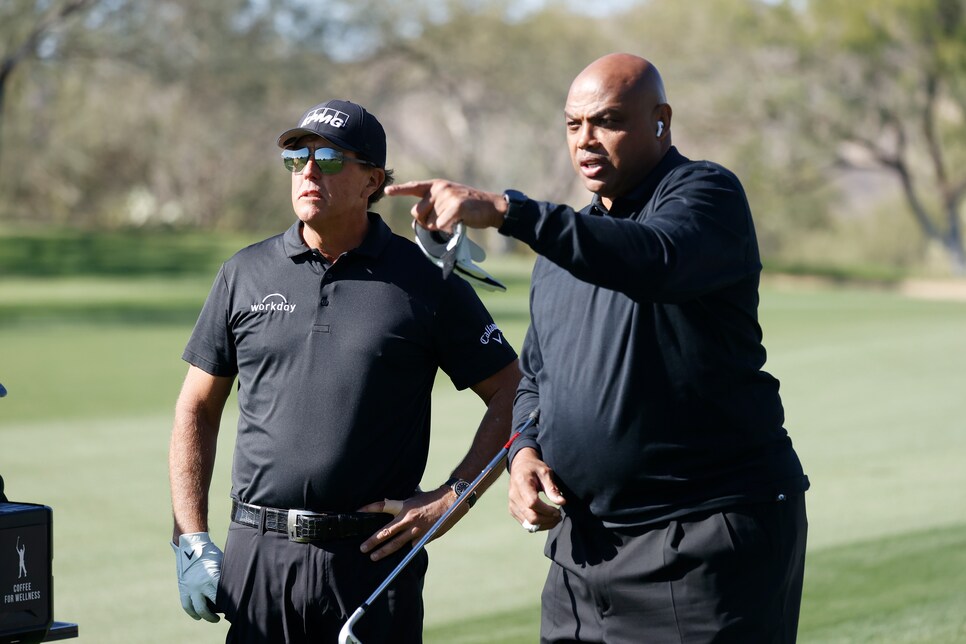 With his history-making win at the PGA Championship, the legend of Phil Mickelson grew tenfold. His countless hours of hard work finally paid off in the form of a major once more, further proof that he is, in fact, a legitimate crazy person when it comes to getting better at golf. Not that we needed any more.
Sir Charles Barkley, who joined as a guest on this week's "Be Right" podcast, added to the Mickelson mystique with a hilarious story about Lefty's intense preparation for Capital One's The Match: Champions for Change, which Mickelson and Barkley won this past November, beating Stephen Curry and Peyton Manning, 4 and 3.
That match took place Friday of Thanksgiving weekend at Stone Canyon Golf Club in Arizona, and despite the holiday, Mickelson wanted to get in some work with the Chuckster early that week. We'll let Barkley take it from there.
"So he wanted to be prepared for the match," said Barkley, who was promoting AleveX ahead of a new ad campaign that will involve PGA Tour winner Max Homa roasting his swing. "So he's like, 'hey, I'm flying down for the day to play the course,' and I'm like, yo man, it's f---ing Thanksgiving. He's like 'yeah, I'm flying in the day before.' And I had to drive like two hours up to Tucson. I'm like, if you're going to fly in just for the day to play golf, let's do it."
Much like at Kiawah Island, Mickelson's grinding paid off, for both he and Barkley, whose swing looked drastically improved at Stone Canyon.
"I played really, really well. We were ready and we were prepared. But yeah, he says 'hey, the match is Friday, I'm flying in Tuesday, meet me,' I'm like yo man, it's Thanskgiving, and he's like 'I know, but we need to see the course.' We played a great practice round, so we were ready."
If this is how Phil treats a charity match, we all should have seen him winning another major coming. The man takes zero days off.
Barkley also talked NBA Playoffs, playing golf (and betting on it) against Michael Jordan , his improved golf game and much, much more. Please, have a listen below: