PGA Tour
Don't know Bo Hoag? Well, he knows more about Muirfield Village than anybody playing at the Memorial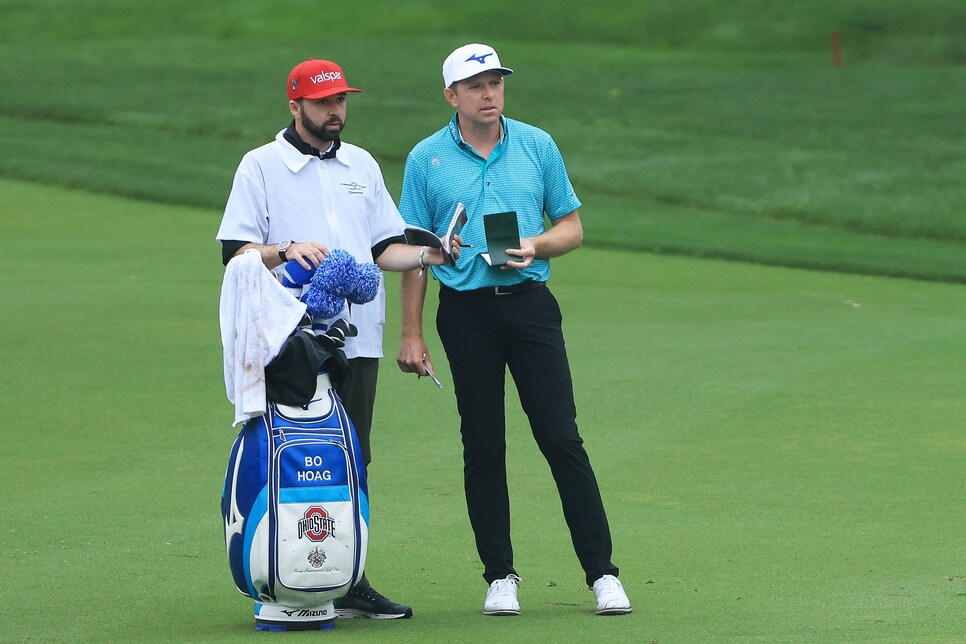 Bo Hoag talks with his caddie on the 14th hole during the first round of 2021 Memorial Tournament.
Sam Greenwood
DUBLIN, Ohio — Bo Hoag might be largely unknown among golf fans, but the second-year PGA Tour member is living large at this week's Memorial Tournament.
Hoag, 32, is a local guy who should feel more at home at Muirfield Village Golf Club than anyone but tournament founder and host Jack Nicklaus. His late grandfather, Bob Hoag, was one of Nicklaus' closest friends and a founding member of Muirfield Village. Bo not only played plenty of golf here, but he also attended the Memorial on several occasions, working the driving range and hounding players for autographs.
Hoag attended the same high school in nearby Upper Arlington where Nicklaus went, so he has that going for him. And like both Nicklaus and his grandfather, Hoag played college golf at Ohio State. Suffice it to say, he heard so many fans shouting the familiar "O-H" salutation during Thursday's opening round that he lost count, even though he couldn't make the proper response, "I-O."
Hoag did make a decent statement with his clubs, though, shooting a four-under-par 68 despite a bogey on the final hole. It was the kind of round that largely has been beyond his grasp for most of the last four months while missing eight of 11 cuts, including a string of seven straight that he ended three weeks ago at the AT&T Byron Nelson in Dallas.
"I feel like I kind of have that home-field edge," said Hoag, who is playing in his third Memorial on a sponsor's exemption, having debuted in the tournament in 2012 when he was just starting his pro career. "Did everything pretty nicely. Put the ball in the fairway, hit some good approach shots, and I rolled the ball well. Didn't make too many mistakes and made it pretty stress free."
Stress has been a companion of sorts, lately. Hoag posted just his third round in the 60s since the AT&T Pebble Beach Pro-Am in February. He opened with a 66 TPC Craig Ranch, but didn't do much else in finishing 66th. He ranks 133rd in the FedEx Cup standings after being one of nine rookies to advance to the playoffs last season when he landed on the last qualifying spot, 125th.
Hoag made the cut in last year's Memorial, eventually finishing T-62. But he left feeling empty, and not because of consecutive 79s to close out the tournament.
"I just think that you look at a year ago we didn't have any fans out here. It was my first year on the PGA Tour, and it's your hometown event and that's what you play for is to get your card and go play in your hometown event. And I didn't have any fans out here," said Hoag, who was followed on Thursday by his parents, other family members and loads of friends. "It was still great, but to be able to share that a little more and have that energy is way better this year."
Hoag, who said the changes Nicklaus made last summer to Muirfield Village have resulted in a "cleaner" course but not one significantly different, was one of the few lucky players who finished before weather halted play at 12:46 p.m. for a suspension of one hour, 59 minutes. He was able to simply drive home and kick back.
"It's different when you're playing in your hometown, anybody will tell you that," he said. "But I think if you approach it the right way, it can certainly be an advantage."
On Thursday, Hoag hit 12 of 14 fairways and 14 greens in regulation. Pretty clean. That's an approach that would be an advantage anywhere.