The Loop
U.S. Open 2020: Welcome back Yanni—The story behind one of sports' greatest theme songs
Editor's Note: This story was written in 2014, when the U.S. Open was preparing to switch broadcast homes from NBC to Fox Sports. With NBC reclaiming rights for the 2020 U.S. Open, it means the return of the netwok's signature U.S. Open theme, "In Celebration of Man," composed by Yanni.
The 2014 U.S. Open at Pinehurst marks the end of an era. No more Johnny at the national championship? Sad. But no more Yanni? You're going to miss him more than you may realize.
Johnny Miller will be a focal point of NBC's final broadcast of the U.S. Open and rightly so. But an overlooked aspect of the network's coverage is the tournament's unmistakable theme song, which was written by the famed one-named composer.
Titled, "In Celebration of Man" (how great is that?), the stirring/dramatic/beautiful/triumphant/regal/inspiring piece of music has accompanied the U.S. Open since NBC took over coverage for ABC beginning in 1995. You know, this one. Let's all show some respect and pause for two minutes of sound. And then leave it on loop.
NBC's Olympics producer at the time, David Michaels, happened to be a friend of Yanni's and listened to the musician's request to use the piece. Michaels wound up using it for NBC's 1992 Summer Olympics (Barcelona) Preview Show. NBC golf producer Tommy Roy took the next step. "That was the first time I heard it. I fell in love with it," Roy said. "When we got the U.S. Open [deal] in 1994, I wanted to make that the theme music for our USGA package and [then NBC president] Dick Ebersol agreed with me." PHEW.
Two decades later, "In Celebration of Man," the one that got away from CBS, is still the U.S. Open's signature theme, updated by Yanni with a full orchestra eight years ago.
"It's been a perfect piece of music that really has branded I think the U.S. Open and all of the USGA telecasts on NBC," Roy said.
"I would be disappointed if Fox doesn't use it," said Yanni, who is in the midst of a world tour covering 20 countries promoting his new album, Inspirato. "Nineteen years is a long time. 'In Celebration of Man' is kind of like a statue. And it stands for golf."
Despite requests, Yanni has never performed the piece live or included it on an album, but perhaps that will change now. "This song won't be lost," he said.
It certainly won't be lost among the golfers everywhere who hear or even hum the song when striking a good shot. Wait, that can't just be me . . . right?
Regardless, you're still bound to hear Yanni if you watch any given sporting event. The keyboardist doesn't play much golf for fear of an injury -- "My people won't even let me drive a golf cart!" -- but he's a fan and he also composed the main CBS golf theme. And pieces for the Olympics. And the Tour de France. And football. And tennis. You get the point.
"It's natural for me to write music that's good for sports. I know what it feels like, because I've been an athlete all my life," said Yanni, who was an accomplished swimmer growing up in Greece. "I know what it feels like to win. I know what it feels like to lose. I know what it feels like the pain of training, to concentrate to focus to overcome stress and anxiety to compose yourself. And I think all of that goes into the music. It's part of the psyche. You can't manufacture this type of music."
But how crucial is having a great theme song for a televised sporting event? If anyone should know, it's Roy. Remember the NBA on NBC theme song? Yep, he chose that too.
NBC golf producer Tommy Roy. The man with golden ear.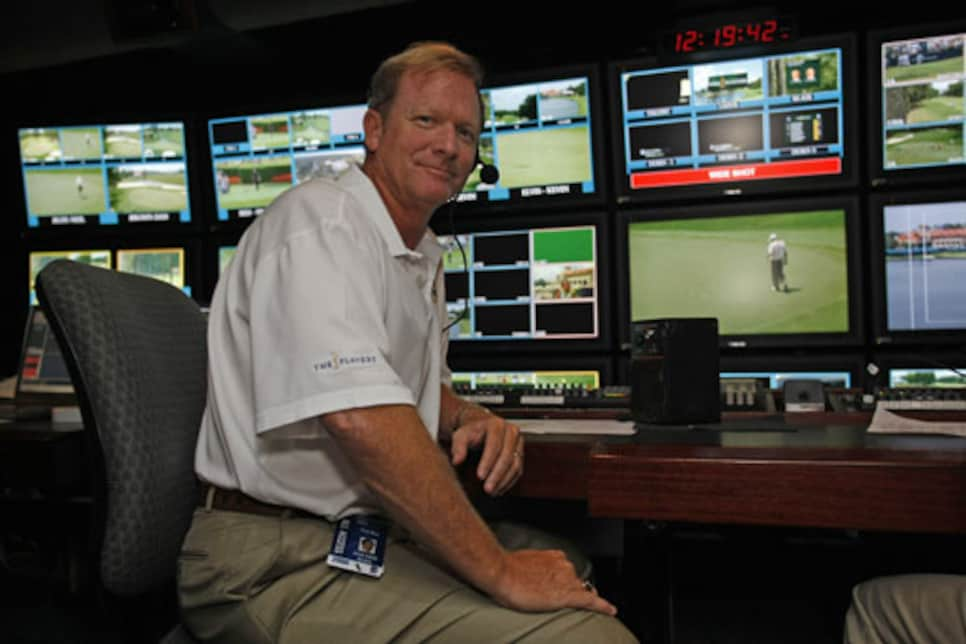 "If you get the right one, I think it's hugely important because it becomes a brand of the property in a way," Roy said. "If you think of the Olympics. You hear that music coming on the air and it just creates a mood and it creates memories and you know something really big is about to happen. And that's the same way with 'In Celebration of Man.' You hear that music and you know this is the U.S. Open is coming on. You know it's a big-time sporting event and it's time to sit down and watch."
This week, it's also time to celebrate "In Celebration of Man." Enjoy it while it lasts.