The Grind
Jon Rahm overcomes a big travel blunder, Paige Spiranac destroys a Twitter troll and the most dangerous shot in driving range history
Welcome to another edition of the Grind, where we want to thank the University of Georgia football team for allowing me to get a full night's sleep on Monday. I can't recall ever feeling safer about going to bed at halftime of a big game than I did with the Bulldogs beating TCU 38-7. It was almost as much of a rout as when my boss challenged me to an office outfit contest last year and was trounced. We like to think every underdog has a chance, but some battles are total mismatches—especially when someone isn't as good at matching. Anyway, I'm feeling refreshed, rocking some fresh corduroys and ready to talk some golf. Let's get to it.
Jon Rahm: Time to pat myself on the back for writing last week that this guy was going to have a monster season (I know, really going out on a limb). I predicted Rahm would win at least one major, and although the Sentry Tournament of Champions isn't a major, it certainly pays like one as the first of the PGA Tour's new ELEVATED DESIGNATED events. With the win, Rahm earned a tidy $2.7 million.
Not that anyone saw it coming on Sunday when he trailed by as many as eight shots at one point. Little did we know he was also down a few belts thanks to a packing mishap in which Rahm forgot to bring those as well as some socks. And as much as I'd like to poke fun at him for those blunders (he only wore a black-red Sunday combo like Tiger Woods because he was tired of wearing his navy pants/navy belt all week), the answer for how he could have such a mental lapse is pretty clear by the other baggage he brought on this trip: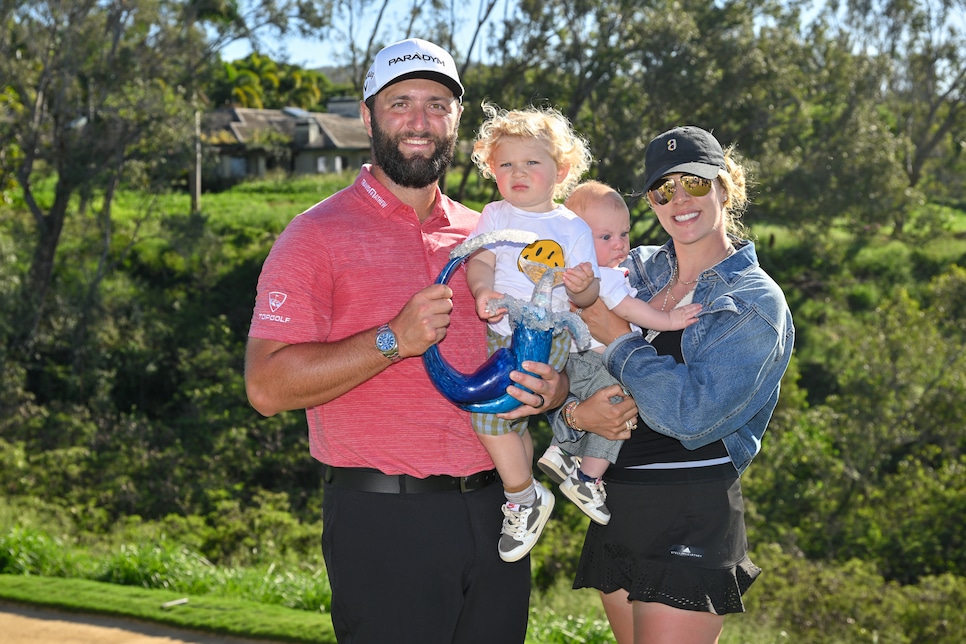 Yep, he gets a pass for having his hands full. Have you ever traveled with two small kids? Godspeed, Jon.
Collin Morikawa's putting: We will get to Morikawa's tough Sunday in a bit, but first, the positive. The dude known for having putting woes was absolutely rolling the rock at Kapalua thanks to the recent work he's done with putting coach Stephen Sweeney that our Luke Kerr-Dineen detailed last week.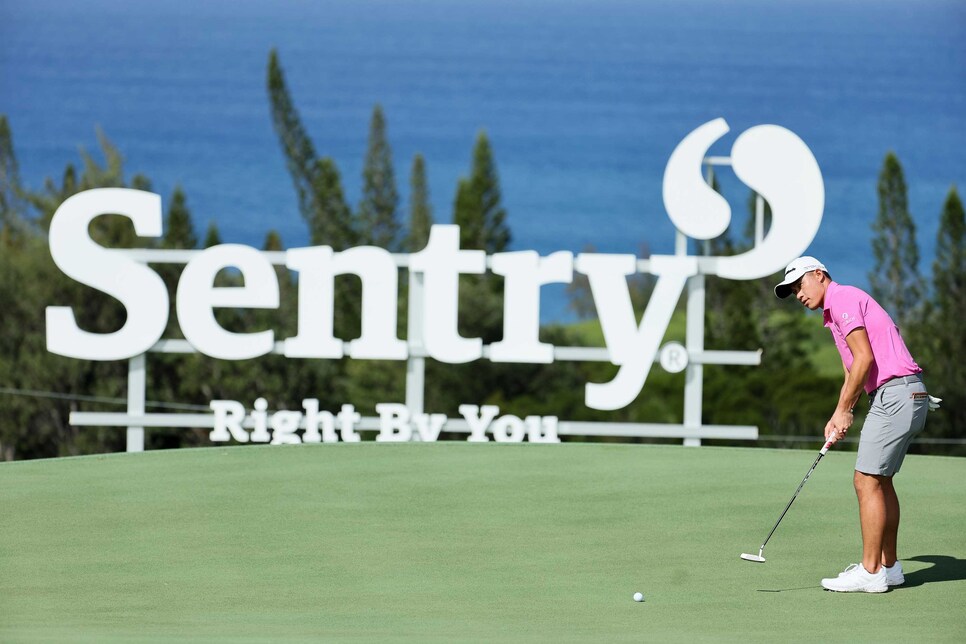 And even with the birdies not falling as much on Sunday, Morikawa finished the week ranked No. 2 in strokes gained/putting (Rahm was No. 1). Not bad for someone who finished 131st in that category last season. Keep that kind of putting production up and that winless streak won't last too much longer.
Tom Kim: I might already be the biggest Tom Kim fan in the world as his stock just continues to rise—and I'm not even talking about his T-5 performance against an elite field. No, first there was the funny story he told involving a 6-year-old Tom, Tiger Woods and a porta-potty. Then there was the letter of recommendation Will Zalatoris penned for the young(er) man to help him get into Dallas National Golf Club. Then there was holing out for eagle and immediately asking if the cameras caught it. Of course they did, Tom. You're a star now!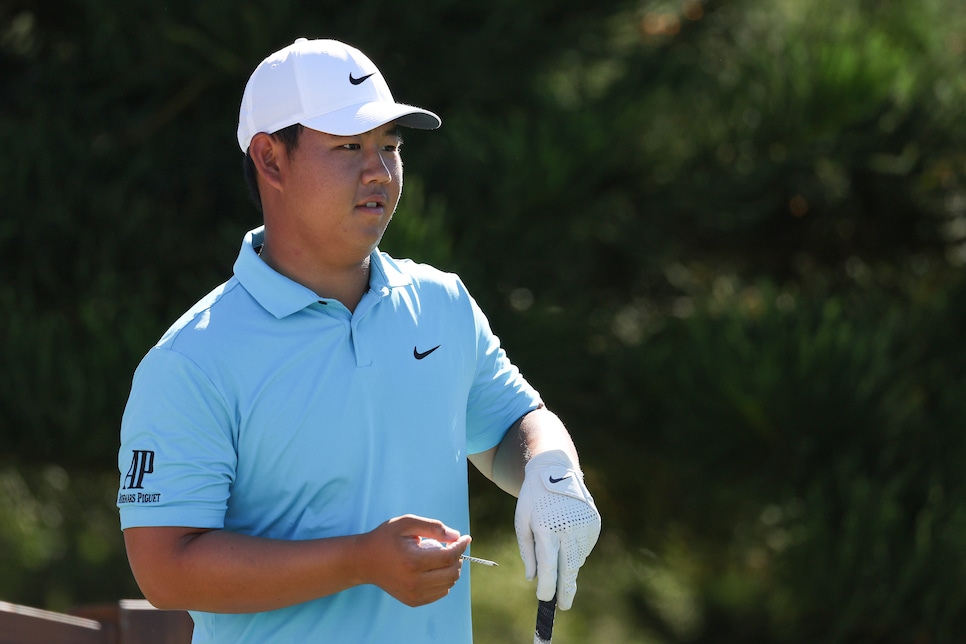 But most of all, Tom revealing he spent Christmas with the Spieths, where he may or may not have been duped into babysitting—and yet he enjoyed every minute of it. This 20-year-old is an absolute treasure. And a budding Content King.
Collin Morikawa's collapse: It's crazy that shooting one under would count as a collapse, but at Kapalua under those conditions, it was. Only one of the 37 golfers who teed it up on Sunday shot higher than Morikawa, who didn't have a blemish on his scorecard for 67 holes before stunning everyone with three consecutive bogeys on the back nine. Add it all up and he lost a tournament that at one point his live odds were -20000 (risk $20,000 to win $100). Ouch.
That's an implied winning percentage of 99.5, which is even higher than the Atlanta Falcons when they blew that 28-3 lead at Super Bowl LI. Again, ouch. This was like if Georgia blew that 38-7 halftime lead. OK, so it wasn't that bad, but it was bad. Morikawa matched the biggest blown lead in PGA Tour history and even worse, if you count the 2021 Hero World Challenge, where he held a five-shot lead entering the final round but couldn't close out the win, the 25-year-old has already blown big leads twice. Even crazier is he's allowed that to happen despite looking completely unflappable in his two major championship victories. Golf, huh? What a crazy sport.
The Official World Golf Ranking: I usually defend the OWGR, but Jon Rahm has another gripe with it and I can't blame him! Despite three wins in his past five starts, the Spaniard has moved up a total of one spot to World No. 5(?!), including no movement after his latest victory. The reasoning is the tweaked system that is rewarding far fewer points to limited-field events. On the surface, that seems to be sound logic, but clearly, the OWGR went a bit overboard with that. I mean, the dude is playing to a +13(!) these days and he's only the fifth-best golfer on the planet?
I don't think so. And if I were someone involved with the OWGR—or World No. 4 Patrick Cantlay for that matter—I'd probably try to steer clear of Rahmbo these days.
J.J. Spaun's untucked shirt: I know I'm going to sound like an old fuddy-dud on this, but I wasn't a fan of Spaun's untucked shirt: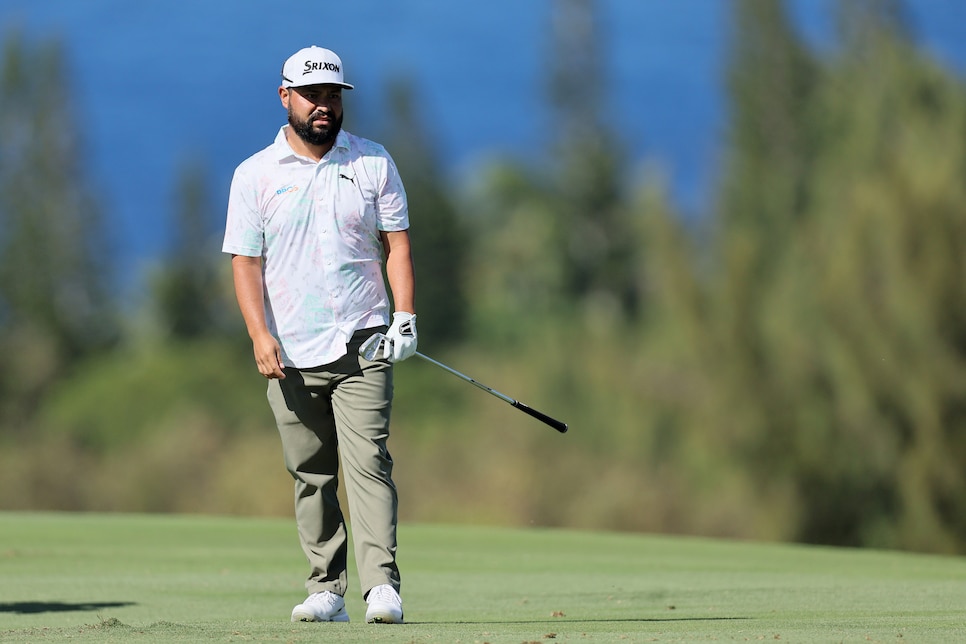 HOWEVAH, before Golf Twitter comes at me with its pitchforks, I'd like to clarify that I have no problem with Spaun rocking that outfit—especially in Hawaii. I just wouldn't do it myself because I think it looks a little sloppy. And that's probably why Jon Rahm didn't go this route to solve his belt problem.
The PGA Tour stays in Hawaii for the Sony Open, AKA the Sony Open in Hawaii, because that's actually the tournament's official name. As if you needed another reminder that there are people lucky enough to be paid to play golf in Hawaii during the winter.
Random tournament fact: It's been 25 years since John Huston broke the 72-hole PGA Tour scoring record when he shot 28 under. More amazing is that it had been 53(!) years since Ben Hogan had established the record. Hogan! What a legend.
RANDOM PROP BETS OF THE WEEK
—Someone will blow a six-shot, 54-hole lead this week: 10,000-to-1 odds
—Tom Kim will win this week: 12-to-1 odds (Actual odds, my guy is the co-favorite!)
—Jon Rahm will remember to pack more belts for his next trip: LOCK
Unfortunately, this came in response to the worst tweet of the week, but it was great to see Paige Spiranac (and others) absolutely destroy notorious Twitter troll Nick Adams:
Don't mess with Golf Twitter, Nick!
CLUB PRO GUY TWEET(S) OF THE WEEK
This guy is so brilliant he deserves his own weekly spot. CPG continued to claim the reason for Collin Morikawa's winless streak is due to getting engaged:
And his victory letter to Jon Rahm was a true stroke of genius: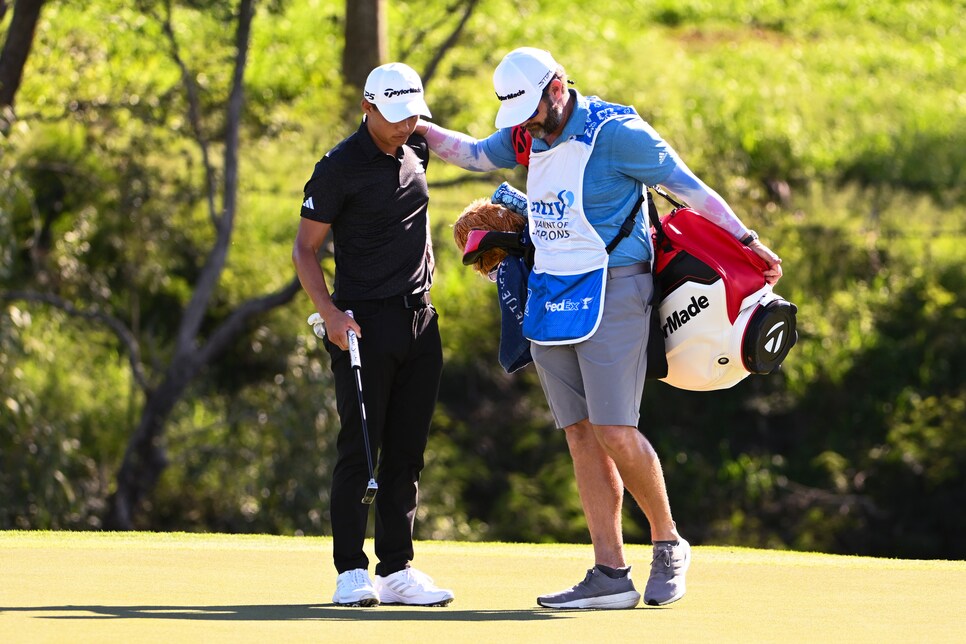 Hang in there, Collin. You'll be OK. And at least you didn't fly to L.A. between the two Hawaii tournaments to watch your alma mater get annihilated in the national championship game like Tom Hoge. He could probably use a hug right about now as well.
Look at slimmed-down Bryson DeChambeau knocking down pins!
Looks like his next career pivot might be to becoming a trick-shot artist.
VIRAL VIDEO OF THE WEEK (FAIL DIVISION)
You don't usually think of driving ranges as being dangerous places, but if this guy is around, look out:
That might be the worst shot in range history.
THIS WEEK IN PUBLIC DISPLAYS OF AFFECTION
Sebastian Munoz and his wife, Daniela, became the latest golf couple to do a baby gender reveal. We're pretty sure they're the first, though, to do it with a baseball bat (second slide):
Interesting choice, but regardless, congrats to the happy couple.
"The irony hurts. I try to exercise more, eat better and do everything better and I should have just stayed fat and like more mobile, I guess, and not worked out and try to do all these good things and I would have been like a golfer from, you know, the early '90s." —Xander Schauffele after WDing with a bad back. Amazing quote. And somewhere, John Daly is nodding in agreement.
Congrats to Winged Foot for being awarded the 2028 U.S. Open. Of course, it will be tough to top hosting the 2022 Golf Digest Match Play Championship. . . . Congrats to Adam Scott for becoming only the seventh player in PGA Tour history to cross the $60 million mark in career earnings. That kinda cash will buy you a lot of beige sweaters. . . . The new $100 million Miami Hurricanes football complex includes a golf simulator. Pretty cool, but for that much money, I'd expect at least a couple simulators. . . . And, finally, I treated myself to a can of Campbell's Chunky chicken corn chowder for the first time in probably a decade: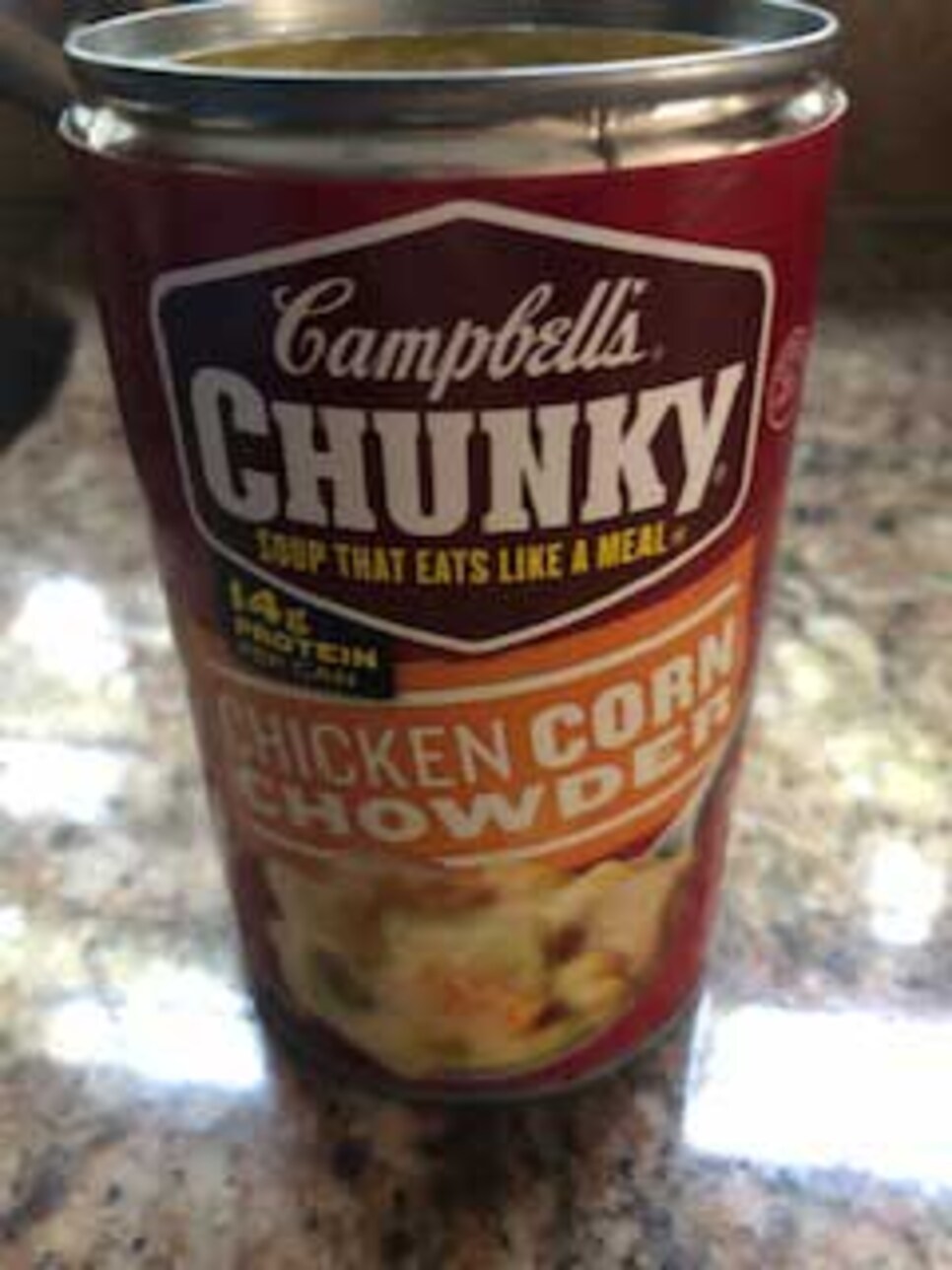 And it's just as good as I remembered. And even better than the excellent corn chowder our cafeteria serves on occasion. This might have to become a more regular thing.
RANDOM QUESTIONS TO PONDER
What's the best soup? (Other than chicken corn chowder)
Do they not sell belts in Hawaii?
Can Tom Kim babysit my kids later this month?