Old College Try
TCU grad Tom Hoge's plan to attend the college football title game between the Sentry TOC and Sony Open is pretty genius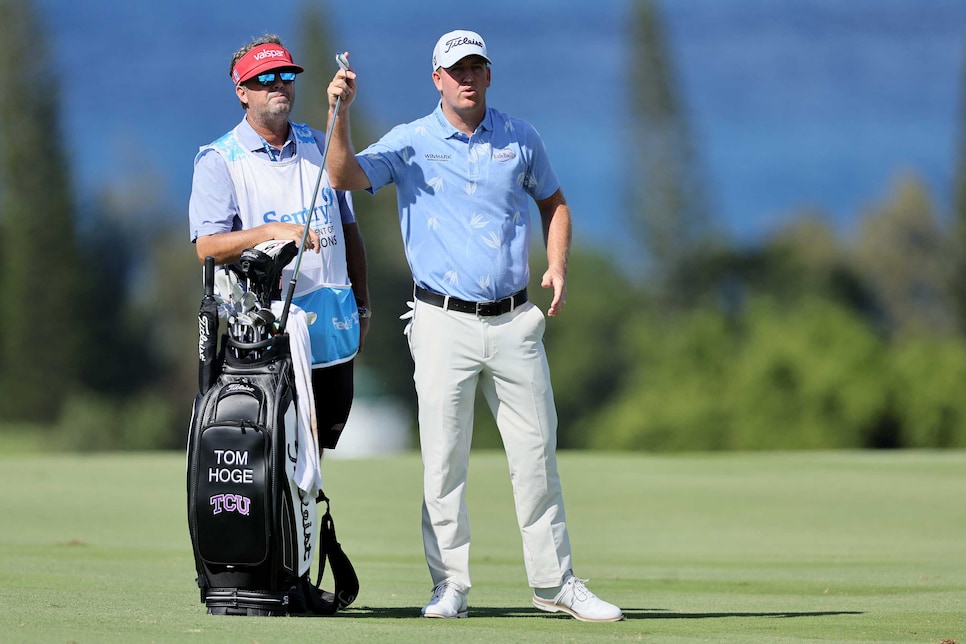 Tom Hoge proudly sports the logo of his alma mater, TCU, on his golf bag.
Andy Lyons
KAPALUA, Hawaii — Tom Hoge would love nothing more than to realize a rare double next week. OK, incredibly rare. OK, call it impossibly rare, but who are we to question his goals?
The TCU graduate hopes to see—in person—his Horned Frogs win the college football national championship on Monday night against mighty Georgia and then, suitably inspired, capture the Sony Open in Hawaii a few days later on one of his favorite course, Waialae Country Club in Honolulu.
"There was really no way I could see missing the game, but the Sony Open, I love that golf course, so if I had any second thoughts, it was going to be about going to the game," Hoge, 33, said. "I really want to go to Sony and play well, so I'm just getting ready to juggle all this and make sure I can do it. But I feel confident that I can, and I will hopefully have my game ready to go come Thursday at Sony."
Hoge, competing this week at the Sentry Tournament of Champions at Kapalua Resort, is catching a red-eye flight out of Maui on Sunday bound for Los Angeles. The championship game against No. 1-ranked Bulldogs, begins at 4:30 p.m. PT Monday at SoFi Stadium in Inglewood, Calif., giving him time for a nap. Then he will catch a 9 a.m. flight on Tuesday to Oahu that is scheduled to land at 1:15 p.m. HT, which might allow him to sneak in nine holes of practice.
"It probably sounds crazy," said Hoge, a 2011 TCU grad who studied accounting and finance.
"That semifinal game was unbelievable. Incredible atmosphere," said Hoge, who attended the Horned Frogs' 51-45 upset of Michigan in the Vrbo Fiesta Bowl on New Year's Eve and then immediately booked his itinerary for the championship game. "I'm just hoping this is every bit as good and we have a chance at the end."
Hoge put down $945 for a seat nine rows up located on about the 25- or 30-yard-line in the middle of the TCU section of SoFi Stadium. He can afford it. He'll earn at least $201,000 at this week's Sentry Tournament of Champions—and likely more, as he sits T-12 through 36 holes among the 38 players in the field.
Though the Horned Frogs are 13-point underdogs, Hoge envisions a scenario in which they could pull off the upset over the Bulldogs. "We have to keep it close late and then Max Duggan [the TCU quarterback] leads us on a drive to steal it."
If that were to happen, Hoge, who won his first PGA Tour title last year at the AT&T Pebble Beach Pro-Am, might be inspired to do something equally special at Waialae.
"My hope is that I'll be riding high from a TCU win," he said. "Nobody is giving us a chance. We'll see if we can get it done."