Sentry TOC
This clever move helped Collin Morikawa to one of his best putting rounds ever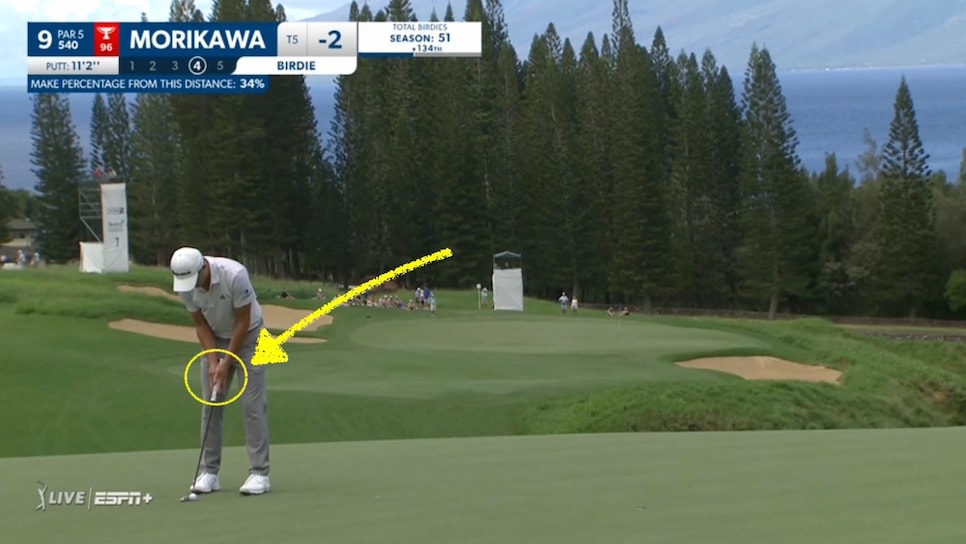 The strengths and weaknesses in Collin Morikawa's game have always been clear. He has been an elite iron player—maybe the best on the PGA Tour, probably the best of his generation—since turning pro in 2019. But, as has been the case with so many other generational ball-strikers, it's a balky putter that threatens to define his legacy. When Morikawa's flatstick runs hot, there's no prize he can't win. Two majors and three other PGA Tour victories before the age of 25 are proof. The problem is the cold days.
Looking to turn up the temperature, he started asking around last year. Eventually, he landed on putting coach Stephen Sweeney's metaphorical doorstep for the first putting lesson of his life.
"There was no real basis for what he was doing other than being very feel orientated, and figuring it out from there," Sweeney says. "But he was really open to wanting to learn. He told me: 'I want you to really help me understand the basics and the fundamentals.'"
The pair got to work, and in his first round of his first tournament of the 2023 season, the Sentry Tournament of Champions, it's already starting to pay off.
Morikawa shot a nine-under 64 at Kapalua Resort's Plantation Course to grab a share of the opening-round lead with J.J. Spaun and Jon Rahm. His ball-striking, of course, was there for him once again. But on Thursday, it was his putter that proved the difference: Morikawa gained more strokes with his putter (1.662) than any other club in his bag. It puts him on track for his best putting tournament since the 2020 PGA Championship—which he won—and it's all courtesy of a few small changes that on yielded some big early results.
Talk to coaches, and they'll tell you that every player has certain tendencies that make your golf swing, well, yours. The pattern of your swing affects the way the golf ball flies. It's why some players hit draws and others fades. It's all a product of their pattern.
Morikawa's pattern is that of a fade. His club moves ever-so-slightly from out-to-in, and the clubface being slightly open helps his ball start left and drift gently to the right.
There was only one problem: That same pattern, which he uses to devastating effect from tee-to-green, started showing up in his putting stroke. Morikawa would set up with his shoulders putting left and his lead arm below his trail arm. He'd then cut across the ball ever-so-slightly.
"With a full swing, if you start your ball left you can fade it back," Sweeney says. "If you start a putt left, you're missing left."
It's a phenomenon Sweeney says he sees in players of all skill levels, all the time. And to counteract this, Sweeney and Morikawa developed a simple drill: Before each putt, Morikawa would get into his setup position and open his hands on either side of the grip, so his palms opposed each other. The Saw putting grip, which Morikawa had experimented with for a while last year, was exacerbating his problems, so he switched back to his conventional grip. He also was fitted for a new TaylorMade putter along the way.
"The open palms was to try to get his forearms aligned with the putter shaft, but square to his putter line. Really, doing the simple, basic stuff, better," Sweeney says. "It's something he was comfortable with in practice, so he transferred it to the golf course."
From a technical standpoint, Morikawa's putts were starting on his intended line more often. But crucially, the open palms drill was helping make those techical solutions feel natural.
"Some guys are very technical. Some guys are very free-flowing. I felt like Stephen was kind of that perfect mix," Morikawa said after his opening round
With Morikawa's technique in better shape, he and Sweeney focused intensely on his speed control. Morikawa would work daily on his long-range putting, using an intensive ladder-style drill to practice from 15 feet to 40 feet in five-feet increments. The incentive on these drills was to die your putts into hole, because you'd have to make the comebacker afterwards.
"We've been communicating almost every day on his putting thoughts and feels," Sweeney says. "But he had the discipline and dedication to practice every day on his own. He's a great guy to work with."
Work, indeed. And on Thursday at the Sentry, that hard work showed.