KAPALUA, Hawaii — After his inspired comeback victory over Collin Morikawa on Sunday in the Sentry Tournament of Champions, Jon Rahm feels like he is the best player in the world, and he doesn't need to return to the No. 1 spot in the Official World Golf Ranking to validate that sentiment.
"Had they not changed the World Ranking points, I would have been pretty damn close right now," Rahm said after firing a 10-under 63 and 27-under 265 total at the Plantation Course at Kapalua Resort to overcome a seven-stroke deficit at the start of the day. "At this point I'm thinking will I pass Patrick Cantlay? Because since the playoffs, I have not missed a top seven. I've won three times, and I don't even get close to him. So, I'm trying to understand what's going on. But in my mind, I feel like since August I've been the best player in the world, and I think a lot of us should feel like a lot of times we're the best."
Rahm, who stayed put at fifth in the world with his eighth PGA Tour title, certainly can make a case. His two-stroke victory over Morikawa was his third worldwide win in his last four starts, and in the other, at the CJ Cup, he ended up T-4. He last finished outside the top 15 in July.
Rahm's prospects for success looked suspect at Kapalua, where a year earlier he lost by one stroke to Cameron Smith despite posting a remarkable 33-under 259 total. They dimmed even more after he bogeyed the first hole on a gorgeous Maui morning to fall eight behind.
But a bounce-back birdie at the par-3 second hole was huge, as Rahm, a fiery sort, said he "just took the approach of just trying to hit the best shot I could at each moment. It really helped out."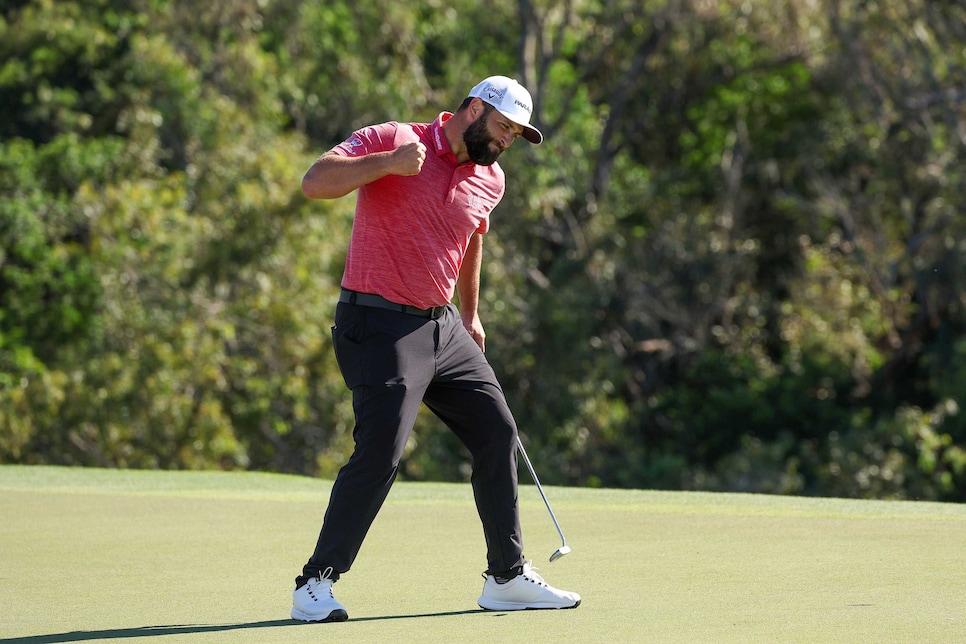 Jon Rahm celebrates a last birdie on the 18th hole for a 10-under 63 that won him his eighth career PGA Tour title.
Harry How
Give an assist to his caddie, Adam Hayes, who a day earlier delivered a brief pep talk after Rahm played the reachable par-5 ninth hole poorly and settled for a par. "I could tell he wasn't focused on one shot at a time," Hayes said, "so I just told him on the cart ride [to the 10th tee] try to be uber committed and really clear picking your start lines, picking your finish lines, be real committed to a number. And that's what he did. He hardly missed a shot after that."
Rahm played the inward nine in five under to cap a six-under 67. Then came the Sunday rally.
Victory didn't feel in the realm of possibility, however, until Rahm nearly drove the green at the par-4 14th hole and then chipped inside of a foot for a tap-in birdie to get to 24 under par and within three. An eagle at the 15th, set up by a 355-yard drive, combined with Morikawa's first bogey of the tournament at the short par-4 14th set off a chain of events that eventually led to a redeeming victory after last year's bitter setback.
"It does. Yeah, it does. I'm not going to lie. Had I shot 60 under par [combined] in two starts here and not won either one of them, that would have been a hard pill to swallow," he said. "Something just doesn't register to say that, right, to do that well and lose both times.
"I had the image in my head right before my turn to hit the [birdie] putt on 18 because I was thinking, 'Man, I don't want to give him a chance to just chip in or make a putt or anything. I just really want to get this one in.' And I did. So that definitely was in my mind. I'm like, I don't want to say 59 under and two years wasn't enough."
"It was pretty cool to watch," said Tom Kim, who was paired with Rahm. "It just shows that, you know, anything can happen, and you just got to keep playing and keep playing your best. And it was really inspiring to watch and definitely learn a lot today."
As competitive as they come in the game, Rahm was asked if he had sympathy for Morikawa, and he was brutally honest. It's sports. Empathy, sure. But beyond that, no.
"I don't know how to answer that without sounding very rude. I want to win. That's all I can tell you," he began. "I've been where he's been before. I've made a mess of a round before. I think we've all been there. You don't want to see that happen, really ever. You want to beat everybody at their best. But if the best Collin had shown up today, I wouldn't have won. That's all I can say. So I always wish the best for everybody, but at this moment it's something … not that he needs to learn a lot more from golf, because we all know what he's capable of, but it's something he's going to learn a lot from."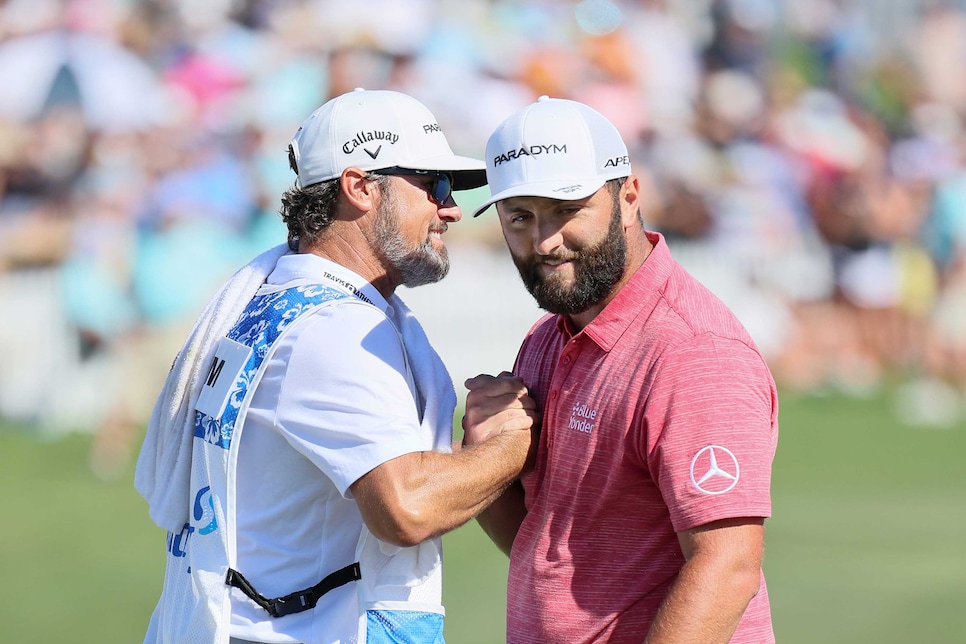 A Saturday pep talk from caddie Adam Hayes helped Rahm get in the proper mental state of mind to make a Sunday charge at Kapalua.
Andy Lyons
The golf world is learning what Rahm is capable of. Or relearning it. And with this victory to begin the new year, he seems primed to add more to his trophy case—especially big ones to go along with his lone major title, the 2021 U.S. Open.
"There's many ways to make a mark, right? I think, listen, we all want to break a lot of records, but you have to take it week by week," he said. "I think, what I'm going to say, what I can say, is I'm going to try my absolute hardest every day of the year to try to be the best golfer I can be. And that's all I can do, period. Whatever results that come with, it will be. But all I can tell you I can do is exactly that, and that's what I'm going to do."