Sentry TOC
Watch the two shots Collin Morikawa has to wish he could do over from Kapalua's final round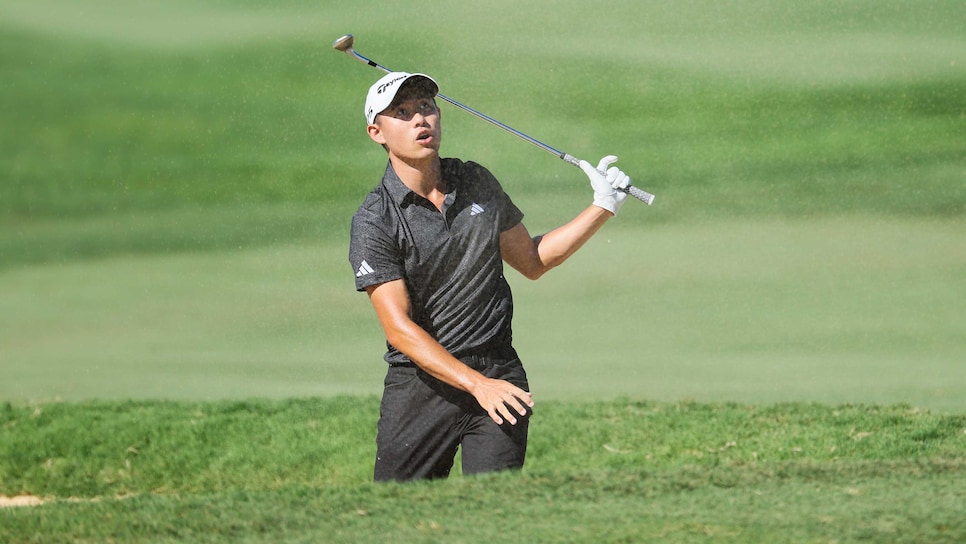 Collin Morikawa reacts to his second shot from a bunker on the 14th hole during the final round of the Sentry Tournament of Champions.
Andy Lyons
Collin Morikawa wasn't worried that he was about to become the ninth player in PGA Tour history to blow a six-shot 54-hole lead when his drive found a bunker short of the green on the par-4 14th hole during the final round of the Sentry Tournament of Champions. For starters, he still held a three-shot lead over Jon Rahm at the time. Additionally, he was in that same bunker the day before only to get up and down for a birdie. And considering Morikawa hadn't made a bogey yet in the PGA Tour's 2023 opener, there was little reason for the 25-year-old to fret.
"It's not like it's an impossible bunker shot," Morikawa said. "Normally, 10 out of 10 times you're putting that [bunker shot] to within 15 feet at worst."
But this time apparently wasn't normal. With 72 feet to the hole, Morikawa caught his second shot thin, the ball darting well over the green—and providing the first outward sign that Morikawa was about to see his fortunes complete reversed.
Morikawa chipped his third shot to just outside 10 feet, but couldn't convert the par-saving putt. And with Rahm making an eagle two groups ahead of him on the 15th hole, suddenly, the man who held a six-shot lead to start the final round was tied at the top.
Still, Morikawa sounded like he was in a good place mentally despite the turn of events. "You make a bogey there on 14 you're like, 'OK, you got 15, you got 18 [both reachable-in-two par 5s], we're still in it, we're still right there, no problem,'" He noted.
But there was a problem just one hole later. On the par-5 15th, Morikawa saw his 5-wood second shot come up short and right of the green, leaving him an awkward uphill chip from 39 yards. If his bladed bunker shot from the previously hole didn't scare him, what happened with this next chip must have.
Early in the week, Morikawa discussed the work he'd put in with Parker McLaughlin in the fall to improve his chipping and short game. It had seemed to pay off over the first three rounds, Morikawa leading after each day. But here again his old issues with these nervy shots returned.
"Practiced that chip a bunch, too, and obviously not enough," Morikawa said.
Morikawa hit his fourth shot eight feet past the hole, and again failed to make the par save, giving Rahm a one-stroke lead.
Another bogey for Morikawa on the par-4 16th hole, this time when his approach shot spun off the green and he failed to get up-and-down again for par sealed his fate. Rahm birdied the 18th for a closing 63 that left him three shots ahead of Morikawa. A final-hole birdie from Morikawa gave him a closing 72 and left him wondering what next. His first PGA Tour win since the 2021 Open Championship would have to wait.
"Don't know what I'm going to learn from this week, but it just didn't seem like it was that far off. It really wasn't," Morikawa said, trying to put a positive spin on the situation.