Money Matters
Adam Scott had a so-so week at Kapalua but he still achieved this rare PGA Tour money milestone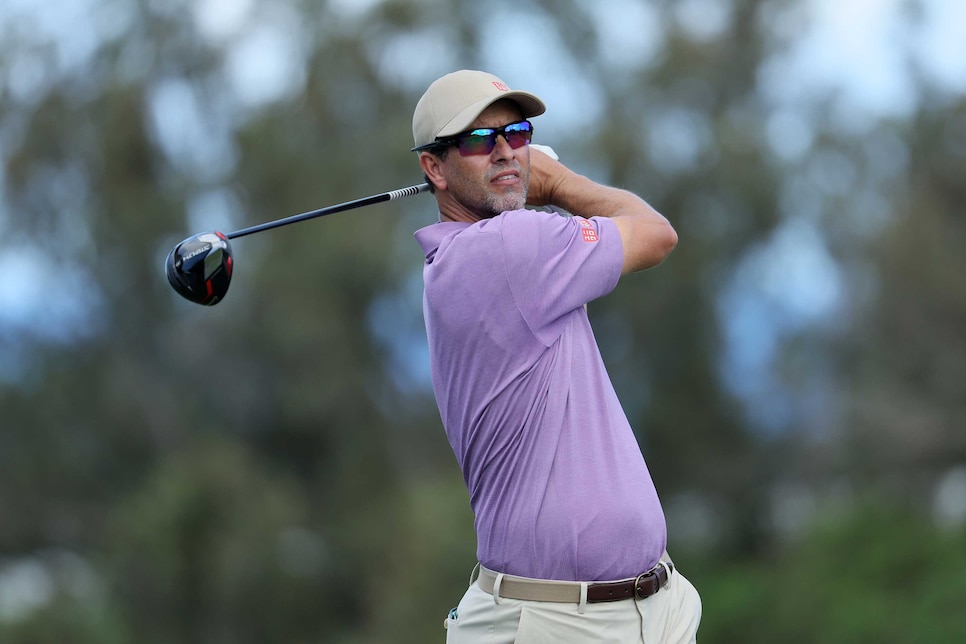 Adam Scott plays his tee shot from the fourth hole during the first round of the Sentry Tournament of Champions. Scott is on the cusp of an impressive PGA Tour career money milestone.
Andy Lyons
It was basically a foregone conclusion that Adam Scott would achieve a unique money milestone on Sunday at the Sentry Tournament of Champions. So long as he finished the final round at the Plantation Course, the 42-year-old Australian would guarantee earning a minimum of $201,000, which would bump his career earnings into rare territory.
As it turned out, Scott shot a closing four-under 69 at Kapalua to finish 13 under for the tournament and in solo 29th place. That came with it a $210,000 prize money payout, which allowed Scott to become just the seventh player in PGA Tour history to exceed $60 million in career money earned on the course
Scott leaves Kapalua with $60,083,599 in 370 starts. Here are the six other players who have won that much money in PGA Tour events:
Tiger Woods, $120,895,206 (371 starts, 82 wins)
Phil Mickelson, $94,955,060 (658 starts, 45 wins)
Dustin Johnson, $74,897,059 (307 starts, 24 wins)
Jim Furyk, $71,507,269 (635 starts, 17 wins)
Vijay Singh, $71,236,216 (636 starts, 34 wins)
Rory McIlroy, $68,064,549 (221 starts, 23 wins)
When you include Scott in this group, interestingly, he actually has earned the most money on tour per win with $4,291,685, aided by the fact he has the fewest wins among the players to earn $60 million or more on tour. Scott, however, ranks fourth in money won per start at roughly $162,388 for each of his 369 events. Tiger, not surprising, has won the most per start ($325,863), followed by McIlroy ($307,984) and Johnson ($243,964).
Sergio Garcia, $54,433,395
Jordan Spieth, $52,791,175
Justin Thomas, $50,953,830
Rose and Kuchar would have to get their games in gear, but a hot stretch for either of the two would make it achievable. Given that Garcia has resigned his PGA Tour membership after joining LIV Golf, he's eliminated himself from the $60 million club. Standout seasons, however, could have Spieth and Thomas following Scott in the not-too-distant future.