All Aboard
Why Will Zalatoris' letter of recommendation for Tom Kim to join Dallas National was 'literally two sentences'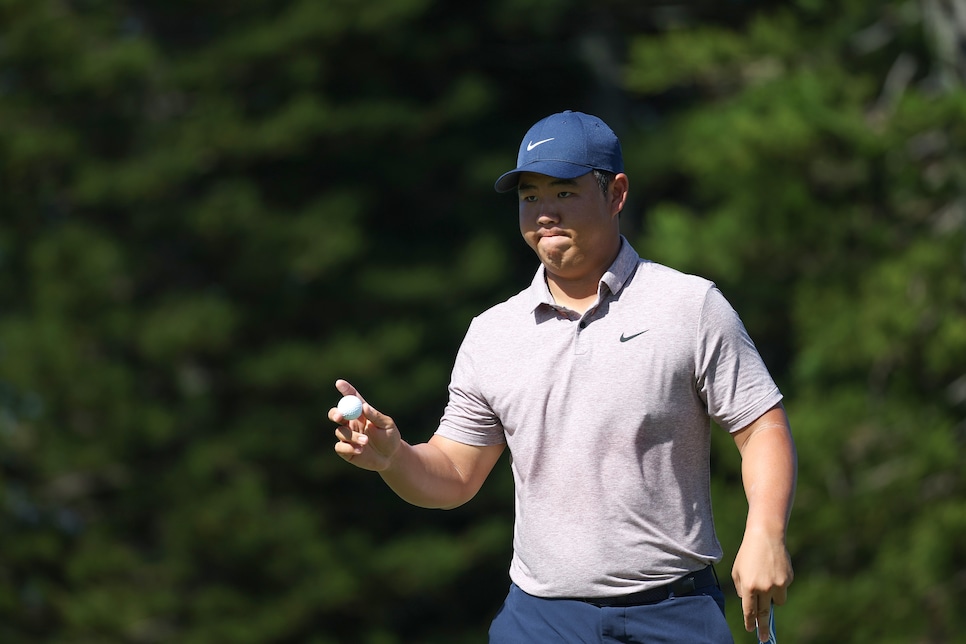 If it feels like Tom Kim's legend is continuing to grow by the day, that's because it is.
After an impressive summer that included a breakthrough victory at the Wyndham Championship, Kim, 20, backed it up with an even more impressive fall, collecting two points for the International team at the Presidents Cup then winning the Shriners just a few weeks later for his second tour title.
Since then, he's added a T-11 at the CJ Cup in South Carolina, plus an unofficial T-10 in Tiger Woods' Hero World Challenge. Along the way, he's apparently become very good buddies with Jordan Spieth, who invited the rising superstar over for Christmas dinner in Dallas. Kim even babysat Spieth's new child, Sammy. Well, "kind of." The kid can do it all.
Naturally, Kim has opened up the new year with a bang at the Sentry Tournament of Champions, starting with rounds of 65 and 69 at Kapalua, good enough for solo fifth heading into the weekend. He's the toast of the town, something another Dallas resident, Will Zalatoris, can attest to.
"I haven't played with him, but obviously the guy rolls the crap out of it," Zalatoris said in Maui Friday. "What he did at Wyndham, I think he, what did he shoot, like 27, 28 on the front and made like 150 feet of putts. We saw it at the Presidents Cup, too.
"So the guy's got no flaws. That's for sure. But I'm looking forward to actually finally playing golf with him."
There will be plenty of opportunity for that at Dallas National, where Spieth and Zalatoris, among other Texas-area tour pros, are members. Thanks to a letter of recommendation from Zalatoris, Kim is now as well. Though, as Zalatoris puts it, the letter was a mere formality, and it might be the shortest letter of recommendation ever written.
"Literally, it was like two sentences," Zalatoris said. "Like, he needs to be here. He's the best. We need to have him."
So that may have been three sentences, but we'll let it slide. Zalatoris could have gone on much longer if he wanted, mind you.
"It was pretty funny," he said. "They said, 'Well, you know, what's he like?' And I said, Well, this pretty much sums it up. When I went and watched the first day of the Presidents Cup, it was like the fourth hole. I was trying to stay out of everybody's way, even though I was inside the ropes, and K.H. Lee was hitting a shot, and Tom came 40 yards off the tee to come over and say hi and check in on me, and I'm like, 'Dude, your playing in the Presidents Cup. You don't need to say hi to me.'
"So that pretty much sums him up. He's so good for us," said Zalatoris. "He's such a great dude, and I look forward to playing some games with him at home."
The Tom Kim train is officially operating at a breakneck speed, folks. Better hop aboard or you just might miss it.