Tiger Tales
Tom Kim tells hilarious childhood story of his first interaction with Tiger Woods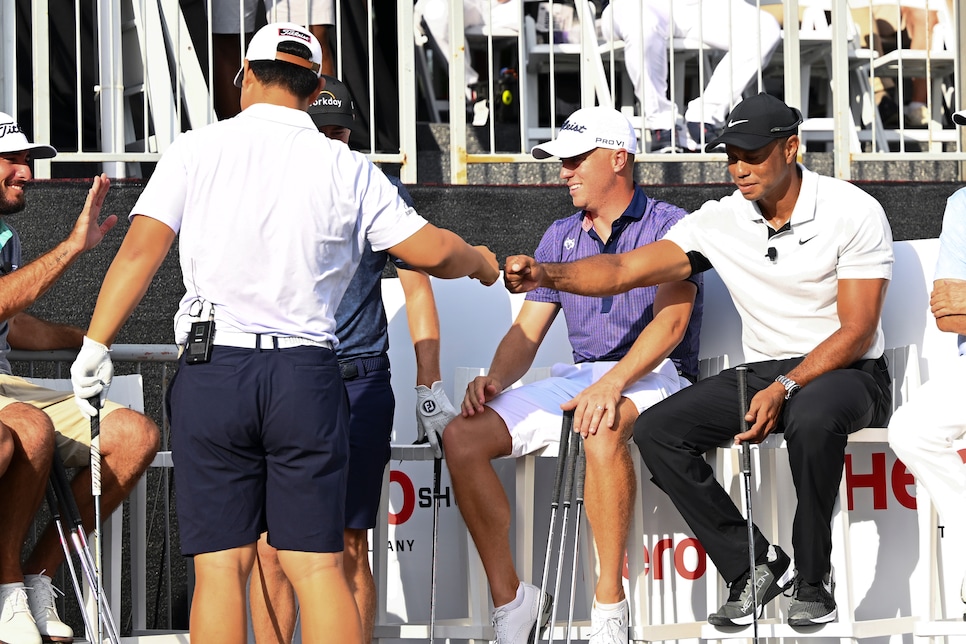 Tom Kim's meteoric rise to PGA Tour stardom included an invite to rub elbows—or, at least, fists—with Tiger Woods at the recent Hero World Challenge (above). And now he's even a Nike athlete like his idol. But the 20-year-old will never forget his first interaction with the GOAT. Even though it wasn't much of an interaction.
Decked out in his new Swoosh gear for the first PGA Tour event of the new year, Kim was asked about that first brush with greatness at his Wednesday pre-tournament press conference ahead of this week's Sentry Tournament of Champions. And his answer didn't disappoint.
"Yeah, so I met Tiger for the first time—well, I mean, I seen him in person, I think I was like five or six," Kim said. "It was in Australia. He came for the Australian -- one of the tournaments, and he was walking to the bathroom, and I was like, I had my TW cap on and it was so big because I had a small head at that time and it didn't fit. But he was walking literally 3 feet in front of me and I shouted, Go, Tiger and tipped the cap and went in the bathroom, and literally thousands of people started running to the bathroom waiting for him to come out. But that was my first interaction with him."
On second thought, getting a tip of the cap from Tiger might be better than actually meeting Tiger. You know, something like this: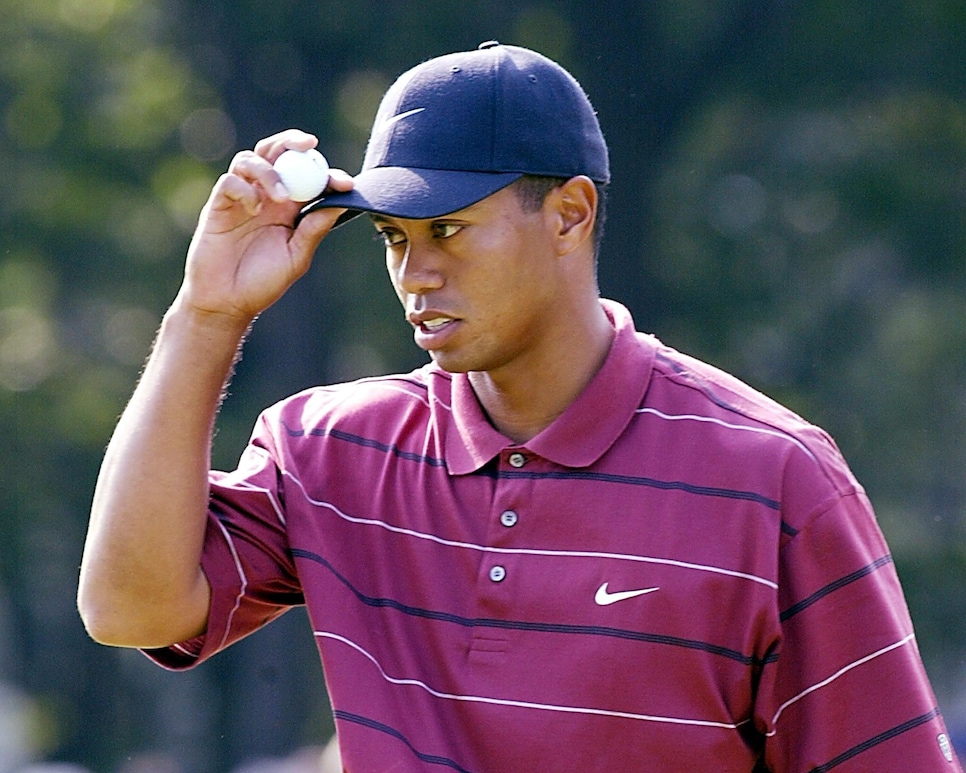 Only we know it wasn't that exact tip of the cap because that tip of the cap came at the 2002 U.S. Open—five days before Tom Kim was even born. Yep, that's how young the dude is. In fact, later in his press conference he talked about having a DVD set of some of Tiger's biggest wins. Incredible.
Anyway, good job to the golf writer who asked Tom the appropriate follow-up question if he was one of those who waited for Tiger to use the porta-potty?
"I did not," Kim replied. "I did not. I wanted to give him his privacy."
Good for him. What a precocious young lad.