The Grind
Tom Kim's Tiger-like rise, Tiger Woods' best putt of the year and strippers interrupt a high school golf practice
Welcome to another edition of The Grind, where we were robbed so bad at the pumpkin patch that we're considering pressing charges. For a few years I've gotten used to paying exorbitant amounts of money to go apple picking at this place, but this time we paid an additional $15 per person to peruse the pumpkins in a fenced-in pen. So you're paying for the right to pay for pumpkins. It's like paying a cover charge for the right to buy expensive drinks in a bar. Outrageous! And all so you can get one picture where both kids are kind of smiling:
On a happier note, the apple cider doughnuts were fantastic, and then I came home to watch my new favorite golfer look like my all-time favorite golfer. Let's get to it:
Tom Kim: What a talent. What a personality. What a star in the making. Man, I love me some Tom Kim. What else is there to say after the 20-year-old fast-food-loving, Tiger-worshiping prodigy won a second PGA Tour title at the Shriners Children's Open by going bogey-free on a course he'd never played before?
Actually, allow me to sing a few words instead by running back "The Ballad of Tommy the Kid" from the Presidents Cup. When my guy wins his first major, I promise to make a new edition/song:
What an absolute stud. Tom, that is, not me. Although, I was playing all those kid instruments. But here's essentially a big kid doing big things:
And now he's the first player since Tiger to win two PGA Tour titles before turning 21. In other words, this Thomas the Train is just leaving the station.
Tiger Woods: Speaking of Tiger, the GOAT was back in action over the weekend! Well, kind of. Woods was on hand at his short-course redesign at Pebble Beach, The Hay, for the inaugural TGR JR Invitational. But the 15-time major champ put on a show himself, including draining this bomb:
What a putt! He's still got the touch! And Brandel Chamblee thinks he still has the swing to win as well:
Get this guy a cart and suddenly Jack's 18 majors is back in danger! Anyway, it was just great seeing Tiger out there. Hopefully, there's more of that next year.
Jon Rahm: Look, we're not going crazy over winning the Spanish Open, but winning by six shots anywhere is impressive. Plus he matched his hero, Seve Ballesteros, by winning his home tournament for a third time and came this close to making an albatross:
It's been a weird 2022 for Rahm, who drove the golf ball like a god all year (And judging by that clip, his long irons weren't too shabby either!), but only has this and the Mexico Open to show for it. We're guessing he'll fare better at the bigger Opens in 2023.
Patrick Cantlay's 72nd hole: Ooo boy, this was rough to watch. Actually, if we're being totally honest, it wasn't quite as rough because most people were rooting for Tom Kim. But still, you never want to see a leader make triple bogey on the last hole. After a sniped drive found a desert bush, Cantlay, attempted an insane recovery shot and, well, it didn't go well.
Cantlay's wild ride concluded with him draining a 36-footer for that triple to share second place with Matthew NeSmith. Hey, at least he saved a few bucks. Speaking of money ...
Dustin Johnson's 'season-long' bonus: Assuming LIV golfers' prize money isn't deducted from their contracts, DJ has made an insane amount of money this year in just the past four months. His prize money in six LIV events is more than $12 million despite winning just one individual title. And now he just got an $18 million bonus for being LIV's top individual golfer of 2022.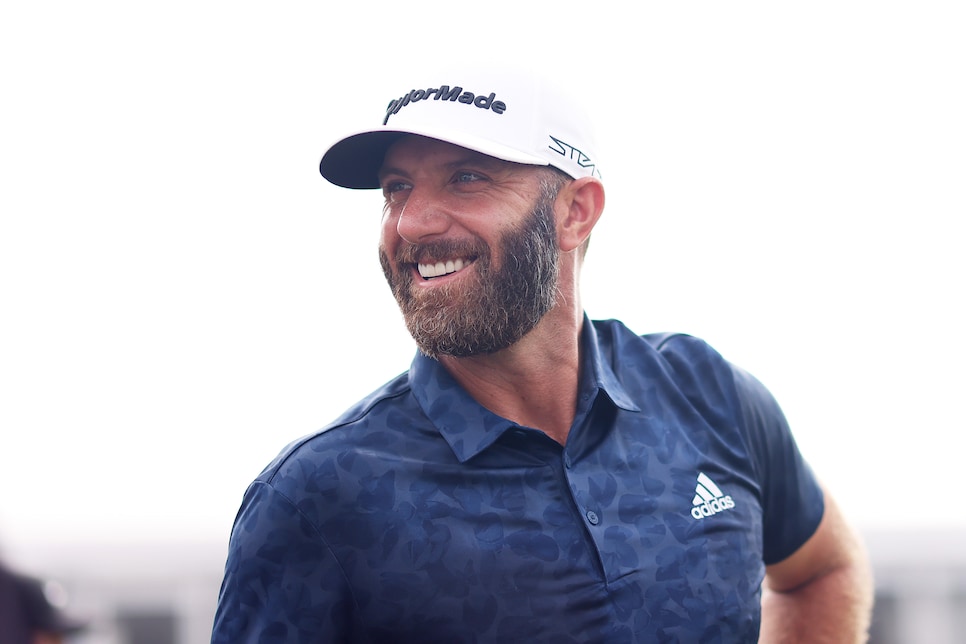 That's more than $30 million total. Again, this is for six events. Over four months. He's made more money for one win and five top-10s in a few exhibitions than Xander Schauffele has made in his PGA Tour career. Crazy stuff. Anyway, DJ is laughing all the way to the bank. Literally.
Putting like Happy Gilmore: Someone actually did that this week on the PGA Tour. And not just anyone, but the legendary Spencer Levin:
Well, apparently Levin is still one heckuva ball-striker because he finished T-44 despite being dead last in strokes gained/putting. It might be time for him to start putting like Shooter McGavin. Or, really, anyone else.
LeBron's golf swing: He might be the greatest athlete of all time and yet this is his golf swing:
On the bright side, it seems like he still has plenty of time to improve before he retires from basketball.
The PGA Tour heads to Japan for the ZOZO Championship, AKA that one Tiger Woods won as a new event in 2019 when he tied Sam Snead's* PGA Tour wins record at 82. (Yes, there's an asterisk there because as I examined a couple years back, Tiger should actually have the record to himself. Also, can you believe that was only three years ago? Seems more like three decades with everything that's happened since.) And LIV Golf will be playing in Jeddah for the last individual tournament of its inaugural season. But with DJ already claiming that $18 million bonus, there are only bonuses for runner-up ($8 million) and third place ($4 million) remaining. Only.
Random tournament fact: Defending ZOZO champ Hideki Matsuyama will once again be the most popular player on the property. That is, until the fans get a good look at Tom Kim.
RANDOM PROP BETS OF THE WEEK
—Tom Kim will keep up Tiger's win pace: 1 MILLION-to-1 odds
—Tom Kim will win this week in Japan: 14-to-1 odds (Actual odds, third favorite!)
—Tom Kim will win over Japan either way: LOCK
Kevin Na's locker-room recovery looks more like a really elaborate Halloween costume:
Somewhere, Michael Jordan is howling in laughter.
VIRAL VIDEO OF THE WEEK (CELEBRITY DIVISION)
Days after Justin Bieber was photographed with his pants down on a golf course, Harry Styles was captured in much more flattering fashion. Let's just say Harry is no LeBron when it comes to golf. Check out this beautiful butter cut off the tee:
If there's ever a Tom Watson biopic, Harry is a shoe-in to play the lead role.
VIRAL VIDEO OF THE WEEK (FAIL DIVISION)
Ashun Wu hit a tee shot so badly that he had to chip onto the members tee so he could hit a proper third shot:
Again, this is one of the best golfers in the world, which explains why he was able to chip onto the members tee, at least.
THIS WEEK IN PUBLIC DISPLAYS OF 'AFFECTION'
Kevin Kisner had quite a batch of "fan" mail delivered to his home club following the Presidents Cup:
As you can see, Kiz laughed it off, but it's a reminder that being a famous tour pro like Kiz isn't all playing golf and partying. Just most of the time.
THIS WEEK IN PUBLIC DISPLAYS
An Austin high school golf team got quite the surprise when it turned up to practice to find a local strip club, the Yellow Rose, was hosting an event at Avery Ranch Golf Club. The team's coach immediately canceled practice, but the damage was done. In a letter to parents, he wrote, "Unfortunately, our golfers did witness some lewd behavior."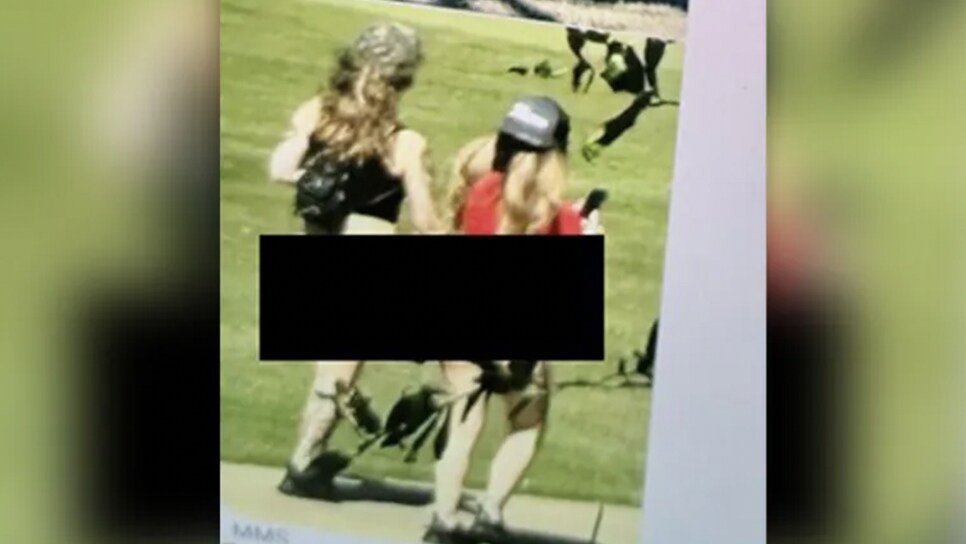 The horror! Seriously, that's a bad job by the course booking those two things at the same time. That being said, just a guess, but there were probably a few teen boys that day who didn't mind the inconvenience.
"I'm playing on the PGA Tour as a 20-year old. It's hard to get tired from this. I'm a 5-year-old at Disneyland for sure." —Tom Kim. What did we do to deserve Tom Terrific? Let's all promise to protect this young man at all costs. Speaking of, do we know if he got out of Vegas OK?
Congrats to Jodi Ewart Shadoff for winning her first LPGA title in her 246th career start and earning $270K. "I didn't know if this moment would ever come," she said emotionally after the victory. You love to see such hard work and perseverance pay off. . . . In just-ever-so-slightly-different conditions, Eugenio Lopez-Chacarra won the LIV Thailand event in only his fifth career start as a pro after leaving college early. He earned $4.75 million. Something just doesn't add up there. . . . Kudos to Tony Romo and 6-foot-10(!) high school partner Tommy Morrison for qualifying for the 2023 U.S. Amateur Four-Ball. Talk about a Red Zone target Tony would have loved to have when he was still playing football! . . . And finally, a special congrats to one of my best buds and former Golf Digest employee, Eric Lebowitz, on making his first career hole-in-one. And he did it on the signature 11th hole at famed Wykagyl Country Club to boot: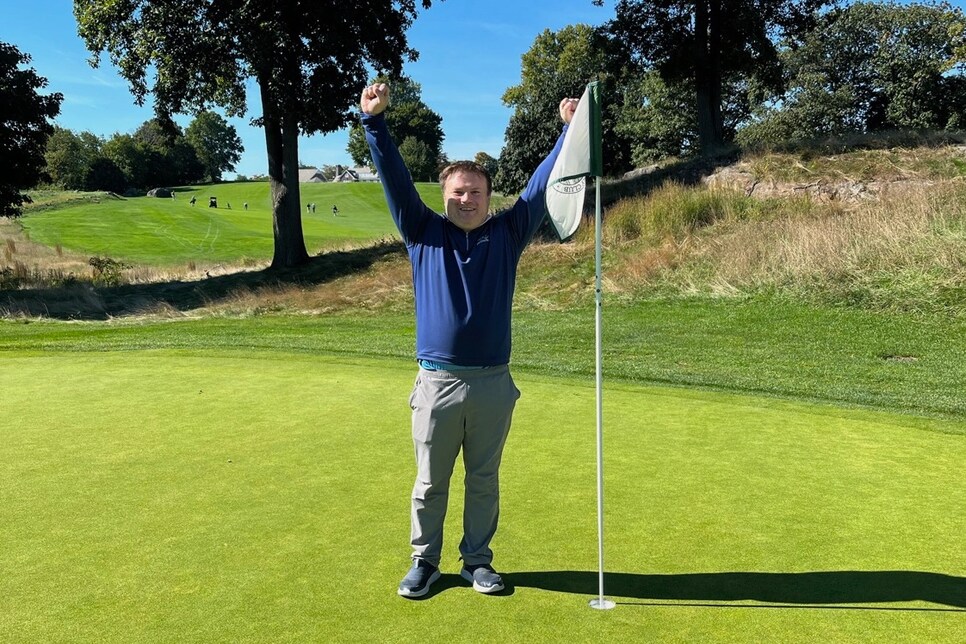 Amazing. Well done, Eric, but also, you're welcome. You see, I let Eric take my spot at Wykagyl that day. And that is officially the closest I'll ever come to making one.
RANDOM QUESTIONS TO PONDER
How much will pumpkin picking cost when I'm a grandpa?
How many par 3s have I played without an ace?
How much does Eric owe me in his will?