LPGA Tour
Jodi Ewart Shadoff 'didn't know if this moment would ever come' but captures first win in 246 LPGA starts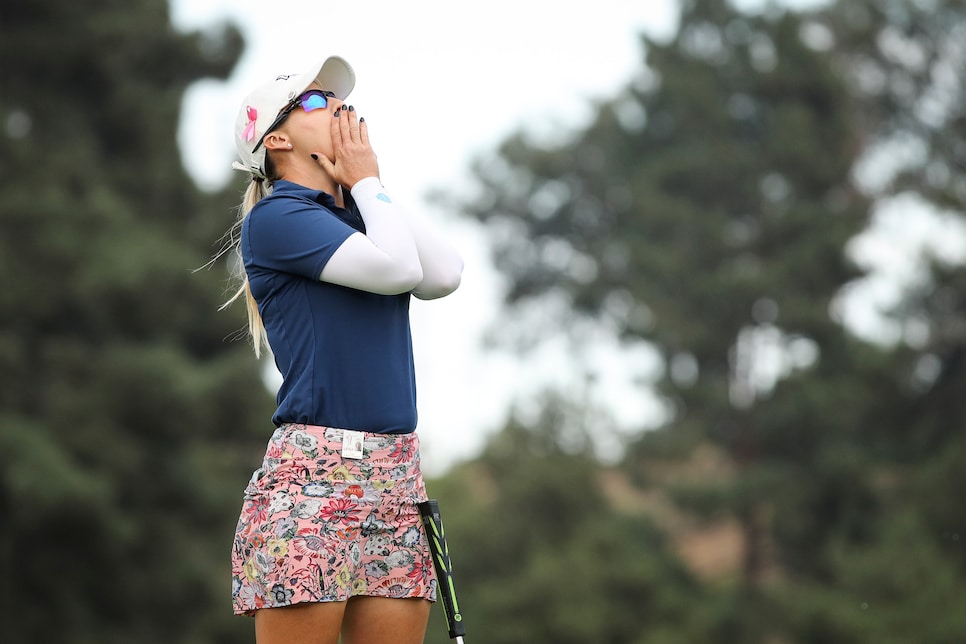 Jodi Ewart Shadoff of England reacts on the 18th green after winning the LPGA Mediheal Championship at the Saticoy Club in Somis, California.
Meg Oliphant
After over a decade of playing on the LPGA without a win, Jodi Ewart Shadoff was honest when she finally lifted the trophy at the LPGA Mediheal Championship saying, "I didn't know if this moment would ever come."
The 34-year-old from North Yorkshire, England outlasted a trio of major champions and a recent tour winner to shoot a final-round 71 to finish the tournament at 15 under, good enough for a one-shot victory over Japan's Yuka Saso. Georgia Hall, Danielle Kang and Paula Reto were another shot back, tied for third place.
Ewart Shadoff started playing on tour in 2011 after making it through Q school. Though she's been waiting on her win, her career hasn't been without highlights. She's a three-time member of Europe's Solheim Cup team, and in 2017 she finished runner-up at the AIG Women's British Open. But after winless seasons, a back injury, and an especially rough season in 2021—she played 19 events and missed 11 cuts—Ewart Shadoff wasn't convinced she'd ever be an LPGA winner.
"There were times during last year where I didn't think that I was going to be playing this year, so to be stood here today, it's just really awesome I didn't give up on myself," said Ewart Shadoff, the third wire-to-wire winner on tour this season, joining Lydia Ko and In Gee Chun.
Ewart Shadoff, playing in her 246th LPGA event, started the final round with a four-shot lead at the Saticoy Club in Somis, Calif., but it was gone at the turn. In fact, instead of being up, she was one shot down to Reto, who had turned in four under.
"I just tried to take each shot as it came and just stayed really patient. I didn't know what was going to happen, so I just tried to stay within myself and hit as good of shots as I could and try to stay present," Ewart Shadoff said.
The patience paid off. Reto's hot round cooled late in the back nine, when she made back-to-back bogeys on 16 and 17. Pressure came from a few groups ahead as Saso, who played the last five holes four under, forced Ewart Shadoff to play her last five holes one under par. And she did just that, making a birdie on the par-5 14th hole, then following with pars on each of the final four holes. The most difficult of the final four came at the end, when Ewart Shadoff admitted that her one footer for the victory felt a little longer than it looked.
There have been a few key changes to Ewart Shadoff's game that helped get her to this point. She started working with swing coach, Grant Waite, in 2021. With the back injuries she'd gone through, she and Waite worked on changing her hip rotation to take some of the pressure off her lower back. By focusing on using her lower body more, Ewart Shadoff's back is no longer in pain and she's hitting the ball farther.
With the gains in distance, she hasn't lost accuracy. Over the course of four rounds at the Saticoy Club, she missed just three fairways.
This season, which included two other top-10s outside of this win, is a far cry from the missed cuts of the previous season. Ewart Shadoff has figured something out, and now she's seen the proof in the results.
"I learned that I could fight through adversity. I can play under the nerves," Ewart Shadoff said. "I think I proved to myself that I can do it. I proved I can win. It's been a long time. I didn't think I would ever be sat here honestly. I'm just really grateful."