Patrick Cantlay is a world-class golfer who has proven to be an exceedingly special player when he steps onto TPC Summerlin, located on the outskirts of Las Vegas. Tom Kim, unflappable and unafraid of big moments, took the opportunity on Sunday to show Cantlay and the rest of the golf world that he's pretty special, too.
Tied after 54 holes in the Shriners Children's Open, the two men had their own duel in the sun and found themselves still tied through 17 holes of the final round. Something was going to have to give. Or someone.
And that someone was not Tom Kim.
But make no mistake, Kim, 20, wasn't handed his second victory in his last four tour starts. A final-round five-under 66 while entangled in a head-to-head duel with the 2021 PGA Tour Player of the Year was a performance worthy of the trophy and $1.44 million prize. He stared down an opponent who already owned a victory and two runner-up finishes in the event and who twice rallied from two-stroke deficits on the inward nine until, to use a Vegas term, coming up craps on the home hole.
Kim completed 72 holes in 24-under 260, tying the tournament record after the layout was converted to par-71 in 2009, and became the first player since Tiger Woods in 1996 to win twice on tour before age 21.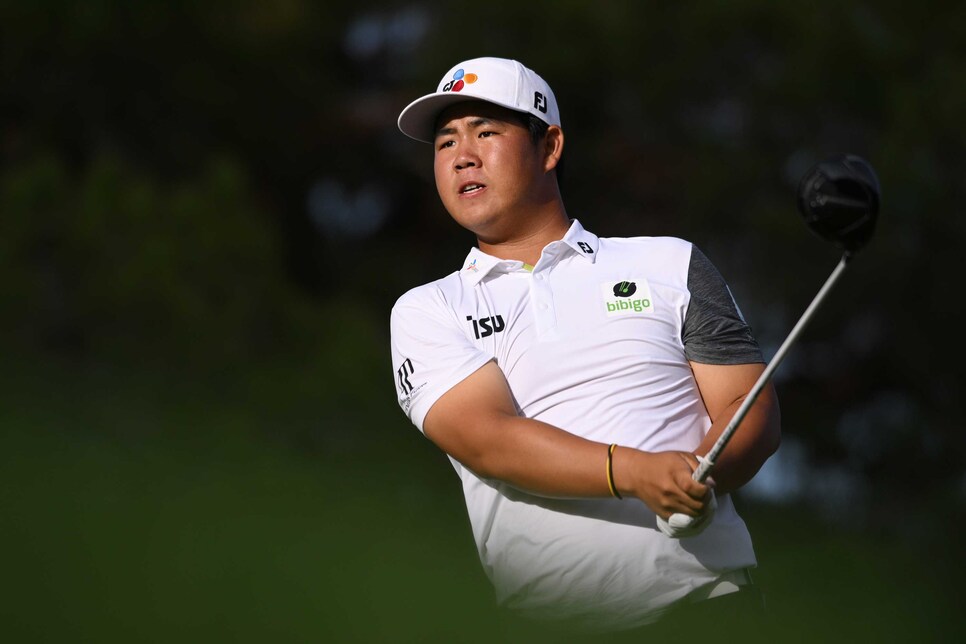 Kim (20 years, 3 months, 18 days) became the second youngest player to win two PGA Tour titles, passing Gene Sarazen and Tiger Woods among others.
Orlando Ramirez
"It's really amazing. A few months ago, I didn't have any status in the U.S., and now being a two-time winner on tour, having that place with Tiger, it's an unbelievable feeling for me," said Kim, who began the week feeling under the weather and had never before seen TPC Summerlin. "It's an honor for me, and it's definitely a dream come true."
Only Ralph Guldahl was younger than Kim, by less than a month, when he won his second tour title in 1932 at the Arizona Open. Kim, at 20 years, three months and 18 days, moved past the likes of not only Woods but Gene Sarazen, Horton Smith and Tom Creavy among players in their 20s with multiple victories. He registered his first win in August at the Wyndham Championship, the last regular-season event of the 2021-22 campaign.
Tournament leader in strokes gained/off the tee, Cantlay had the honor on the final hole after consecutive birdies at Nos. 15 and 16 erased Kim's second two-stroke lead of the day. Cantlay chose a fairway metal and hooked his tee shot into the desert scrub. He found his ball lodged under a bush and barely move it while attempting to hack it back into the fairway. After a drop, Cantlay put his fourth shot into the water guarding the front of the green. He saved a triple bogey by dropping a 36-foot putt.
Kim, who also matched Cantlay splendidly in exhibiting a dispassionate day-long poker face, used the opening to split the fairway with a 315-yard dart. He then played safely to the right of the pin before a routine two-putt from 52 feet closed the deal.
"When you have a two-shot lead and you have a guy like Patrick coming at you, no lead is safe," Kim said of the showdown with the eight-time tour winner. "I just told myself, well, we have a game plan. I was really grateful that [caddie] Joe [Skovron] was beside me with the experience he has, and he really helped me through this week. I just stayed really patient … and I just got really lucky on the final hole. Patrick has played so good this week, and I got really fortunate."
Kim never trailed throughout the day and took his first outright lead with a seven-foot birdie at the fourth hole. The lead was two at the turn with a 30-footer at the eighth followed by matching birdies with Cantlay at the par-5 ninth. The inward nine was a story of punch and counterpunch as Cantlay birdied Nos. 11 and 12 to tie it only to see Kim respond in kind at the next two holes. Then back came Cantlay one last time with two-putt birdies at 15 and 16.
Cantlay, 30, made no excuses for his poor finish, dismissing the notion he was unlucky to find his tee ball in a bush and then being unable to move it for his second stroke. "Yeah, not too unlucky. I made bad swing, and it went where it went," he said after his 69 left him tied for second at 263 with Matthew NeSmith, who shot 66. "After it was kind of in the bush there, I figured the only chance I had to stay in the tournament was to try to get it back in the fairway. Obviously, I couldn't get it back in the fairway.
"I played well all week for the most part. One bad swing at the end," Cantlay added. "Would have liked to have closed the deal out today, but sometimes that's golf. All in all, it was a good week, and I played a lot of solid shots. Obviously, the last hole makes the whole week kind of sour."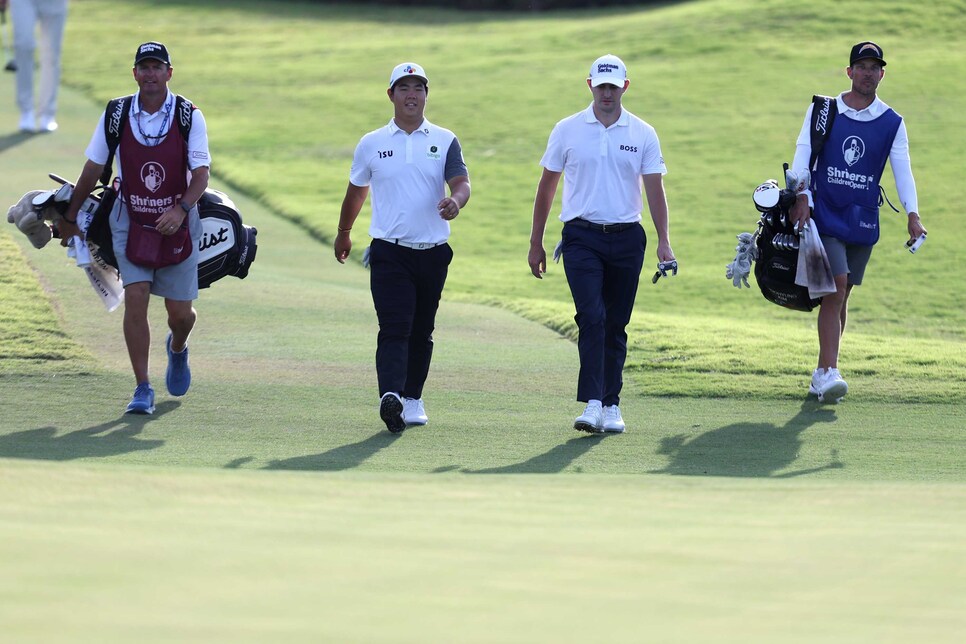 Kim and Cantlay faced off just two weeks earlier at the Presidents Cup, each winning a match against the other in separate four-ball sessions.
Jed Jacobsohn
It wasn't the first time Kim has gotten the better of Cantlay. Just two weeks ago at the Presidents Cup, Kim sank a 10-footer for birdie on the 18th hole at Quail Hollow Club to give him and countryman Si Woo Kim a 1-up four-ball victory over Cantlay and Xander Schauffele.
A wild-card pick by International captain Trevor Immelman, Kim said exposure to the pressures of his first Presidents Cup came in handy during the tense final round.
"I just had to really focus on my own game, and I feel like the experience from the Presidents Cup … it could have been match play, but I didn't really think of it that way because really, on this golf course, there's a lot of low scores, and anyone who plays well will have a chance," he explained. "I just told myself, stick with the game plan. Whether I win or not, as long as I execute my shots and do what I need to do, that's all I focused on, and I'm just grateful to be on top."
Naturally, he felt on top of the world, too. "Coming off a win, the [FedEx Cup] playoffs, the Presidents Cup and a win this week is … I mean, it's absolutely amazing," Kim said. "I've just got to keep going, and I'm enjoying the ride, so hopefully many more to come."
Is there any doubt there won't be more?