The Grind
Tiger Woods gets into the holiday spirit, some (semi) fearless major predictions and an amazing Masters mix-up gets even better
Welcome to another edition of the Grind, where we are proud to say we carried a 20-day Peloton streak into the New Year. Unfortunately, we also carried a 30-day eat-like-an-absolute-pig streak as well. But that should come as no surprise to loyal readers (AKA my mom) as we begin an 11th year in this space. And while not much happened the past couple weeks—other than me writing about a year's worth of wacky golf dreams—we'll try to look a bit more forward. Here's hoping 2023 is the best year of The Grind yet—and that doctors never discover a deadly disease directly related to Hershey's Kisses.
Rory McIlroy winning a major in 2023: This streak has to end at some point … right? If McIlroy doesn't win a major this year, it will be nearly a decade of disappointments in golf's four biggest events for one of the game's biggest stars. Just unthinkable.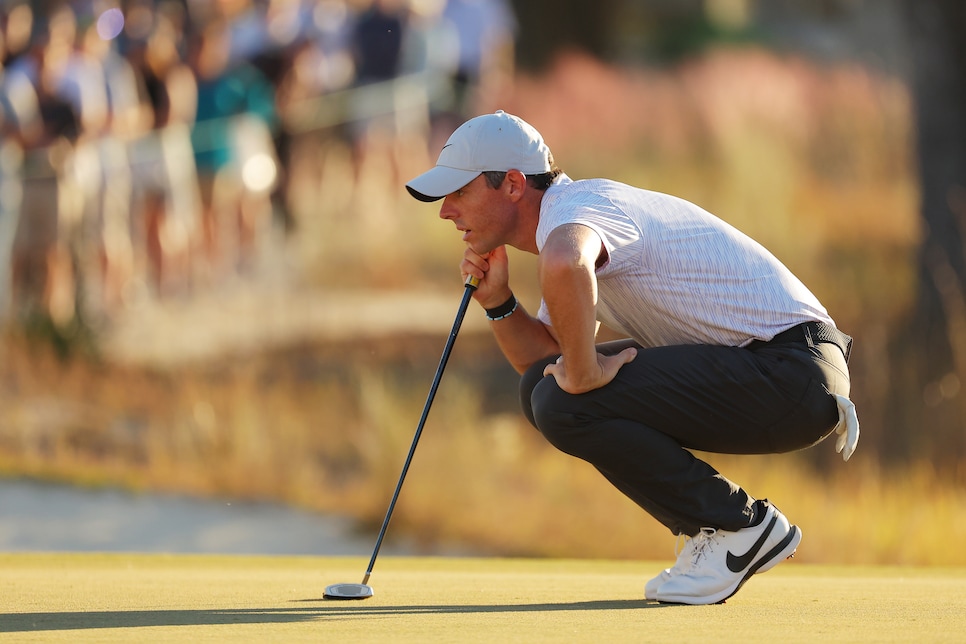 Anyway, let's think positive and say that long-awaited fifth major is coming. We just won't go as far to say it will come with a green jacket. Let's not get too carried away.
Jon Rahm winning more in 2023: On the PGA Tour, that is. A late flurry on the DP World Tour gave him three worldwide wins in 2022, but only one, the Mexican Open, was a PGA Tour title. And that's pretty shocking considering how talented the Spaniard is—and how well he drove the ball last season.
Rahm led everyone on tour in strokes gained/off-the-tee, including McIlroy who usually dominates that stat. And while we're making predictions, we're going to call a Masters win over McIlroy in April, and a duel for PGA Tour Player of the Year that comes down to the FedEx Cup Playoffs. Speaking of the Masters …
This Masters mix-up: The green jackets are probably mortified, but we love everything about this whole Scott Stallings situation. From the fact that Stallings was checking his mailbox every day for his invite to the fact that Augusta National is capable of making a mistake (Did they just look up Scott Stallings in the Yellow Pages?) to the fact some random dude received an invite to the freaking Masters and, finally, to the part where that random dude was able to reach out to Scott Stallings via social media to sort this whole thing out:
What a world! And here's the other Scott Stallings' follow-up post of him mailing that coveted invite to its rightful owner:
Well played. And hopefully, Augusta National at least hooks this guy up with some Masters tickets.
LIV drama: The biggest golf news that came out the past couple weeks is that the Masters, not surprisingly, will allow the LIV guys who qualify to play. And the USGA (U.S. Open) and R&A (Open Championship) have suggested they wouldn't shut out LIV players from trying to qualify for their OPENS. The PGA Championship could still try to keep these players out, but does the PGA of America really want to standout from the other three like this? I'm guessing not. In other words, the LIV guys will be playing in the majors and that's that. And, frankly, the majors will be better for it. Do you want historians years from now putting asterisks on the majors won during this era? Anyway, after a chaotic 2022, let's all resolve to focus less on gossip and more on actual golf this year.
Iron head cover jokes: This is another New Year's Resolution the golf world should collectively make. I won't name names since we've all done it, but I saw a few of these the past couple weeks and cringed. Please stop making these jokes. Besides, when was the last time you actually saw someone playing with these in their bag? Other than Aaron Rai, who has a great reason for them. This joke is dead. Enough.
Dark Sky disappearing: To be clear, I've never actually paid for this weather app, but I have a golf buddy who does. And I text him for forecasts just about every time I play. And it is very good.
So, hopefully, it will surface somewhere else. And, hopefully, I'll be able to convince that buddy to pay for it again. Otherwise, I'm probably going to get a lot more wet on the course in 2023.
The PGA Tour returns with the Sentry Tournament of Champions, AKA that one at Kapalua, AKA that place where Tiger Woods topped Ernie Els in a duel for the ages a couple decades ago.
Amazing. And with 17 of the top 20 in the Official World Golf Ranking teeing it up thanks to this being one of the tour's new ELEVATED events, there's a good chance for another epic battle between two of the game's stars come Sunday.
Random tournament fact: That being said, one of those three top-ranked players missing is Rory McIlroy. Of course, the face of the PGA Tour can't be expected to play every tournament, but it's a bit surprising he'd sit this one out and reportedly choose to start his 2023 campaign at the DP World Tour's Dubai Desert Classic at the end of the month instead. Regardless, he's still winning a major this year. Again. Finally. I think …
RANDOM PROP BETS OF THE WEEK
—The other Scott Stallings would have gotten through Augusta National's gates with that invitation: 1 MILLION-to-1 odds
—Jon Rahm will win this week: 7-to-1 odds (Actual odds, favorite)
—Jon Rahm will win more than once on the PGA Tour this year: LOCK
Good to see fatherhood hasn't hurt Max Homa's Twitter skills.
A bit late to the party here, but this TaylorMade Christmas ad was hilarious:
Tiger as the choir director makes sense. Of course, by playing that role he also avoided having to sing. Brilliant.
THIS WEEK IN PUBLIC DISPLAYS OF AFFECTION
Again, a bit late on this, but the send-off for Roger Maltbie and Gary Koch at the PNC Championship was pretty great:
Of course, it would be even better if they were still doing their jobs this year, but all good things come to an end at some point.
"Yeah, I used to be good." —Tiger Woods. We feel you, Tiger. We feel you.
News surfaced just before the holidays that Gary Player filed a lawsuit against his son and grandson over some of his memorabilia. Merry Christamas to all in the Player family! … A judge overturned a $5 million verdict against a Massachusetts country club for errant golf balls hitting one couple's house on Dec. 23. Talk about getting a big lump of coal in your stocking. … In happier couples news, congrats to to a New Zealand husband and wife for starting their 2023 by making back-to-back holes-in-one on the same hole. … And, finally, I host a weekly golf gambling podcast and know nothing about soccer, but I did bet on Argentina to win the World Cup. Just call me Mr. Futbol: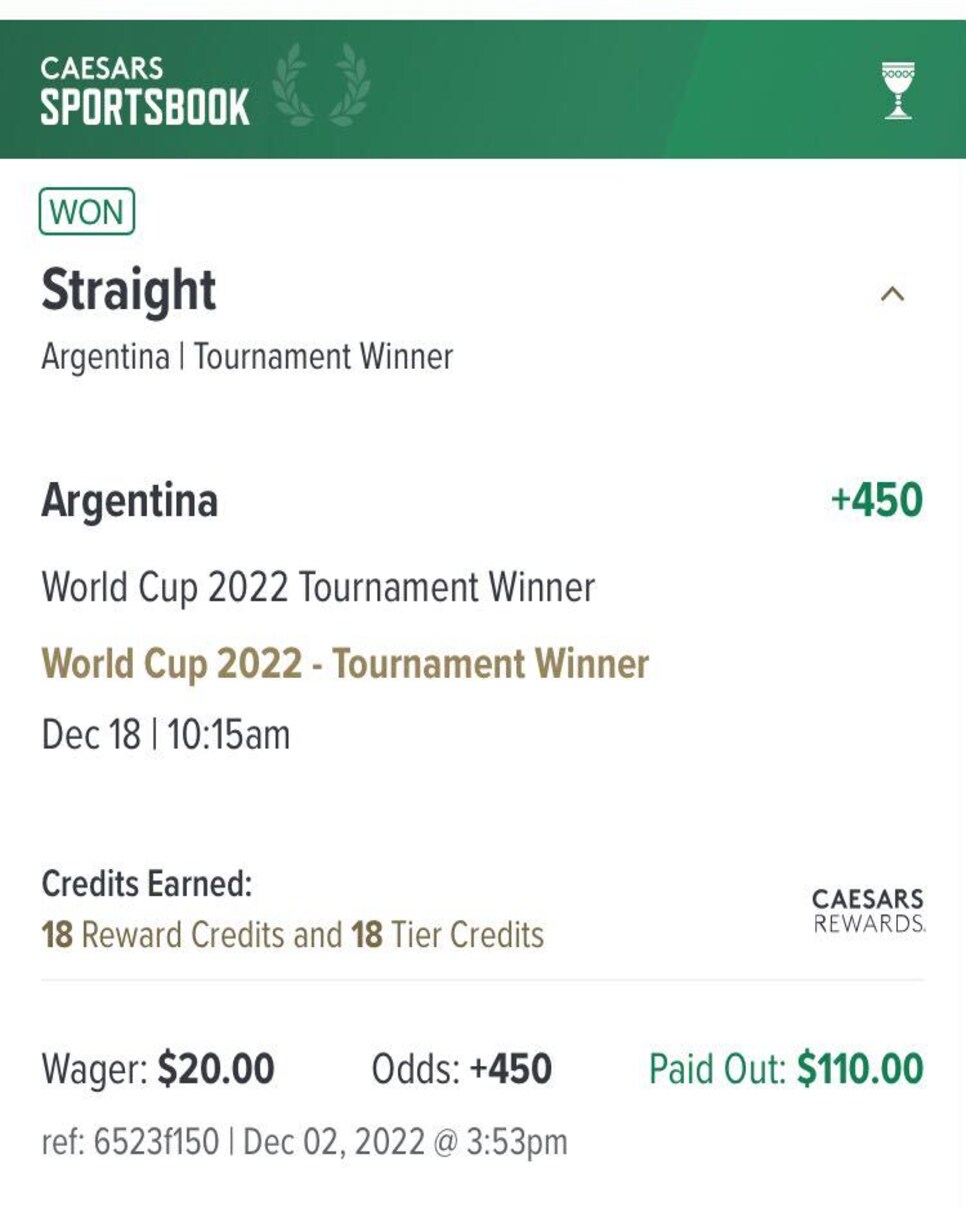 Boom. Thank you, Messi. And whoever Argentina's goalie was.
RANDOM QUESTIONS TO PONDER
Should I host a soccer gambling podcast instead?
When is the Player family reality TV show coming out?
Will 2023 finally be the year I make a hole-in-one? (LOL)