News
Court overturns $5 million verdict against country club for errant golf balls hitting house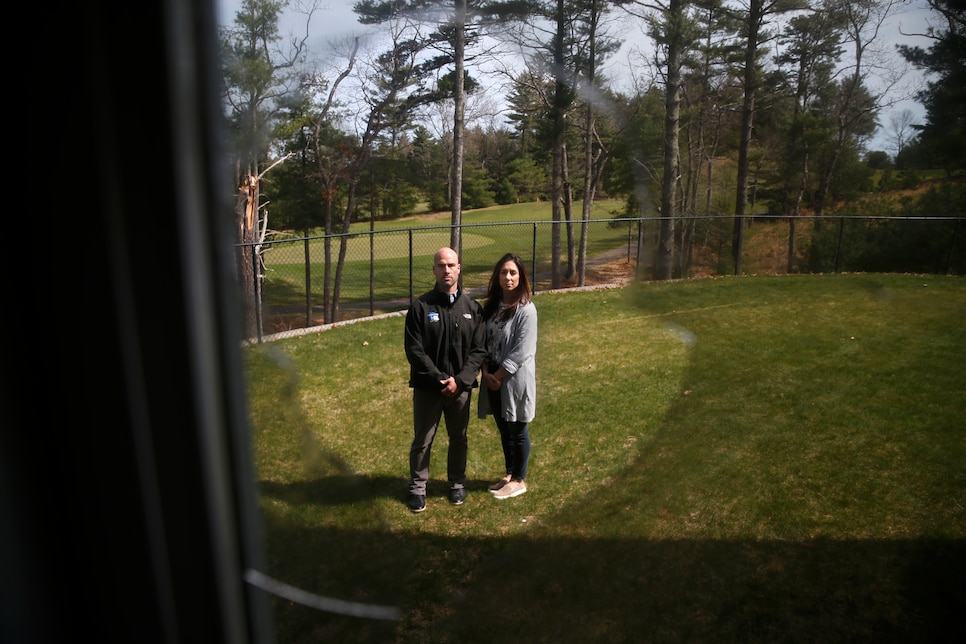 Kingston, MA - April 21: Erik and Athina Tenczar in Kingston, MA on April 21, 2022. The family of five moved into a home neighboring the Indian Pond Country Club and has had damage to their property from golf balls. (Photo by Jonathan Wiggs/The Boston Globe via Getty Images)
Boston Globe
A couple who won a $5 million lawsuit against a country club for errant golf balls hitting their home have had the verdict overturned.
A Massachusetts jury awarded Erik and Athina Tenczar $4.93 million last December, concluding that Indian Pond Country Club was at fault for not protecting the Tenczar's home from a constant barrage of shots coming from the club's 15th hole. The house is at the bend of a dogleg hole, with many players hitting the house when trying to cut the corner. The Tenczars claimed their house had been hit over 660 times in a four-year stretch. The country club planted trees near the Tenczar's home and made minor alterations to the hole but didn't install protective netting as wished by the Tenczars.
"The continuous threat of golf ball strikes occurring at any time prevents the Tenczars from the use and enjoyment of their property," which was purchased for $750,000 on April 27, 2017, according to the original complaint.
However the Massachusetts Supreme Judicial Court earlier this week said the original verdict has been vacated due to a "clear error" from the previous judge. The error prevented the jury from answering a critical question in the case, according to justice Scott Kafker: Whether the country club's 15th tee boxes and fairway were reasonably operated.
"Errant golf balls are to golf what foul balls and errors are to baseball. They are a natural part of the game," Kafker wrote. "They demonstrate the difficulty and challenge of the sport even for the very best players. Despite practice, instruction, technological improvements, and even good golf course design and operation—disputed in the instant case—golf shots go awry, as a matter of course."
The suit has now been sent back to state superior court for a new trial. The couple's attorney expects a new suit to be filed next month.