There are things you'll never forget from 2022—LIV Golf, Phil Mickelson, Cam Smith over Rory at St. Andrews, etc. etc.—and there are things that felt memorable at the time, but are easy to lose in the shadow of the really big stories. Let's take an end-of-year detour now and tip our caps to the moments that we've almost already forgotten, giving them one last moment in the sun before the calendar flips and they become even more distant in time's rearview.
Jordan Spieth pulled off his Pebble Beach Death Shot
Doesn't this feel like it was about five years ago? It was just this past February when Spieth took his second shot on the eighth hole at Pebble Beach from the very edge of a death-defying cliff, the bottom of which is … well, frankly, it's too far away. Just watch:
Spieth somehow made par, but afterward, even he seemed a little shaken by the overhead angle. "I just saw the blimp shot from overhead and it really bothered me," he said, while his caddie Michael Greller beat himself up for not doing more to talk him out of it and vowed that the next time it happened, he'd retrieve the ball himself and toss it into the cliff.
The DP World Tour had its first woman win an event
Just 22, the Swedish rising star made history in June when she shot a 64 on Sunday to win the Volvo Car Scandinavian Mixed, an event featuring 78 men and 78 women, by a whopping nine shots. Her nearest competitors were Henrik Stenson and Marc Warren, not to mention Alex Noren and Edoardo Molinari further down the leaderboard, showing just the caliber of player she defeated.
The DP World Tour canceled a round due to the Queen's death
In fact, this was technically two days—play was halted on Thursday when the news came out that Queen Elizabeth II had passed, with 30 players yet to finish their rounds, and canceled entirely on Friday. In the end, the powers-that-be decided to make it a 54-hole event—complications due to the planning for the state funeral made it impossible to play Monday—and Shane Lowry won by a shot over Rory McIlroy and Jon Rahm. On one hand, this is fully understandable, and golf was not the only sport affected the loss of her majesty. On the other, it's quite rare for a golf event to be canceled or shortened due to factors beyond weather (or a global pandemic, of course), and the immediate, lasting shut-down shows how important the queen's 70-year legacy was in the United Kingdom.
Hideki Matsuyama hit arguably the shot of the year in January to win the Sony
Sure, sure, you're going to tell me all about Matt Fitzpatrick's shot out of the sand at the U.S. Open, or Cam Smith's putt on 17 at St. Andrews, and I get it, and I hear you, and maybe in my heart of hearts I agree. But then again, you have to watch this man's 3-wood from 276 yards on the first hole of the playoff against Russell Henley to remember just how spectacular it was:
The shot earned praise from all corners, including Sophia Popov, who said "that was the best 3-wood I think I've ever seen."
A mom won the U.S. Women's Mid-Amateur
It is not easy for a mother to win a major sporting event, amateur or otherwise, as shown by the fact that even Serena Williams, possibly the greatest athlete in human history, has not been able to capture a major since having her daughter. When Krissy Carman won the U.S. Women's Mid-Amateur, prevailing in a tight championship match, 2 and 1, the great accomplishment was heightened by the fact that the 27-year-old had her 2-year-old son Conrad in the gallery, and that the delivery had been difficult enough to keep her away from golf for a full year. It's not often a mother, much less one that recent, can capture a USGA championship of this caliber, and in her quiet way, Carman made history.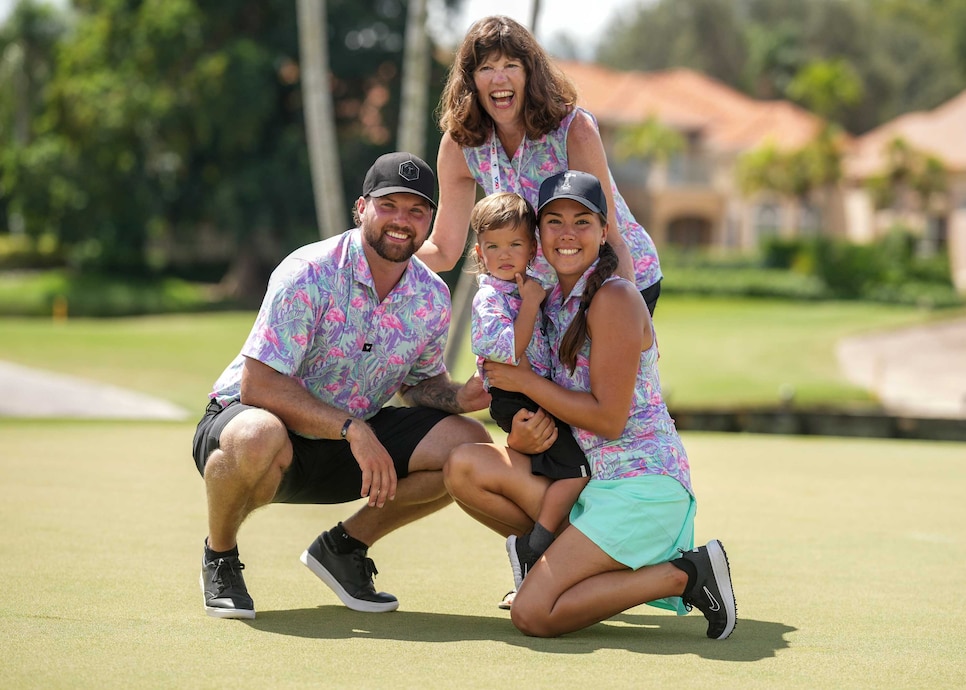 The food prices at the PGA Championship were jussssst this side of insane
At this point in our lives, we should be used to food and drink being expensive at live sporting events, but at Southern Hills in May, the PGA Championship vendors took it to the next level. As Alex Myers wrote, "$18 for a Michelob Ultra?! In the words of Jerry Seinfeld, 'That is outrageous!'" Exactly—and even a ratty plastic bottle of Aquafina ran you $6. Myers noted that for the price of one Stella ($19), you could buy four import beers at Augusta National. Even Justin Thomas, who went on to win the event, didn't like it.
A fantasy football loser embarrassed himself at a U.S. Open qualifying event
When John Eckert lost his fantasy football league in 2021, his "punishment" was to play in a U.S. Open local qualifying event, despite the fact that he's a very bad golfer. As you might imagine, this ended up being punishment for everyone else in his group, as he shot a 112. Aren't there rules against this? you might wonder … and the answer is yes. You either have to be a pro or an amateur with a confirmed handicap index of 1.4, but the trick is, nobody checks on the pros. Eckert simply lied, and that's all it took. As it turns out, the lying is rare, but there were 12 other players (among the 9,000 total entries) who shot 100 or worse in this year's U.S. Open qualifying. You can read their stories—and the stories of those who suffered alongside them—here.
Harry Higgs and Joel Dahmen went topless in Phoenix
Your mileage may vary on whether you want to remember this moment or not, but in the annals of 16th hole hijinx at the WM Phoenix Open, this one is up there. We could try to describe it, but frankly it's probably better to just let you watch:
In any other year, this would be among the biggest off-course stories in golf. After 16 years at CBS, Faldo retired from his position as lead analyst, signing off for good at the Wyndham Championship in August. Faldo could barely get his last words out, such was his emotion, but when he did, it was a short and poignant message:
Faldo was off to his Montana homestead then, but came back to TV sooner than anyone might have expected—this fall, he was a guest picker on ESPN's "College Gameday."
An amateur had a top five in a PGA Tour event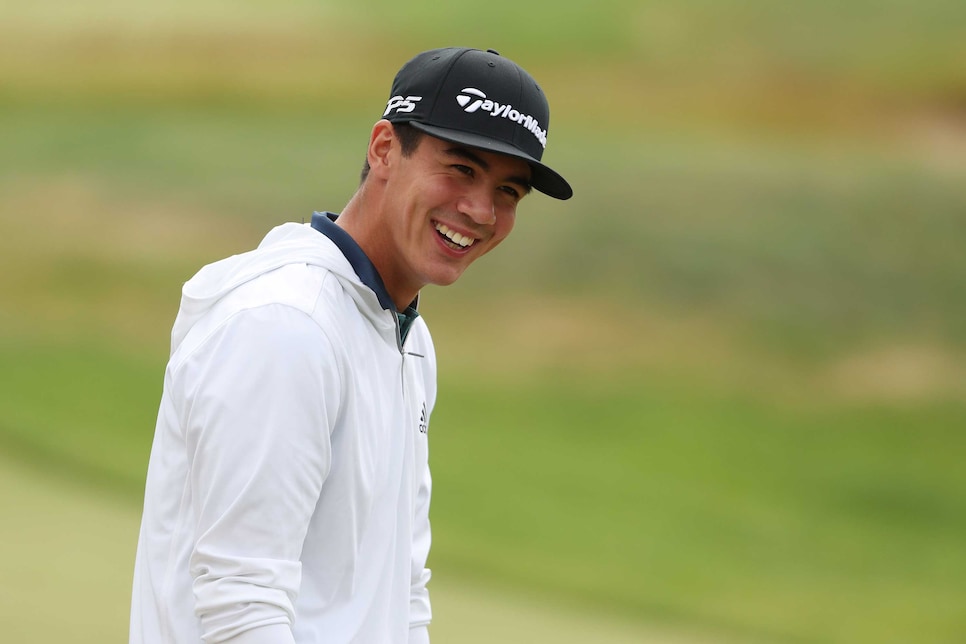 What's it like to not win $406,700? That's a question for Michael Thorbjornsen, the Stanford All-American who parlayed his sponsor's exemption at the Travelers Championship into a solo fourth-place finish (at one point on the back nine in the final round, he was one shot behind the leader and eventual winner Xander Schauffele). It had been more than 30 years since an amateur won a PGA Tour event—Phil Mickelson at the 1991 Northern Telecom Open—and just to finish that high up was a remarkable achievement for the 20-year-old … even if he couldn't take the money with him.
Tiger Woods was back as a cover star … for video games
PGA Tour 2K23 hit stores in October, and on the cover for the first time since 2014 was none other than the game's biggest star, Tiger Woods. Of all the things Woods accomplished this year, from his remarkable efforts just to play at majors to his role at the forefront of the PGA Tour's defense against LIV Golf, his role as the face of a new video game may have been the easiest to miss. But as Christopher Powers wrote, not only was Tiger back, but you could actually play as him (and a variety of other pros, men and women both), which was a big limitation and a major complaint around previous games.
Michelle Wie West retired … sort of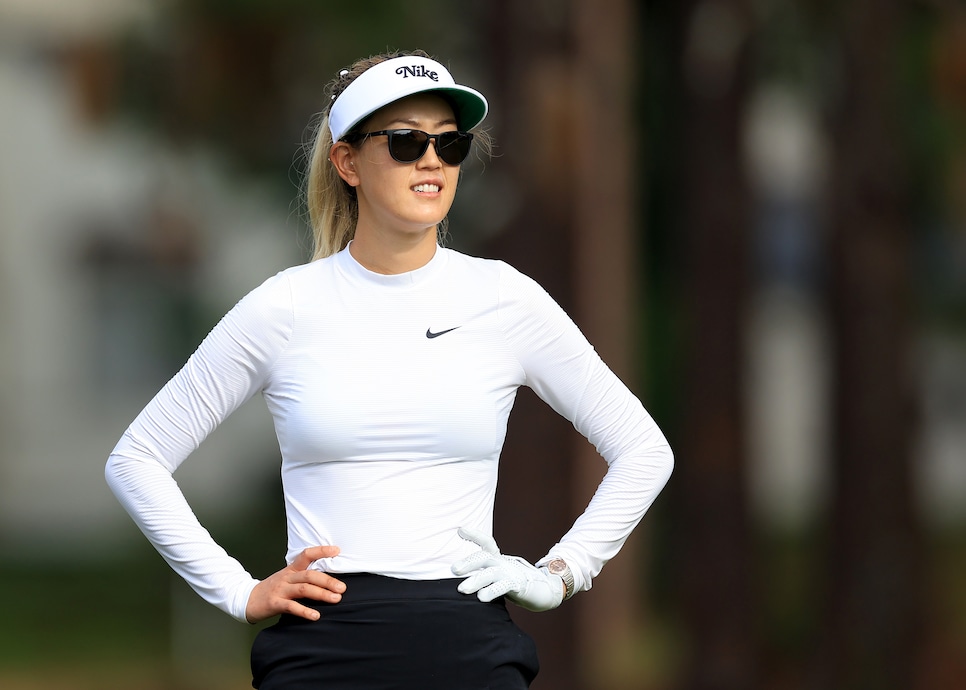 Opinions vary as to whether Michelle Wie's career lived up to the hype that often surrounded her—she won a major at the 2014 U.S. Women's Open but only five LPGA titles. It can't be argued, however, that since turning professional a week before her 16th birthday until this May, when Wie announced her retirement at age 32, she's been one of the biggest draws and one of the best ambassadors for the women's game. In her 14 years on the LPGA Tour, many of them hampered by injury, she was an omnipresent figure even when she wasn't winning, was the youngest player to ever qualify for an LPGA event and the youngest to make a cut at a major. Though she intends to play the U.S. Women's Open at Pebble Beach next year and won't quite call it a "retirement," that seems to be it for one of the most iconic golfers of the 21st century.