Amateurs
Krissy Carman, a stay-at-home mom with a 2-year-old, wins the U.S. Women's Mid-Amateur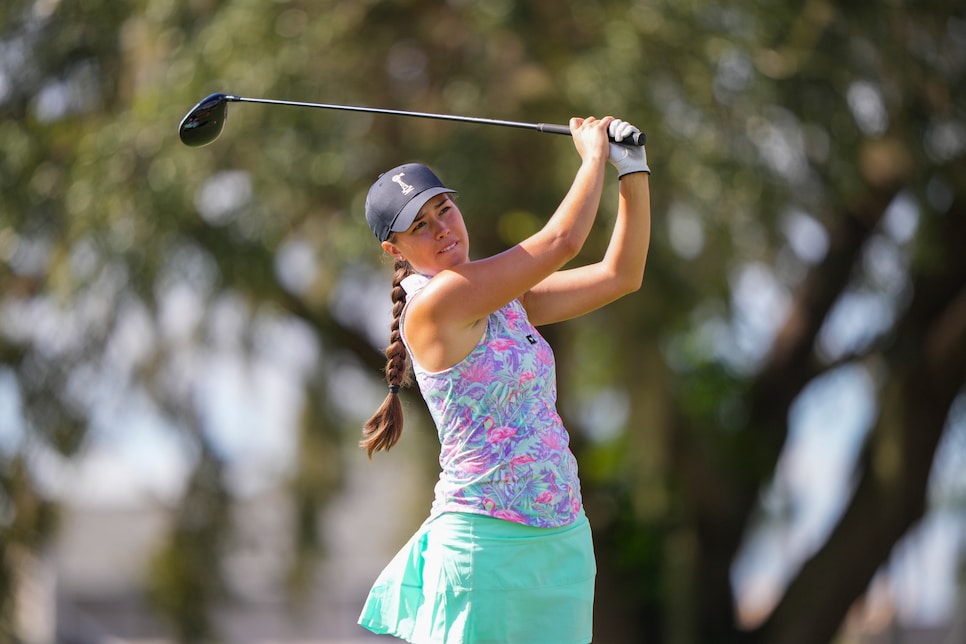 Being a stay-at-home mother of a 2-year-old son, with its inherent demands on time and energy, would seem an obstacle to fine-tuning a golf game. Krissy Carman now has a national championship trophy, however, that says otherwise.
Carman prevailed in a back-and-forth championship match to win the U.S. Women's Mid-Amateur, 2 and 1, over Aliea Clark on the Long Mean Course at Fiddlesticks Country Club in Fort Myers, Fla., on Thursday.
"I'm in disbelief. Feels amazing," Carman said. "Oh, my gosh, I never really thought honestly that it would happen. I would obviously hope, but, yeah, I just can't thank my husband [Mitchell] enough, because he really was the one who got me back playing last summer. He really encouraged me to do tournaments. He was just like, 'Hey, if you win the Mid-Am you get to go to the U.S. Open. Let's do it.' I was like, 'oh, you're so funny. Ha, ha.' But here we are."
Carman, with Mitchell, son Conrad, and mother Suzanne Peterson in the gallery, traded the lead with Clark, who took a 1-up advantage to the back nine. Carman tied the match with a par on the par-5 11th hole, took the lead with a par on the par-4 16th and closed out the match by winning the par-3 17th home with another par.
So, how did a mom of a toddler do this? "I had a really hard delivery with Conrad," she said, "and then I didn't get to play at all that summer after he was born. It wasn't until the following spring, summer, we just went out to Pine Ridge Golf Course out in Springfield, Oregon, and decided to bring him in the jogging stroller. I strapped my clubs up underneath, and he just loved it. We were like, 'OK, we'll play nine, see how it goes.' We were able to play 18, and then we did it again and then we did it again, and then we realized that this could be a thing."
Clark, 26, a former UCLA golfer now in graduate school at New York University, did not make a birdie in the championship match, lamenting her putting woes, but otherwise was extraordinarily gracious in defeat.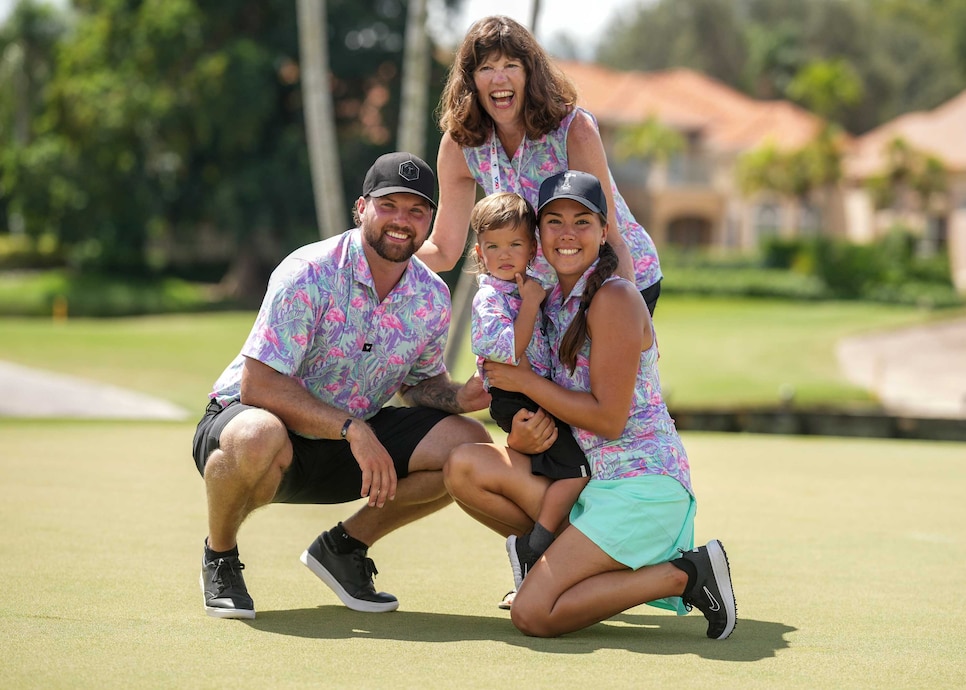 Mitch Carman, 2 year old son, Conrad, Krissy Carman and her mother Suzanne Peterson on the green after Krissy won the 2022 U.S. Women's Mid-Amateur.
Darren Carroll
"I'm going to take away that I'm just so grateful for the opportunity and to be at a place in life where I'm able to play golf at this level with such awesome competitors and great friends," Clark said. "I absolutely loved playing against every single person that I met this week. They were quality individuals inside and out.
"I would've been thrilled to lose to anyone that I played. [Carman's] son, Conrad, is the cutest little thing. What an incredible family. What a great couple they are. They were so respectful out there. I think we had a ton of fun."
Carman, with this victory, earned an exemption into the 2023 U.S. Women's Open at Pebble Beach.