Fantasy Advice
Sentry Tournament of Champions DFS picks 2023: Why I'm fading Will Zalatoris and Jordan Spieth this week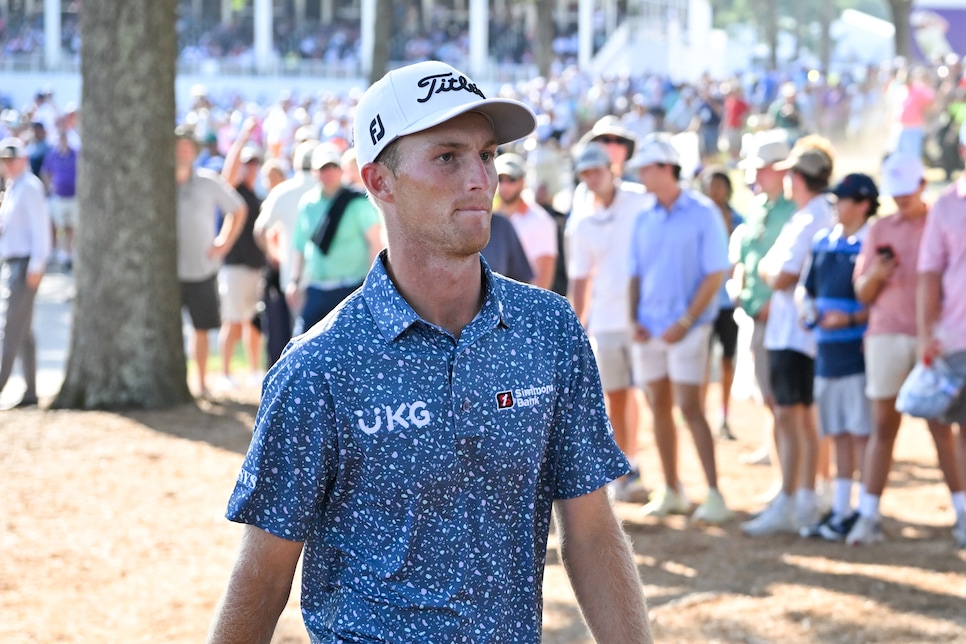 The shortest offseason in sports is over! Thirty-nine players head to Maui to kick off the new year at the 2023 Sentry Tournament of Champions. This is a newly elevated event on the PGA Tour, with a purse of $15 million, and it has created a star-studded field to battle the Plantation Course at Kapalua.
While most don't consider Maui to be "extreme," the Plantation Course certainly is. With only three par 3s, 11 par 4s and 4 par 5s, the Coore-Crenshaw-designed layout is the only par-73 routing on tour. The grounds themselves have a ton of elevation changes and extreme undulation on every hole. Good luck finding a flat lie this week!
Here are the players who have my interest—and those who certainly don't—this week at the 2023 Sentry Tournament of Champions.
Golfers I'm Definitely Playing
Justin Thomas ($9,900 DraftKings | $11,500 FanDuel)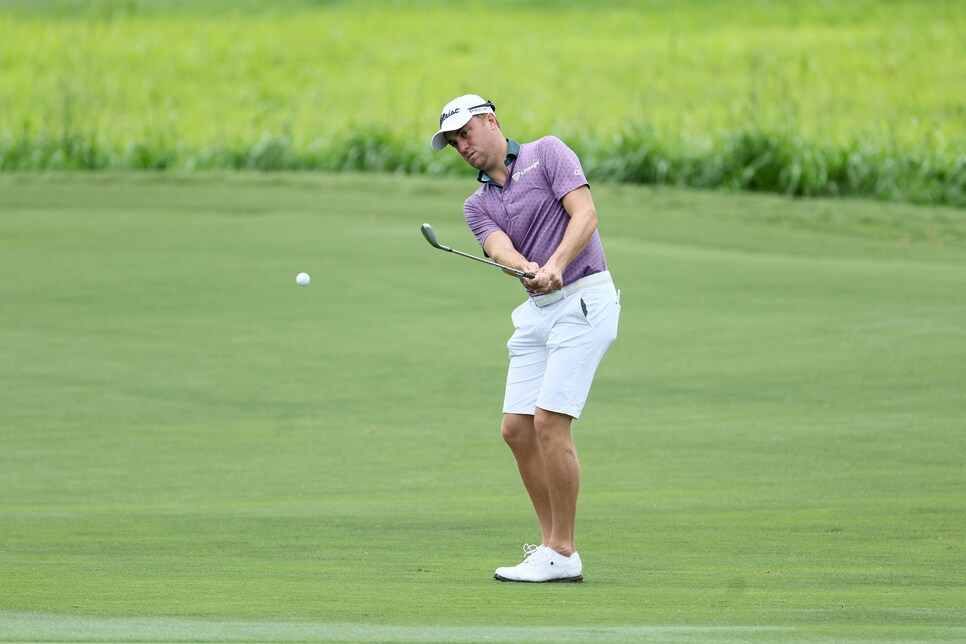 Thomas hasn't putted well since the summer and his irons haven't been nearly as dialed in as we would expect, but despite that "poor play," he's found a way to post great results. He was excellent at the Presidents Cup, finished T-5 at the Tour Championship and had a solo fifth at the unofficial Hero World Challenge. When he gets to Hawaii, he starts vibing: He has three wins in the state and four more top-six finishes.
Matt Fitzpatrick ($9,100 DraftKings | $10,200 FanDuel)
Fitzpatrick will make his debut at the Tournament of Champions, and it's well-deserved. Over the past 100 rounds for everyone in this field, Fitzpatrick is fifth in strokes gained/total, right between Xander Schauffele and Tony Finau, per the RickRunGood.com golf database. He's also the best Bermudagrass putter in the field, so I expect Fitzpatrick to contend this week.
Viktor Hovland ($8,500 DraftKings | $10,500 FanDuel)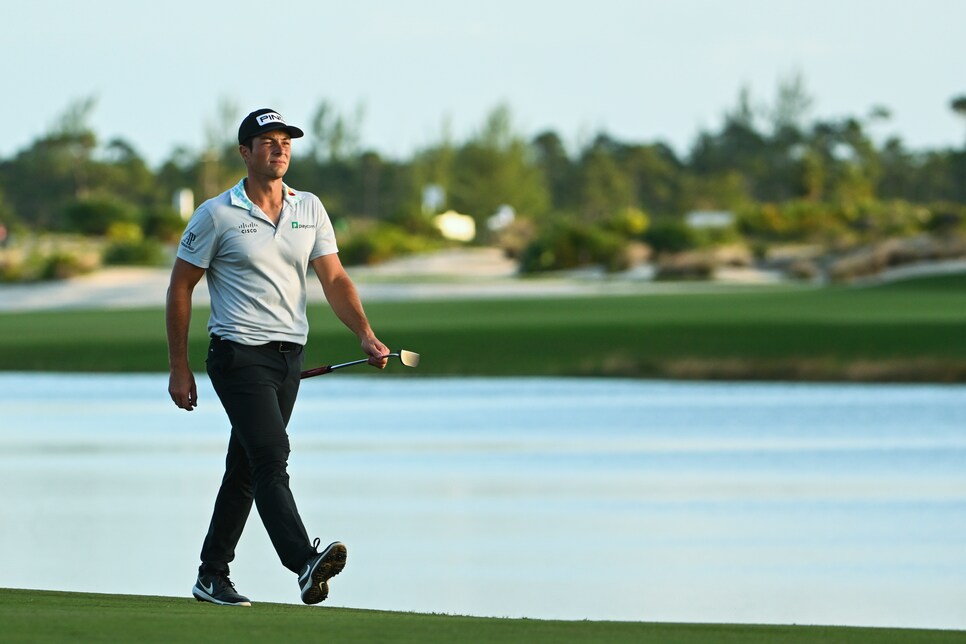 This is not a vacation for Hovland, who is fresh off his victory at the Hero World Challenge. He's played seven times since the Tour Championship and has posted four top-10 finishes. With massive greens at the Plantation Course, Hovland's weakness (around the green) won't be too much of a concern this week.
Sahith Theegala ($7,300 DraftKings | $8,300 FanDuel)
When I play DFS, I'm not trying to double my money, I'm trying to win all the money. Playing golfers like Theegala are helpful in that goal. Theegala has a very low floor, only gaining strokes to the field in 58 percent of his rounds, but he gains more than five strokes in 11 percent of his rounds. To put those numbers into words: He has the floor of Sepp Straka but the upside of Patrick Cantlay.
Tom Hoge ($6,500 DraftKings | $8,100 FanDuel)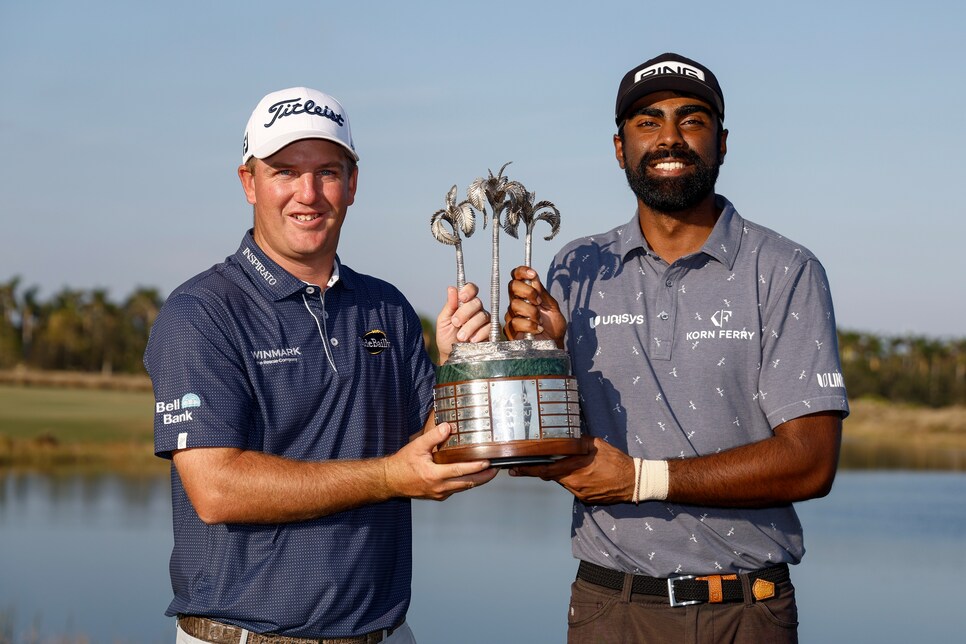 Tom Hoge and Sahith Theegala partnered up to win the QBE Shootout at Tiburon Golf Club in December.
Douglas P. DeFelice
Hoge is the golf equivalent of a high target receiver in football—it's all about opportunity! According to the golf database at RickRunGood.com, over the last 100 rounds, Hoge has had nearly six "birdie opportunities" (15 feet or closer) per round. He's had nearly four "plus opportunities" (10 feet or closer) per round during the same stretch. The only two golfers who can beat those figures are Collin Morikawa and Scottie Scheffler. He gives himself enough looks, he's bound to cash in on them.
Scottie Scheffler ($10,300 DraftKings | $11,800 FanDuel)
Scheffler lost all feel with his putter after the Masters, losing strokes to the field in 10 of his 13 measured events after donning a green jacket. The sick part … that didn't really stop him! During those 13 events, he earned nine top-15 finishes, including four runner-up finishes. The next time he gains strokes with the putter, he will win.
Collin Morikawa ($9,400 DraftKings | $10,400 FanDuel)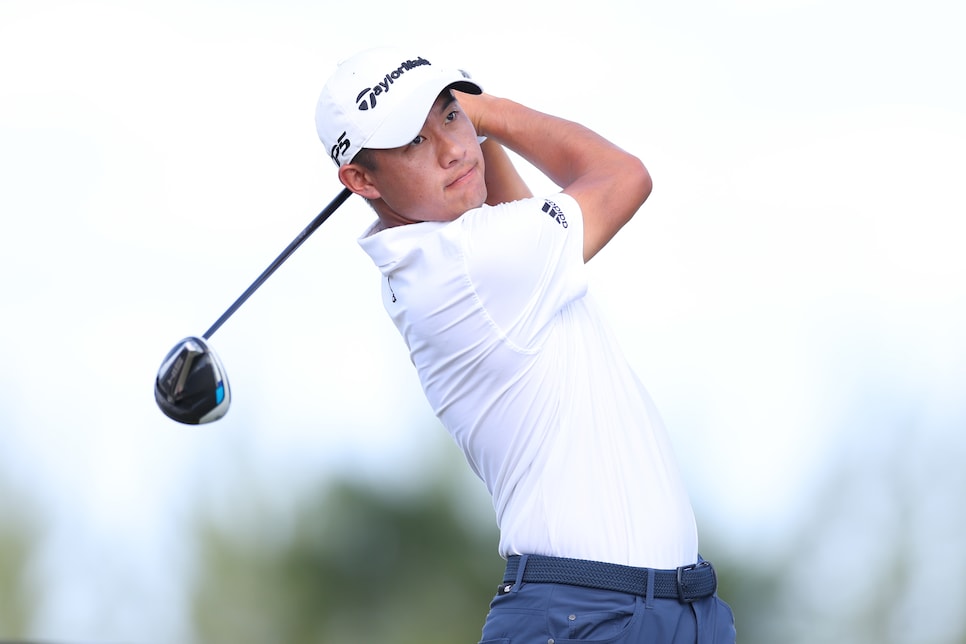 When you play on large greens like at Kapalua, there's two different paths to beating the field. As three-putt percentages rise, you can putt better than the field and make up ground that way, or you can fire darts and give yourself the correct birdie looks. Morikawa does the latter. In three trips to Maui, he's never finished worse than T-7 and has gained at least 2.5 strokes on approach in each start.
Sungjae Im ($8,300 DraftKings | $10,100 FanDuel)
Over his past 10 starts, Im has been barely beatable. He has eight top-15 finishes during that stretch and his two worst results (T-34, T-29) came in the elevated events this fall—the CJ Cup and Zozo Championship. Over his past 50 rounds, he's gained 1.23 strokes per round, and he's gaining in each of the four major categories.
Seamus Power ($7,200 DraftKings | $9,000 FanDuel)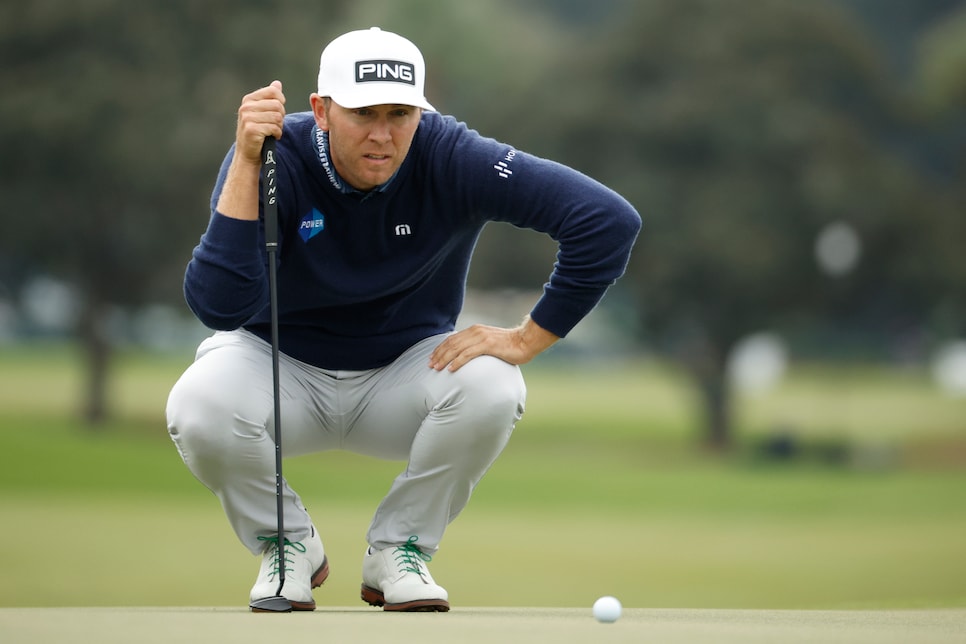 Power finished his 2022 as a buzzsaw winning in Bermuda and followed it up with a T-3 in Mayakoba and T-5 in Sea Island. He's a bit of a streaky golfer, but he's in the midst of a hot streak right now. It's a small sample, but over the past 12 rounds, he's the best player in this elite field.
Mackenzie Hughes ($6,900 DraftKings | $8,000 FanDuel)
Hughes had an excellent fall schedule, winning the Sanderson Farms and posting three more top-25 finishes in his five total starts. Despite missing the cut in Sea Island he actually gained strokes to the field, a quirk that can happen when playing multiple courses. He's priced in a way that makes him easy to roster and should be a step up compared to similarly priced peers.
Will Zalatoris ($8,900 DraftKings | $9,600 FanDuel)
I cannot wait to invest in Zalatoris this year, but I'm going to need to see something first. Remember, he withdrew from the BMW Championship with two herniated discs in his back. I'm a believer that he's going to have a massive year, but I don't need to roster him in this stacked field right out of the gate.
Jordan Spieth ($8,200 DraftKings | $9,800 FanDuel)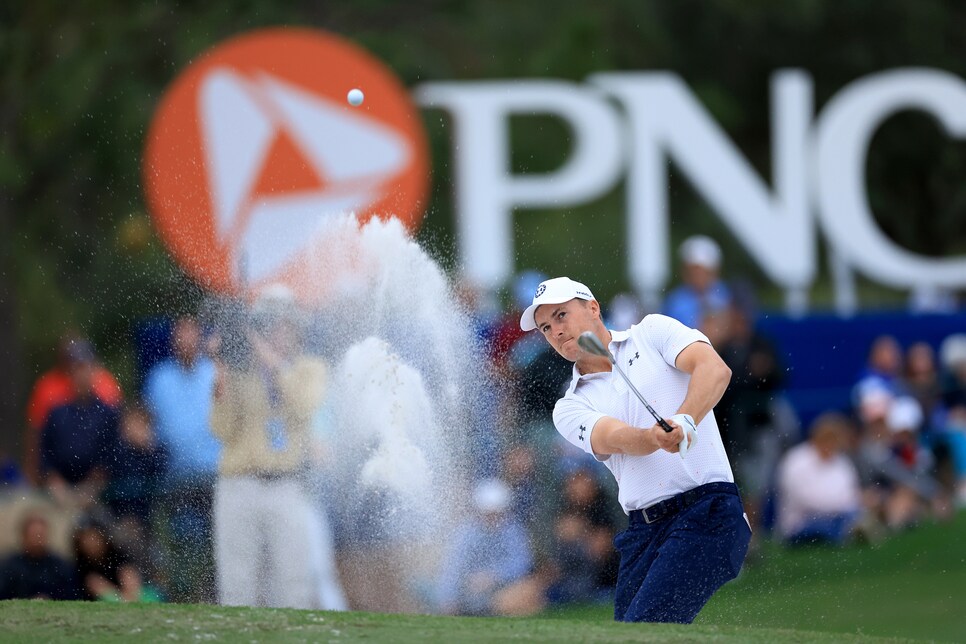 Admittedly, I don't know what to make of Spieth. He goes 5-0-0 at the Presidents Cup but hasn't done much else over the past few months. He's gaining just 0.35 strokes per round over his past 36 rounds, which puts him firmly in the bottom quarter of this field. He actually ranks just below J.T. Poston and K.H. Lee. He's certainly capable of flipping the switch and winning this, but I'll take my chances with a fade.
Sam Burns ($8,400 DraftKings | $9,700 Fanduel)
Burns was a little volatile to end 2022—finishing T-7 at the CJ Cup before WDing from the Houston Open and losing strokes to the field at the Hero World Challenge. Each week he seems to struggle with a different facet of the game, which doesn't provide much confidence that he'll solve it quickly. I'll take a cautious approach with Burns.
Keegan Bradley ($7,500 DraftKings | $8,900 FanDuel)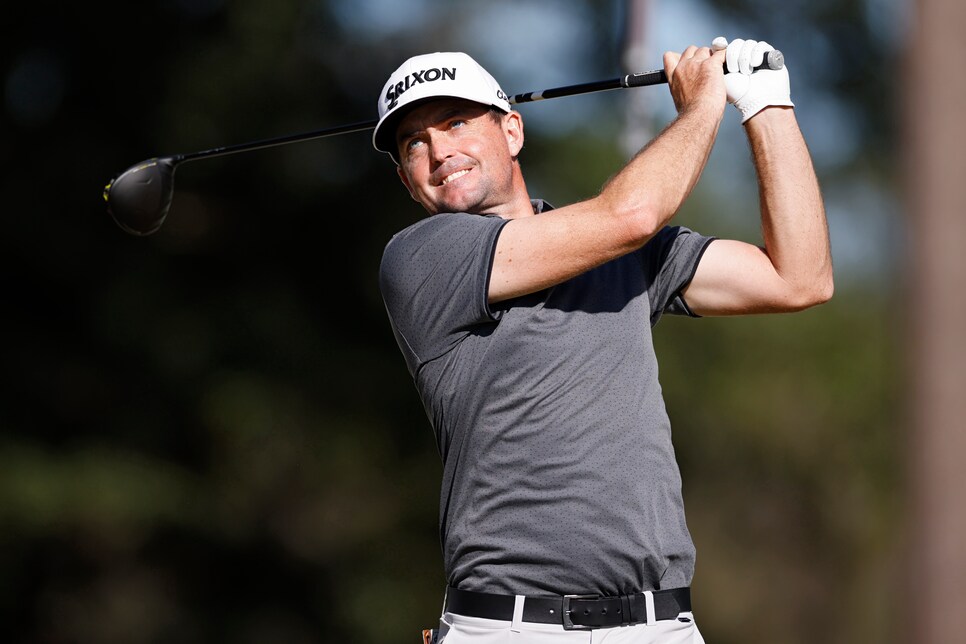 Bradley had a stellar fall that included his win at the Zozo Championship, a T-5 in Jackson and a T-21 at the CJ Cup. Honestly, it's tough to do any better than that. But when you start looking at the Plantation Course at Kapalua, it doesn't necessarily lend itself to Bradley's strengths. He's long and straight off the tee, but these are incredibly wide fairways that won't allow him to separate himself. These large greens usually magnify putting as a required skill-set, which is certainly not something Bradley would brag about. I'm excited for his 2023, but I worry this is a tough setup for him.
Luke List ($6,200 DraftKings | $7,300 FanDuel)
List punched his ticket to this event thanks to a win at the 2022 Farmers Insurance Open last January. Since then, his game has completely fallen off a cliff. He's played 25 events since the victory and his best finish was a T-19 at the Travelers Championship. He's lost strokes to the field in 18 of those 25 including nine of his past 11.