Random Daggers
Jon Rahm throws some shade on the Official World Golf Ranking (and Patrick Cantlay!) after latest win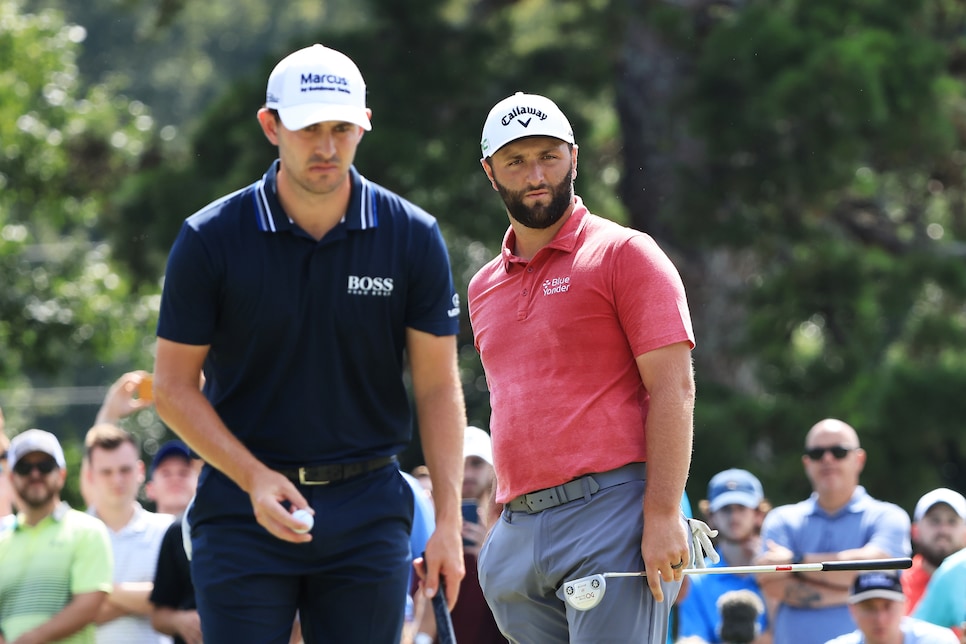 The World No. 5 shot a final-round 63 at Kapalua to pull off one of the greatest come-from-behind wins in PGA Tour history on Sunday evening. And the next morning he woke up to find out that he's . . . still World No. 5. Say what?
Even more bizarre is that Rahm has been on an absolute heater the past few months and has barely budged in the OWGR. In his last six starts, he has three wins and nothing worse than a T-8 finish, yet, somehow, he has only moved up one spot. And yes, he's well aware of it.
Following his eighth PGA Tour win and earning a $2.7 million check, Rahm was asked about the OWGR and if he's competitive about getting back to World No. 1. His answer involved taking another shot at the organization, and involved World No. 4 Patrick Cantlay catching a few strays!
"Oh, I definitely do, yeah. And had they not changed the World Ranking points, I would have been pretty damn close right now," Rahm said. "At this point I'm thinking will I pass Patrick Cantlay? Because since the playoffs, I have not missed a top 7. I've won three times, and I don't even get close to him. So I'm trying to understand what's going on."
So are we, Jon. So are we.
Seriously, the Spaniard has a point. And as was the case in November, his main gripe is with the OWGR's decision to limit points awarded to smaller-field events. Even if those smaller fields are elite ones like at the Sentry Tournament of Champions, where 17 of the top 20 in the world teed it up.
And we're guessing it's nothing personal against Patrick Cantlay. Although, Rahm is probably still feeling a little snake-bitten being "beaten" by him at the 2021 Tour Championship. We put "beaten" in quotes because Rahm shot the best 72-hole score, but lost the $15 million bonus to Cantlay, who began the week with the lead thanks to the FedEx Cup finale's staggered leaderboard. OK, yeah, so maybe this is a bit personal . . .
To be fair to Cantlay, he's played a lot of great golf the past few months as well with three top-two finishes in his past six starts, including a win at the BMW Championship. And to be fair to World No. 1 Rory McIlroy, World No. 2 Scottie Scheffler, and World No. 3 Cameron Smith, all of them are coming off pretty special years themselves.
"I feel like since August I've been the best player in the world, I feel like, and I think a lot of us should feel like a lot of times we're the best," Rahm continued. "Earlier in the year clearly Scottie was that player, then Rory was that player, and I feel like right now it's been me. Anybody any given year can get a hot three, four months and get to that spot. It's the level of golf we're at nowadays. It is what it is. It's very difficult to stay up there and it requires a lot of golf."
In other words, there's a lot of competition at the top of pro golf these days, which is a good thing! Just not necessarily if you're one of those trying to get to the very top like Jon Rahm.