DP World Tour
Jon Rahm blasts new World Ranking formula as 'laughable,' takes swipe at Greg Norman for his 'vendetta'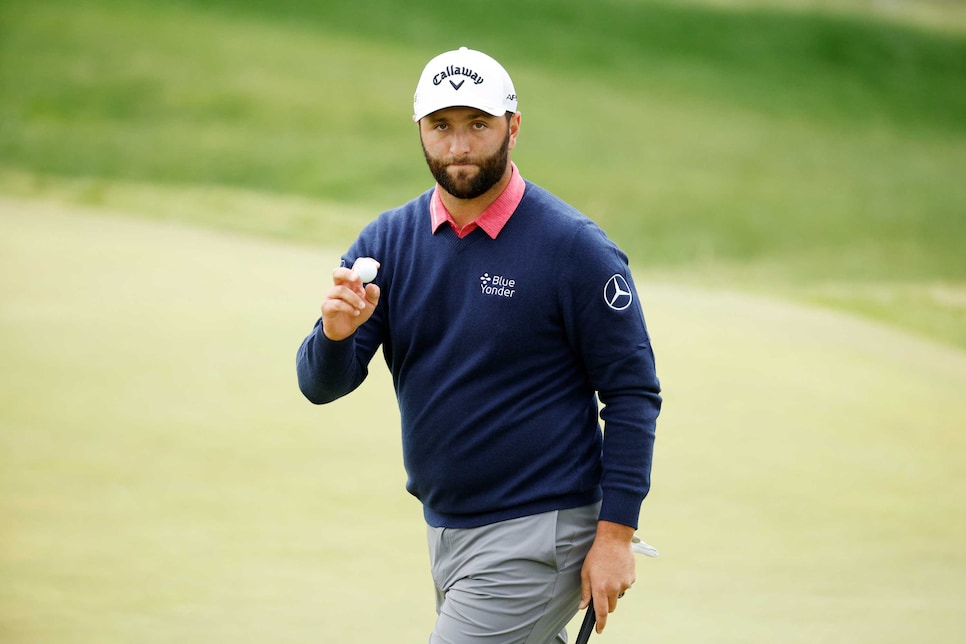 DUBAI, U.A.E. — "Laughable," was the word Jon Rahm used (three times in succession and five times in all). But the Spaniard wasn't even smiling when the subject of the Offical World Golf Ranking came up during his pre-tournament press conference at the DP World Tour Championship.
"I'm going to be as blunt as I can," Rahm went on. "I think the OWGR right now is laughable. Laughable. Laughable. The fact that [this week's PGA Tour event] the RSM Classic, which doesn't have any of the top 20 in the world, has more points than this event where we have seven of the top 20 is laughable. The fact that Wentworth had less points than Napa, having players in the top 10 in the world is laughable."
In qualifying those thoughts, Rahm was more conciliatory. But not by much.
"I understand what they are trying to do with the depth of field, but having the best players in the world automatically makes the tournament better," he continued. "I don't care what their system says. I think they have made a mistake. I think some aspects of it might be beneficial, but I think they have devalued the value of the better players. Take the Tour Championship as an example. The 30 best players of the year should not be punished because it's a smaller field. Depth of field doesn't mean 'better' tournament. I could go on and on. I think they have missed the mark on that stance quite a bit."
OK, fair enough. But where does that leave LIV Golf? As things stand, the still-fledgling circuit does not receive any statistical recognition, a fact that has seen the participants plummet on the World Ranking. Former U.S. Open and Masters champion Dustin Johnson, by way of example, is currently rated the 38th best player on the planet, which is clearly a nonsense, at least in Rahm's mind.
"A lot of people are against them [LIV] having World Ranking points," he said. "I'm not necessarily against it but there should be adjustments. If your requirement is to have World Ranking points is 72 holes and a cut, maybe you don't award them 100 percent of the points since they are not fulfilling all of the requirements. So they need to respect that as every other tour has. If it's only 54 holes and you don't have a cut, maybe you award them, let's say the winner will get 75 percent points. They do have some incredible players. To say that Dustin wasn't one of the best players this year would be a mistake. So I think they could be awarded. I just don't know how we work it out. I don't know if they necessarily deserve 100 percent."
Much of which was in direct contrast to the view taken by World No. 1 Rory McIlroy a day earlier. European Ryder Cup teammates the pair may be, but at least on this issue of World Ranking points they are on opposing sides of the debate. They do have one thing in common though. One day after McIlroy called for LIV Golf CEO Greg Norman's head, Rahm supported the Northern Irishman's view that the Australian needs to be the first casualty in the on-going dispute between LIV and the PGA/DP World Tours.
"I think Greg has had a vendetta against the PGA Tour for a long time," Rahm said. "And when you have an ulterior motive, it can cloud your judgement a little bit. Greg is a player, not a businessman, even if he has been successful in that area. To me, he has an ulterior motive beyond just creating a golf tour. He's had this vengeance for 30 years. So his intentions might not be as pure as they could, which is a problem. So he might not be the best person for the job, even if he has done great things for the tour. I do believe that, for conversations to take place, Greg might need to be gone. Right now, it doesn't seem like he and [PGA Tour commissioner] Jay [Monahan] will want to be in the same room together.
"I'm not going to lie and tell you I agree with everything the PGA Tour has done," Rahm continued. "It was a mistake and a wasted opportunity to not meet with LIV. Both sides missed the mark on that. And that is where a lot of the animosity started. Even if they disagreed, it would have been good to talk. So to get a resolution we might need one or both of them gone. I hope not. Jay has done a great job for the PGA Tour."
Speaking of which, Rahm was quick to jump to the fence of his compatriot and high-profile LIV convert, Sergio Garcia. The former Masters champion has drawn much criticism in the wake of his own outspoken views on the DP World and PGA Tours, at one point claiming that he "couldn't wait" to make the jump to LIV Golf. Asked if all or any of the above would tarnish Garcia's legacy, Rahm didn't hesitate to support his former Ryder Cup partner.
"Those who have been fans of Sergio, I don't think they care, really, where he plays," he said. "Some of them might but most of them I don't really think they care. It still shouldn't change what he's done in the game; what he's done in the Ryder Cup, European Tour, PGA Tour. None of that should be affected by where he decides to play golf, at least in my mind.
"Still, it could have somewhat of an impact. I have a hard time believing a lot of those players are going to have a positive impact with their legacy right now. We don't know what's going to happen, but if it does, I hope it's not a big one, let's say it that way. Sergio has done a lot for the game of golf, so it would be sad to see that change."
Hang on though. We weren't quite done on the World Ranking front. Keen to underline his point, Rahm circled round again to underline his concerns.
"It's above my pay grade to know how the math works, but would you rather win a tournament when you have the No. 1 player in the world there or because you have the 30th or sixth there?" he asked, presumably rhetorically. "I think it's more valuable if you're beating best players in the world. I think a lot of people would agree and I think it should reflect that. I don't know what the fix is. I understand what they were trying to do when they changed some things, but like I said, they missed the mark."
Which is not an accusation that could be leveled at Rahm. Not on this day at least. Message received loud and clear.