Wild Swing
Morgan Hoffmann left the PGA Tour in search of a cure. He found so much more
A devastating diagnosis left a promising young player with few options. Then he went to Costa Rica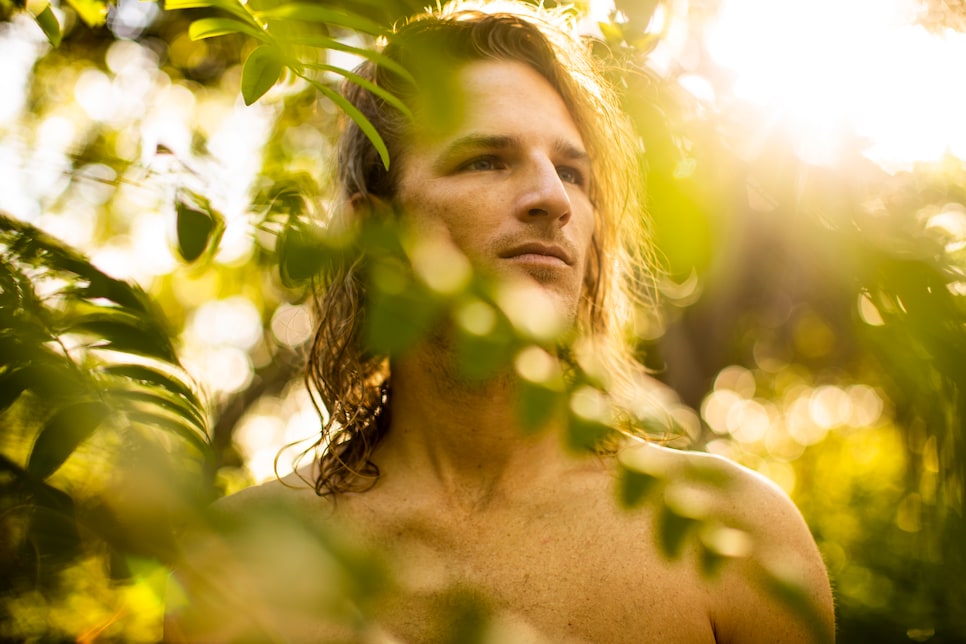 IN A PAST LIFE, MORGAN HOFFMANN was a world No. 1 amateur, Oklahoma State phenom and PGA Tour check-casher with cropped hair, biceps bulging out of his polo and a sparkling new crib in Jupiter, Fla. That was before a half-decade slog through a nightmare somehow brought him to paradise. He now stands proudly inside a sprawling mountaintop house with no doors or windows in the jungle of Costa Rica, his curly golden locks cascading to his shoulders, barefoot, feeding fresh-ground peanut butter to three dogs and two cats. It's Monday, but it could be Saturday for the same price.
The impetus for my visit is rumors, rather colorful ones, about Hoffmann's life. "I heard he drinks his own piss." (True . . . sort of.) "He's down in Costa Rica and never plays golf anymore." (Again, partly true.) In March 2021, he wrote in a blog post that he had stepped away from golf but hoped to return. Intrigued, I called him. A few months later, in the kitchen of his new home, he's explaining why he will play on the PGA Tour again.
BELOW: Listen to a podcast version of this story
"I've toyed with not going back," he says. "But it's a bigger picture now. I'm not just going back to play golf. I'm going back to bring this knowledge that I have to the world of the PGA Tour, where it doesn't exist. [On tour] we're driving a new car every week; we're pampered all the time. I'm very glad that I've gotten to a place where I know that material things are not going to get you through life."
This isn't the life Hoffmann envisioned for himself—not as a child, not in college, not on tour and certainly not when that doctor delivered the crushing news: He has muscular dystrophy. But this is his new life and, holy hell, is he living it.
A DIAGNOSIS AND A LIFE UPENDED
Muscular dystrophy is an umbrella term for several diseases, all of which share one trait: an insatiable appetite for human muscle. Duchenne is the most common and pernicious. Symptoms typically appear in young boys. Limbs don't develop properly.
Walking becomes difficult, then standing. Eventually, it affects the heart and respiratory muscles. Only recently have Duchenne patients begun living into their 30s. Other forms of muscular dystrophy don't necessarily affect life span, but progressive disability is likely. Of course, a seemingly incurable, debilitating disease was the farthest thing from Hoffmann's mind when he noticed something odd going on in his right pectoral muscle.
He was in his third year at Oklahoma State, a PGA Tour pro factory, and Hoffmann was next up in the assembly line. He starred on a team full of names you might recognize: Rickie Fowler, Kevin Tway, Peter Uihlein. In 2009, his freshman year, Hoffmann won three events, including the Big 12 individual title. He became the world's top-ranked amateur, won the Phil Mickelson Award as the nation's top freshman and was a first team All-American. With a swing speed of 120 miles per hour, a creative short game and a quenchless work ethic, Hoffmann seemed destined to become a star.
This all feels like a lifetime ago for Hoffmann, now 32, and for Mike McGraw, his coach at Oklahoma State. "Everything about him was so put together. He worked out hard, he trained hard, his nutrition was always above and beyond any collegiate athlete," McGraw says. And now? "I've been praying for him. You don't want to have favorites, but he's definitely one of my top two or three guys I've ever had. You get that warm and fuzzy feeling when you hear his name or get a call from him. I just haven't talked to him since he went down there because I think the goal was to have a completely calm atmosphere. I haven't bugged him at all."
During the last of his three seasons at Oklahoma State, Hoffmann first saw signs of the disease that would change his life. It seemed as if his sternum had extended about an inch to the right. Some muscle mass had disappeared. Weird, but he was playing great, and he felt zero pain. Why worry?
He turned professional in 2011 and ran into an injury roadblock. Just before PGA Tour qualifying school, Hoffmann was riding a dirt bike at Fowler's South Florida home when he landed awkwardly and broke his wrist. In October 2012, after a full recovery, Hoffmann made the most of Monday qualifiers and sponsor's exemptions on the Korn Ferry Tour: five top-10s, including a T-3, helped to lock up a PGA Tour card. He moved to the pro-golf Mecca of Jupiter, where he and Cameron Tringale rented rooms in Fowler's house. He joined the long list of tour pros who practice at Jack Nicklaus' Bear's Club, where he would face off against Justin Thomas in wedge competitions.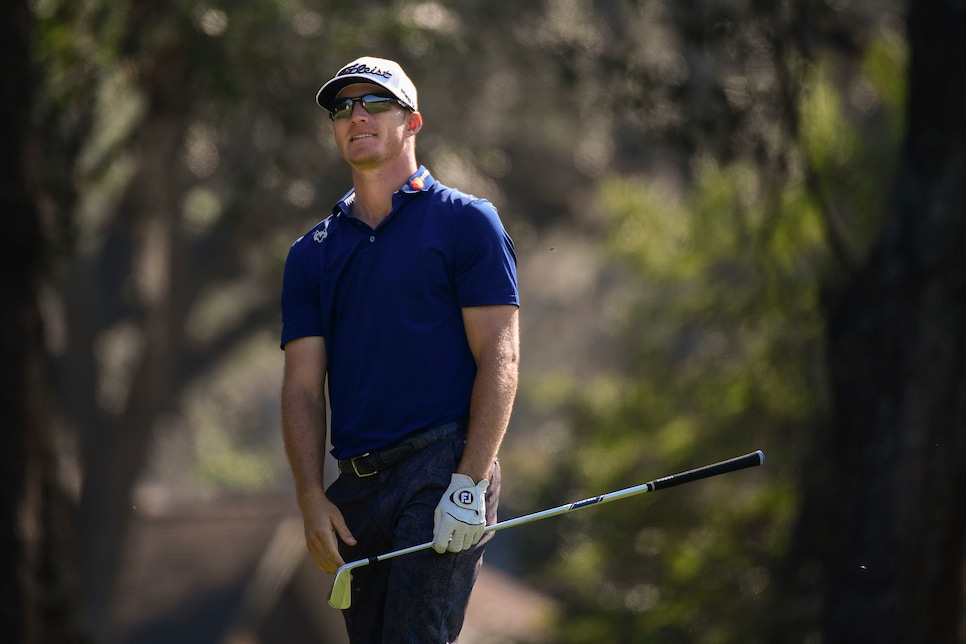 Hoffmann's look, and his life, as a PGA Tour regular was vastly different than it is today. (Photo by Getty Images)
Ryan Young
"We hung out with Hoff a good bit, but at the same time, he did his own thing," Thomas says, smiling at the memories. Hoffmann is eccentric, at least by pro-golf standards, and McGraw and Thomas speak of him like that crazy but lovable college buddy who fell off the map. He was the best! How is he now? I really hope he's doing well.
Thomas continues: "What I respected about him is that he always took everything he did seriously, whether it was practice, fitness or nutrition. I remember he came over one time, and we ordered pizza. He's like, 'I can't have pizza; I don't eat dairy.' And I'm like, 'Sure, sure, but you can have a little bit?' And he's like, 'No, I haven't eaten dairy in two years, and now I find it gross.' He wasn't messing around with what he put in his body."
Buoyed by early success and sponsorship money from when he turned pro—the market is fertile for effortlessly handsome, highly accomplished Oklahoma State hotshots, and Titleist, Polo Ralph Lauren, Breitling and Mastercard all sponsored him—Hoffmann obtained his pilot's license and bought a single-engine Piper Mirage so he could fly himself to events, just like Arnold Palmer once did. On weeks off, he would head solo to the Florida Keys or the Bahamas, an adventurer to his core.
"He's got such a great energy about him," Daniel Berger says. "We started hanging out a lot more and got pretty close. He flew me to three or four events. I remember one time he flew me to the Players. He wants to see what the world has to offer, whereas a lot of guys out here are golf course, hotel, golf course, hotel, in a bubble. He was the first guy that I hung out with who was willing to do other things. That was a breath of fresh air. You get out here, and it's so uptight. He wasn't like that. Morgan's just a cool, funny dude—a guy's guy."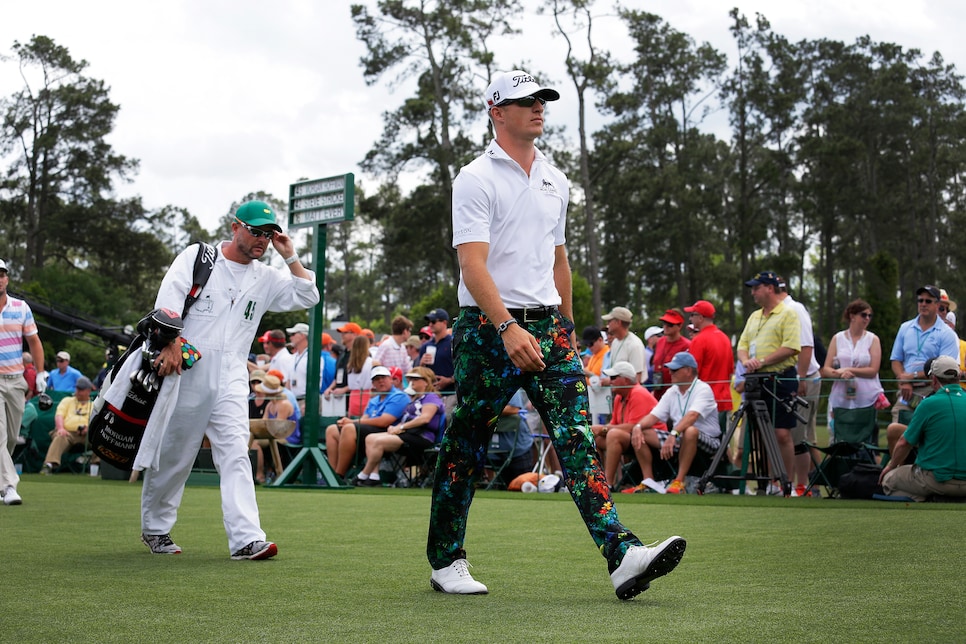 Morgan Hoffmann walks off of No. 1 during the second round of the Masters at Augusta National in 2015.
Augusta National
Hoffmann also mingled just as easily with members of the opposite sex. Now happily married to wife Chelsea—he noticed her in the gallery at a golf tournament, naturally—he looks back vividly on his bachelor days. "Each week there would be three or four new girls," he says without a hint of bravado. Hoffmann is no longer concerned with impressing anyone. His cadence borders on monotone. It's just, this is what happened. "I'd get their numbers while I was playing," he says. "I'd have my caddie give them balls with my number on it, go out every night. At the BMW, when I shot 62-63, I had a BMW i8 that week. They were just givin' us that shit. We went out to strip clubs; we'd pick up chicks. I had three chicks in that two-seat car. Life has changed."
The BMW tournament he speaks of is the 2014 BMW Championship at Cherry Hills in Denver. He did indeed shoot 62-63 on the weekend to finish solo third and qualify for the Tour Championship, which got him in all four majors for 2015. He played in his first (and only) Masters in 2015, where he finished T-28 and debuted the Greyson clothing line he helped start with former Ralph Lauren designer Charlie Schaefer. On the surface, things were going more or less to plan. Hoffmann hadn't reached the level of stardom his freshman year at OSU hinted at, but he was an established PGA Tour player in his mid-20s. Still, he was increasingly frustrated with doctors who could not diagnose what was wrong with his pectoral muscle. For three years, he had been traveling the country between events trying to find the cause of his shriveling chest. An active-release-therapy expert in Denver pegged it as a nerve entrapment under the clavicle. He had seen it before, he assured Hoffmann, and after treatment he would be cured in two weeks. " 'Come back in a month,' he said, 'and you'll have all your muscles back,' " Hoffmann recalls, "I came back in a month. I had no muscles back, and he no-showed. I texted him, called him, nothing."

Hoffmann eventually found his way to the Hospital for Special Surgery in New York City. They had no answer. The Cleveland Clinic—no luck. His swing speed was steadily declining, his muscle was disappearing, and his patience was waning. Next came the famed Mayo Clinic for five days of testing: EKGs, EMGs, CT scans, the whole deal. He didn't care how much it cost or whether insurance would cover it. On the last day, eight doctors surrounded his bed to deliver the news: There was no news. They had no idea what was going on.
"I'm like, 'What!? How?' "
He returned to the Hospital for Special Surgery in 2016, and a neurologist mentioned the two words that would change everything. He ran a blood test specifically for muscular dystrophy. The results, he said, would take a month.
Six months later, Hoffmann finally received a ring. "It was less than a five-minute call. He says, 'You have Facioscapulohumeral muscular dystrophy.' I'm like, 'What do I do?' He tells me I can do some therapy, but that's about it. It's just going to get worse. I'm like, 'That's it?' "
Unsatisfied with that answer, Hoffmann traveled to Miami to visit a preeminent muscular-dystrophy specialist, who confirmed his diagnosis and reiterated what the HSS doctor said. Come back in 10 years, he said, and we'll try to keep you mobile.
"I'm like, 'This is the dumbest shit I've ever heard,' " Hoffmann recalls. " 'Fuck this,' I said. 'This is not how you treat people.' "
Facioscapulohumeral muscular dystrophy (FSHD)—named for the three parts of the body it typically affects: the face, shoulder and upper arm—isn't as aggressive as Duchenne. Symptoms typically show later, and it rarely affects the heart or the lungs. Life span is not necessarily affected. But quality of life? Shortly after he went public with his diagnosis, Hoffmann received a letter from a young woman who was training to be an Olympic gymnast when doctors gave her the same news. A year later, she was in a wheelchair.
Hoffmann promised himself he would avoid that fate by whatever means possible. The early signs were positive. He had his best finish as a professional, a runner-up at the 2017 Honda Classic, after his diagnosis but before he went public with it in a Players Tribune article. "Please know this," he wrote. "This disease won't keep me from achieving my dream of winning on the PGA Tour—and it shouldn't keep anyone else from chasing their dreams either." But doctors had told him basically the opposite. He would deteriorate until he couldn't play anymore. Western medicine had told him he would wither away, so he turned elsewhere.
"It's funny that people are so inclined to say, 'alternative medicine,' because it's a really frustrating term," Hoffmann says. "If you think about the medicine that we say is medicine—seeing a doctor and getting prescribed a pill or a shot—that's been around for only 100 years. 'Alternative medicine' has been around for 10,000 years. The people who started this healing knew how to educate themselves on plants and live off the land. They believe there is a plant to heal everything."
Hoffmann's journey into "original medicine"—loosely defined as a wide-range of ancient, non- Western remedies—started as most modern journeys do: reading online. He began to think about the body in a different way, to believe that his FSHD was onset not by happenstance but by a flawed environment. What he ate, yes, but also who he spoke to, what toothpaste he used, what television he watched, what he valued, how he slept. He grew to believe that Western doctors are indoctrinated by a for-profit system that favors band-aid pharmaceutical or surgical fixes over holistic wellness. He studied the work of controversial figures like Dr. Joe Dispenza, who suffered a serious spinal-cord injury in a 1986 triathlon. In the documentary "Heal"—which the Los Angeles Times called "closer to a feature-length infomercial than a legitimate documentary"—Dispenza says he eschewed the recommended surgery and healed his back through the power of meditation.
Hoffmann gave up all animal products and embarked on a "raw" diet: no processed foods, nothing in a package, nothing cooked. He began experimenting with drastic cleanses after hearing the story of a woman who approached Dr. Robert Morse about a brain tumor. Her doctors had given her 40 days to live. Morse recommended a grape cleanse. The tumor, Hoffmann claims, disappeared. "When you tell these doctors what happened—that you were cured after they had told you that it wasn't possible—they claim there must have been a misdiagnosis originally or a problem with the scans," Hoffmann says. "There is a complete unwillingness to admit that maybe they don't know everything."
During one 17-day period, Hoffmann ate only grapes—roughly 800 a day. "Each morning I'd go to the Whole Foods in Jupiter right when it opened to clear out the grape section," he remembers with a laugh, "and they'd be like: 'There's the grape guy!' They knew me pretty well."
He continued to play on the PGA Tour but with a clouded mind, for tour life rang increasingly hollow. He and Chelsea had started the Morgan Hoffmann Foundation to aid the fight against muscular dystrophy in 2017. He felt uneasy about the pesticides coating the fairways he walked on. The material things he once coveted—cars, money—no longer sparked joy. He constantly harangued PGA Tour officials for serving exclusively Dasani water.
After missing six cuts in a row at the beginning of 2018, with his swing speed having dropped below 110, he decided to take a break from the game and headed for the mountains of Nepal, where he spent 90 days living off the grid. That's where he first encountered urine therapy, an ancient treatment that can involve drinking one's urine, rubbing it all over the body and, of personal interest, the gums. Upon hearing this, I share my ailment: My gums have receded considerably, the product of a nasty dip stage in college and overaggressive tooth-brushing.
"You know what'll fix that in, like, two weeks?" he says, cracking a smile that says I can't believe I'm about to say this to you. "Swishing urine around your mouth every morning."
Hoffmann was preparing his body for a 10-day urine cleanse—no food, no water, just a cup of his urine in the morning and evening. There is, we should note, no evidence as to the efficacy of this practice—at least not evidence that would withstand scientific scrutiny. Hoffmann doesn't care. He takes issue with modernity's definition of the word "science." He and Chelsea, who has plunged head first into this journey with her husband, rely not on clinical trials or double-blind studies but choice literature, first-hand documentation and anecdotal evidence—because for Hoffmann, accepting his Western medicine-certified diagnosis means accepting defeat. "So many people have had it work for them," Chelsea says of treatments labeled by Western doctors as pseudoscience. "Are they all lying? If it's just a placebo—well, placebo is part of the body's healing."
As they gravitated further away from the Western medicine establishment in search of healers—not doctors, healers—one locale kept popping up: the Nicoya Peninsula in western Costa Rica. Adventurer and author Dan Buettner coined the term Blue Zone to describe an area where people are healthiest and live the longest. Five regions currently hold the designation: Okinawa (Japan), Loma Linda (California), Sardinia (Italy), Ikaria (Greece) and Nicoya. On the western coast of Nicoya lies Nosara, a popular surf destination, yoga retreat and perhaps the global epicenter for the type of healers the Hoffmanns were seeking. They visited Nicoya in 2019 to undergo an ancient Amazonic treatment focused on ayahuasca, a psychoactive brew that contains the highly potent hallucinogen DMT. For four days, under the guidance of shamans and alongside more than 80 other participants, the Hoffmanns drank cups of ayahuasca roughly every five hours. In between (and sometimes during) frequent involuntary excretions, out of both ends, the Hoffmanns felt the warming presence of "Mama Ayahuasca," and they could not believe their eyes.
"They tell you to surrender," Morgan says. "Don't be afraid; just be relaxed and let it come. The first two nights, I saw things, geometric patterns. It was very interesting. But then I realized I didn't surrender. Third night, I said, OK, let's go. The ceiling disappeared. I could see all the stars. It was the clearest thing ever. Out of nowhere this 40-foot, beautiful geometric butterfly comes up on my left side, and under it flies this little moth. They start feeding me this huge vine, and in this see-through vine, you could see nature being pumped into me like gasoline—leaves, dirt, full trees, berries, in my mouth. Some energy forced me to open my mouth, and I could not close it for the life of me. I tried for an hour and a half. The moth pulls the vine out of me and suddenly this huge elephant appears. I felt its presence and energy: complete protection. It was so beautiful. Then I had to sit up, and all this black smoke started pouring out of my mouth—jet black. The shaman next to me said she saw it, too. It felt like the disease was coming out of me. That was a huge turning point in my healing."
The Hoffmanns felt a connection to the area after the transformative ayahuasca experience, and Chelsea spent many Jupiter afternoons dreaming of the jungle. She fell for a house she saw on Zillow; they moved quickly and lucked upon a willing seller, a New York City fashion designer who built the house with his partner but couldn't stand the site of it after their breakup. Getting to the property isn't easy. The closest proper airport is in Liberia, a two-plus hour drive. The only route to the peninsula runs through unpaved roads that require a healthy dose of local knowledge. You need to know exactly where you are going, for addresses in Nosara aren't really addresses. My hotel was officially located "75 meters west of The Gardens Hotel." Don't know where The Gardens Hotel is? Bummer.
Hoffmann picks me up at the hotel to begin our trip with a walk on the beach and a fruity breakfast. He glides through Nosara, always shoeless and always smiling. On this invigorating morning— there's nothing quite like tropical humidity as the sun rises, before wind and heat crash the party— a middle-aged woman stops him in the middle of a dirt road. She's cooking lunch at her place— shakshuka and garbanzo bean soup. He vows to stop by. She has no idea of his past life. Hardly anyone here does. They know he has money because he lives on top of a mountain. But in Nosara, Morgan Hoffmann isn't a former PGA Tour player fighting an incurable disease. He's just Morgan. Among the locals, no one talks much about their pasts. That's kind of the idea. They moved here for a reason.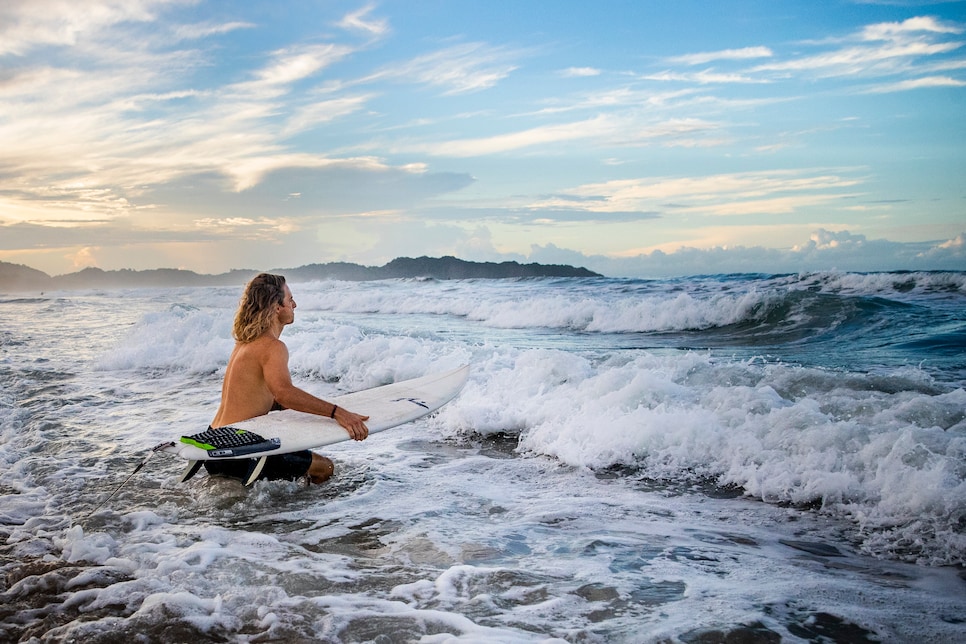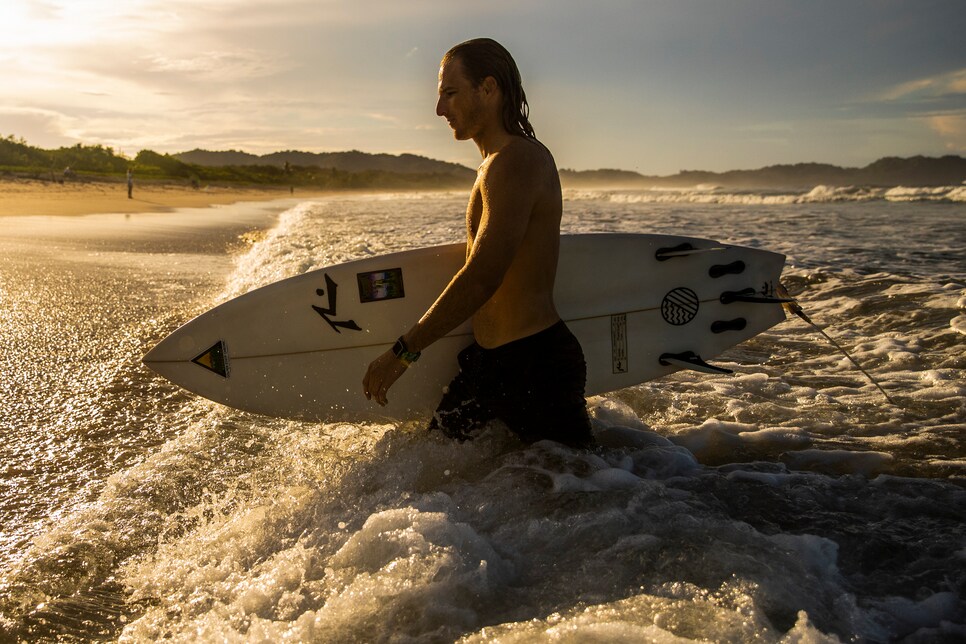 Post-breakfast we head to the Hoffmann house, which sits on a sprawling flat piece of grassy land with unobstructed views of the ocean. The nextdoor neighbor is a kung-fu master from Spain who rides around town in his robe on a horse, with a sword on his hip and a joint in his mouth. "It's like his uniform," Hoffmann says. "It's hilarious." The kung-fu master's property and the Hoffmanns' house are separated by a one-kilometer driveway that runs straight uphill.
"Sometimes the driveway feels like it never ends," Hoffmann says. "Other times it flies by. It's kind of a window into how you're feeling that day."
The house has no doors or windows, only screen doors to keep the bugs out. The interior is what every Urban Outfitters tries to be: effortlessly rustic, earthy hues, devoid of clean lines—the anti-sleek. The bright-blue swimming pool is straight out of a Miami condo complex. It does not fit with the rest of the property, and they hardly use it. Hoffmann likes to do yoga on a concrete platform that overhangs the hillside, some of which has been cleared for a fledgling garden operation. The centerpiece of the yard is a giant just-finished rancho, a large-elevated platform with a triangular straw roof. Underneath is a seating area; between the platform and the roof, facing toward the ocean, is a large square space that will soon serve as the primary bedroom—no doors, no windows, no lights, a dressed-up tree house. If it's raining sideways, they'll sleep inside. There are no signs of golf—for now. "You see that cow pasture down there?" Hoffmann says, pointing to an expansive plot of grass between the hill we're standing on and the ocean. "I really want to buy that and build my own driving range."
The interior of the main structure smells of palo santo and dog hair. The grounds are patrolled by Yama, a marauding 4-year-old Doberman who received military-grade training in South Florida, where Chelsea says his hip-high height and very visible testicles were unpopular at doodle-infested dog parks. Inside Casa Hoffmann, Morgan says one German word, and Yama won't leave his side. He says another, and Yama collapses onto the ground.
He will not leave until Morgan says a third German word. "He'd stay there all day and night if I asked him. He's such a good boy."
Hoffmann says the magic escape word, and Yama trots outside to hang with his fellow animals. There are many. His best pal is Scribbs, a 12-yearold mutt who once slept on the streets of Atlanta. The newest canine addition is Anona, a diminutive white cutie they discovered on a hillside with a maggot-infested gash. It has healed, but Anona is still skittish. It will take time. Two cats climb various structures as they please: Aya, who, naturally, is named after ayahuasca, and Drip, named for the white speck on his nose. Aya recently gave birth to a litter of kittens that live in a shed next to the pool. Of the pooches, only Yama is allowed inside the kitten room. He cleans and protects them.
Chelsea is not feeling well, so Hoffmann grabs a machete, chops down a coconut from a tree in the entryway, hacks it open and heads upstairs to deliver the sweet water. He comes back with the goods, a jar of cocoa leaves that I help myself to. I grab a pinch, put it under my bottom lip—old habits die hard—and after two minutes, I'm buzzing. I'm eager to head to the site where Hoffmann hopes to build the centerpiece of his foundation, a wellness retreat for anyone on a healing journey. He beams as he lays out his vision from the driver's seat of his Land Rover Defender, which dutifully navigates each bump on the 35-minute climb. The beastly SUV is splattered with dirt, its lower half resembling a monochromatic Pollack. The windows are open, sun shining, 80 degrees, and Bob Marley is on the speakers. Life is good. I could heal here.
The working title for the center is Nekawa— "awaken" backward. A horse is tethered to a wood pole near the entrance to the site, which is a rickety old fence. Morgan and Chelsea haven't quite gotten negotiations across the finish line, so the property remains in possession of the locals. If all goes to plan, the center will sprawl over 250 acres that tumble down from the crest of a hillside to a river at the base of a valley. The hills are surprisingly steep: Colorado in the jungle. There are three natural springs, and the plan is for the entire place to be 100 percent powered by solar energy. Hoffmann believes the center can be built for roughly $1 million. Upon arrival, guests will be stripped naked and buried from the neck down in the soil, a literal reunion with the Earth.
"This isn't going to be a yoga retreat where you pay to hike a few hours, do a yoga class and tan by the beach. This is for people who truly want to change their ways," he says. "It's for anyone who is serious about improving their life. It'll be a twoweek to a month-long stay, max 15 people at one time, to completely redo everything—a re-learning process. How to grow your own food, learn about your disability or disease or ailment, and how to detoxify. If you want to lose weight, or if you have cancer, or whatever, we will open our doors for you."
The idea was born of necessity. Hoffmann wishes he had access to such a resource, a one-stop shop for all original healing needs: acupuncture, yoga, reiki, breathwork, meditation, craniosacral therapy, plant-based medicine.
As we trundle back toward flat land, the conversation gets personal. I grew up in Los Angeles, went to school in Chicago, live in Brooklyn, have doctors in the family—about as Western medicine as you can be. Hoffmann believes people like my dermatologist uncle are, to put it simply, brainwashed into a corrupt system. "They can't make money off you growing your own herbs and healing yourself, so they have to have repeat customers," he says.
"Why are people still donating so much money to 'cancer research' when cancer, from what I've seen, is one of the easiest things to heal, knowing friends that have had a tumor and given two weeks to live by doctors, and they heal?
"I've been asked the question a bunch of times: If there was a drug or pill that would grow my muscles back, I would take it, right? No. That's not what I believe in. That's not what I'm here for. I'm here to prove I can do it on my own. Drugs are not the only way to heal. You have the power within you."
But what if the pill is faster, easier?
"I wouldn't take it. Anything good takes time."
Cringe. Portraying Western versus original as some sort of binary choice ignores the facts. Hoffmann has benefited from Western medicine. He admits he would not rely on plants to mend a broken femur. He doesn't seem to have many rules when it comes to what he will and won't put into and onto his body. During our time together I pressed him to label himself—Vegan? Macrobiotic?—and he would not. It all seems to be based more on feeling than anything else. There's also a distinct lack of preachiness, a common side effect of granola types (at least in Brooklyn). He did not lecture on the pharmaceutical-industrial complex or reprimand me for eating animals. I asked if he thinks I should remove myself from the system as he did. "Are you sick?" he asks. No. "Are you unhappy." No. "Do you feel like your life needs a wholesale change?" No.
"Then there's no need," he says. "I'm not here to tell anybody what to do. I'm just doing what works for me, and I want to show people that there's another way to heal the body. Do I hope someday I improve to the point where I can eat a hamburger on special occasions? Yeah, I do. It's just not right now."
Next is a sound journey at a local hotel. Fifty-odd folks, mostly ex-pats, pack a circular room at the Bodhi Tree Yoga Resort. After collecting blankets and pillows, you close your eyes and listen to an assortment of bowls, strings, drums and some chanting. It's a period to sit with your thoughts, and after doing so, I can say this with confidence: It's kind of frightening how much one hour of staring at your eyelids can do for a screen-addicted mind.
We are joined at dinner by two of the Hoffmanns' closest friends: Dani and Fernanda, a Costa Rican couple in their late 20s. Fern, as they call her, looks 10 years younger. Dani quite resembles Tarzan. He has a ponytail down to his butt, no shirt, no shoes, just a sarong that often slips to flash his pubic hair. Within two minutes of our introduction, Dani asks me what my story is. I'm a writer, I tell him, down here to do a story on Morgan.
"No, no, like what's your story? What is the most important thing you've ever learned?"
Welcome to Nosara. Flustered, I regurgitate a Deepak Chopra quote I heard from Sean Foley, of all people: It helps if you remember that everyone is doing their best from their level of consciousness. I get some quizzical looks and quickly change the subject. Dani and Fern put on sound journeys of their own—theirs are apparently better, more immersive than the one I took—and once asked Morgan if they could bring their instruments to one of his golf tournaments. They would bang their drums and chant after every birdie—if only tour rules didn't prohibit noise-making devices.
The second portion of our evening healing comes in the form of breathwork, an increasingly popular practice that involves, basically, controlled hyperventilation intended to produce a heightened state of consciousness. A hip Canadian couple leads the session, and they first instruct us to close our eyes and move—simply move, dance, jump, crawl, scream. Make whatever noise you feel like. Whatever happens, happens. You don't realize how much of your daily movement is governed by others until you are freed from the gaze of your fellow humans. The breathwork lasts half an hour and steadily builds. The already-steamy room becomes a cauldron of sweat with all the body movement, and with each exhale you feel yourself buying into the process more and more. As the breathing intensifies it triggers a physiological sensation closely related to fight or flight; your sense of time and space dissolves, replaced by an animalistic single-mindedness that almost feels like restoring the brain to factory settings, a complete reset. At the climax, as the woman next to me bawls hysterically, I somehow end up in a full, perfect yoga wheel despite not having done yoga since pre-pandemic. Do not underestimate the power of the breath.
After Hoffmann drops me at the hotel, I wonder: What could be better than this? He's essentially on a wellness retreat that never ends. Is the high-stress reality of playing the PGA Tour better than a life of sunrises, fresh fruit and meditation? Between sponsorship money, more than $6 million in career earnings, an ownership stake in Greyson and an investment in a medical marijuana cannabis company, Hoffmann has all the money he could ever need—at least for Costa Rica, where the dollar goes a long way. Why would he leave this do-what-I-want, what-day-is-it-anyway reality that he has found in the jungle, where he doesn't have to grind over four-footers and no one speaks of his illness?
RETURNING TO THE PGA TOUR
Nosara days start when the sun shows its face. Hoffmann is an honorary Tico—the word for Costa Rican locals—so he heads to the beach for a morning meditation and surf session as the sun rises. We head to brunch at a restaurant owned by a man named J.P., who emerges from the back office. Hoffmann attempts to pay.
"Nah, man," J.P. says. "I took that loaf of bread from you last week. You're good."
J.P.'s story is an extreme version of a common Nosara tale: Become disillusioned with Western society, head to the jungle, live a simple life—pura vida, as the locals call it. J.P. and his wife left behind an aimless life in Miami, took their 1-year-old daughter and lived fully off the grid for eight years. He has returned to some semblance of connectivity, but not too much. "I just care about living, man," J.P. says as he nurses a joint, "spending time with my friends. That's about it."
J.P. joins a table of Morgan, Chelsea, myself, our photographer, Adam Glanzman and another male named Morgan, a lifelong itinerant who moved from Hawaii to Nosara a few years ago. The topic is an elaborate scheme to smuggle in premium refrigerators while avoiding crushing tariffs. Well, not that elaborate: Just pay off the border agent.
Hoffmann's excited to get to the house to work out. It's a new thing. After two years of not exercising at all, to detoxify and reset his body, he has started the building phase and says the atrophy in his chest has stopped. He can flex his right pectoral muscle for the first time in years. An MRI could provide definitive proof, but he's wary of subjecting himself to more radiation.
He does several exercises with 25-pound dumbbells, yoga and runs up the driveway. He puts on the closest thing to shoes I've seen him wear— essentially socks with rubber traction. His record is 12 minutes, and he's feeling good about beating it. I drive his car up the hill ahead so Glanzman can take photos, only for Yama to run in front. He disappears into the maze of trees, then reemerges seconds later and runs in front of me again. It's all a game to him. You know when dogs smile? He's smiling. I'm not—for a dog is running in front of a moving vehicle. Chelsea laughs from the front seat.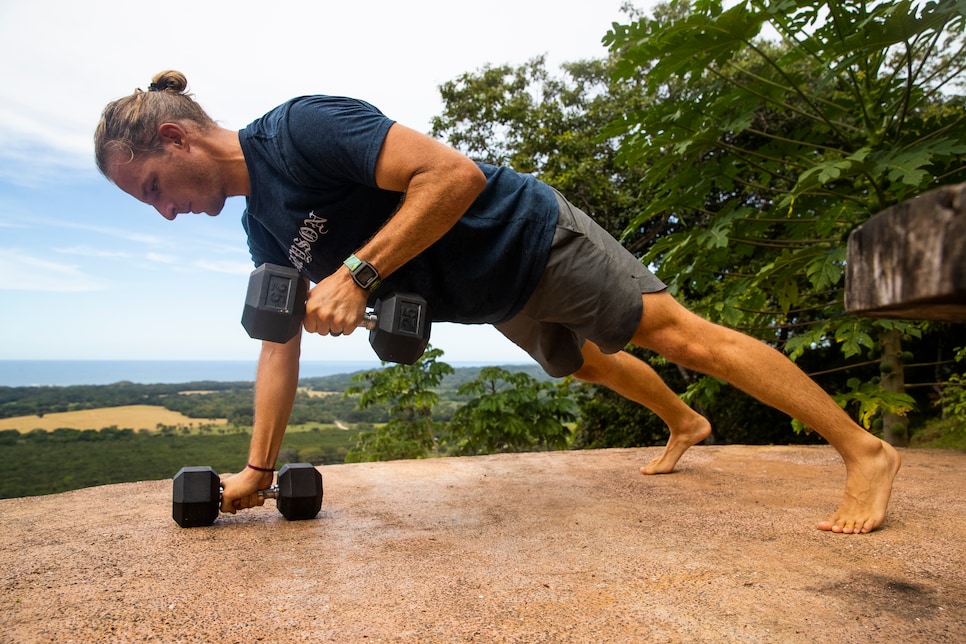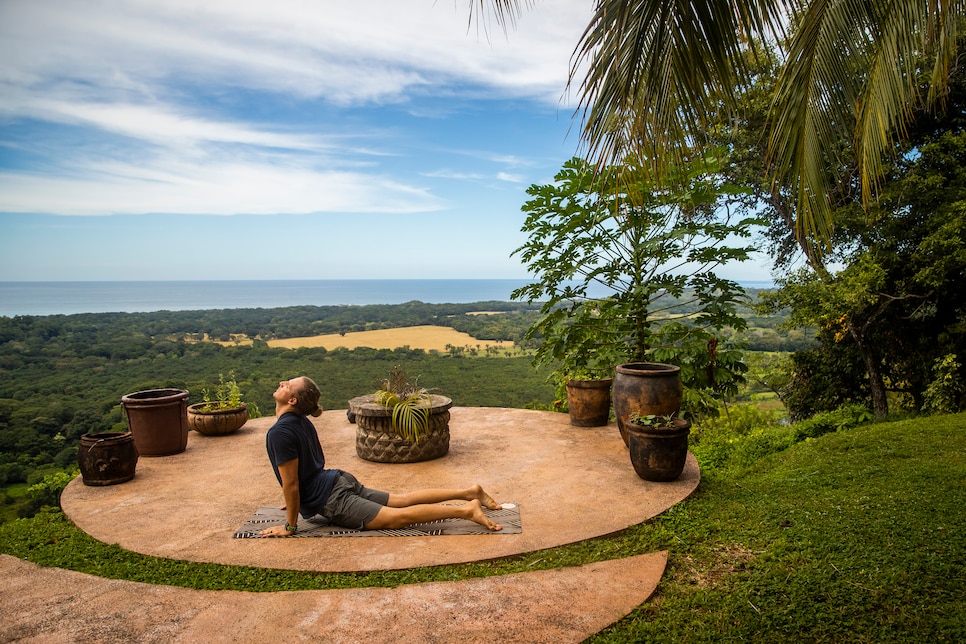 Morgan's ramping up his physical regimen because he has three starts left on a medical exemption, which the PGA Tour graciously extended but must be used in 2022. He's technically not allowed to receive additional time for the same injury—the first was the atrophy in his chest—but the tour agreed to treat the atrophy in his quad as a separate issue. As we head from the house toward a trail that leads to a waterfall, golf finally comes up. He has started practicing again, though it's far from a prime Tiger-level schedule. The nearest practice range and golf course, Hacienda Pinilla Golf Club, is roughly 90 minutes away. He has made the trek a few times but not often enough to justify the $400 monthly membership. He's content to pay $60 a round, bring what must be the only TrackMan in Costa Rica onto the course and practice by himself. He says he has picked up significant swing speed and distance since his slowest and shortest. There are no witnesses, though. Whereas he once practiced with Thomas, Berger and Fowler, it's now a solitary pursuit. We start talking speed numbers, spin rates and stingers. His eyes light up. "I haven't talked about golf like that in so long. It's weird.
"It was never that I didn't have the skills," Hoffmann continues. "It was all mental. I was just very hard on myself, a perfectionist. So now, after all the work I've been doing on myself, it's so different. I can't wait to play again and just see how it is. I'm a completely different person."
For Hoffmann, returning to the PGA Tour means re-entering the lifestyle of professional golf that he finds so deeply vapid—and it means leaving Nosara, where, between the urine and the breathwork and the yoga, he managed to stumble upon something no FedEx Cup bonus can buy: purpose. It's the reason he's as happy as he has ever been.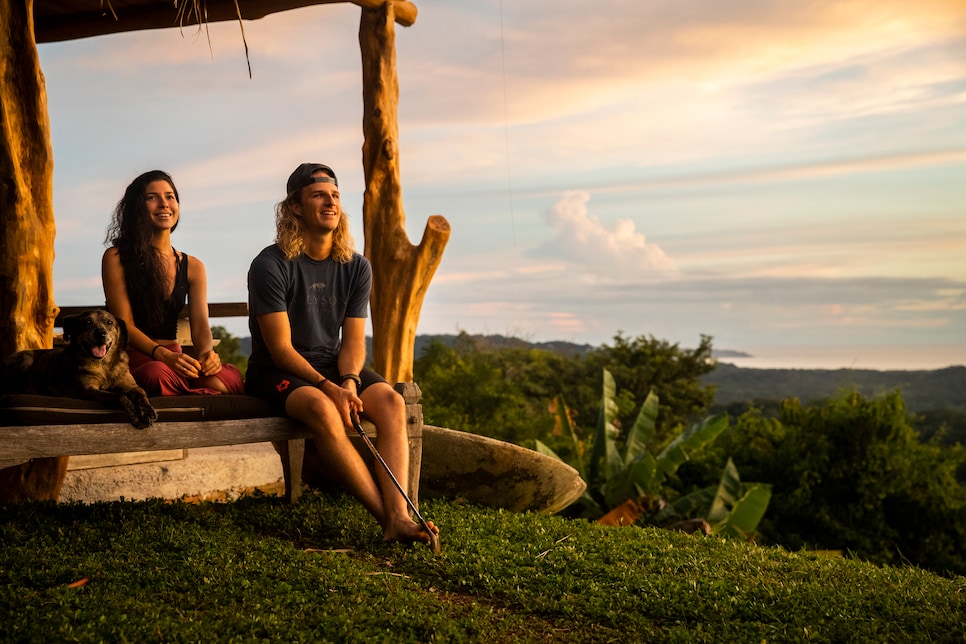 He would love to have his PGA Tour life and his Nosara life. All he needs to do is play well enough in those three starts to get his PGA Tour card, play a limited schedule of about 15 events, commute back and forth from Costa Rica, keep his game sharp enough to stay on tour and remain involved in his foundation. But is that the plan or best-case scenario? Hoffmann is convinced his new outlook on life will translate into on-course success, but the odds of him turning those three starts—plus whatever sponsor's invitations he gets—into a PGA Tour card are not high. He will need to accumulate as many FedEx Cup points as the 125th finisher if he is to regain full status. Absent a super-high finish, he will likely require multiple top-10s or a bunch of top-20s. If he makes a few cuts but fails to get enough points, he could qualify for the Korn Ferry Tour finals, where 25 additional cards are up for grabs.
It's not impossible, but it's hardly likely. What if he doesn't play well enough? What if he loses his card, and he's out of medical extensions? Is he really going to leave all this behind to grind on the Korn Ferry Tour? Chelsea's interested in this answer.
"I don't know," he says. "I just don't know yet."
Chelsea wants Morgan to do what he wants to do. If that's Nosara, great. If that's golf, great. The PGA Tour offers plenty that Nosara cannot: millions of dollars to aid his foundation and his family, fame, and the addicting rush of competition, the one aspect of tour life that Hoffmann seems to genuinely miss. In Nosara, Dani and Fern certainly won't care if he shoots 65 or 80 or if he never plays another round of golf in his life. Neither will J.P. or the kungfu master or the Canadian couple or the other Morgan or Yama or Drip. Hoffmann has found a home in the unlikeliest of places. Nosara offers plenty that the PGA Tour cannot.
"I never asked myself what life is about, why I'm here, until I got to Costa Rica."