Short Game
Hit The Green With Every Wedge Shot
The little wedge from 20 to 50 yards is one I've always felt comfortable with, although it can be a shot that gives even good players fits. I have a series of keys that make it easy to nip the ball precisely. Once you have those keys down cold, you can hit any type of wedge shot -- runners, skidders, flops and lobs -- with just a few adjustments. You'll have the tools to get it close from anywhere.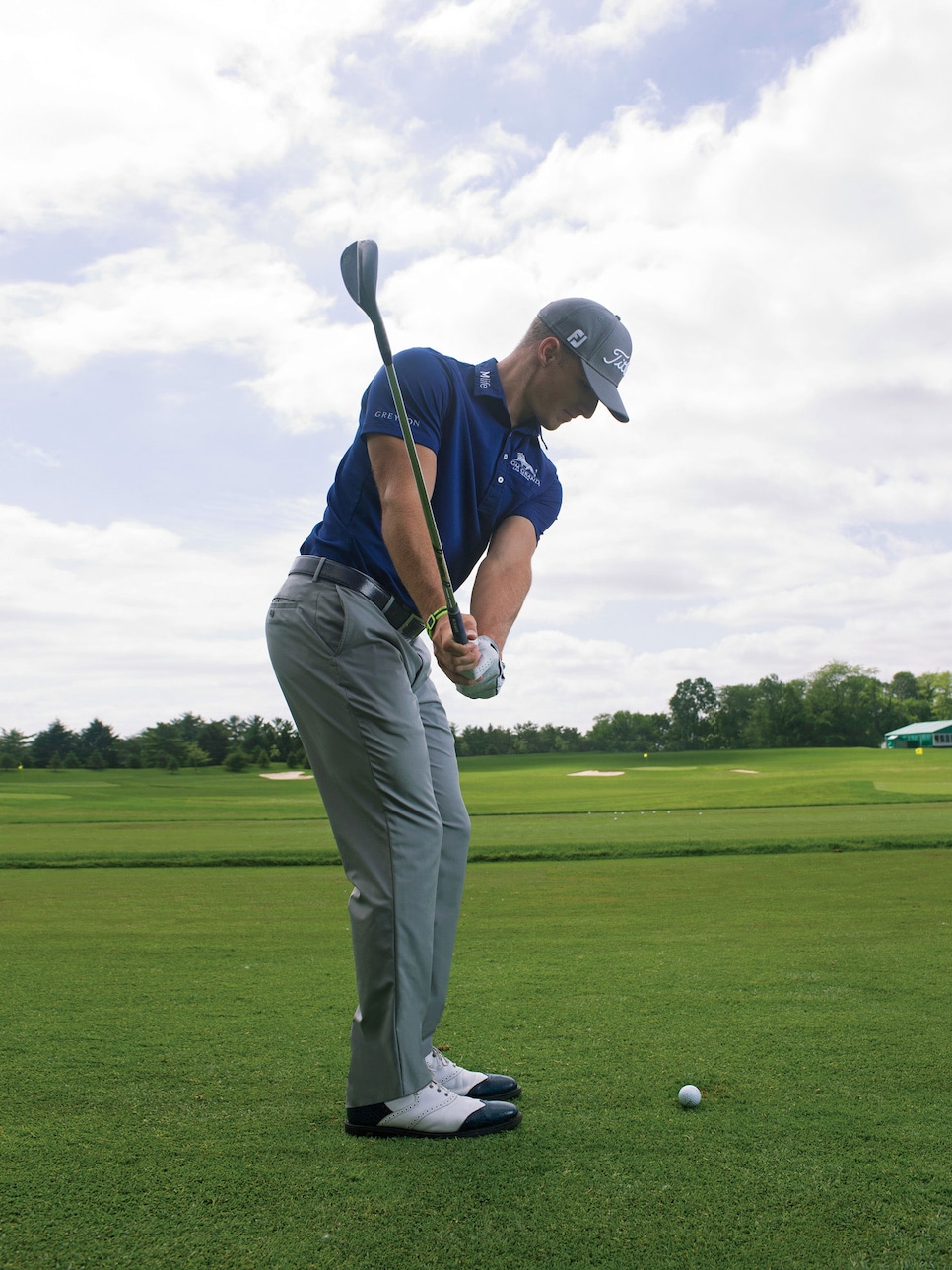 LET THE CLUB FOLLOW THE SHOULDERS
On pitches and shots up to 40 yards, I can hit a high shot where I take the club outside and cut across the ball slightly, leaving the clubface open. But the shot you'll probably find more dependable is to let the club follow the shoulder turn so it tracks back slightly to the inside. Keep your lower body quiet. Your hands and the club should stay in front of your chest so your arms don't run away from you. Allow the clubface to turn up naturally, and it will square up coming down. Keep your pace smooth.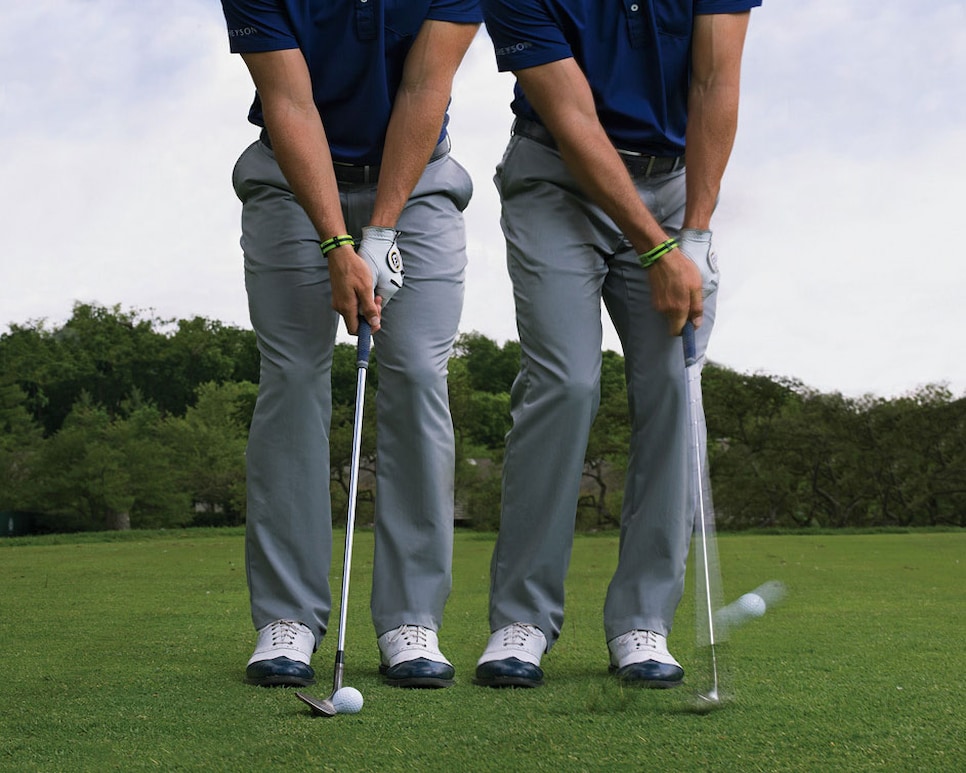 AT SETUP, PRE-PROGRAM YOUR IMPACT POSITION
If your position at address replicates your impact position, it becomes much easier to return the clubhead to that starting point. I like a narrow stance, feet less than shoulder-width apart. Lean a shade to your left, and align your feet to the left, so your hips and shoulders have a head start when they start turning forward on the downswing. My clubface is slightly open, which encourages me to rotate it coming down. That closing action creates more backspin. You need to hit down on the ball, but not steeply. The shape of the swing should be relatively flat through the impact area. I think of it as U-shape, not V-shape.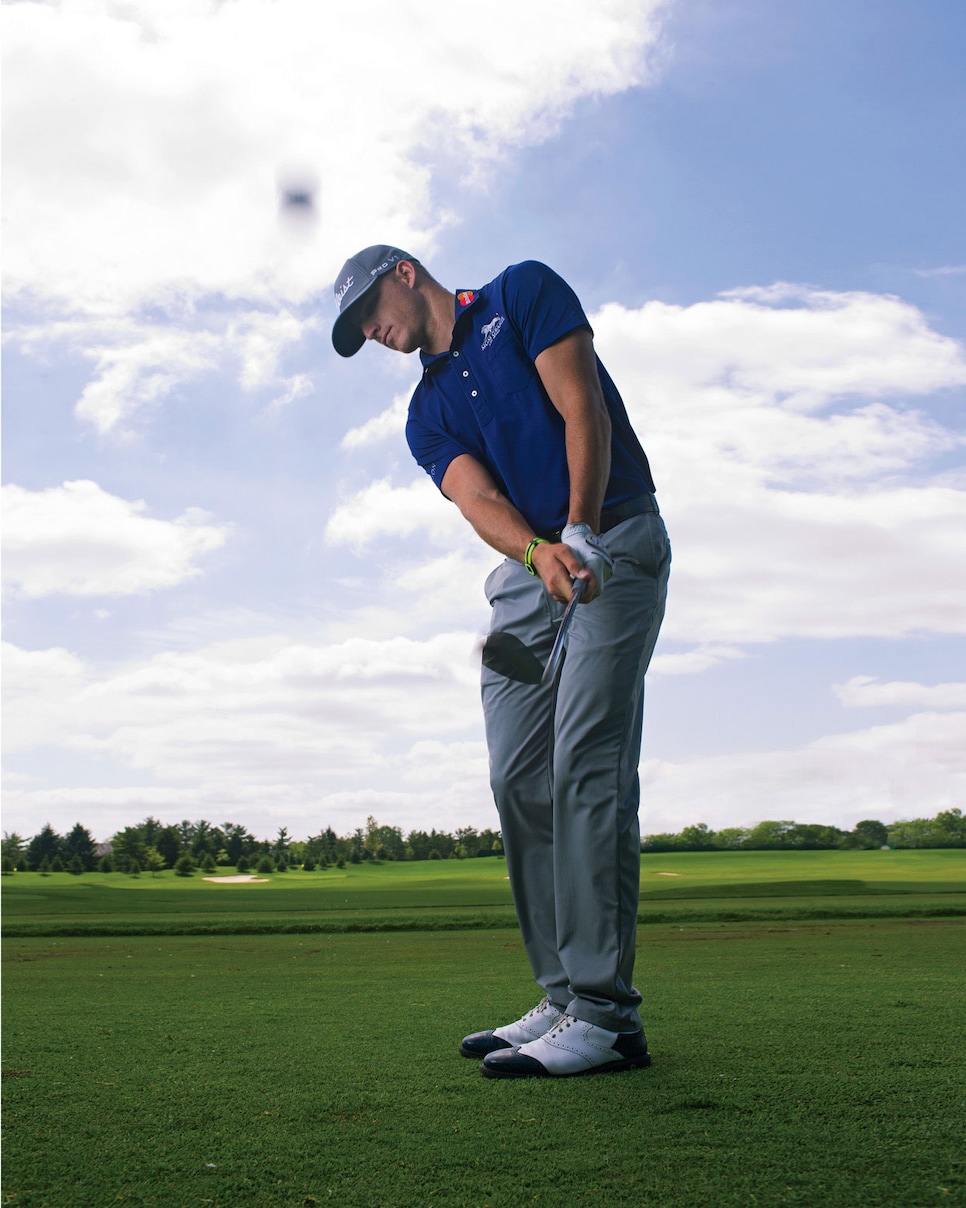 THE GRIP ALWAYS POINTS AT THE BELT BUCKLE
Notice my hands are still leading a trailing clubhead. To accomplish that, I keep the butt of the grip pointing at my belt buckle throughout the swing. If you get too eager and flip the club past your hands, the grip will point at your right pocket—and you'll hit it fat or thin. Also, notice that the clubface is rotating closed. Eventually the toe will be pointing straight up, the sign of a full release. Last thoughts: To master the 20- to 50-yard shot, experiment with ball position and different clubs. And practice from bad lies, like sand-filled divots. You'll be on your way to developing a complete wedge game.
Credits: Greyson pants and shirt; FootJoy shoes $310, glove $24; Titleist hat $28