DUBAI, U.A.E. — And so it goes on. Only 24 hours after Greg Norman informed the world that "every PGA Tour player should be thanking LIV, including Tiger Woods and Rory McIlroy," McIlroy responded in kind. Speaking in Dubai two days before the DP World Tour Championship, the Northern Irishman gave what is surely his most definitive—and certainly most definite—verdict on the LIV Golf CEO's conduct and comments that have done so much to create the on-going impasse between the controversial Saudi-backed circuit and the combined might of the PGA and DP World Tours.
"There's a few things that I would like to see on the LIV side that needs to happen," McIlroy said on Tuesday. "I think Greg needs to go. I think he just needs to exit stage left. He's made his mark, but I think now is the right time to sort of say, look, you've got this thing off the ground but no one is going to talk unless there's an adult in the room that can actually try to mend fences. Then things can happen. But right now, it's a stalemate because there can't be any other way."
And McIlroy wasn't done there.
"In terms of I guess anything that Greg says, but that comment, it depends what you're looking for out of golf," McIlroy said. "Am I thankful that LIV has provided more opportunities for the top players to earn more? Yes. But ultimately will that make me happier at the end of my career? No. There's a lot of things that people play golf for and do their jobs for, and it's not just about money. It's about other things. It's about fulfilment. It's about trying to get the best out of yourself. It's about the satisfaction of turning up and sort of trying to play to your potential.
"Those are the things that certainly make me the happiest about playing golf. Some people, they might play for other reasons. But for me, I'm happiest when I'm playing my best and it doesn't matter how much I'm going to make. But at the same time, it's the sporting achievements that are the things that get me going."
"I'm very thankful for everyone in golf, and I've said this a million times: Tiger is the reason that we are playing for as much as we are playing for," said McIlroy, who has grown so close to Tiger in recent years that the two are now business partners. "Tiger is the reason the stature of our game is where it is. The generation of Tiger and the generation coming after Tiger have all benefited from him and his achievements and what he's done for the game of golf. I don't think Tiger should be thankful to anyone for anything. I think everyone else in the game should be thankful."
That diatribe, just the latest instalment in a to-and-fro that has bubbled along at the forefront of the on-going dispute that has dominated professional golf over the last 12 months, came in the middle of yet another fascinating press conference by the World No. 1. What sets McIlroy apart from so many of his peers is that he actually tries to answer questions. Amidst his obvious distress with regard to the present situation, he never takes refuge in the type of glib, cliché-ridden response favored by so many.
"The best thing in golf is to have all the best players playing together, and what's happening right now, that's not happening," he continued. "So I fear for the game when that's going on. That's why, again, it's contentious because there's lawsuits going on and people suing people; it's very, very messy."
A further example. Teed-up to criticize the fact that this week's climax to the DP World Tour season will offer only around 21 World Ranking points to the winner (compared to around 39 at the PGA Tour's RSM Classic), McIlroy took the opposite view, one he has clearly considered.
"When you look at the two different fields, you've got a 50-man field here versus a 144-man field there," McIlroy said. "So just in terms of how the strengths of field is calculated, they have 90 more players to contribute to their strength of field. The reason that this event has 21 points and the RSM has got 39 is the person that wins the RSM has to beat 139 other guys. You only have to beat 49 other guys here. It's a much fairer system."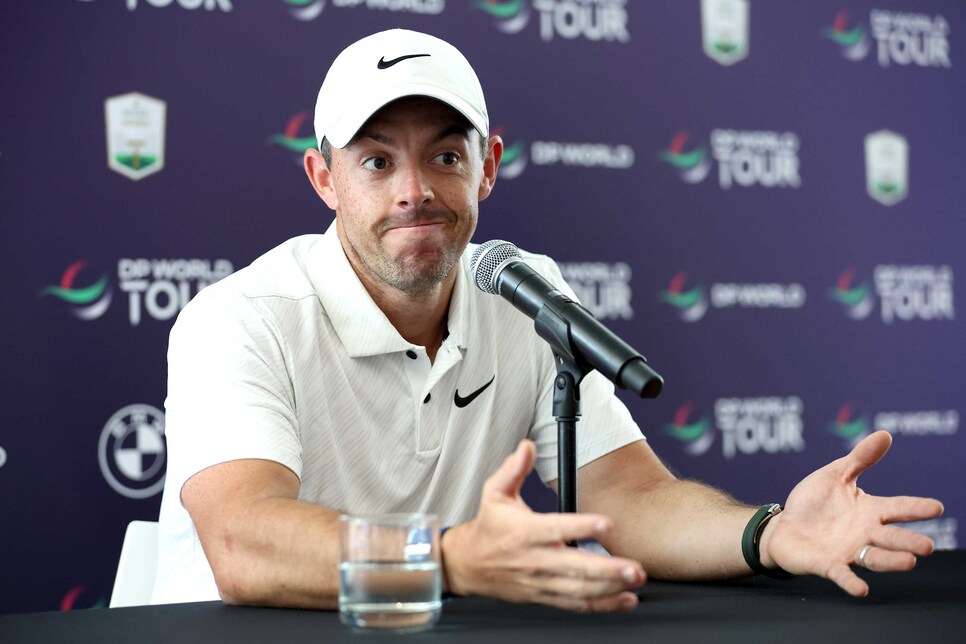 As always, Rory McIlroy was earnest, honest and candid during his press conference ahead of this week's DP World Tour Championship in Dubai.
Luke Walker
McIlroy acknowledged that the recent change in the calculation of the World Ranking has upset people who had been "used to getting a certain amount of World Ranking points in one event and now it's dropped. "But I would say those events were getting more than they should be," he countered. "I think it's the fairest system that you can come up with right now. And a lot of work went into that."
As for what lies ahead on the Earth Course at the Jumeriah Golf Estates this week, where McIlroy is attempting to win the season-long points title for the fourth time in his career (but the first in a year where he's also won the PGA Tour's FedEx Cup title), McIlroy acknowledge the competitors chasing him. He had nothing but good things to say about another Antipodean, New Zealand's Ryan Fox, who is the four-time major champion's nearest challenger at the top of the DP World Tour rankings. The pair are separated by 128.1 points.
"Ryan has had an amazing season," McIlroy said. "I saw yesterday he has gone from 217th in the world up to 23rd. That's an amazing climb. You have to play great golf and you have to play consistently great golf over a decent period of time to get that high. And he's done that playing golf tournaments that don't necessarily provide as many world ranking points as some others. It's great to see."
Still, Fox and anyone else will have to play better than well to overhaul McIlroy will have a tough task ahead. In 11 previous appearances in Dubai, the Northern Irishman has won twice and is a cumulative 133 under par.