CJ Cup
Rory McIlroy on his emotional return to World No. 1: 'I'm enjoying the game as much as I ever have'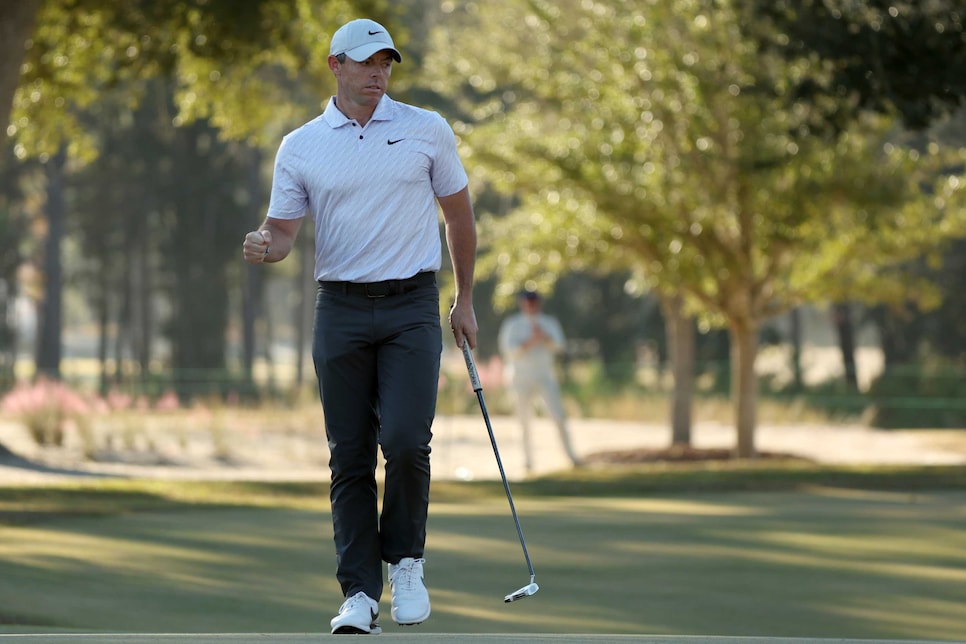 Rory McIlroy's climb back to the top of the golf world began with an empty stomach. Six months and three weeks prior to winning the CJ Cup on Sunday to take his place again as the No. 1 ranked golfer in the world, the four-time major winner missed the cut at the Valero Texas Open in late March. That same Friday night, he also missed dinner. The tournament hotel was so busy McIlroy decided it was easier to skip food than wait hours for it.
"I guess there was some party on Friday night [in the hotel], and I was feeling pretty bad," McIlroy recalled on Sunday at Congaree Golf Club. "I went to order room service and they said it would be a 2½-hour wait. I missed the cut and went to bed on an empty stomach, and I was like, let's just wake up tomorrow and start again."
Ninth on the Official World Golf Ranking at the time—before the OWGR became the point of contention it is these days—McIlroy's fasting session prompted a mid-year rebuild that culminated in Ridgeland, S.C., with the 34-year-old Northern Irishman winning his 31st professional tournament, his 23rd career PGA Tour title and his third of 2022. A final-round 67 included four birdies in a five-hole stretch on the back nine that allowed McIlroy to bogey the final two holes and still win by one over Kurt Kitayama with a 17-under 267 total. And it put him back as the best player in the world for the first time since July 2020.
McIlroy could not have imagined the highs and lows that have transpired since his early exit from TPC San Antonio. A week after Valero, McIlroy holed a 72nd-hole bunker shot at Augusta National for a 64 and a career-best second place at the Masters. He finished eighth at the PGA Championship in May, won the RBC Canadian Open and then tied fifth at the U.S. Open in June. In July, McIlroy surrendered a 54-hole lead at the Open at S. Andrews, where he finished third, before bouncing back to win the Tour Championship and FedEx Cup in August.
"If someone had told me [that] Friday night at Valero that I would be World No. 1 by October, I would have asked them what they were smoking because I would not have believed them," McIlroy said. "It's been a wild six months."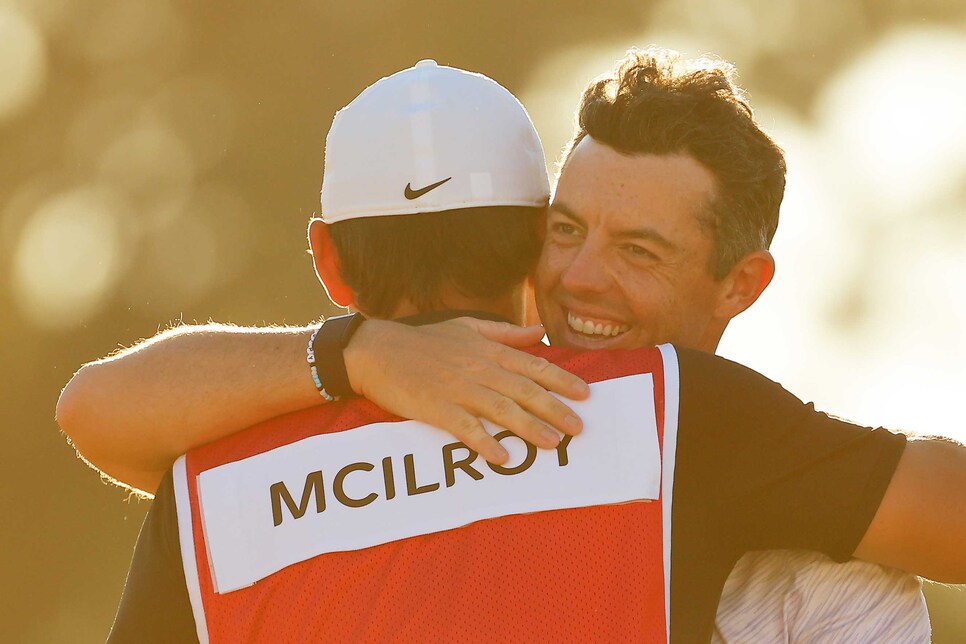 Rory McIlroy won for the third time in his last 15 starts, a span that's included 12 top-10s and 10 top-fives.
Kevin C. Cox
Those six months haven't only been wild on the course. The emergence of LIV Golf has created a bitter divide in men's professional golf with the rival circuit poaching a host of PGA Tour stars including World No. 3 and Open Championship winner Cameron Smith. Through it all, McIlroy has almost looked comfortable in the chaos of being the PGA Tour's torchbearer, inside and outside the ropes.
All three of his victories this year have been timely in the feud with LIV; on the same June weekend that LIV kicked off its inaugural event in England, McIlroy shot 62 to defeat Justin Thomas in Canada. In late August, with rumors swirling that a raft of PGA Tour players were about to sign with LIV, McIlroy won his third FedEx Cup title at East Lake and declared the PGA Tour "the best place to play golf." This week, McIlroy ensured that he will be spoken and written about as World No. 1 while LIV prepares to host its season finale at Trump Doral outside Miami.
"All three wins I've had to go out there and win them," McIlroy said. "I went out with a lead today and shot four under to win. I think that's been the most satisfying thing. In all three wins I went out there and got the job done."
It's not just the wins, but the other finishes, too. In his 15 starts since Valero, he has 12 top-10s, 10 top-fives and one lone (and now truly bizarre) missed cut.
Although McIlroy drew a line in the sand after San Antonio, the real reset began after an unsuccessful and emotional performance at the Ryder Cup in September 2021. McIlroy choked back tears after defeating Xander Schauffele in singles for his only point for Europe at Whistling Straits. He also dropped to 16th in the world. Weeks later, McIlroy won the 2021 CJ Cup in Las Vegas to kick off his renaissance.
A year later, the full-circle moment of defending his CJ title was why McIlroy was so emotional on the 18th green Sunday at Congaree.
"I've worked so hard over the last 12 months to get myself back to this place; this tournament last year was start of me building myself back up to this point," said McIlroy, who started the day with a one-shot advantage on Kitayama, Jon Rahm and K.H. Lee and closed out his 10th win in 17 tries when leading after 54 holes. "I had a really rough Ryder Cup. I was outside top 10 in the world and it's not a position I'm used to being in."
This is now the ninth time that McIlroy sits atop the World Ranking, a milestone he first achieved after winning the Honda Classic in 2012. McIlroy will enjoy his 107th total week as World No. 1, which brings him closer to Dustin Johnson, who sits in third for longest serving No. 1s with 135 weeks. Greg Norman, the two time Open champion turned LIV Golf CEO, is second (331) behind all-time leader Tiger Woods (683).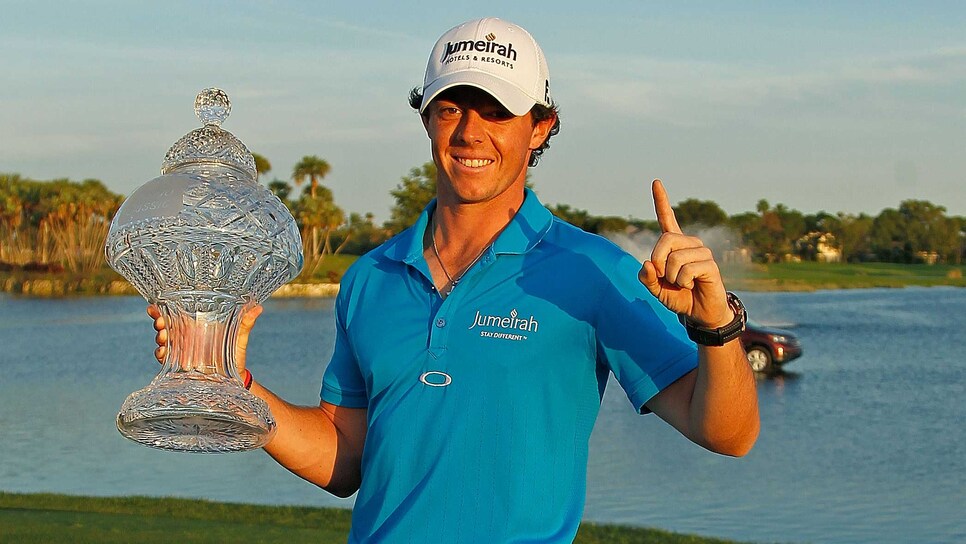 Rory McIlroy smiles after winning the 2012 Honda Classic and jumping to World No. 1 for the first time in his career.
Mike Ehrmann
So what's different about this trip back to the top of the golf world? McIlroy says it's the team around him. He admitted earlier this week his maiden stint at No. 1felt like an anti-climax. Now he has people to share the success with. His wife Erica, daughter Poppy, caddie Harry Diamond, long-time coach Michael Bannon, agent Sean O' Flaherty, putting coach Brad Faxon and mental coach Dr. Bob Rotella. McIlroy named all of them in his winning press conference Sunday night.
"The steady climb back to the summit of world golf and what it takes. …. It's not a solo effort and I think about everyone that has made a difference in my life," he said. "There are a lot of people that deserve all the plaudits. When I think about that, that's what gets me choked up and emotional. It's really cool to be on this journey with other people that you want to be on the journey with."
There is still one more tournament for McIlroy in 2022; he'll travel to Dubai next month for the DP World Tour's season finale, where he'll try to win another season-long points title. After that, though, he won't play an official PGA Tour event until the Sentry Tournament of Champions in January. At that point, the questions will no doubt start circling over whether McIlroy can deliver a long-awaited fifth major championship in 2023.
But for right now, McIlroy is going to celebrate and avoid thinking about majors. He's just having fun.
"I feel like I'm enjoying the game as much as I ever have."