Rahm
Jon Rahm on his "stupid" reason for dressing like Tiger Woods on Sunday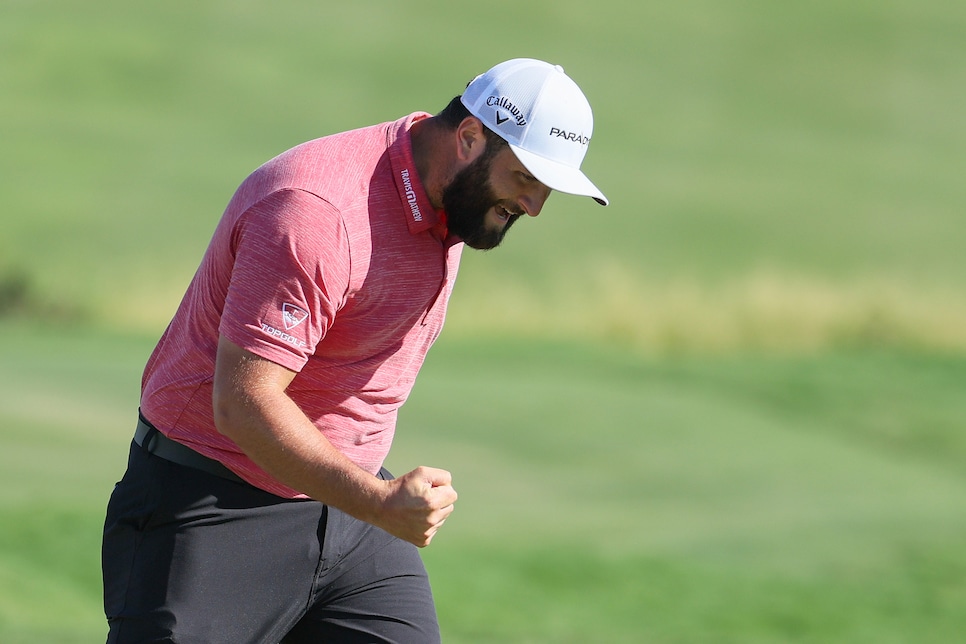 There's no questioning Jon Rahm's game, especially after the Spaniard's surprising victory on Sunday at the Sentry Tournament of Champions.
His packing skills, however, could use some work.
Rahm kicked off his post-round press conference in Maui by noting his wardrobe choice for the final round was an accident. "I'm wearing black pants and the Sunday shirt that I usually wear [when I'm in contention] because I was like, 'Oh, I don't usually like getting too close to Sundays in time,'" Rahm said, regarding his red shirt and black trousers. "We're so far away, whatever, I'll just wear black. I didn't want to wear navy [pants] every day. So I just put on the black ones, not that I even had hope, but I'm like we're going to need a small miracle."
It was a comment that caught some off-guard and begged a follow-up question later in his back-and-forth with the media; what, exactly, was Rahm talking about regarding navy pants?
"You want to know the honest truth?" Rahm replied. "I forgot almost all the belts I was supposed to bring."
As Rahm explained, he had two belts with him in Hawaii, a navy belt and black belt. "And I told [Rahm's wife] Kelley, I'm not about to be hot as hell all week wearing black pants and darker shirts, so navy it is."
Then Sunday came, and Rahm decided he was done wearing navy for the week. Which normally wouldn't be an issue, except that his Sunday scripted shirt was red. For those who have been following golf for the last 25 years, that's a color combo made famous by a certain 15-time major winner.
"I know it's a stupid answer to a stupid question, but that's the truth. I usually don't want to wear anything that's close to red with black on Sundays because of Tiger. That's his outfit," Rahm said. "But that's why I wear gray or navy or other things usually. I don't want to get close to him. But, yeah, I just, I just didn't want to wear navy anymore. I forgot my belts, that's all it is."
Well, that wasn't all. Rahm conceded he also forgot to bring socks. "Yeah, I forgot a few things," he said, laughing. Against that, it's a minor miracle the man remembered to bring his clubs.
Considering Rahm is in the midst of a heater—he has three wins in his last five official starts, with his "worst" showing a T-4—it sounds like the only thing standing in the 28-year-old's way is what he puts, or doesn't put, in his suitcase.